Demonstrators Hold Bitcoin Protest Outside El Salvador Parliament
A group of protesters has taken to the streets outside the National Assembly in El Salvador to voice their disdain for President Nayib Bukele's Bitcoin Law, an act that will make bitcoin (BTC) legal tender as of September.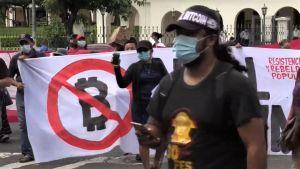 Opposition voices have made their feelings clear in the nation's media, much of which is hostile to Bukele and what they feel is becoming an increasingly autocratic regime.
Bukele effectively steamrolled the law through parliament in a matter of days – using his Nuevas Ideas party's massive majority in the assembly. Opposition efforts to derail the bill using the courts have also come to naught so far, although critics say this is largely due to the fact that Bukele has replaced previously hostile judges with legal experts allied to his populist cause.
Left-wing parties once dominant in the country, have been left fragmented and in disarray following Bukele's spectacular rise to the top of Salvadorian politics. But they have attempted to unite under the banner of opposition to the BTC law, after multiple polls showed most surveyed Salvadorians are opposed to the act. Many business owners are put off by the idea that they will be forced to accept BTC payments if requested by customers. However, if they want, this BTC can be instantly converted into USD.
In a video shared by the newspaper La Prensa Gráfica, protesters were shown carrying banners reading:
"We don't want bitcoin in El Salvador."
Other banners read "The bitcoin law = money laundering," and "No to bitcoin!"
Others still, though, appeared to be protesting Bukele's rule, with some banners reading "Fight against Bukele's regime."
There were also banners on display for the Frente Social y Sindical Salvadoreñ (Salvadoran Social and Trade Union Front) and the Bloque de Resistencia y Rebeldía Popular (Popular Resistance and Rebellion Block) – two left-wing movements that have expressed their displeasure with the law.
The minority FMLN party, two of whose MPs have attempted to launch a parliamentarily bid to block the bill, also shared a video of the protests – showing a heavy media presence.
The videos featured a speech from an activist named Idalia Zúniga, representing the Bloque de Resistencia y Rebeldía Popular, telling reporters that the law would "create legal insecurity" and "could be used to defraud citizens and facilitate money laundering." She added that citizens "refused to accept this law without adequate consultation."
The Bloque also posted flyers around the area, featuring a cartoon of a woman angrily throwing an object at an anamorphic coin marching in her direction and emblazoned with the BTC logo while a man fled from the menacing-looking token.
The cartoon was accompanied by text reading:
"The Salvadorian public rejects bitcoin. […] Protest the Bitcoin Law!"
Critics have claimed that the government is hiding behind coronavirus pandemic-mitigating social distancing measures in an effort to suppress larger demonstrations against the law.
After sweeping to power at the age of 37 in 2019, Bukele's Nuevas Ideas party won a landslide victory in a legislative election held in Spring this year, returning a massive majority in the house.
___
Learn more:
- Unconfirmed Stablecoin Report Brings Confusion Amid Bukele's Bitcoin Law
- El Salvador Gov't: We're Giving out Bitcoin – but Don't Convert it to Fiat
- El Salvador Will Be a Serious Test for Bitcoin's Layer-2 Networks
- Pundits Label Paraguayan MP's Crypto Bill a 'Huge Nothing Burger'
---