DeFi Darling YFI is More Expensive than Bitcoin Yet Again
Yearn Finance's governance token YFI has once again surpassed bitcoin (BTC) as the most expensive cryptoasset available for purchase.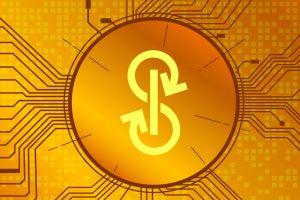 At 10:18 UTC, YFI is trading at USD 68,454. It went up 22% in a day, as well as 28% in a week and nearly 53% over the last 30 days.
It actually hit its new all-time high just today, of nearly USD 68,470 (per Coingecko).
At the same time, bitcoin is trading at USD 55,886. It did not record nearly the same percentages as YFI, having dropped 3.5% in a day and 2% in a week. Over the past month, it went down 7%. BTC's all-time high of USD 64,804 reached on April 14 is lower than YFI's current price.
YFI price chart: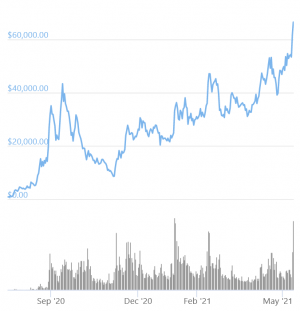 That said, bitcoin leads in the 24h trading volume, recording USD 80.2bn, compared to YFI's USD 1.8bn. Still, this number is a significant jump for YFI, having recorded nearly USD 343m on May 10.
The situation is similar with market capitalization, with bitcoin's surpassing USD 1trn, and YFI's being USD 2.43bn, placing the former in the 1st and the latter in the 64th place by this metric.
What the YFI community was working on at the start of the year was solving the issue with reserves for core contributors, so to enable further growth. They passed a proposal, called 'buyback and build', in mid-January, that would allow YFI staking rewards to be used to buy back YFI on the open market, and then use that YFI for contributor rewards and other Yearn initiatives.
This was followed by the "Funding Yearn's Future" proposal, per which 6,666 new YFI tokens were minted to create the protocol treasury.
In the meantime, as reported, Yearn's Q1 report recently said that while yVault revenue was the primary driver of Q1 adjusted EBITDA (Earnings Before Interest, Taxes, Depreciation, and Amortization), Yearn started yield-farming with Treasury assets in late February, which is "generating significant amounts of revenue […] earning approximately USD 500,000 per month." This is expected to bring forth "an increasing amount" going forward.
Additionally, Version 2 yVaults launched in March are seen as driving "meaningful revenue growth in the future."
Its total earned in May so far is reported to be USD 1.85m.
Meanwhile, in late March, the team also announced Coordinape, in closed source, which they said allows decentralized teams and DAOs (decentralized autonomous organizations) without top-down management or HR to autonomously allocate and reward contributors with funds - "decentralized payroll for flat organizations."
Furthermore, they introduced Keep3r V2 Oracles, which they said are "significant improvements" in terms of gas efficiency and maintenance cost.
Per DeFi Pulse, Yearn takes the 9th place with USD 4bn TVL (total value locked). Per yearn.science, it's USD 4.259bn.
Also, according to the May 5 newsletter, recent developments include the launch of several new yVaults, as well as launch of yvBOOST - the "backscratcher" vault that enables users to deposit CRV and in return earn weekly 3CRV fees from the Curve DAO. The yvBOOST-ETH pool has been launched on decentralized exchange SushiSwap in order to create liquidity for yvBOOST and incentivize liquidity providers with higher return in the form of SUSHI rewards, they said.
___
Learn more:
- Bank of Japan Identifies DeFi Pros & Cons, Mentions Uniswap, Yield Farming
- Watch These Two DeFi Trends This Quarter, Says ConsenSys
- How Bitcoin and DeFi are Completely Different Phenomena
---