Cryptoland Pioneer Teases a New Digital Currency, Praxxis
David Chaum, American computer scientist and pioneer in cryptography, has announced a new digital currency – Praxxis.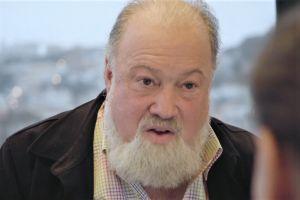 Chaum, who founded the first digital currency Ecash (which went bankrupt in the late 1990s), announced the new "high performance digital currency supported by a quantum-resistant blockchain," as the website states. It adds that Praxxis technology is made of three primary components: a blockchain, digital tokens, and a consensus mechanism, "all designed to provide the first cash-like digital currency in the world and to support the operation of the Elixxir privacy-protecting platform."
In his Twitter thread, Chaum explains that he's been working with two teams on related sister projects over the course of last year. One is Elixxir, a privacy platform that's meant to provide metadata protection across messages, payments, transactions, and dapps (decentralized apps), unveiled in September last year. The other is the newly unveiled Praxxis, that is not live yet.
The development of sister projects is "the culmination of almost 40 years of work" on mix networks, distributed consensus, blind signatures, vault systems, voting protocols, and e-cash, as the teams have drawn from Chaum's own early technology to create a scalable blockchain and a platform designed to work with Elixxir's speed and privacy, writes the founder.
The site claims that while most cryptocurrencies on the market today have managed to achieve one of the three prerequisites for a digital currency to effectively support use cases for cash, Praxxis is the first to achieve them all: privacy, speed and security.
The creator further explains that to achieve privacy, Praxxis's denominated coin structure breaks down payments into smaller amounts, or individual coins, and associates them with other payments. This way, only the user can know the amount of money they spend on each transaction. With Praxxis splitting a single transaction into several identical-looking denominated tokens, while Elixxir is stripping the metadata, "it is impossible for an outside observer to gather data on your spending habits without your explicit permission", says Chaum.
Another feature of the new project is a "quantum-secure consensus mechanism," built with the most secure cryptography available, as Chaum says, in order to ensure the longevity of the Praxxis protocol. Being quantum-secured means that the protocol is in theory protected against attacks by quantum computers.
"The team will share more information and the full technical details of the Praxxis approach in the forthcoming whitepaper currently being prepared for release later this year. And specific issues will likely be discussed on Discord prior to that," according to their website.
When it comes to Cryptoverse's reactions to the news, some are congratulating Chaum and the teams on the new launch.
Others are criticizing the lack of detailed explanations:
And the rest are not convinced at all:
---