Crypto Prices Crash as Investors Get Spooked by US Fed Rate Pause But These Coins are Bucking the Trend – Here's What You Need to Know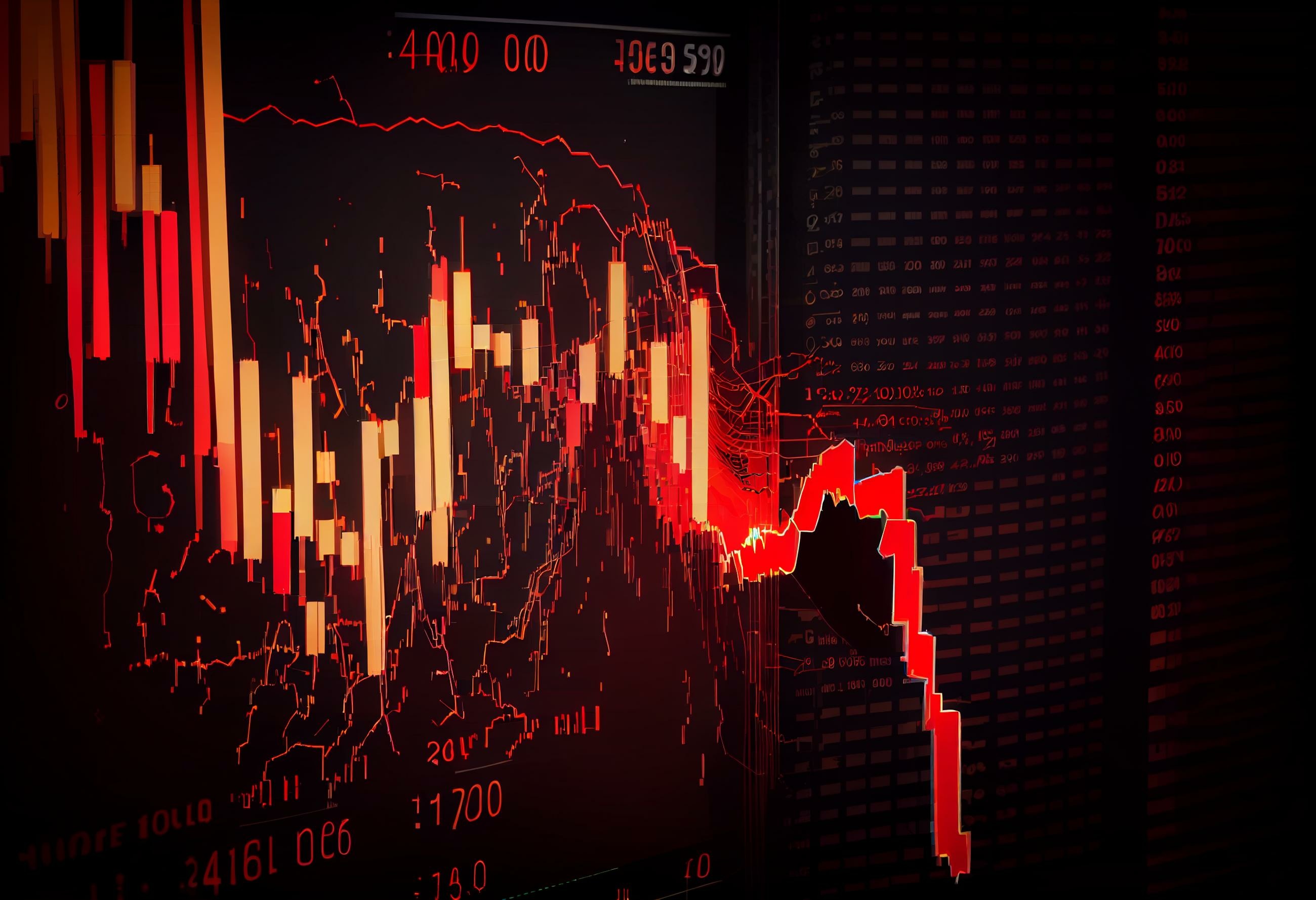 Crypto prices have come under intense sell pressure this week, with investors spooked by the US Federal Reserve's latest monetary policy announcement.
While the Fed paused its interest rate hikes, leaving the Federal Funds Target Range unchanged at 5.0-5.25%, the bank was hawkish on the interest rate outlook.
Chairman Jerome Powell signalled that, amid a stronger-than-expected labour market and stickier-than-expected inflation, more interest rate hikes might be needed later in the year.
That guidance chimed with the updated dot-plot, which signalled the median expectation amongst Fed policymakers is for interest rates to end 2023 at 5.6%.
The hawkish guidance on the interest rate outlook was a shock to crypto investors.
Bitcoin (BTC) was sent more than 3% lower on Wednesday and fell under $25,000 for the first time since March.
Ether (ETH), meanwhile, dropped over 5% to the mid-$1,600s, where it is also at its lowest levels since March and once again testing its 200DMA.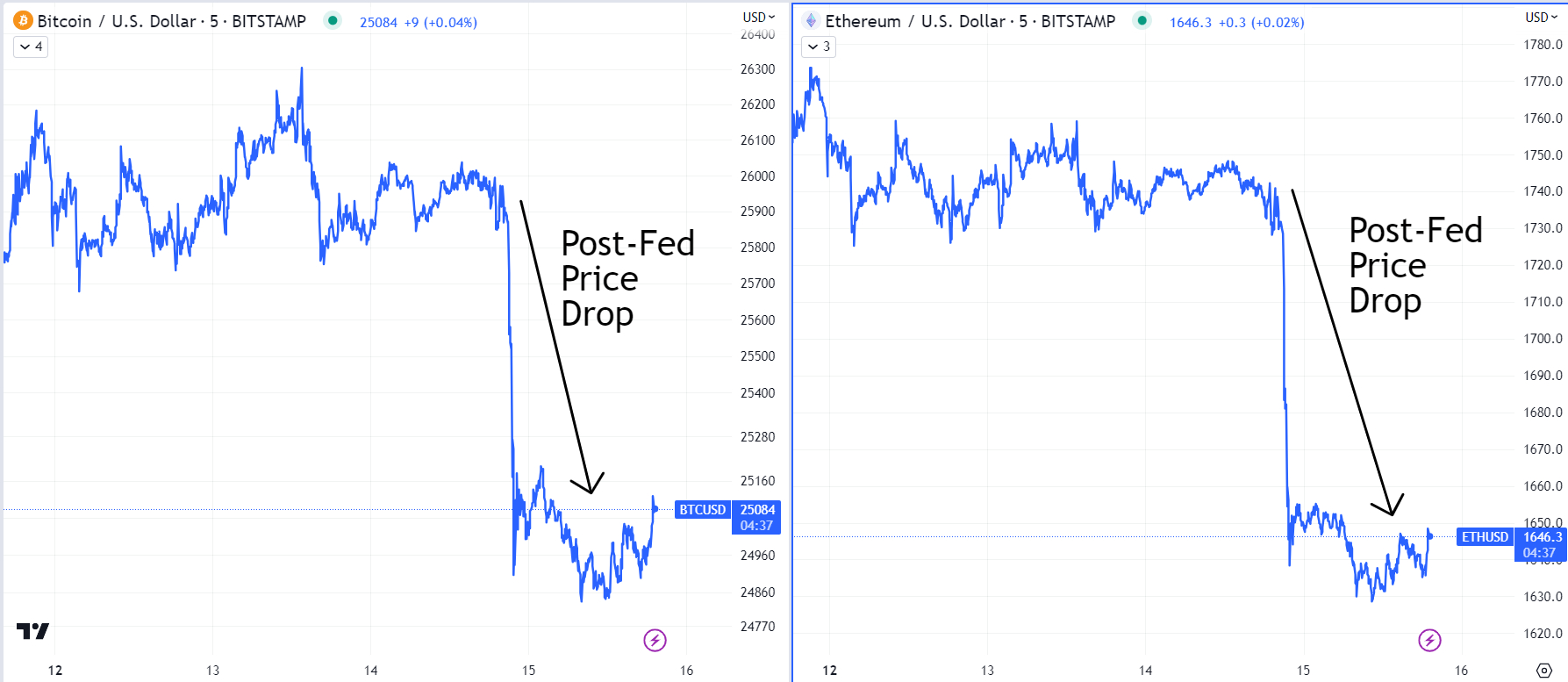 Higher interest rates for longer, as signalled by the Fed on Wednesday, encourage investors to move into risk-free yield-producing assets like US Treasuries and out of speculative risk assets, such as cryptocurrencies.
Headwinds from a more hawkish than expected Fed come one week after the US Securities and Exchange Commission (SEC) cast new uncertainty over the US crypto industry by hitting Binance and Coinbase with new lawsuits and labelling dozens of cryptocurrencies as securities.
While the trend in the broader crypto market is bearish, there are a few bright spots.
Here are three crypto projects that have been bucking the trend recently and analysts at Cryptonews rank as amongst the best presale opportunities of 2023.
Wall Street Memes ($WSM)
Wall Street Memes, one of the internet's hottest retail investing communities, rose to prominence in the meme stock craze of 2021 and has recently been expanding its relevance in the cryptocurrency space with the presale of its new $WSM token.
The success of the $WSM presale, which has raised more than $7 million in just over two weeks, isn't surprising given the size of Wall Street Memes' community.
Not only are there 523k hyper-engaged community members on its wallstbets Instagram account, there are another 214k on Twitter and more than 100k across its two other Instagram channels, wallstgonewild and wallstbullsnft.
All told, Wall Street Memes has a 1 million-strong social community of degens, which analysts think all but guarantees that the $WSM token will be listed on tier 1 crypto exchanges like Binance.
With 30% of the token supply being held back for community rewards, it can reasonably be expected that airdrops to holders will be a big part of the ecosystem.
Indeed, the first $WSM airdrop is open now.
Analysts are already predicting 10x gains for Wall Street Memes when it lists on exchanges and you can be a part of it.
yPredict (YPRED)
The yPredict market intelligence platform is building a first-of-its-kind, institutional-grade financial price prediction system.
Observers think the tool, which is built on yPredict's in-house deep data analysis, will help crypto investors discover the next explosive crypto with ease.
The best part, yPredict's crypto price prediction system will remain free and open for all users to access – the price predictions will be made publicly available and require no login to see, the project's Whitepaper explains.
But yPredict offers investors much more than just crypto price predictions.
The project is "building a cutting-edge crypto research and trading platform that provides traders and investors access to dozens of AI-powered signals, breakouts, pattern recognition, and social/news sentiment features", the start-up says in yPredict's Litepaper.
As AI continues to make waves in the crypto industry and beyond, projects like yPredict are expected to attract significant interest.
That's why many industry observers are tipping AI cryptos like yPredict's native $YPRED token, currently available via presale, to be amongst the next best-performing coins.
AiDoge (AI)
The blowout rate at which AiDoge's crypto presale sold out (more than $14.9 million was raised in only a few weeks), suggests many investors think that AiDoge could be the next big meme coin to blow.
The up-and-coming memecoin project, which utilizes revolutionary generative $AI technology in its viral meme-making social media platform and investors can still secure $AI tokens at the exchange listing price of $0.0000336.
The web3 project will be unveiling its first major CEX listing in just four days.
AiDoge is building a revolutionary new crypto-powered web3 platform that will allow users to share and vote on memes created by users via the platform's breakthrough AI technology.
Users of the platform who create the best memes will be rewarded financially in the form of AiDoge's native $AI token.
Disclaimer: Cryptocurrency projects endorsed in this article are not the financial advice of the publishing author or publication - cryptocurrencies are highly volatile investments with considerable risk, always do your own research.
---