Craig Wright Denied USD 1 Billion Lawsuit Dismissal
A court document, filed in the southern district of Florida on Thursday, reveals that they have denied infamous Craig Wright's attempt to dismiss the lawsuit alleging that he misappropriated at least 1 billion of dollars worth of Bitcoin from the estate of a former business partner. The self-proclaimed Bitcoin inventor has moved to dismiss the case saying that the statute of limitations had been exceeded, but the court denied his dismissal.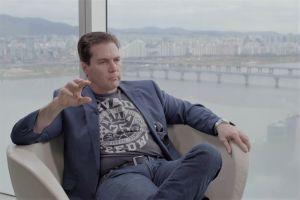 The lawsuit is being brought by Ira Kleiman on behalf of the estate of his late brother, Dave, who has been linked to the earliest days of Bitcoin. Kleiman, a forensic computer investigator and author, passed away in 2013. Following his death, according to court records, Wright, often dubbed Faketoshi due to his claim that he is Satoshi Nakamoto and general lack of any sort of proof, has been accused of allegedly conducting "a scheme against Dave's estate to seize Dave's bitcoins and his rights to certain intellectual property associated with the Bitcoin technology."
In Wright's motion to dismiss the case, he argued that Ira Kleiman's claims are without merit and that the plaintiff lacks any standing to file suit, calling the effort an "attempted shakedown" based on "a thin soup of supposition, speculation, conflicting allegations, hearsay and innuendo." Kleiman, as Wright claimed, knew nothing of his late brother's activities related to Bitcoin until after he had passed away. At that point, Wright claimed, he himself told Ira that his brother "might have left a legacy in the form of bitcoins and codes on hard drives held by the estate," according to the motion to dismiss.
Although the amount of misappropriated bitcoins remains undetermined, the lawsuit initially alleged a whopping BTC 1.1 million (USD 3.97 billion) that Wright supposedly moved. However, the court document detailing the dismissal denial states, "The Amended Complaint alleges that Defendant converted at least 300,000 bitcoins (USD 1.1 billion) upon Dave's death and transferred them to various international trusts, which was an unauthorized act that deprived the Plaintiffs of the bitcoins therein. Accordingly, Plaintiffs' claim for conversion (Count I) survives Defendant's Motion to Dismiss." Elsewhere in the document, the court states that the exact number of bitcoin involved is yet to be determined, but the estate contends that it is "entitled to at least 300,000 bitcoins, along with their forked assets."
Craig Wright now has until January 10th, 2019, to respond to these events.
Wright is also one of the main backers of Bitcoin SV, the Bitcoin Cash fork.
Bitcoin SV price chart: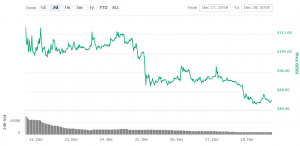 ---