Charlie Lee Urges Investors to Focus on Long-term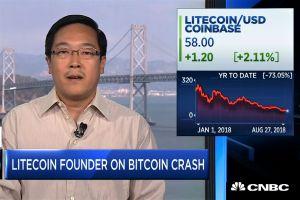 According to Charlie Lee, the creator of the Litecoin cryptocurrency, crypto investors have nothing to worry about if they can just keep their eyes on the long-term.
"It's all about speculation these days, but in the future, the price will reflect the success of cryptocurrencies," he told CNBC.
Lee further explained that short-term price movements don't necessarily tell us anything about the success of cryptocurrencies, and that it is important for investors to instead keep their eyes on the long-term trend. Offering this year as an example, the Litecoin creator said that we have seen "so much adoption in bitcoin and litecoin, but the price has dropped like 60% or 70%."
Asked when he believes bitcoin will come back to its all-time high of nearly USD 20,000, Lee pointed out that although he's been in the space for seven years now, it's hard to predict prices, saying "sometimes it comes back within six months, sometimes it takes three or four years."
Watch the latest reports by Block TV.
In terms of investing in cryptocurrencies, Lee said that buying bitcoin and litecoin "on the way down" can be a good strategy for long-term appreciation "as long as you don't spend money that you can't afford to lose."
Lee further said that he now wants the Litecoin community to focus on technology adoption and scaling, "things like Lightning Network and sidechains," which he said will be the main theme of the upcoming Litecoin Summit on September 14 and 15. He added that the currently depressed prices represent an excellent opportunity for developers to "put their head down and actually get stuff done."
And it appears that the community have taken the message from the Litecoin founder seriously. Earlier in August, Lee praised a new wallet called Lite.im that allows people to send litecoin payments via the popular Telegram messaging app.
____
Watch the entire interview with Charlie Lee on CNBC below: