This Data Shows How Far Coins Are from their All-Time High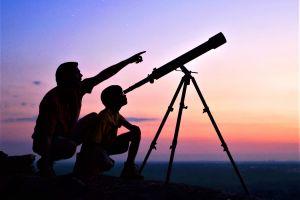 OnChainFX, an online tool for following all kinds of cryptoasset metrics and rankings, has added a new feature: the break-even multiple for 107 coins. This is the multiple by which the current price of a cryptoasset will have to rise in order to regain the all-time high (ATH).
On the website, this new statistic is explained as, "For example, if an asset's All-Time-High price was USD 120, and it's currently trading at USD 15, the breakeven multiple will be 8x. That is, the asset must experience an 8-fold gain in order to get back to its previous All-Time-High."
Cryptonews.com looked into the break-even multiples (BEMs) of coins to determine exactly how much buying at the peak can cost you.
Top 10 Winners
The winners in our case include the coins that have the smallest multiples, meaning they're the closest to their all-time highs. Of course, following the great boom of December 2017, there are very few coins really winning.
Unsurprisingly, VeChain's (VET) BEM is 1.0x, which means that it is currently at its all-time high. Its price has jumped up by 9.42% in the past 24 hours. However, VET is alive for less than a month, after the VeChain project has launched its independent blockchain and VEN tokens have been swapped to VET. Unfortunately, none of the other coins are seeing such a breakthrough, as the second place belongs to Binance Coin, whose BEM is 2.2x - more than double its value. The last of our top 10 "winners," Maker, needs an almost quadruple jump in price to get to its ATH - a total of 3.9x.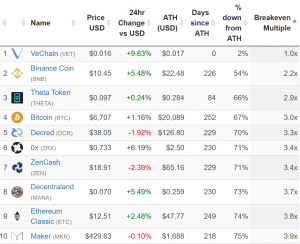 Top 10 Losers
These are the coins that fell the furthest from their ATH. Perhaps expectedly, the current bear market is not helping matters. Still, nobody would want to be on this list.
The unpopular first place belongs to Bitcoin Diamond, a lesser fork of Bitcoin, which needs an increase of 42.4x to get back to its ATH. The least of the losers is Dragonchain, whose BEM stands at 24.1x - significantly lower than what Bitcoin Diamond claims.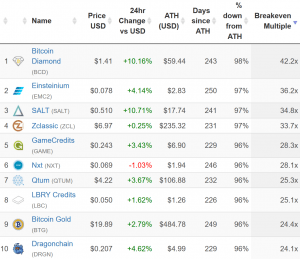 Top 5 Coins by Market Cap
You may have noticed that out of the top 5 coins by market cap, only Bitcoin made the winners list with a BEM of 3.0x, while the others can't say they've held on as well as Bitcoin did, but they are not among the losers either. Ripple was victim to the furthest fall, with a BEM of 11.7x. The others stand as follows: Ethereum's BEM is 5.2x, Bitcoin Cash is at 8.2x and EOS is only preceded by Bitcoin at 4.5x.
The break-even multiple may be hard to look at in the current market, but it does put things into perspective: for example, if you invested in some of the top coins at their peak, you probably haven't lost as much as you would have if you went for some of the more obscure options.
But not everyone is so pessimistic:
So basically, Onchainfx is saying there's a chance.

— Ivan Brightly (@ibrightly) August 24, 2018