Charity-Focused Web3 Chimpzee's Presale Heating Up Amid Exciting Airdrop Promotion - $1.1 Million Now Raised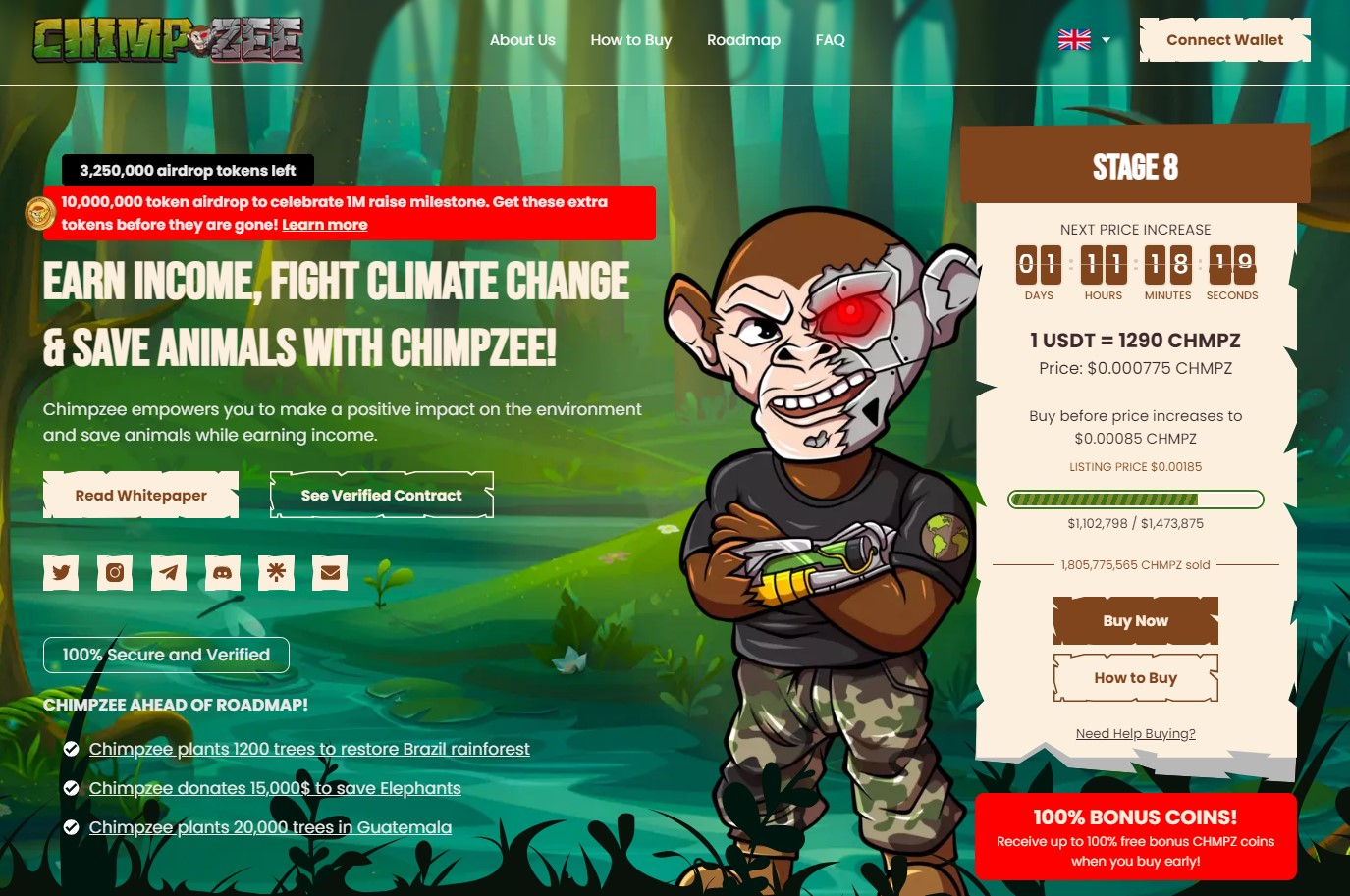 Thursday, 3rd of August - One of Web3's most promising up-and-coming charity-focused projects, Chimpzee, is celebrating that it just hit $1 million in funds raised with a massive token airdrop.
The project, which has now raised more than $1.1 million via the sale of its native $CHMPZ token, is airdropping up to 10 million tokens to new presale investors on a first-come, first-served basis, with larger investments set to be rewarded with a larger airdrop.
With $CHMPZ currently selling for $0.000775 per token, that amounts to a giveaway worth an impressive $7,750.
As per Chimpzee's website, these tokens will be airdropped to your wallet after the presale claim is launched. That comes on top of a 100% token bonus that Chimpzee is already offering to presale participants.
Investors interested in getting involved early in a leading web3 charity project must move quickly, with stage 8 of Chimpzee's presale set to end in under 36 hours. When that happens, in stage 9, the $CHMPZ price will rise 12% to $0.00085 – the last gold stage, which bestows on buyers the right to mint special Chimpzee NFTs that come with 18% APY staking.
Fight Climate Change and Save Animals With Chimpzee
Chimpzee is a disruptive crypto platform that allows its users and supporters to earn a passive income while simultaneously saving animals and fighting climate change. It will also feature a shop-to-earn Chimpzee merchandise store, a trade-to-earn NTF marketplace, and a play-to-earn game called "Zero Tolerance.
As its presale powers ahead, Chimpzee is living up to its name as a charity-focused Web3 project. Chimpzee recently donated $20,000 to the WILD Foundation to support their efforts in saving the black jaguar.
Before this, the charity-focused project had already planted 1,200 trees in Brazil and 20,000 trees in Guatemala and donated $15,000 to save elephants.
Chimpzee has an extensive list of organizations that it plans on donating to, which can be found here.
Shop-to-Donate in Chimpzee's Merchandize Store
The Chimpzee team recently unveiled a sneak peek of their t-shirt design.
The t-shirt will be sold via the project's merchandise store, with listed charities benefiting from a percentage of the profits generated via sales.
That means the shop is not only a shop-to-earn experience, with users rewarded with $CHMPZ tokens for every purchase, but it is also a shop-to-donate experience.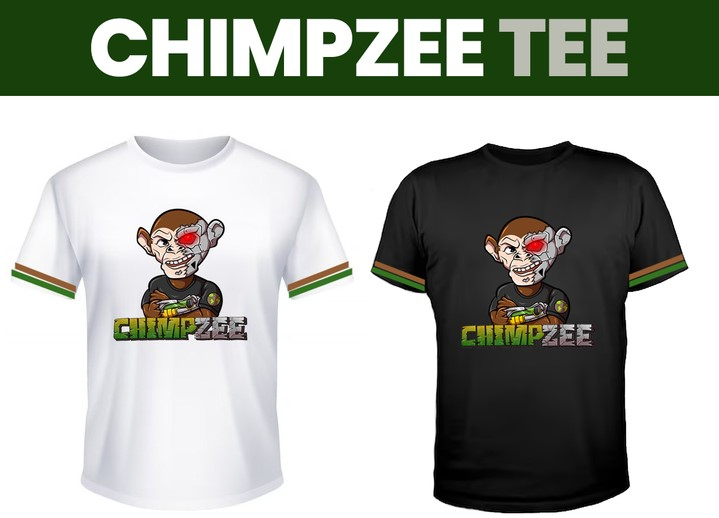 Get in Now to Secure Your Gold Chimpzee NFT
The presale is currently in the eighth stage, the second of three so-called "gold" stages. Investors who get in now win the right to mint a Chimpzee Gold Passport Non-Fungible Token (NFT) for 750,000 $CHMPZ tokens once the presale is over.
These Gold Passport NFTs, in addition to offering their holders a host of Chimpzee ecosystem perks, will be stakable for a generous yield of 18%.
The design of the Chimpzee Gold Passport Non-fungible Token (NFT) was recently revealed and will have eight different designs.
The NFT marketplace and play-to-earn game will then be developed in later roadmap phases, with Chimpzee intent on continuing with charitable donations throughout its roadmap delivery.
$CHMPZ Token – Deflationary?
Another potential benefit of investing in the $CHMPZ token is the fact that it is deflationary.
Firstly, $CHMPZ tokens used to purchase Chimpzee Passport NFTs will be burnt from circulation.
Secondly, Chimpzee is also burning leftover tokens from each presale stage.
The project is committed to burning at least 70% of the initial 200 billion token supply.
One hundred billion has already been burned, with Chimpzee planning a final 40 billion token burn after the token's launch.
That should reduce the $CHMPZ supply to substantially less than 60 billion.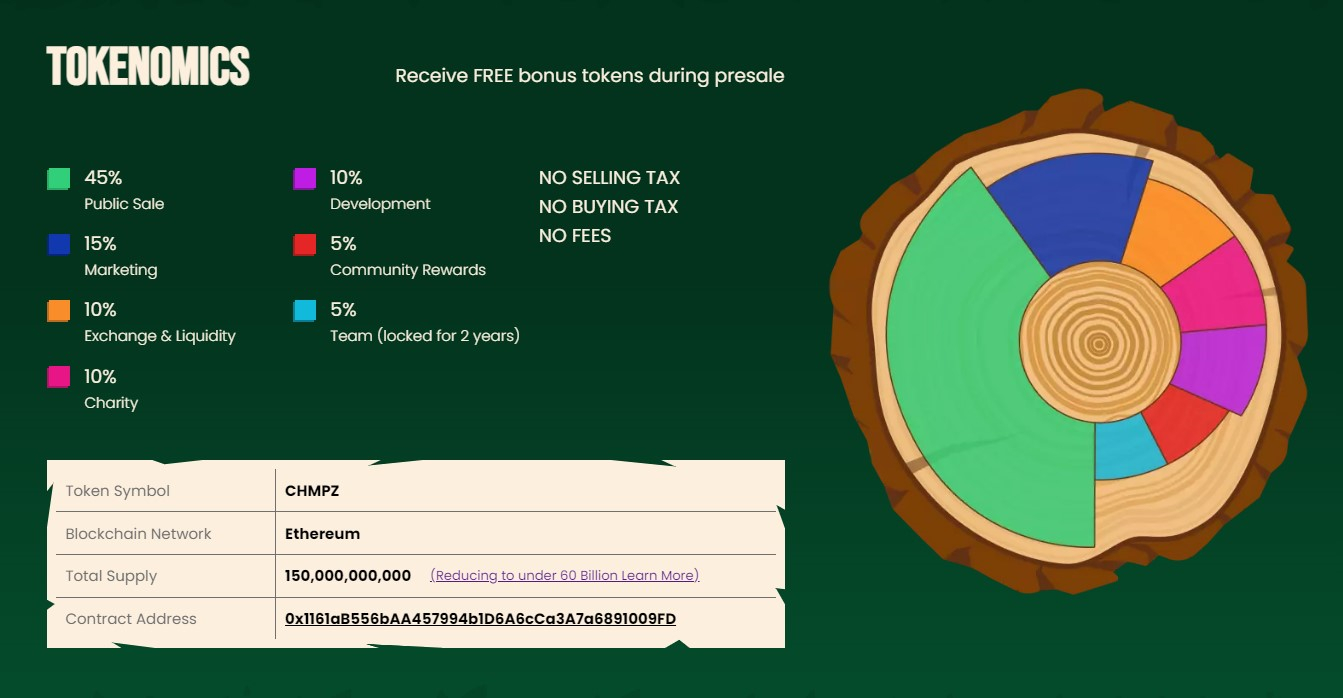 45% of the $CHMPZ supply is available to the public during the presale.
10% is allocated to exchanges and liquidity, 15% to marketing, 10% to development, 5% to community rewards, 5% to the team (locked for two years), and, as noted, 10% to charity.
What we can say for sure is that the more tokens get burnt, the better this will be for the token's price in the long run.
With big crypto influencers like Michael Wrubel (who has over 300,000 YouTube subscribers) trumpeting the project, who knows how high $CHMPZ can go?
Chimpzee's team is fully verified by Cyberscope, and the project is security audited by Solidity Finance.
Disclaimer: Crypto is a high-risk asset class. This article is provided for informational purposes and does not constitute investment advice. You could lose all of your capital.
---