Chainlink Price Prediction as $400 Million Trading Volume Comes In – Are Whales Buying?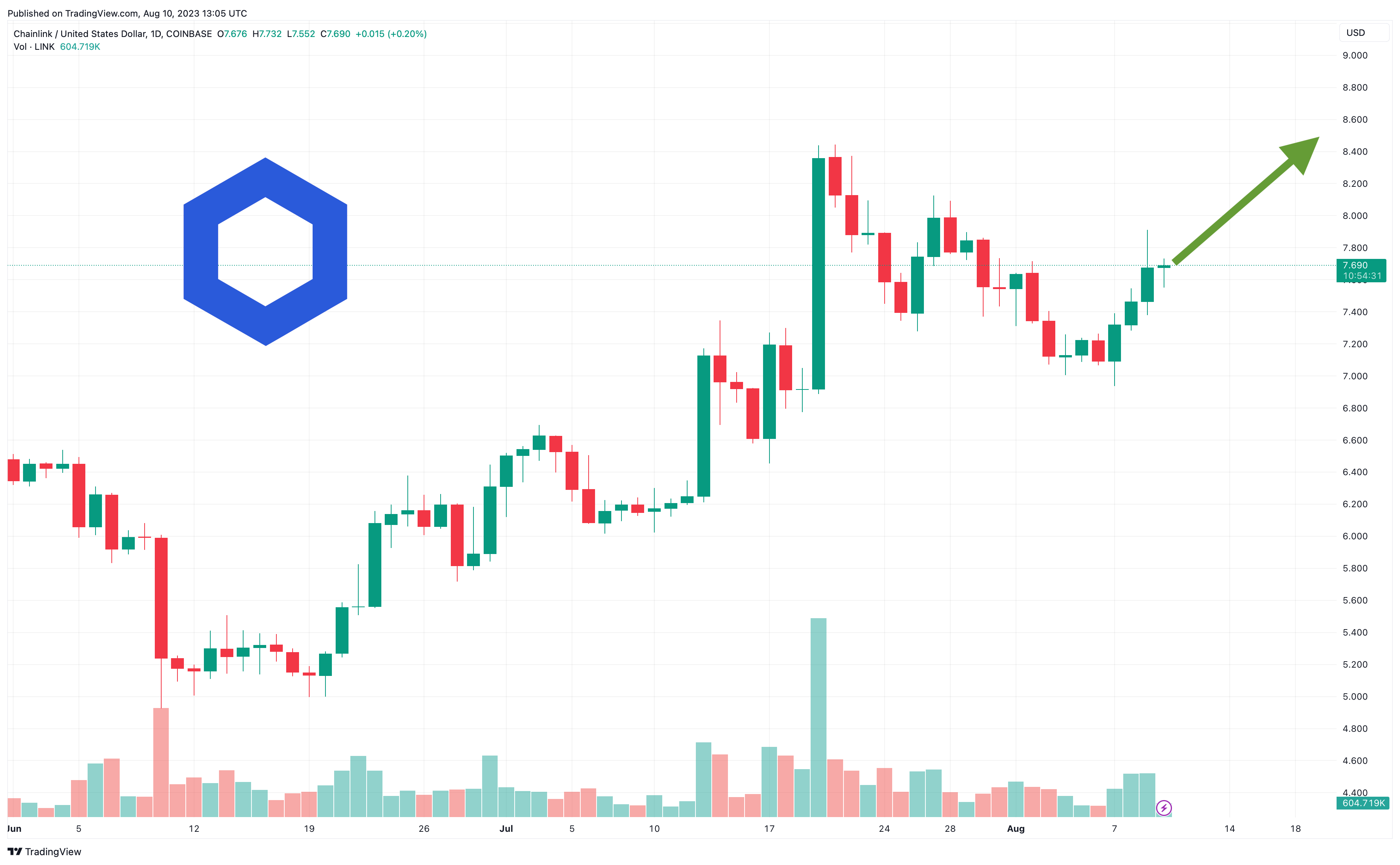 The price of Chainlink (LINK) has dipped by 0.5% in the past 24 hours, slipping to $7.64 as the wider cryptocurrency market suffers a 1% fall today.
LINK remains up by 4.5% in the past week, with the coin's 24-hour trading volume rising to $400 million in the past couple of days, as it appears to benefit from this week's announcement that Chainlink-based price feeds are now live on Base, Coinbase's very own Ethereum layer-two protocol.
This development has helped to put LINK up by 23% in the last 30 days, with the altcoin also up by 37% since the beginning of the year, as it looks set to continue its gradual recovery over the next few months.
Chainlink Price Prediction as $400 Million Trading Volume Comes In – Are Whales Buying?
Chainlink's price chart has now reached a bullish position, with its relative strength index (purple) having risen close to 70, up from 30 last week in a sign of gathering momentum.
Another sign of intensifying momentum is LINK's 30-day moving average (yellow), which has begun climbing beyond its 200-day average (blue), with the indicator having more room to rise higher before the altcoin becomes overbought.
Of course, it needs to be rembered that LINK has been falling since the middle of July and that there's no guarantee that this medium-term slump has finished yet, especially when its support level (green) appears to be sliding further.
However, Chainlink remains a fundamentally strong cryptocurrency, implying that its recent falls have put it in an oversold and undervalued position, and that it really is overdue a rebound.
This was underscored by the fact that Chainlink has been chosen to supply price feeds to Base, Coinbase's under-development layer-two network.
This is a big endorsement for Chainlink, which has slowly been expanding under the radar during the ongoing bear market.
Most notably, it's currently testing its long-awaited Cross-Chain Interoperability Protocol (CCIP), a protocol that will enable developers to build cross-chain applications and services.
What's especially promising about CCIP is that it's a key part of Chainlink's ongoing partnership with interbank messaging system Swift, with which the platform will be linking dozens of financial institutions to blockchain networks.
The full launch of CCIP could be massive for Chainlink, which will likely see a big increase in usage as a result.
And in turn, this will mean a steadily rising LINK price, which could return to $8 in the next few weeks, before possibly welcoming the New Year at around $9.
Presale Tokens for Quicker Above-Average Returns
The only issue with LINK is that it may take several months for it to complete substantial price rises, especially under current market conditions.
However, traders intent on making short-term gains may be inclined to check out newer altcoins and, in particular, presale tokens, some of which may rally big when they list on exchanges.
Possibly the most promising presale coin in the market right now is Wall Street Memes (WSM), a new ERC-20 token that has raised in excess of $22.8 million since launching its sale in June.
Growing out of the meme stocks movement that was responsible for the 2021 GameStop rally, Wall Street Memes has clearly been able to call upon a large – and growing – community during its presale.
Such a community includes the 258,000 followers it boasts on Twitter, a number which provides some indication of how well WSM's price is likely to be supported once the token's presale ends and it lists on trading platforms.
WSM will have a max supply of two billion, with 50% of this going to the sale and another 30% being reserved for community rewards.
This means that very little of WSM's supply will be in the hands of founders or whales, with the remaining 20% being allocated CEX and DEX liquidity.
As such, there's comparatively little risk of a big dump with WSM, which is much more decentralized than many other similar new altcoins.
Joining the WSM presale is easy: investors need simply go to the official Wall Street Memes website and connect their crypto wallets, with 1 WSM currently priced at $0.0331.
This price will reach $0.0337 by the time the sale enters its final stage, yet it could rise much higher when exchanges begin listing WSM.
Disclaimer: Crypto is a high-risk asset class. This article is provided for informational purposes and does not constitute investment advice. You could lose all of your capital.
---