Chainlink Price Prediction as $200 Million Trading Volume Comes In – Are Whales Buying?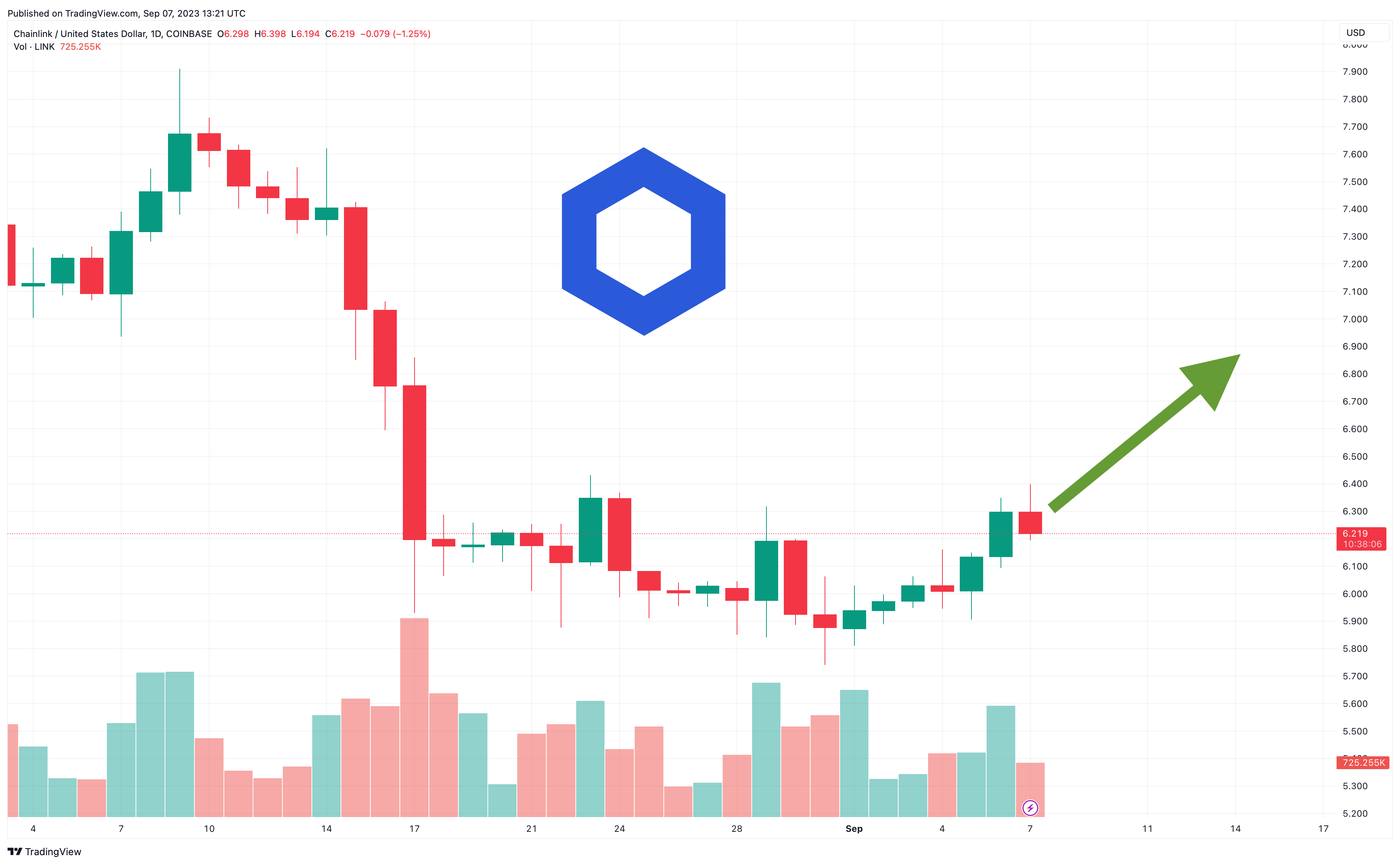 The Chainlink price has risen by 1.5% in the past 24 hours, with its jump to $6.22 coming as the cryptocurrency market as a whole declines a little.
LINK is now up by 3% in the past week, with the altcoin bucking market trends by virtue of the recent news that payment network Swift has used Chainlink's Cross-Chain Interoperability Programme (CCIP) as part of tokenization trials.
Such usage is likely to be a major boost to LINK's use and price in the near future, although the coin remains down by 16% in the last 30 days, while up by 11.5% since the beginning of the year.
Chainlink Price Prediction as $200 Million Trading Volume Comes In – Are Whales Buying?
Chainlink's indicators are in a position that suggests the altcoin has just begun seeing an increase in momentum and buying pressure, with its relative strength index (purple) reaching 50 in the past day, up from around 30 in the middle of August.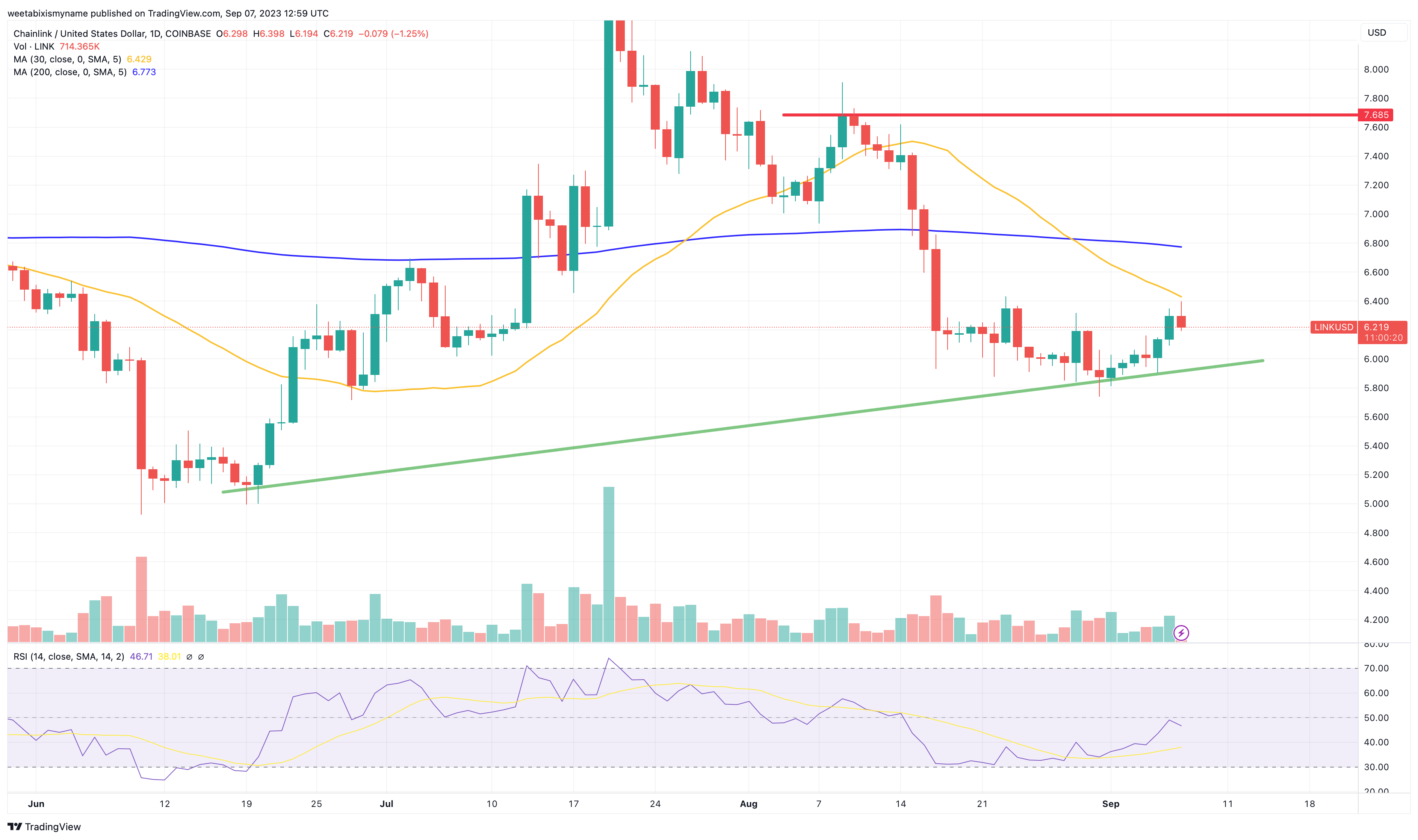 This indicates that the coin could be at the beginning of a rally, with the position of its 30-day moving average (yellow) suggesting that it has recently hit a bottom.
It's also worth pointing out that LINK's medium-term support level (green) has been rising steadily in the past few days, which again suggests that the coin's recent declines have ended.
As noted above, LINK's change of fortunes over the past few days is due to the news that Swift has used Chainlink's CCIP in recent tokenization tests, an announcement which highlights Chainlink's potential for wider adoption and usage.
Aside from this major development, the past few days have also brought other adoption news for Chainlink, including yesterday's announcement that Balancer has integrated Chainlink price feeds on Arbitrum.
In fact, the latest Chainlink data indicates that its network now counts nearly 1,000 oracle networks (sources of verified data) and more than 10 billion on-chain data points.
This testifies to how much Chainlink's network is being used at the moment, and when combined with the aforementioned Swift news, it points to a future in which the platform is one of the biggest providers of on-chain data in the world.
With this in mind, LINK is likely to enjoy sustained rises over the coming months, with the altcoin set to increase to $6.50 in the near term.
Other Altcoins With High Potential
While LINK looks like one of the most promising top-100 cryptocurrencies right now, there are other, newer coins in the market that also offer the opportunity for outsized gains.
This includes a number of promising presale tokens, which can often rally big once they list on exchanges.
A good example of just such a token Launchpad.xyz (LPX), an all-in-one Web3 trading platform that has raised more than $1.6 million since its sale began last month.
Aimed at traders of all skill and experience levels, Launchpad.xyz will provide a wide range of tools and resources, with its platform set to launch later in the year.
Such features will include a Web3 wallet, a play-to-earn gaming hub, trading signals, fractionalized assets, collaborative trading rooms, and automated trading bots, among others.
On top of this, Launchpad will also introduce its own decentralized exchange and an NFT marketplace, two features which together will make the platform one of the most comprehensive in the entire cryptocurrency sector.
Within Launchpad's platform, the native LPX token will be used for payment of fees and subscriptions, while holders will also be able to stake, thereby earning themselves a regular passive income.
Such features help explain why LPX's presale has gained so much momentum, with new buyers able to participate by going to the official Launchpad.xyz website and connecting their software wallets.
1 LPX will cost $0.0445 for the duration of the sale, although this price may rise considerably once the token lists on trading platforms.
Disclaimer: Crypto is a high-risk asset class. This article is provided for informational purposes and does not constitute investment advice. You could lose all of your capital.
---