Central Banks' Renewed Gold Hunger Shows Need For A Hedge
A new survey suggested that central banks may be on the hunt for a hedge – a search that may lead some directly to digital gold, bitcoin (BTC), albeit via the central banking sector's default asset of choice: gold.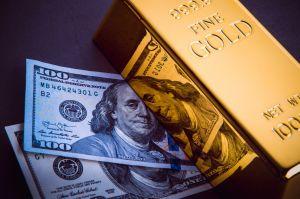 In a new report focusing on the status of gold reserves in central banks conducted by Central Banker, 26 respondents, mainly from Europe and the Americas, said they "typically expect central bank gold holdings to increase over the next 12 months," with "no respondent expecting a decrease."
Although the central bankers were not quizzed on their thoughts regarding building up a reserve of BTC or altcoins, it appears that an increasingly large group of central bankers would rather hold onto a basket full of…well, anything but fiat.
The report's authors wrote,
"The COVID‑19 pandemic has not, in the main, changed the view of central banks on gold, although almost a quarter of respondents said they view gold as a more attractive asset."
And there were more signs that if reserve fund managers at central banks are not actually thinking outside the box yet, they are at least approaching the point where they may have to.
The authors added,
"When determining a central bank's gold holding, the benefits of diversification stand out as the most relevant factor for reserve managers."
In fact, 64% of respondents claimed that diversification benefits were "very relevant" to determining their institution's gold holdings, with low-interest rates also placing in the "very relevant" column for 41% of respondents. Four respondents claimed that the weakening of the USD was also "very relevant" to their current stance on gold-buying.
In all 62% of the surveyed central bankers said they expected global central banks to boost their gold reserves over the next 12 months.
And a significant 18% of the respondents stated that of their total reserves portfolio, between 20%-49% was allocated to gold.
Gold price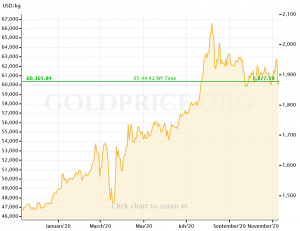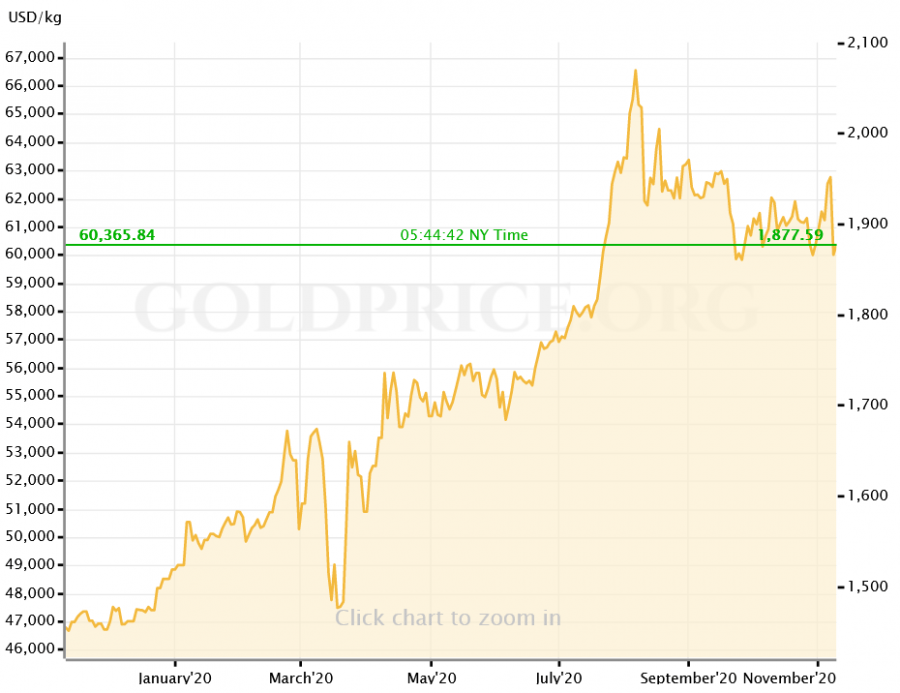 An unnamed European nation's central banker was quoted as stating,
"The growing demand from emerging-market central banks reflecting current geopolitical, political and economic conditions, as well as structural changes in the global economy, will probably last in the future."
While central banks, arguably the most conservative of all asset-buyers, are likely to continue their gold rush for the time being, it is clear that investors are looking for an asset that can function as a store of value, while companies are increasingly looking into BTC as an inflationary hedge.
At the time of writing (10:26 UTC), BTC trades at USD 15,476 and is almost unchanged in a day. The price is up by 13% in a week and 36% in a month. It went up by 75.5% in a year.
____
Learn more:
US Government Is Now Top Bitcoin Whale. What Could Happen Next?
Demand for Non-Sovereign Safe Havens - Bitcoin & Gold - Expected to Rise
10 Superstar Traditional Investors Who Have Endorsed Bitcoin
Russian Central Bank Says CBDC Will Wipe Out Need for Crypto
---