Cardano Price Prediction as Blockchain Transactions Surge Up Nearly 50% in 3 Months – Are Whales Moving to Cardano?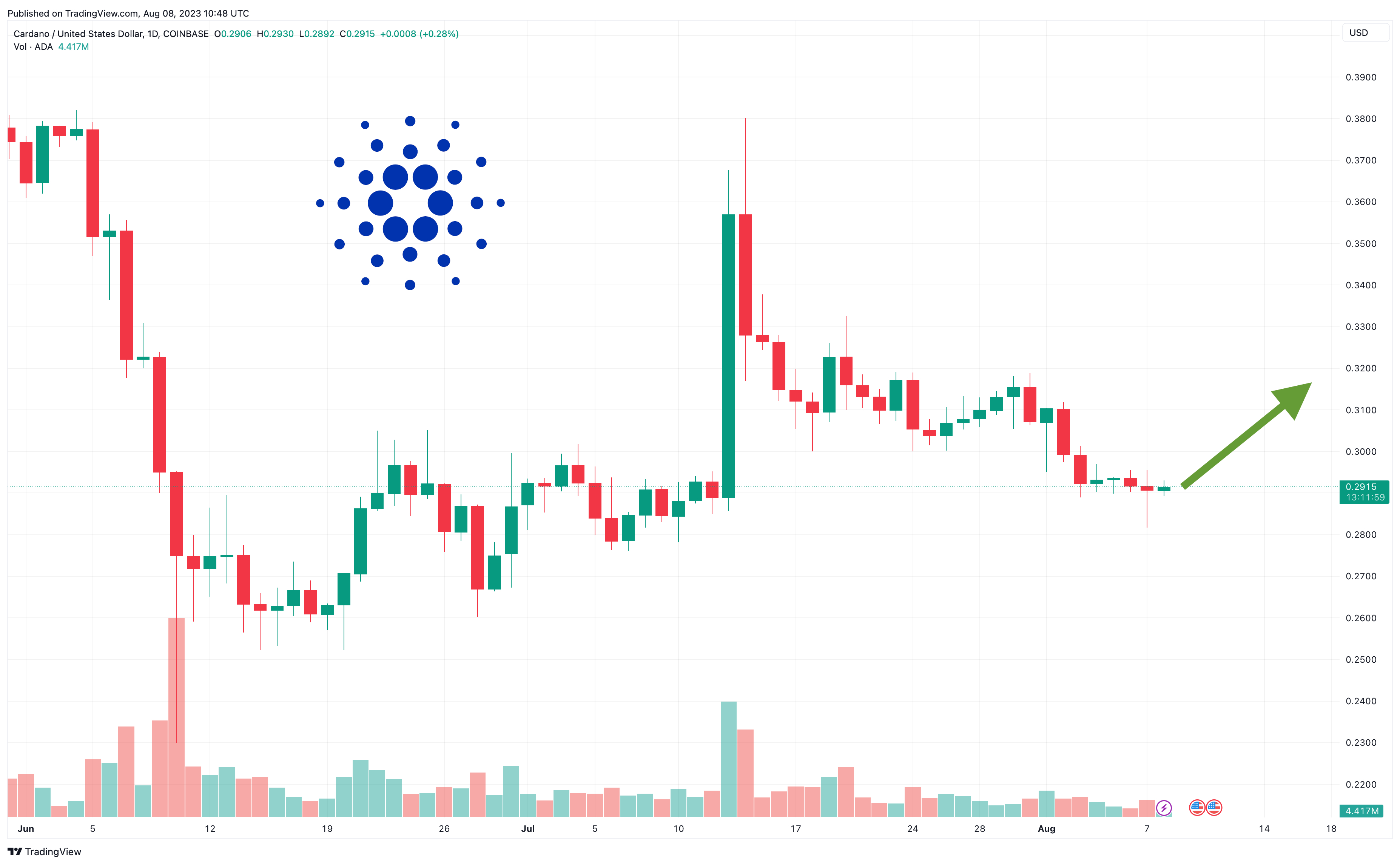 The price of Cardano (ADA) has dropped by 0.5% in the past 24 hours, with its slide to $0.290402 also representing a 5% loss in the last seven days.
This weekly fall comes amid a difficult period for the wider cryptocurrency market, which has recently been undermined by negativity surrounding the downgrading of US government debt, as well as by the development of Coinbase's legal battle with the SEC.
However, ADA remains in a strong position fundamentally, with Messari's latest State of Cardano report finding that average daily dapp transactions on the platform increased by 49% between Q2 2023 and Q3.
Combined with Cardano's steadily rising total value locked in, this points to a not-too distant future in which demand for ADA will be high, pushinng up its price in the process.
Cardano Price Prediction as Blockchain Transactions Surge Up Nearly 50% in 3 Months – Are Whales Moving to Cardano?
ADA's chart suggests that, after a period of disappointing performance, the altcoin should be close to mounting a recovery.
ADA's relative strength index (purple) has begun rising a little after touching 30 last week, signalling a slight recovery in momentum that could translate into distinctive gains in the next few days.
At the same time, the altcoin's 30-day moving average (yellow) has almost certainly bottomed out in relation to its 200-day average (blue), a position which tends to lead to gains.
However, traders need to be aware that ADA's support level (green) has declined steadily over the past few weeks, and there's no really good reason why it can't fall a little more before we see any recovery.
But ADA should definitely recover soon, given Cardano's recent growth as a platform.
As mentioned above, Messari's latest State of Cardano report finds that the Cardano network is now processing significantly more traffic, with average daily transactions up by nearly 50% in the last quarter.
Cardano has also witnessed an encouraging 50% quarter-on-quarter growth in the total amount of ADA locked, as well as 35% growth in stablecoin value on its network.
This all points to Cardano's steady growth as a layer-one blockchain platform, and when combined with the fact that the network's total value locked in (in USD) has risen by nearly 200% since the beginning of the year, it suggests that it may become one of the biggest blockchains in the sector before long.
In turn, this would indicate a consistently rising price for ADA, which could potentially return to $0.40 in the next one or two months, before reaching $0.50 by the end of the year.
Market-Beating Gains With Presales
The only real issue with ADA is that it's the kind of coin that's more likely to rise steadily rather than suddenly, meaning that anyone hoping for big short-term gains is probably better off turning to other, newer altcoins.
It may be advisable to diversify with one or two presale tokens, given that the best of these can often surge when listing on trading platforms for the first time.
One of the most successful presales happening right now belongs to Wall Street Memes (WSM), a new ERC-20 token that has impressively raised over $22.2 million since launching its sale in June.
Growing out of the meme stocks movement that was responsible for the GameStop rally in 2021, Wall Street Memes has clearly benefitted significantly from having a ready-made online community of supporters at its disposal.
Its Twitter profile now has more than 258,000 followers, an impressive number which highlights how WSM is likelier than any other new meme token to have a more long-lasting, sustainable existence as a digital asset.
Helping WSM to grow a big community of holders is its decentralization, with 50% of its two billion max supply being reserved for its presale, and with another 30% going towards community rewards.
Such tokenomics will help WSM's community feel more invested in the token than they might have with other meme tokens, particularly those that list directly.
New investors can join WSM's sale by going to the official Wall Street Memes website and connecting their crypto wallets, with 1 WSM currently priced at $0.0331.
This will rise to $0.0337 with the sale's final stage, at which point WSM will soon list on exchanges, where it could end up becoming one of the most successful new coins of the year.
Disclaimer: Crypto is a high-risk asset class. This article is provided for informational purposes and does not constitute investment advice. You could lose all of your capital.
---