Carbon Credits and Crypto Payments Unite With C+Charge – Join the Presale Now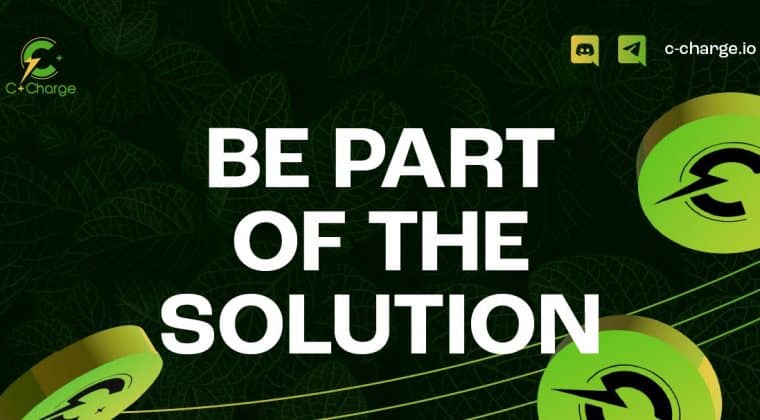 The growing climate challenges have led to calls for more sustainable transport infrastructure. One such endeavor to cut down on carbon emissions is the use of electric vehicles (EVs).
According to the European Automobile Manufacturers Association (ACEA), about 12.1% of all European vehicle sales were battery-powered. This creates growing interest in the fast-growing ecosystem.
However, charging stations for this new transport medium are grossly lacking, and this is where a blockchain project called C+Charge provides a comprehensive solution.
Through its peer-to-peer (P2P) payment network, EV owners can easily access EV charging in over 1.8 million stations.
However, this is not all there is to the project. Let's look at the project's booming potential in the coming year.
Easy Payments for EV Charging

C+Charge is a blockchain-based solution that is set to revolutionize the electric vehicle market. The platform was unveiled in 2022, and it looks to address the issues of unreliable payment services that many EV owners face at the moment.
At its core, C+Charge operates a peer-to-peer (P2P) payment system that users can avail themselves of when they get to charging stations.
Users of this platform get a mobile app with an e-wallet, which they can use to store CCHG tokens and use to make payments for EV charging across the world.
CCHG will process all payments within this ecosystem, simplifying the entire process and offering value for EV owners. As expected, the asset's increased adoption should also help its value surge.
C+Charge comes with several significant benefits. One is that the payment system removes the need for EV charging stations to accept different payment methods and support different currencies.
As more EVs enter the market in the coming years, users will be able to enjoy a unified payment solution that they can use anywhere they are.
Interestingly, C+Charge's developers are also working on implementing partnerships with charging stations in the future. This will enable anyone to get real-time information on stations close to them via the C+Charge mobile app and provide seamless operation across the board.
EV users won't need a point-of-sale system to make payments since they can simply process these payments using their crypto wallets. This should lower the barriers to entry for drivers while also significantly reducing their overhead costs.
Carbon Credits to EV Owners
Another significant benefit of C+Charge is the potential for EV owners to get carbon credits.
Whenever users make payments using CCHG, they will be able to enjoy access to carbon credits in the form of non-fungible tokens.
C+Charge is looking to democratize access to the carbon credit market, which has hitherto only been available to high-net-worth individuals and big players.
So, while the market for carbon credits expands, it has continued to be restrictive. The platform's developers hope this will encourage even more people to switch to EVs in the long run.
Users of C+Charge will primarily be able to earn carbon credits for their primary contributions to the environment without investing so much money in eco-friendly projects.
The CCHG Token
As explained earlier, C+Charge operates using a native token. CCHG has been touted as one of the most exciting new coins on the market, and it will be used to conveniently process payments for charging stations.
The digital asset is also a deflationary token, with its units being taken out of circulation whenever it is used for payments. This model is sure to bolster the asset's price prospects and support gains down the line.
The CCHG token has raised over $2 million so far, and with the presale offering a viable opportunity to buy low, now is a good time to get in.
Disclaimer: The Industry Talk section features insights by crypto industry players and is not a part of the editorial content of Cryptonews.com.
---