BTC三TH Soars Nearly 450%, Leads Daily Crypto Gainers as Bitcoin BSC Enters Presale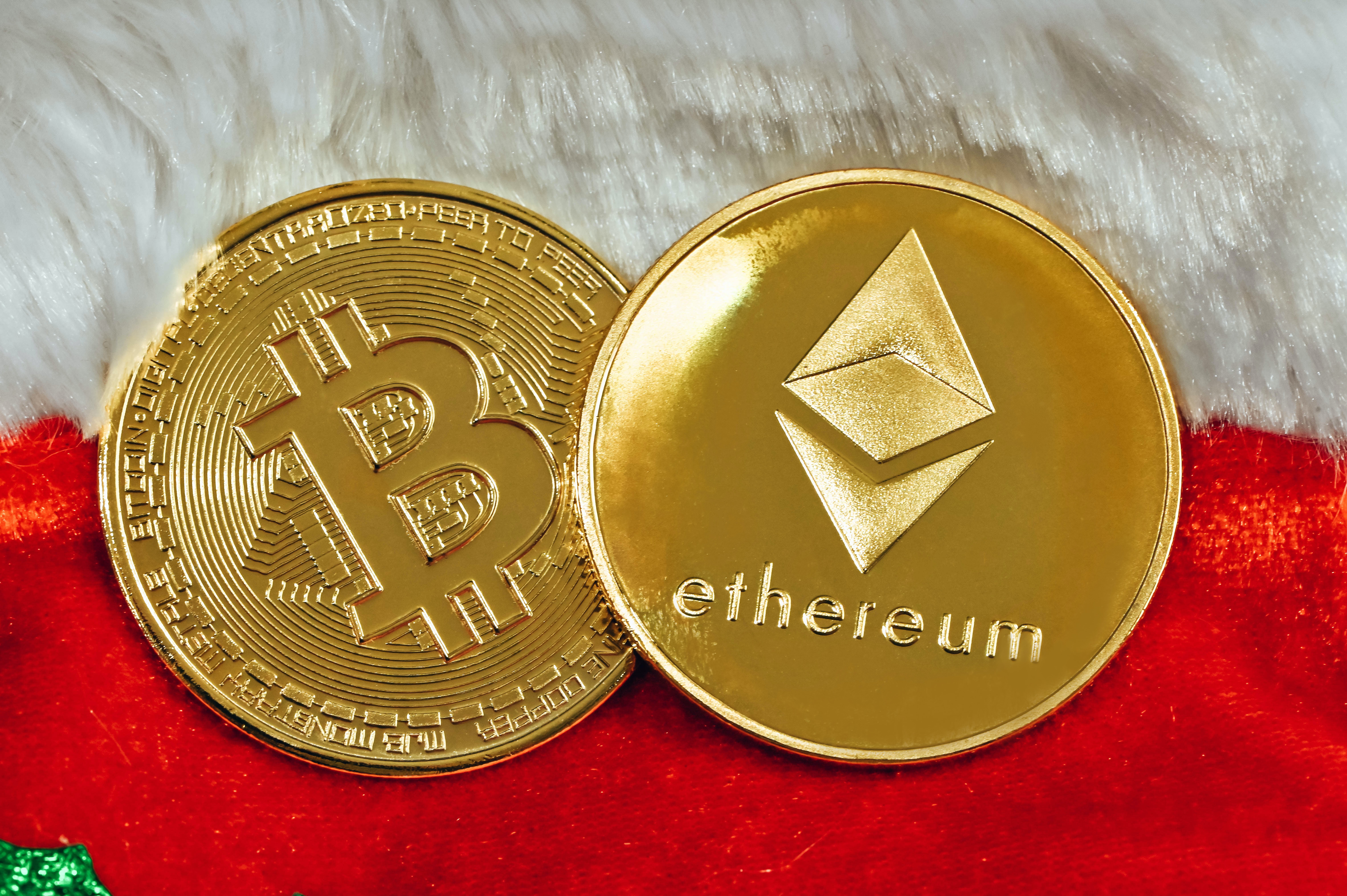 BTC三TH saw impressive gains of nearly 700% today after its highly anticipated crypto listing. The meme coin advanced to an intraday high of $0.00005066 before profit-taking pulled it back down.
Now finding support near the 50 EMA on the 5-minute chart, BTC三TH is stabilizing between key levels as bulls hope for a continuation of the uptrend.
Despite retreating from its peak, BTC三TH remains up a significant 448.83% so far today amid the volatility surrounding its listing.
BTC三TH's Indicators Suggest Consolidation Before Continued Trend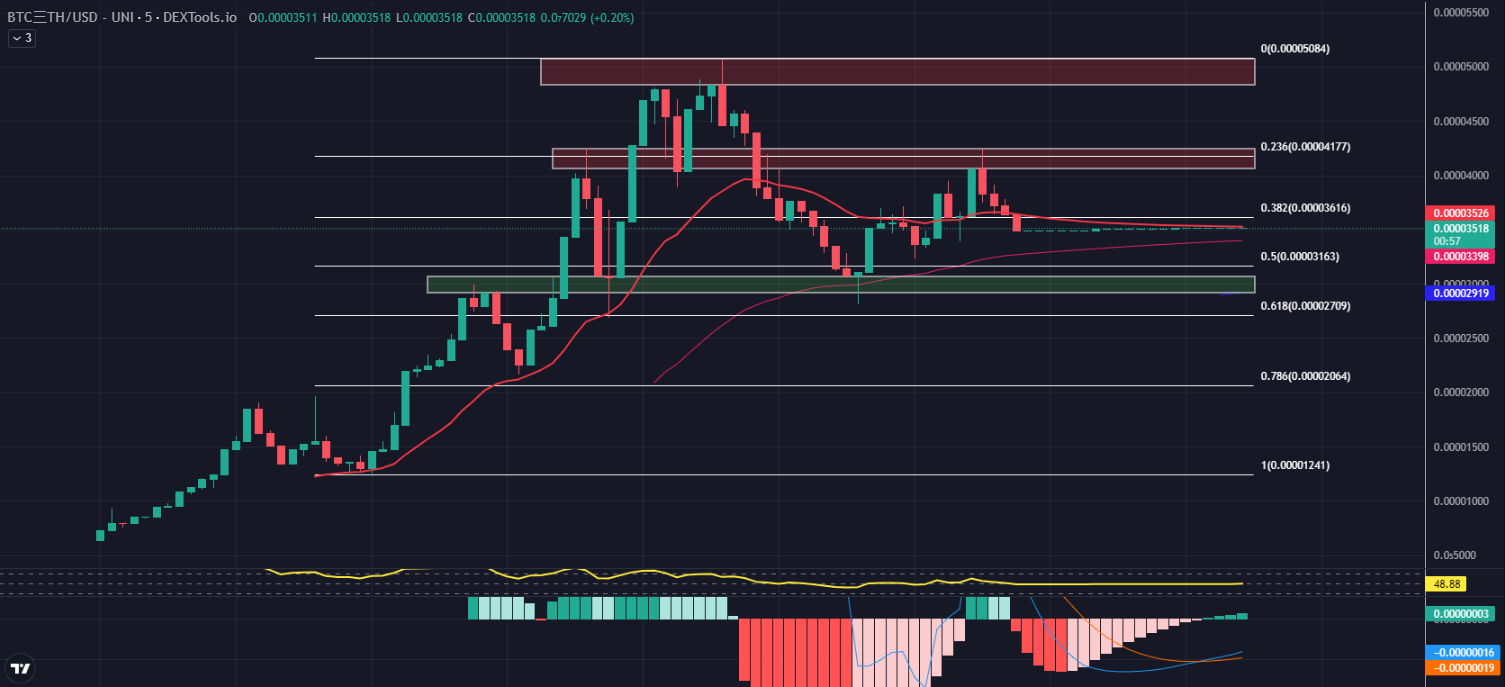 The 5-minute chart for BTC三TH shows three significant EMA levels - 20, 50, and 100. The coin is currently trading at $0.00003518, slightly below its 20 EMA but above its 50 EMA.
This suggests BTC三TH is consolidating between these two levels, indicating stability despite its volatile start.
The RSI for BTC三TH is currently at 48.88, just below 50. This signals neither buyers nor sellers have full control right now.
A potential retest of the RSI50 could continue the upward trend, but failing to cross it may lead to more consolidation or downside.
Monitoring BTC三TH's Key Levels Could Potentially Present Trading Opportunities
In terms of resistance, BTC三TH faces hurdles at its 5-minute 20 EMA and the Fib 0.382 level. Breaking past $0.00004058 to $0.00004242, near the Fib 0.236 level, may continue its upward trajectory.
On the flip side, the 5-minute 50 EMA and Fib 0.5 level serve as support. Failing to maintain above these could lead to further downside.
As BTC三TH finds its footing after the volatile launch, traders have an opportunity to capitalize on the consolidation taking place.
Carefully monitoring key support and resistance levels, as well as momentum indicators like the RSI can reveal advantageous entry and exit points.
While BTC三TH saw impressive gains, the wider cryptocurrency market continues to face downbeat investor sentiment, with many looking for projects that can provide returns even in the absence of significant crypto price volatility.
A new cryptocurrency called Bitcoin BSC (BTCBSC) seeks to fit that bill by allowing token holders to earn staking rewards on the Binance Smart Chain (BSC).
Rising Bitcoin Derivative Looks to Take Advantage of Current Crypto Bear Market
BTCBSC brands itself as a 'Bitcoin clone' or Bitcoin derivative, meaning it seeks to build upon the technology of the original Bitcoin network. The project offers familiar tokenomics to Bitcoin, including a fixed total supply of 21 million tokens.
But BTCBSC differentiates itself through its proof-of-stake consensus mechanism and integration with BSC. Proof-of-stake allows BTCBSC to operate with much lower transaction fees and faster confirmation times compared to Bitcoin.
The average BTCBSC transaction costs around $0.10 and is confirmed in under 5 seconds. For comparison, Bitcoin transactions can take 10+ minutes to confirm and cost upwards of $10 depending on network congestion.
BTCBSC's integration with BSC also enables it to support smart contracts. This functionality unlocks the staking rewards system, which is currently distributing 69% of the total token supply to participants over a 120-year period.
Staking Incentivizes Holding BTCBSC Tokens
According to the project's whitepaper, the BTCBSC staking rewards system will serve two purposes.
First, it will provide token holders a way to earn a yield on their investment without having to rely on price appreciation alone. At current rates, stakers can achieve an APY of approximately 8-10%.
Second, staking will discourage sellers by incentivizing long-term holding of tokens. Projects often see dramatic price declines post-launch as early investors dump their tokens on the open market. By rewarding holding through staking yields, selling pressure is reduced.
This combination provides benefits to both long-term holders looking for recurring income, as well as investors focused on capital gains who want to mitigate post-launch volatility.
By distributing the majority of tokens through staking rewards, BTCBSC will incentivize the long-term holding required to reduce price swings after launch.
This allows for more sustainable growth compared to other crypto projects.
BTCBSC Presale Currently Open to Public
In addition to staking rewards, BTCBSC seeks to drive demand through presale scarcity and speculative potential leading up to the next Bitcoin halving in 2024.
The project is currently holding a public presale, offering 29% of the total token supply to early participants. Tokens are priced at $0.99 each, comparable to Bitcoin's price in 2011 according to the development team.
Following the presale, BTCBSC will launch on the decentralized exchange PancakeSwap. Liquidity has been locked already through Unicrypt, reducing the risk of a potential rug pull.
For those looking to earn yields on their crypto holdings, BTCBSC's staking model presents an intriguing option.
Disclaimer: Crypto is a high-risk asset class. This article is provided for informational purposes and does not constitute investment advice. You could lose all of your capital.
---