Blockchain Mag Gets Royal OK, Crypto Comedians Question Queen's Bitcoin Interest
A letter from Queen Elizabeth II's office pertaining to blockchain has sent the crypto community into a monarchic meltdown of speculation about the British ruler's bitcoin (BTC) interest – with some jokingly suggesting the 94-year-old sovereign may be sitting on a stash of satoshis…or could even be the mysterious author the BTC white paper herself.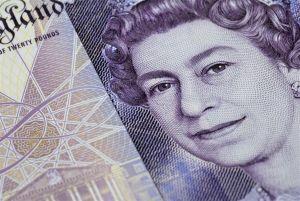 The storm in a royal teacup began when a UK-based organization named the Centre for Evidence-Based Blockchain (CEBB) began publishing what it claims is the first "peer-reviewed, scientific blockchain journal" in the world earlier this year.
The journal was met with incredulity by British newspaper the Financial Times – despite the publisher's claims that it is printed and distributed to the journal archives of the British Library, the Cornell University library and other renowned seats of learning.
But the publisher's chair Naseem Naqvi – also the head of the British Blockchain Association – took the bold step of mailing a copy of the journal to the Queen.
Naqvi was likely as surprised as anyone else to receive a reply (a copy of which he shared on LinkedIn), sadly not from the Queen herself, but rather a staffer named Poppy Whitworth, from the monarch's Private Secretary's Office.
Whitworth wrote that she had "been asked" to thank Naqvi, and added that the Queen "appreciated" his "thoughtful gesture."
She added,
"Her Majesty was interested to learn that the publication is the first open-access blockchain publication research journal available both in print and online."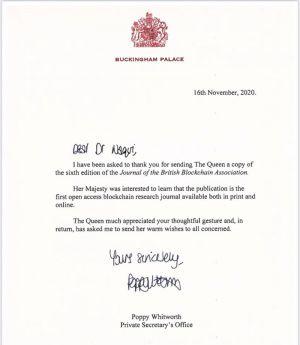 The FT was clearly tickled pink, with journalist Jemima Kelly quipping,
"We hope that maybe by the time we are 94 we too will be able to muster some interest in such matters."
Meanwhile, on a Reddit thread, users were also having a royal ball, with one imagining a scenario whereby the Queen – sitting on a pot of BTC – was resolutely refusing to relinquish power to her son, the Prince of Wales, until she saw "these babies go straight to the moon."
Another Redditor jested,
"Plot twist: the Queen is Satoshi Nakamoto."
Twitter-based crypto celebs were also not to be denied their fun, with Binance chief Changpeng "CZ" Zhao among the many chiming in.
___
Learn more:
John Lennon's Son Says Bitcoin Brings Hope Amid 2020's 'Ocean of Destruction'
Mexican Billionaire and GOT Actress Buy Bitcoin – and Want the World to Know
---