Bitcoin Whales Show Confidence in Latest Rally as They Refuse to Sell, On-Chain Data Reveals
Disclosure: Crypto is a high-risk asset class. This article is provided for informational purposes and does not constitute investment advice. By using this website, you agree to our terms and conditions. We may utilise affiliate links within our content, and receive commission.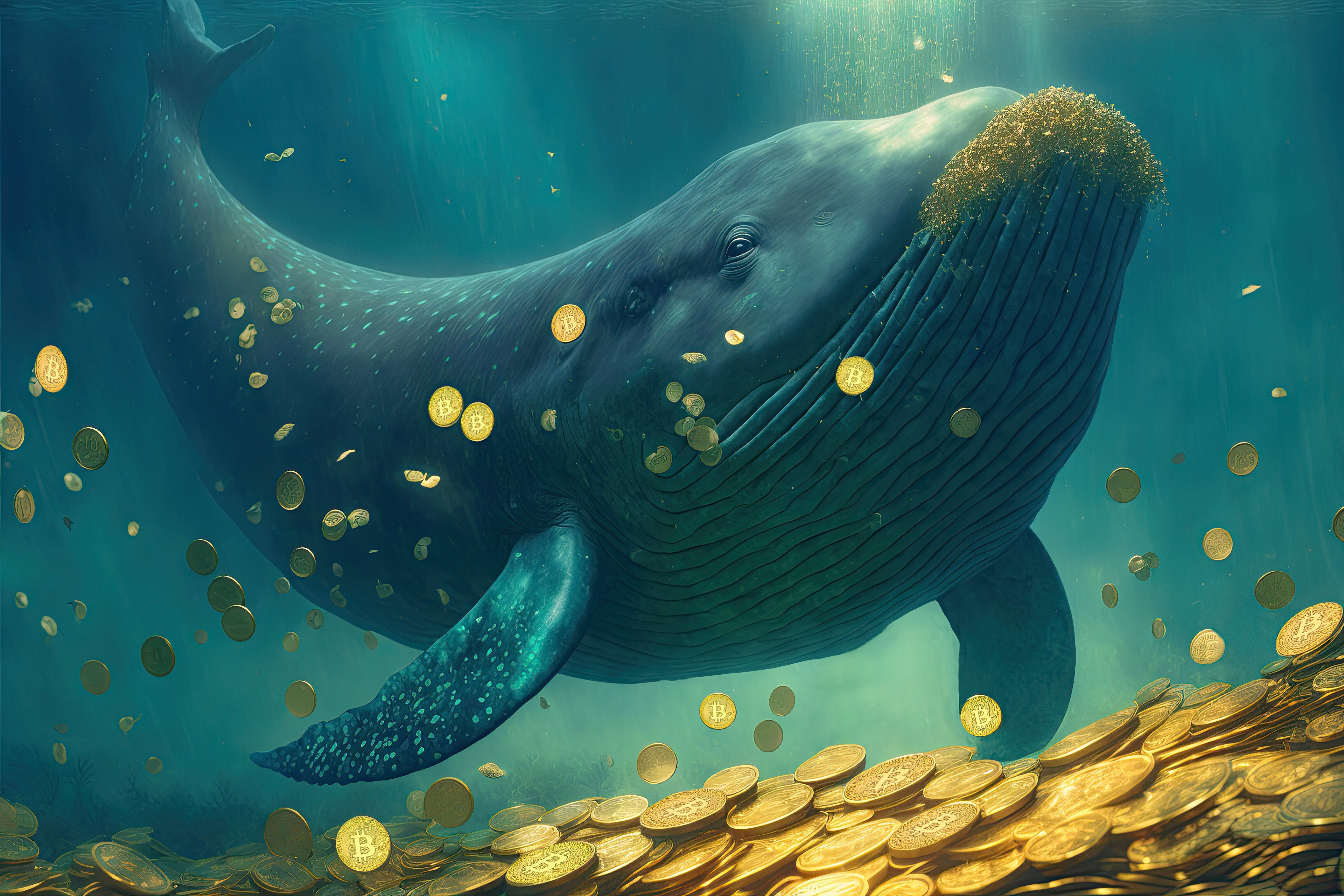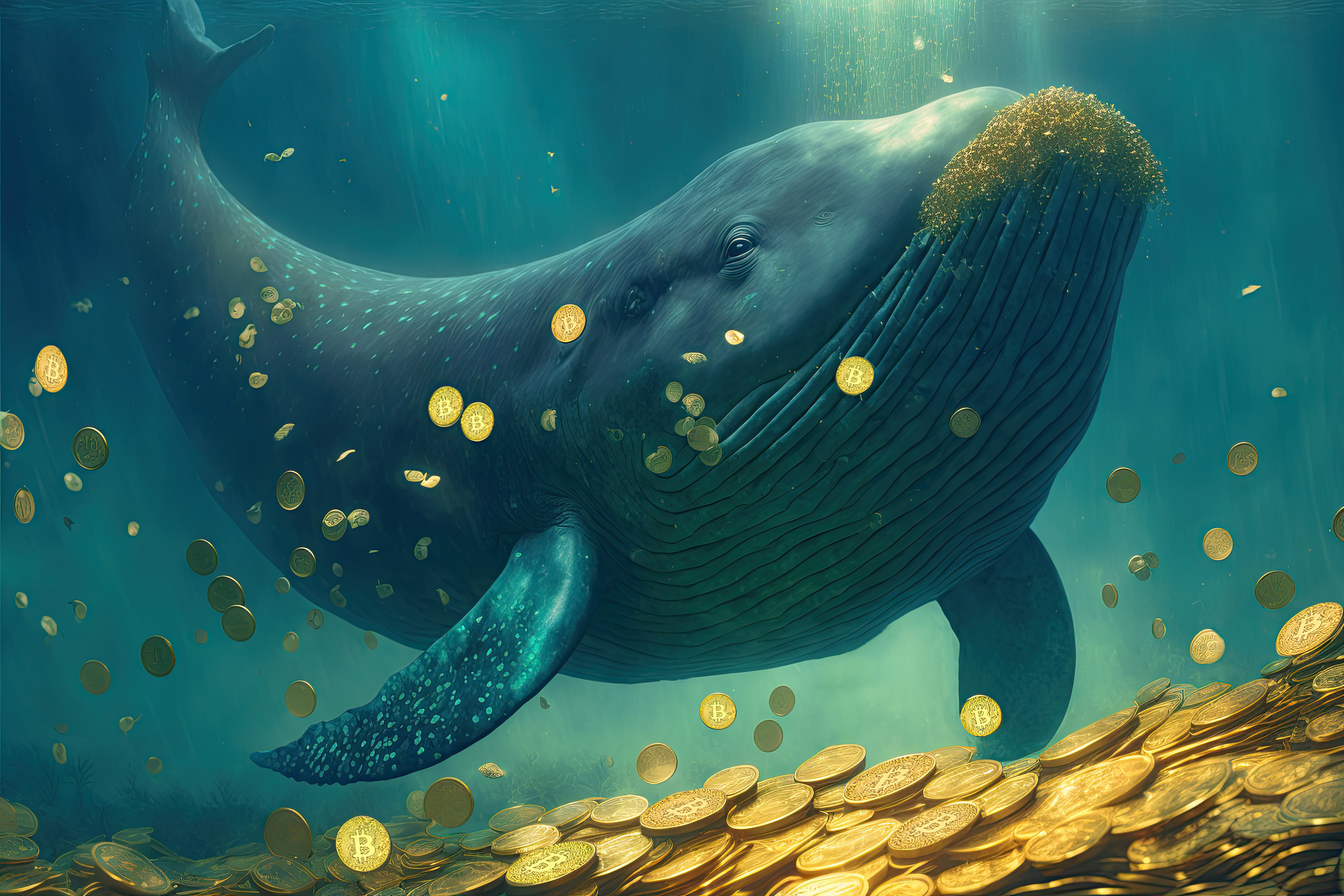 Despite the rally in Bitcoin that has seen prices jump around 27% since the start of the year, on-chain data suggests that Bitcoin whales are not using the pump as an opportunity to sell their holdings. According to some analysts, this is a sign of confidence that the recent rally signals the start of a longer-lasting bull market.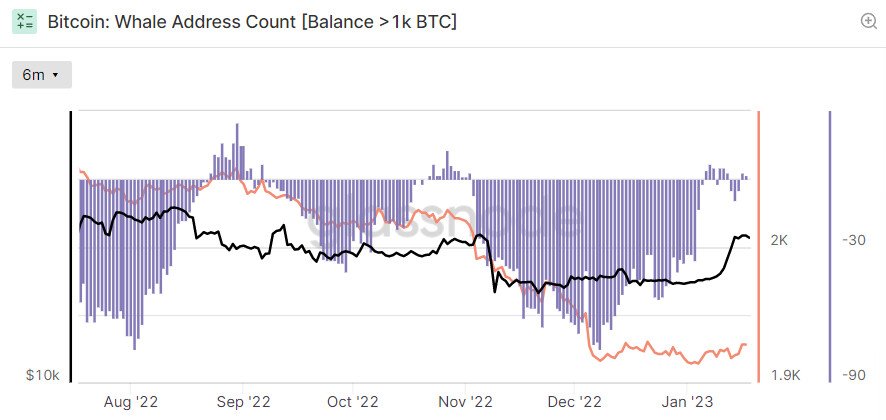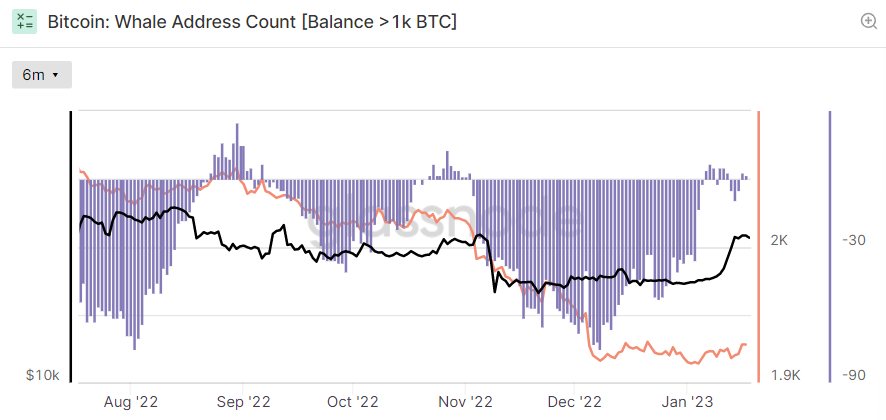 According to data from crypto analytics firm Glassnode, the number of Bitcoin addresses holding between 1,000 to 10,000 Bitcoins (or so-called whale addresses) has remained broadly steady at just above 1,900 since the start of December. Shark bitcoin addresses, which hold anything between 100 to 1,000 Bitcoins, have also held steady in number in recent weeks. According to Glassnode, there was last around 14,000 of them.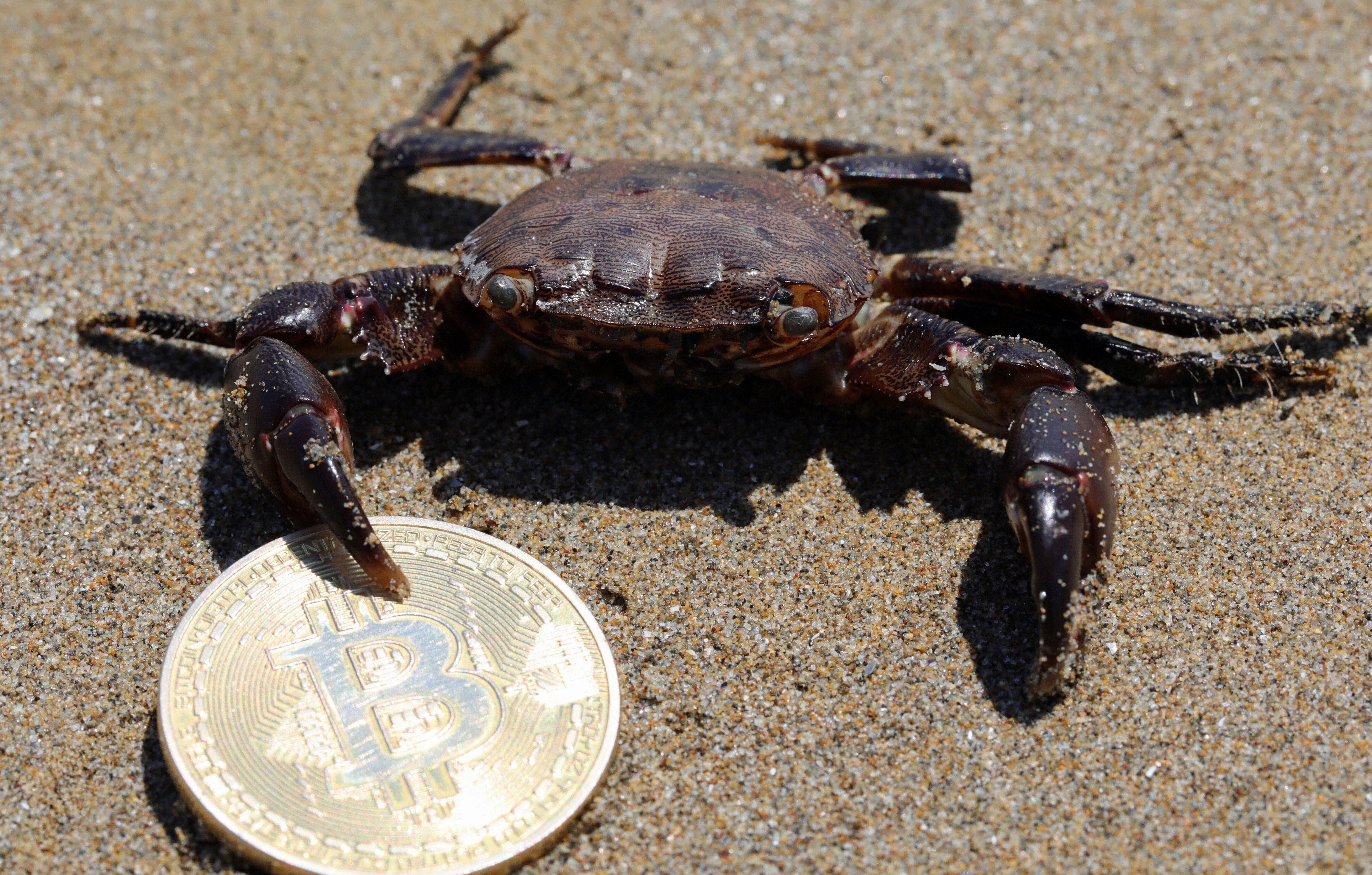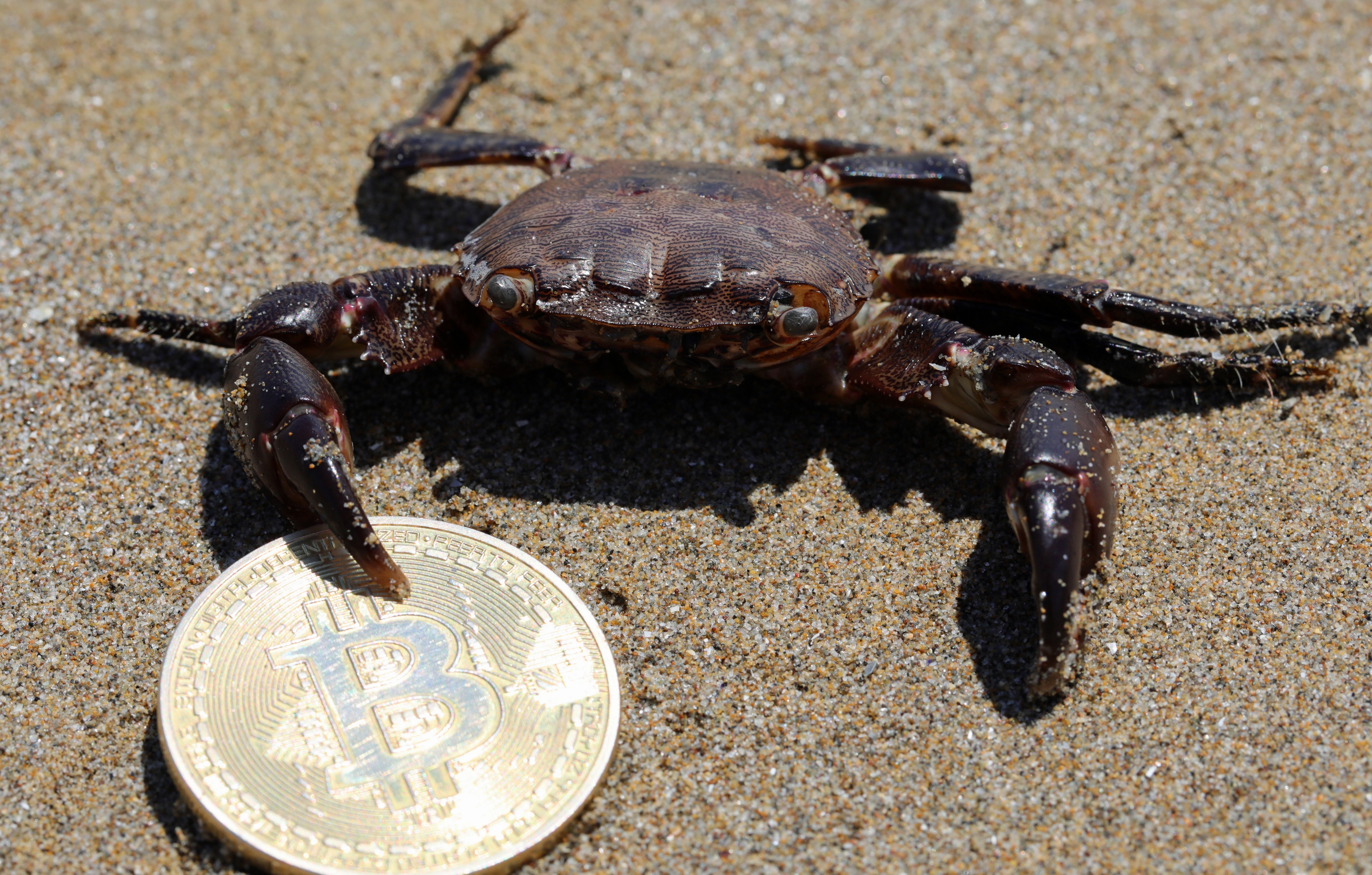 The Fish and Crabs Have Been Accumulating
Bitcoin bulls will be pleased to know that two important address cohorts have continued to accumulate the world's largest cryptocurrency by market capitalization in recent weeks and at an accelerated pace since the collapse of FTX in early November. According to Glassnode, the number of Crab Bitcoin addresses (which hold 1-10 Bitcoins) had risen from under 760,000 prior to the FTX collapse to close to 830,000 as of last week.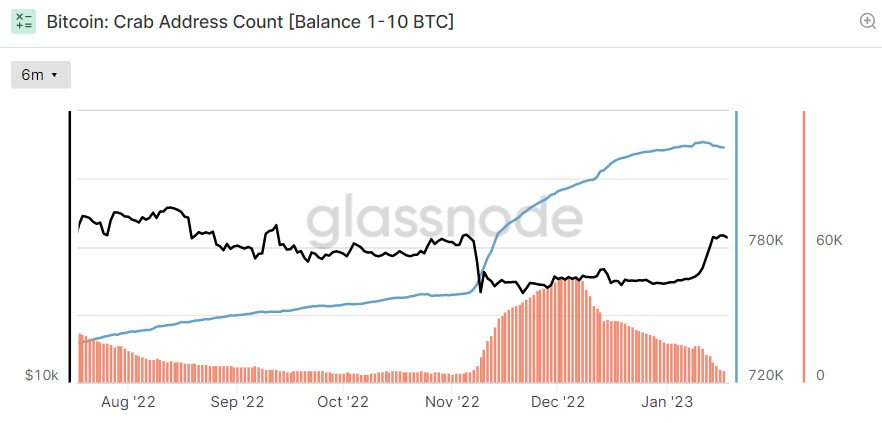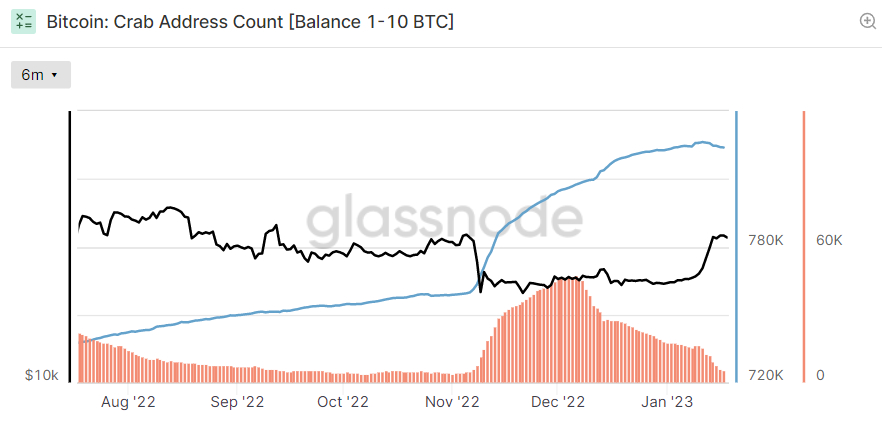 Over the same time period, the number of Fish addresses (which hold 10-100 Bitcoins) has jumped from around 135,000 to close to 140,000, near its record high.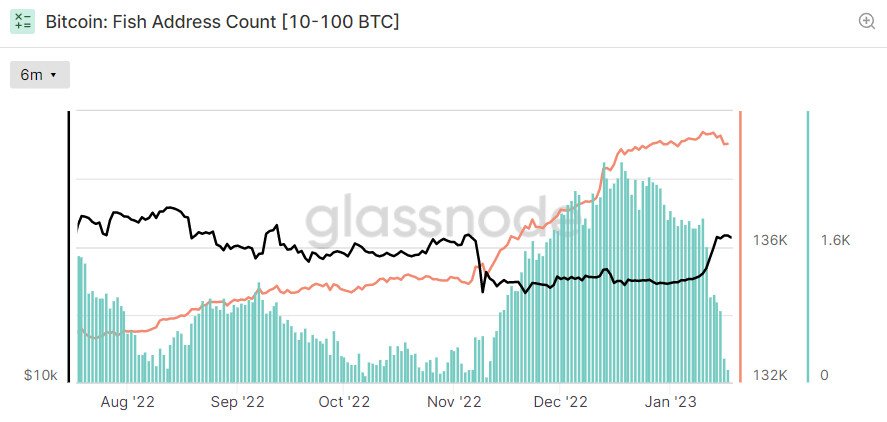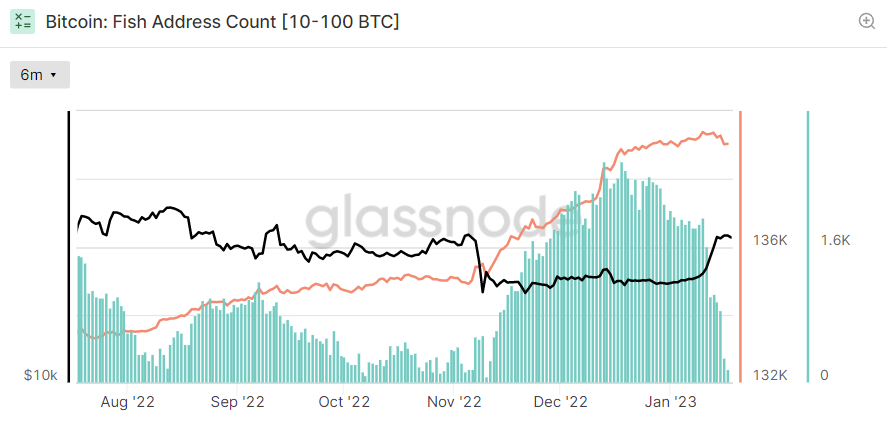 This suggests that medium to large-sized Bitcoin investors 1) used the drop in price triggered by the collapse of FTX as a dip buying opportunity and 2) are not selling their holdings as prices recover back to their pre-FTX implosion level.
Small Investors Yet to Pile In
Large and mega-sized Bitcoin investors are clearly shown solid signs of 1) wanting to buy the dip and 2) not wanting to sell into the rally in recent weeks and months. But the Bitcoin bulls shouldn't get too excited just yet.
That's because we are yet to see an acceleration in the growth of new Shrimp addresses (holding under 1 Bitcoin) that typically occurs during bull markets. Indeed, according to Glassnode data, the number of Shrimp addresses has flatlined around 42 million in the last few weeks, after enjoying a short-lived bump to nearly 43 million in the immediate aftermath of the FTX collapse.
If this number starts to rapidly rise, as has happened during past periods of rapid Bitcoin price gain, such as during 2019 and late 2020 to early 2021, that would signal that smaller retail investors are once again getting involved, which would be a bullish sign.
Altcoins to Consider
Cryptocurrency markets have been performing well since the start of 2023, but the longer-term bear market remains very much still in play. Investors might still want to consider diversifying their holdings with the discounted presale tokens of some promising, up-and-coming crypto projects. Here is a list of a few that analysts at InsideBitcoins think have the potential to perform well.
FightOut (FGHT) – Presale on Now
The young move-to-earn crypto niche has shown a lot of promise, but early success stories like STEPN have significant limitations that have, so far, prevented them from conquering the mainstream. FightOut, which touts itself as the future of move-to-earn, wants to change that in 2023. FightOut is a brand new web3 fitness application and gym chain that rewards its users for working out, completing challenges and competing within a first-of-its-kind fitness metaverse.
While existing M2E applications such as STEPN only track steps and require expensive non-fungible token (NFT) buy-ins to take part, FightOut takes a more holistic approach to tracking and rewarding its users for their exercise and activity, and doesn't require any expensive buy-ins to take part. FightOut seeks to combine the physical and web3 worlds.
The project aims to eventually acquire gyms across all of the world's major cities, whilst simultaneously promoting an integrated web3 fitness experience. At the center of FightOut's digital ecosystem will be its smartphone application which, according to FightOut's whitepaper, is scheduled for launch in Q2 2023.
The FightOut app will harness smartphone and wearable technology to measure and track physical performance. The app will have its own in-house tokenized economy, where users can earn rewards for completing M2E tasks, and can mint their own soul-bound token avatar, through which the user will be able to interact with the FightOut metaverse.
FGHT is the token that powers the FightOut metaverse ecosystem. Users will pay to enter competitions and leagues with FGHT, and winning will be paid out in FGHT.
FGHT can also be used in peer-to-peer fitness wagers. FightOut's FGHT tokens are currently selling for 60.06 per 1 USDT, and interested investors are encouraged to move fast to secure their tokens, with the pre-sale having already raised close to $3.0 million in just a few weeks. FGHT is the token that will power the FightOut crypto ecosystem.
Calvaria (RIA) – Pre-sale Nearly Over
RIA, the token that will power afterlife fantasy-themed NFT battle card game Calvaria, is also currently in presale. The play-to-earn (P2E) crypto gaming start-up has raised close to $3.0 million in just a few months since the launch of its pre-sale. Only around 12% of its tokens remain up for grabs.
Calvaria seeks to bring crypto gaming into the mainstream by tapping into a huge, existing market – the market for physical battle card games (think viral sensations of the past like Pokemon and Yu-Gi-Oh). And with the crypto gaming space expected to grow from $4.6 billion in size in 2022 to $65.7 billion in size by 2027, according to an analysis by Markets and Markets, there is plenty of room for massive growth. Calvaria is set to launch its headline fantasy-themed card game "Duels of Eternity" in Q2 2023.
C+Charge (CCHG) – Presale Now On
The carbon credit industry is projected to be worth $2.4 trillion by 2027. Democratizing access to accrue these benefits is going to massive business in the years ahead and this is something crypto start-up C+Charge hopes to achieve. C+Charge is currently building a blockchain-based Peer-to-Peer (P2P) payment system for EV charging stations that will allow the drivers of electric vehicles (EVs) to earn carbon credits.
C+Charge aims to boost the role of carbon credits as a key incentive for the adoption of EVs. At present, large manufacturers of EVs like Tesla earn millions from selling carbon credits to polluters. C+Charge wants to democratize the carbon credit market by allowing more of these rewards to find themselves in the hands of the EV owners, rather than just the big businesses.
C+Charge has just started its pre-sale of the CCHG token that its platform will use to pay at EV charging stations. Tokens are currently selling for $0.013 each, though by the end of the presale, this will have risen by 80%. Investors interested in getting in early on a promising environmentally friendly cryptocurrency project should move fast, with the project having already raised over $300,000 in just a few weeks since the presale launch.
Investors should note that the remaining tokens could be scooped up quickly. A crypto whale recently scooped up over $99 worth of CCHG in one transaction, as can be verified here on BscScan.
Meta Masters Guild (MEMAG)
Meta Masters Guild is an up-and-coming web3 mobile gaming ecosystem that says its wants to create fun and addictive games that utilize non-fungible tokens (NFTs), allowing community members to earn rewards, as well as stake and trade. Game development is already underway, with the team set to launch their first title Meta Karts in the coming months.
The promising crypto gaming start-up is currently conducting a presale of its MEMAG tokens, which are currently being sold for $0.007 each. According to some observers, this is a steal. Moreover, this price will have risen to $0.023 by the seventh stage of the presale, meaning early investors could be sat on paper gains of over 300% by the time the presale ends.
Visit Meta Masters Guild here.
---