Bitcoin Ups Its Dominance As Altcoins Bleed More, Led by DeFi Tokens
The crypto market has intensified its correction today, sending the total market capitalization down by more than 6%, to USD 371bn, while the majority of top altcoins dropped against bitcoin (BTC).
BTC itself lost 5% in a day and is trading at USD 11,328 (UTC 17:15). The price is also down by 1.5% in a week. Meanwhile, other coins from the top 10 are down by 7%-10%, except binance coin (BNB) which is still up by 3% in a day.
BTC price chart: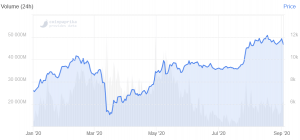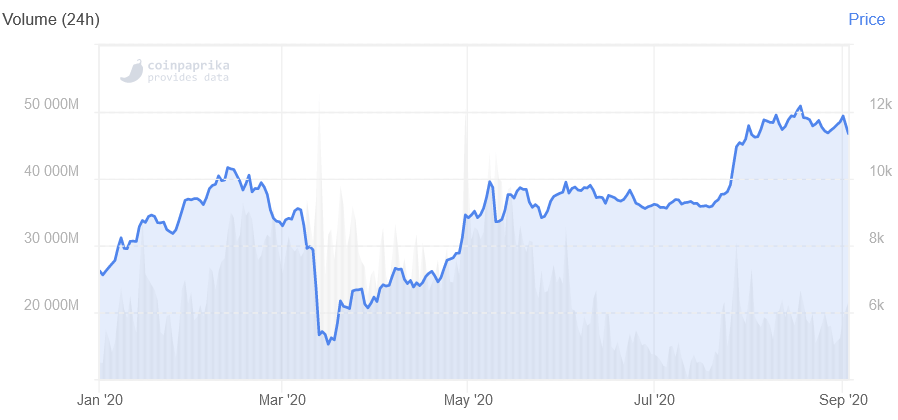 Ethereum is down by almost 10%, trimming its weekly gains to also almost 10%. Moreover, ETH trading volume in the past 24 hours reached USD 22.27bn and is now bigger than BTC trading volume (USD 21.31bn).
At the same time, major DeFi tokens are down in double digits today. UMA is down by 27%, while yearn.finance (YFI) and aave (LEND) dropped by 18.5% and 15%, respectively.
As a result, BTC dominance, or the percentage of the total market capitalization, increased by around 0.5 percentage point in the past 24 hours, to 56.3%, but is still lower than 57.7% a week ago.
As reported today, Mike Novogratz, Founder and CEO of Galaxy Digital, said that the current macroecomic backdrop, as well as the frenzy surrounding DeFi, has proven just how "powerful" BTC is as a store of value as it fared pretty well in the face of what he called "selling pressure" from speculators looking to make quick profits in the DeFi space.
Also, he said that he's "a little worried that we're going to have a big correction in a lot of risky assets soon," but the investor doesn't expect that this correction will last for long.
___
Reactions:
---