Bitcoin Price Prediction as BTC Dips 2.7% to $36,000 Level – Here are Key Levels to Watch Now
Disclosure: Crypto is a high-risk asset class. This article is provided for informational purposes and does not constitute investment advice. By using this website, you agree to our terms and conditions. We may utilise affiliate links within our content, and receive commission.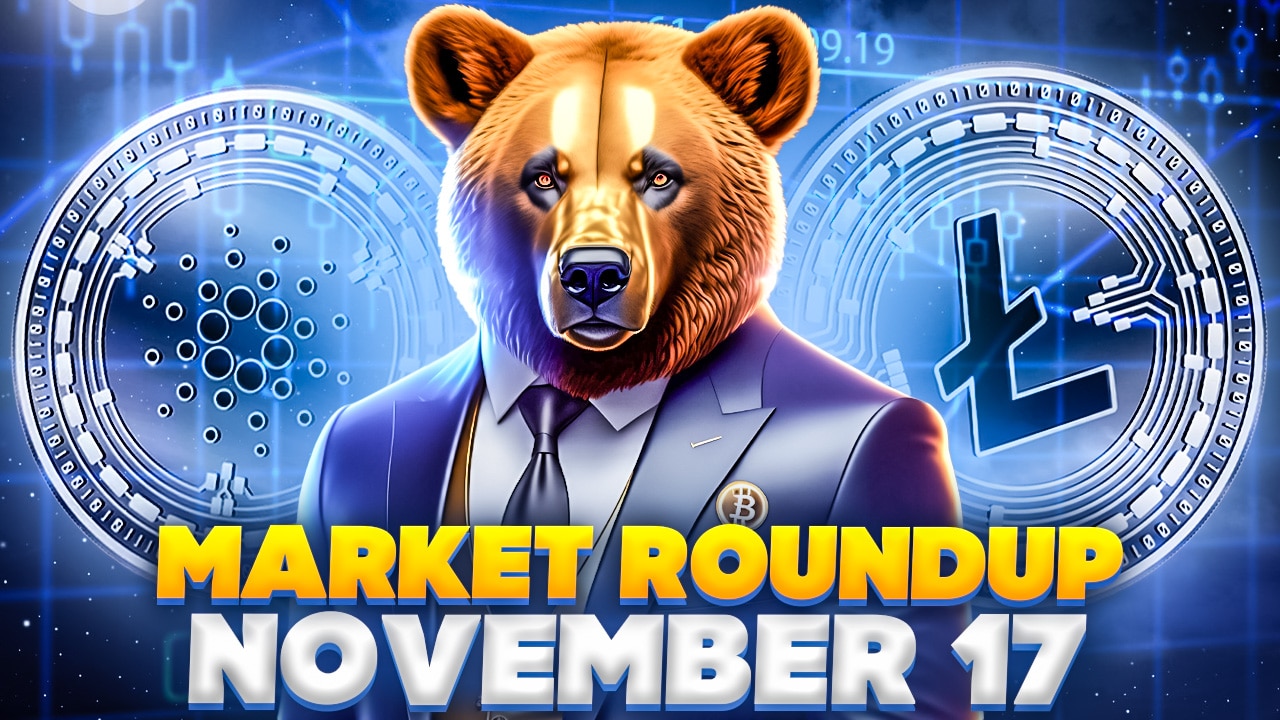 In the ever-fluctuating world of cryptocurrencies, Bitcoin (BTC/USD) has recently witnessed a notable dip of 2.7%, bringing it down to the pivotal $36,000 level. This movement marks a crucial juncture for investors and traders alike, who are now keenly observing the market for potential shifts in momentum.
This analysis delves into the crucial support and resistance levels that should be on every market watcher's radar, providing insights into the potential pathways Bitcoin could take in the coming days.
Bitcoin Price Prediction

Bitcoin, the flagship cryptocurrency, is presently navigating a crucial phase in its market journey. As of November 17, the Bitcoin (BTC/USD) price stands at $36,500, with a significant trading volume of $26 billion. The asset holds a dominant position in the cryptocurrency market, with a live market cap of approximately $713 billion.
Key Price Levels and Indicators
The pivotal point for Bitcoin currently rests at $35,875. This level serves as a critical juncture, determining the digital currency's short-term direction. Bitcoin faces immediate resistance at $36,656, with further barriers at $37,190 and $38,025.
These levels are crucial for traders to watch, as a breakthrough could signal a bullish continuation. Conversely, immediate support is found at $35,260, with additional safety nets at $34,540 and $33,700, which could be pivotal in preventing further declines.
📈 #BitcoinUpdate: BTC sees a subtle uptick at $36,499! 🚀 Key resistance at $36,656, with a bullish trend on the horizon above $35,875. 📊 Stay tuned for more #CryptoNews and analysis.

🔍 #BTC #XBT #Cryptocurrency #Trading #TechnicalAnalysis #CryptoMarket pic.twitter.com/c3gm0AbORk

— Arslan Ali (@forex_arslan) November 17, 2023
Relative Strength Index (RSI) and Moving Averages
The RSI, a measure of momentum, stands at 48, indicating a neutral market sentiment. This reading suggests that Bitcoin is neither overbought nor oversold, providing room for potential movements in either direction.
The 50-Day Exponential Moving Average (EMA) is currently at $36,400, closely aligned with Bitcoin's price, indicating a balanced market state.
Chart Patterns and Market Implications
Bitcoin's price movement is currently confined within a sideways channel, fluctuating between $35,875 and $36,650. This consolidation pattern suggests that the market is in a phase of indecision, with investors and traders waiting for a clear signal to determine the future course. A breakout from this range could be a significant trigger for further price action in Bitcoin.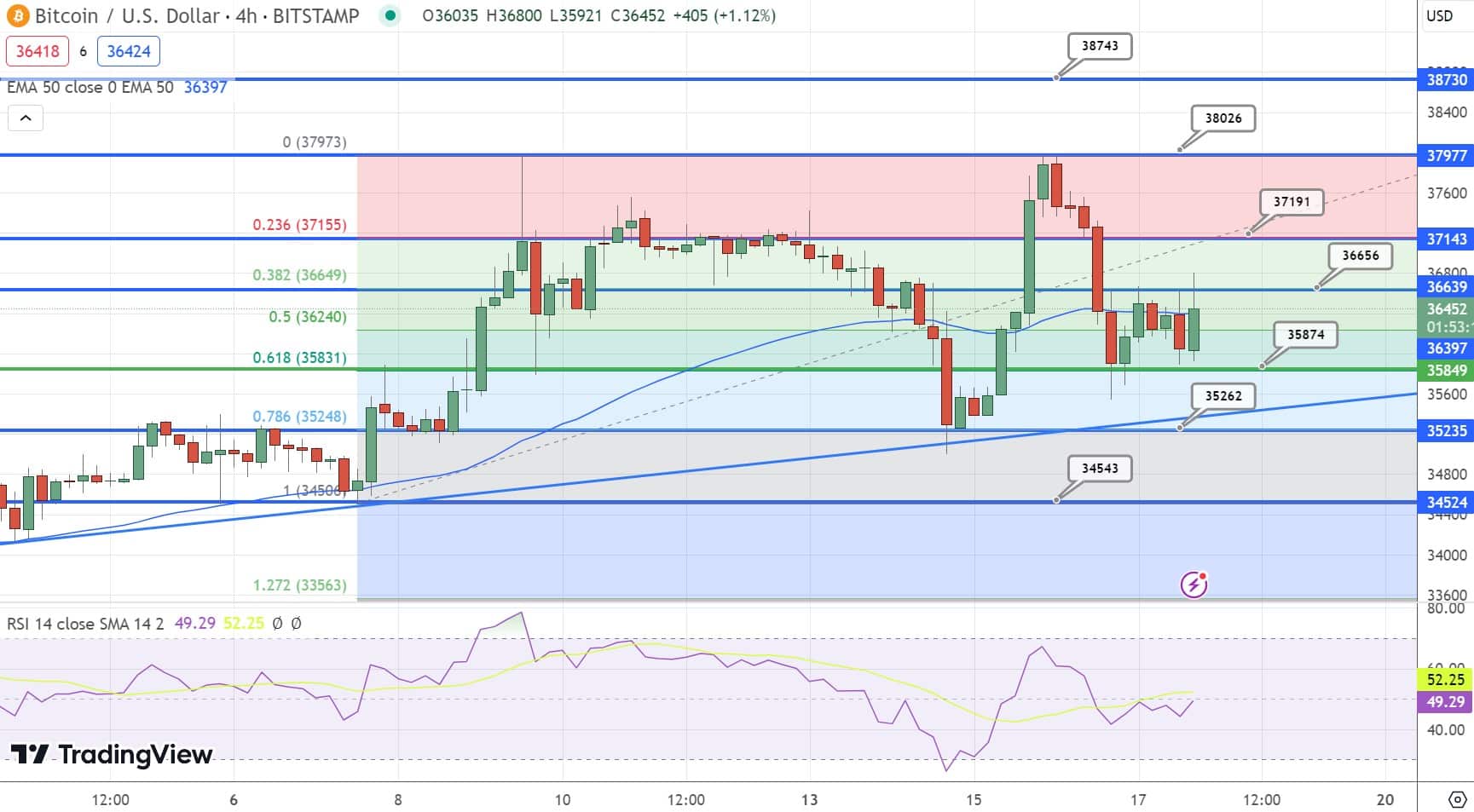 Considering the current technical setup, the overall market trend for Bitcoin seems cautiously bullish, especially if it maintains above the $35,875 level. The asset's performance in the coming days is likely to be influenced by its ability to breach the identified resistance levels. If Bitcoin can sustain momentum and overcome these thresholds, it may test higher resistance levels, reflecting a more definitive bullish sentiment.
However, the cryptocurrency market is known for its volatility, and external factors such as regulatory news, global economic trends, and technological developments can quickly sway market dynamics. Therefore, traders should remain vigilant and responsive to any market shifts that may impact Bitcoin's trajectory.
Conclusion
In summary, Bitcoin's current technical outlook suggests a potential for upward movement, contingent on breaking through key resistance levels. Market participants are advised to monitor these technical thresholds closely, as they are likely to be instrumental in determining Bitcoin's short-term direction.
As always in the dynamic world of cryptocurrency trading, flexibility and attentiveness to market signals remain paramount.
Top 15 Cryptocurrencies to Watch in 2023

Stay up-to-date with the world of digital assets by exploring our handpicked collection of the best 15 alternative cryptocurrencies and ICO projects to keep an eye on in 2023. Our list has been curated by professionals from Industry Talk and Cryptonews, ensuring expert advice and critical insights for your cryptocurrency investments.
Take advantage of this opportunity to discover the potential of these digital assets and keep yourself informed.
Disclaimer: Cryptocurrency projects endorsed in this article are not the financial advice of the publishing author or publication – cryptocurrencies are highly volatile investments with considerable risk, always do your own research.
---