Bitcoin Payments Jumped at Least 47% in January (Don't Ask About USD)
Despite USD value of bitcoins received by merchant services is still considerably lower than in January 2018, the number of bitcoins being spent among retailers and merchants is on an upward trend, according to data collected by blockchain analysis firm Chainalysis.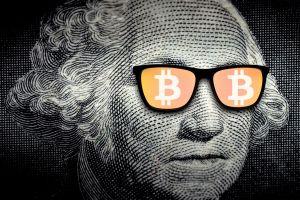 Actually, even preliminary numbers, based on data gathered from twenty merchant service providers, show that in January 2019 more than BTC 32,300 were spent, or 47% more than in January 2018. The same preliminary data show that USD value of bitcoins received by merchant services in January dropped by 70%, as bitcoin price crashed last year more than 70% (and is up by c. 50% this year.) However, Chainalysis stressed that their system needs time to process the clusters, so they expect the values recorded in the last three months (January, December, November) to be even larger and resemble those of October 2018 values, but that remains to be seen in three months' time.
USD value of bitcoins received by merchant services (first chart), and bitcoins received by merchant services (below):
The charts show that at the very beginning of 2018, more than 31,000 bitcoins were spent. However, for the next three months, this number was steadily dropping, until it reached its lowest point in March of the same year, dropping to the much lower number of 19,565. It did recover soon though and has since been on an upward trend.
Meanwhile, the same can't be said for its value in USD. At the start of 2018 the value stood at almost USD 401 million. It followed bitcoin's trajectory of fewer spending, dropping 56.6% by March 1st 2018. Here is where the difference between bitcoin and its value in USD is noticeable as, unlike bitcoin, USD value still hasn't reached its January 2018 highest price. As a matter of fact, while it fluctuated, but was still relatively stable until October 2018, at which point it was 11% higher than its dip in March. Then, in November, the market crashed.
Also, according to Chainalysis, it is noticeable that gambling is highly correlated with bitcoin price, while merchant services activity is relatively correlated with price, returns, and volume.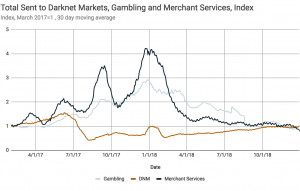 ---