Bitcoin, Ethereum Fees Drop Ahead of Fresh Rally
Bitcoin (BTC) and Ethereum (ETH) fees have dropped sharply over the weekend.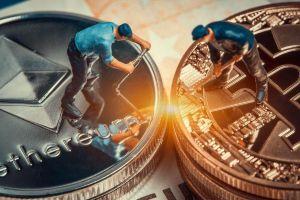 On April 25, Bitcoin median transaction fee (7-day simple moving average) stood at USD 21, which is a 13% drop in two days from more than USD 24 seen last Monday, per BitInfoCharts.com.
Ethereum recorded an even larger drop. On the same day, its medium transaction fee stood at over USD 10.3, which is 20% lower than Thursday's fee of almost USD 13.
Both of these fees have been on the rise since April 2020, recording several all-time highs as they went. Bitcoin had seen a major jump before this latest drop, moving a whopping 181% between April 13's USD 8.6 and the Friday's cost. But its all-time-high was USD 28.75, recorded in December 2017.
On the other hand, Ethereum's fees also went up 64% from April 15 until Thursday's high, which was enough to hit a new all-time high, just slightly higher than the one seen in late February (USD 12.7).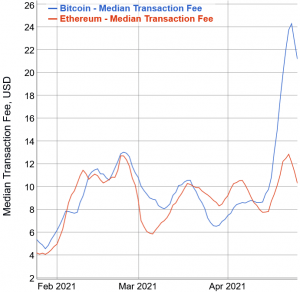 Meanwhile, at 7:36 UTC, the markets seem greener, following what was a largely red week and weekend. All top 10 coins by market capitalization, except for dogecoin (DOGE), have appreciated in the last 24 hours, and so did the large majority of the top 100 coins as well.
Bitcoin's up 6% in a day, now trading at USD 52,764. It's down by almost 9% in a week.
Ethereum's price outperforms BTC's once again, having gone up 12% in a day and 8% in a week. It's trading at USD 2,463.
That said, this fresh bull run may push the fee prices for the top two coins back up again. Blockchair.com shows a slight rise today in both Bitcoin and Ethereum median transaction fees.
Looking at average transaction fees, per BitInfoCharts, Bitcoin's fees remain unchanged since yesterday, while Ethereum's are 15% higher.
____
Learn more:
- Bitcoin Fees Hit ATH, Transactions Slow Down after China Explosion
- Ethereum Fees Decline as Analysts Point to Bots as Cause
- A Closer Look at the Environmental Impact of Bitcoin Mining
- New Bitcoin Mining Giant Emerging in US With USD 651M Deal
- Proof-of-Disagreement: Bitcoin's Work vs. Ethereum's Planned Staking
- Bitcoin Mining in 2021: Growth, Consolidation, Renewables, and Regulation
---