Bitcoin Cash Price Pushes Higher to $227 As It Benefits From Bitcoin Upswing
Disclosure: Crypto is a high-risk asset class. This article is provided for informational purposes and does not constitute investment advice. By using this website, you agree to our terms and conditions. We may utilise affiliate links within our content, and receive commission.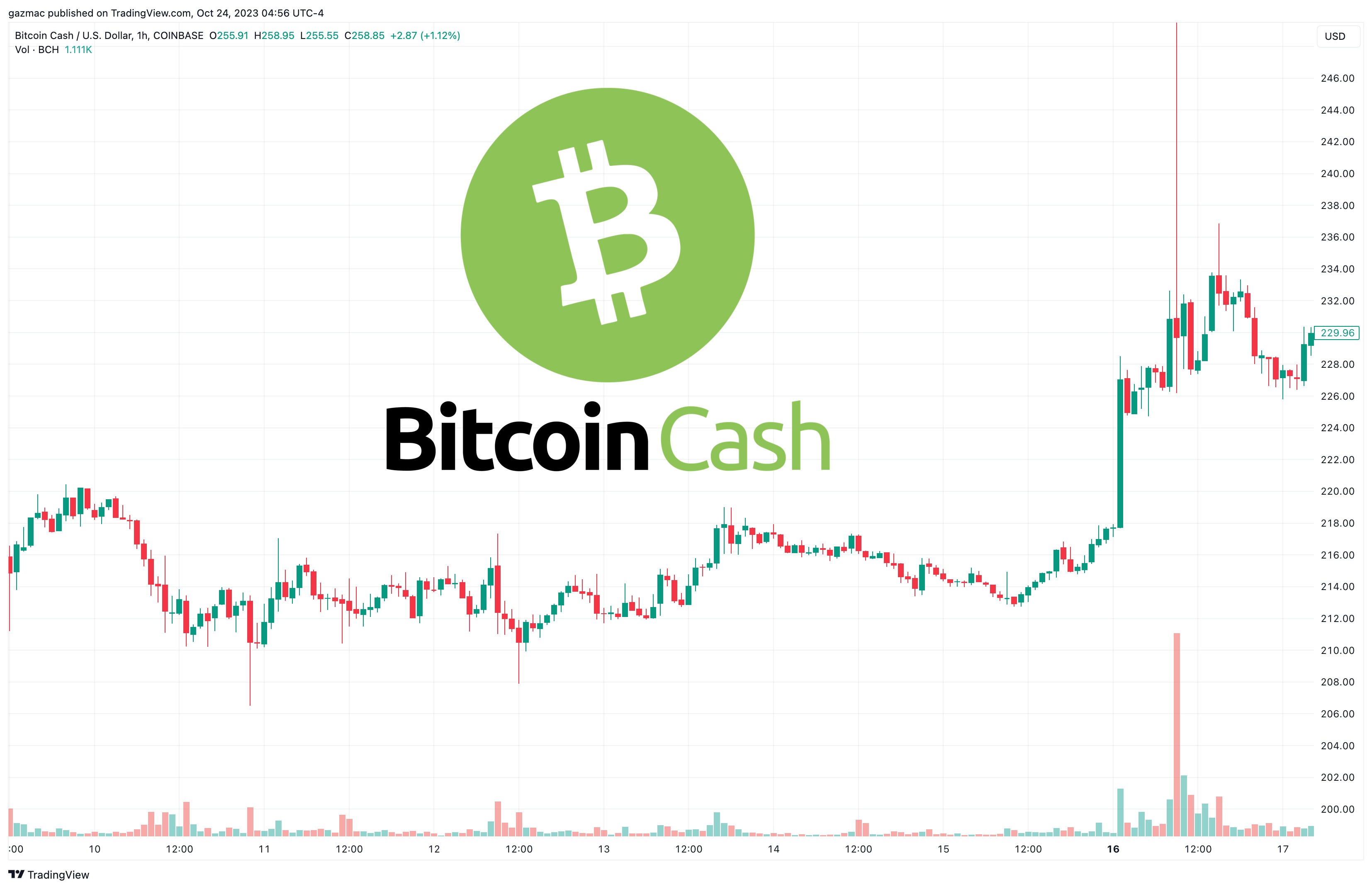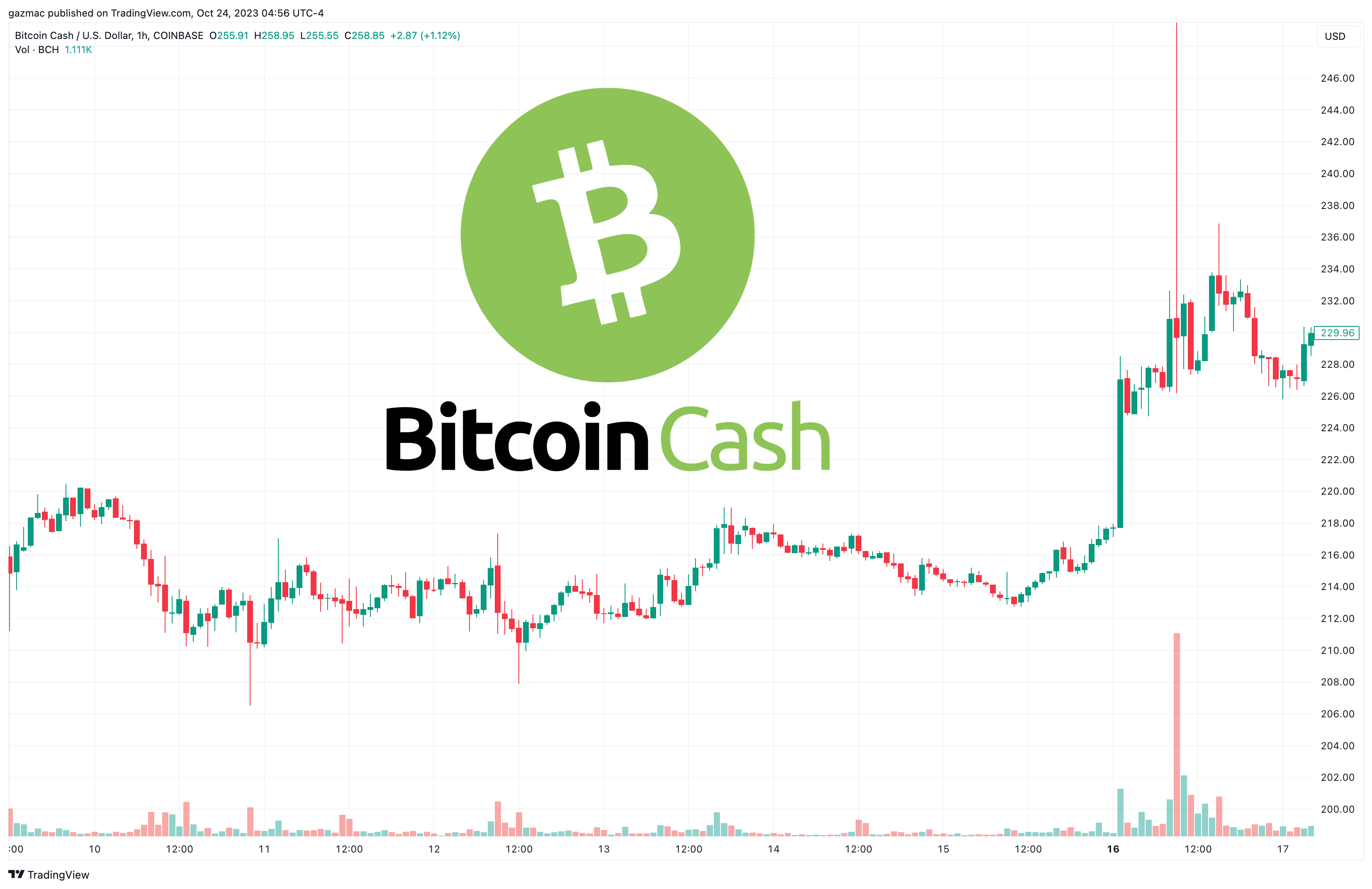 The Bitcoin Cash (BCH) price rose sharply today, climbing higher as the digital currency's predecessor rallied following a false statement claiming that the U.S. Securities and Exchange Commission (SEC) had approved a spot bitcoin exchange-traded fund (ETF).
The altcoin, which was created in 2017 as a fork of the original bitcoin, climbed above $233 yesterday.
At this point, the cryptocurrency had climbed more than 9% in under 24 hours.
Following this upward movement, the digital asset pulled back slightly, but it managed to retain the majority of its recent gains, trading above $227 at the time of this writing.
Bitcoin Cash claims to be more suitable for payments than bitcoin because it has a block size of 32MB compared to bitcoin's 1MB. Its supporters say this makes Bitcoin Cash more scalable and therefore it is able to handle greater transaction volume.
We are seeing more beta in altcoins say analysts
Several analysts spoke to these latest price movements, offering perspective on the matter.
"Generally, we see more beta in altcoins such as Bitcoin Cash than Bitcoin, which has a much larger market cap and is generally less volatile," said Joe DiPasquale, CEO of cryptocurrency hedge fund manager BitBull Capital.
"Historically, we have seen Bitcoin Cash move with greater beta on both the positive and negative sides than we have seen with Bitcoin," he added.
"As one of the closest analogs to Bitcoin among all altcoins, Bitcoin Cash's rally can be seen as an offshoot of demand and price inflation in a less liquid market."
Marc Bernegger, who serves as a member of the advisory board of fintech firm GenTwo, also offered commentary.
Spot Bitcoin ETF approval will be a 'significant milestone'
"The approval of a Bitcoin ETF will be a significant milestone for the cryptocurrency market.
"If investors believed that a Bitcoin Spot ETF was approved, it could have led to increased optimism about the overall crypto market, including Bitcoin Cash, as it suggests greater institutional interest and legitimacy for cryptocurrencies," he stated.
"I think that Bitcoin Cash simply pushed higher because traders flocked to it after yesterday's fake Bitcoin Spot ETF news," said Bernegger.
Tim Enneking, managing director of Digital Capital Management, provided some additional input on these recent developments.
He described Bitcoin Cash as "still separate from BTC but struggling to maintain its own raison d'être."
"With respect to this most recent move, I would say it 100% is an echo of what BTC is doing," he added.
Bitcoin Cash alternative
For those on the hunt for altcoins with a similar profile to BCH in the sense that they are clone of the original, then Bitcoin Minetrix offers potential.
It is not a fork of bitcoin like Bitcoin Cash, which focuses on bigger block sizes as its reason for existence.
Bitcoin Minetrix is a tokenized bitcoin cloud mining platform, and is the first of its kind in that respect.
Cloud mining reduces the risks for retail investors who want exposure to the income stream from block rewards for mining bitcoin.
Also, because it is tokenized and decentralized, it means no cash changes hands, thereby preventing fraud. Bitcoin Minetrix's native asset, $BTCMTX, runs on the Ethereum blockchain and is in presale at a price of $0.0112.
Visit Bitcoin Minetrix presale
Disclaimer: Crypto is a high-risk asset class. This article is provided for informational purposes and does not constitute investment advice. You could lose all of your capital.
---