Bitcoin Cash is Going to Zero as BCH Price Plummets 12% But Eco-Friendly BTC20 May Be the Next Crypto to Explode – How to Buy Early?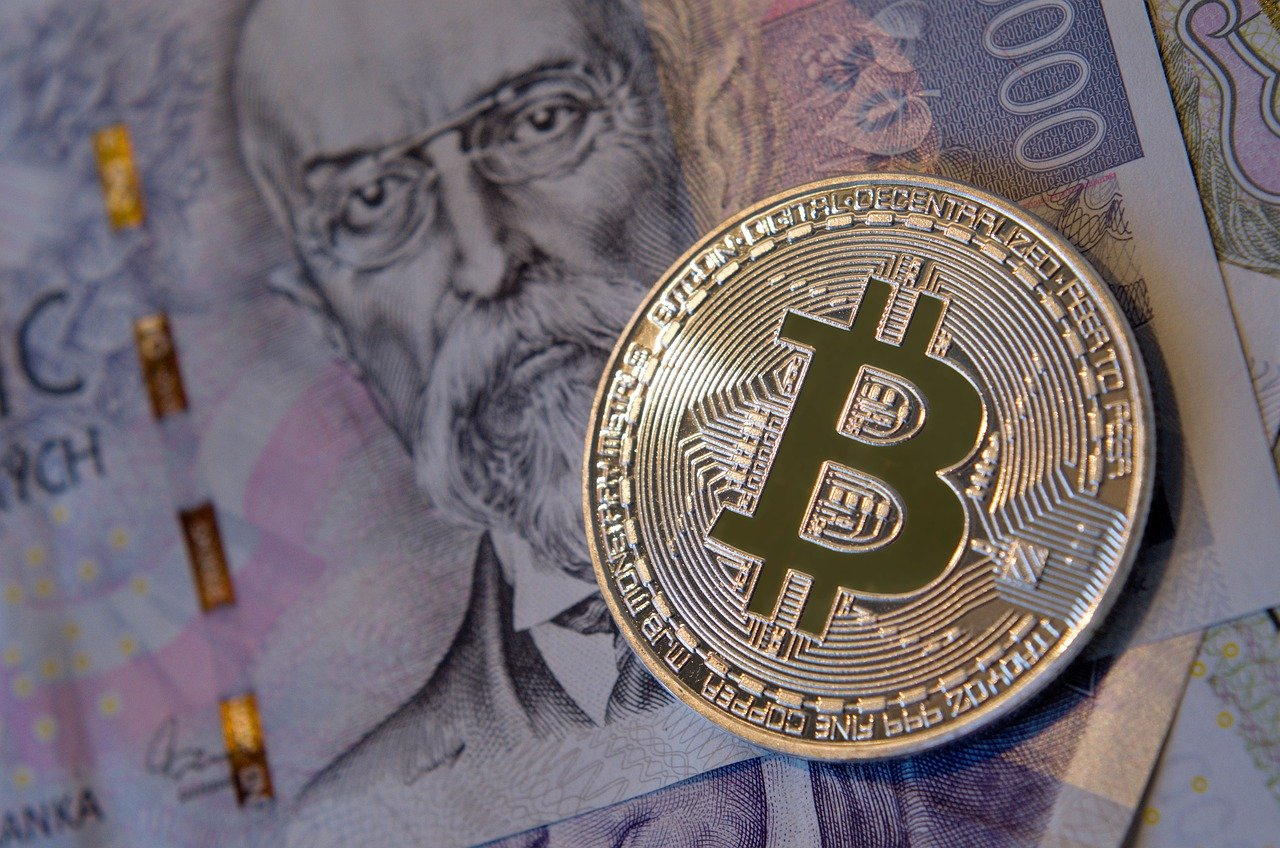 Bitcoin Cash (BCH) has seen a brief comeback in recent weeks following more than a year of rock-bottom price action, but a struggling chart structure could see BCH heading for zero in the near future.
Originally created as a fork of Bitcoin in 2017, the result of divisions over the notorious BIP91 segregated witness (SegWit) upgrade - which opened the door to layer-2 solutions like the Lightning upgrade.
With the aim of enabling larger blocks in the blockchain, Bitcoin Cash broke away as the first of the Bitcoin forks, and has emerged as a cult altcoin ever since.
But in recent years since the tumultuous end of the 2021 bull run, price action has seen rock-bottom action, following a dramatic -87% cascade that left BCH trading around $90.
Yet a few weeks ago on June 19, a surprise recovery rally was ignited, fuelling BCH community hopes as price action rocketed up 200%.
But it seems the recovery has been short-lived, seemingly topping out at $330 on June 1.
Bitcoin Cash (BCH) Price Analysis: Doomed to Breakdown?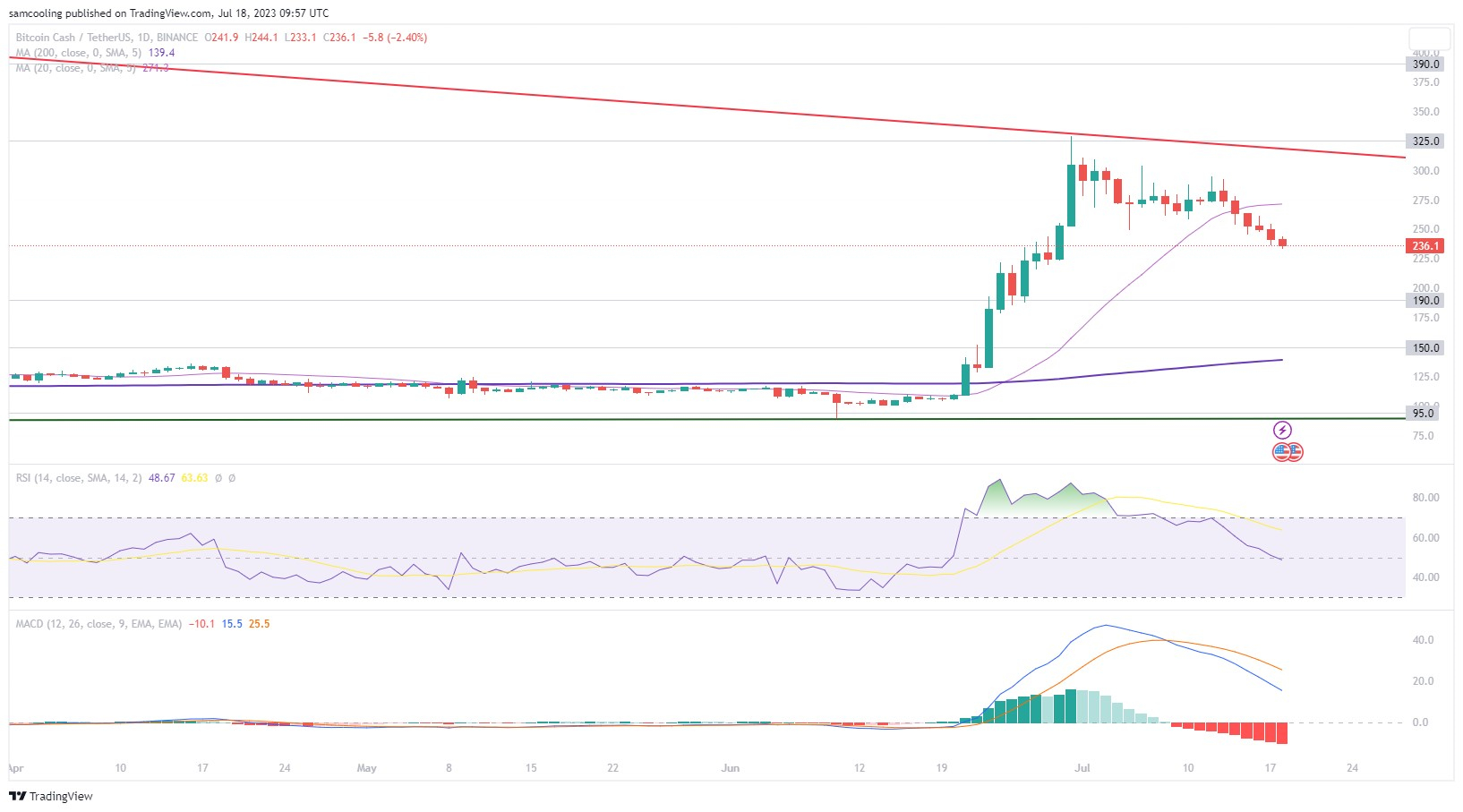 Following the impressive recovery rally, which saw BCH push high - breaking through resistance from the 20DMA and 200DMA, price action has taken a turn for the worse.
As of today, BCH is currently trading at $236.5 (a 24 hour change of -2.23%).
This comes amid an emerging cascade, which has seen BCH bleed-out -29% in just 20 days.
Worse still, BCH failed to find much needed support from the ascending 20DMA - which gave way on July 14.
With little to provide local support, BCH seems set on a collision-course down towards the 200DMA (currently at $140).
BCH holder optimism is now pinned to the nearest lower support zone between $150-190 (based on historical data).
Little solace is to be found in BCH indicators either, with the RSI still loosely on the fence at 48 (likely needing to cool-off further) and the MACD signalling bearish divergence at -10.
With an upside target at the upper trendline around $300 (a possible +26 move) and downside risk significant at the $150 support level (a potential -36% slide) - BCH outlook appears bleak.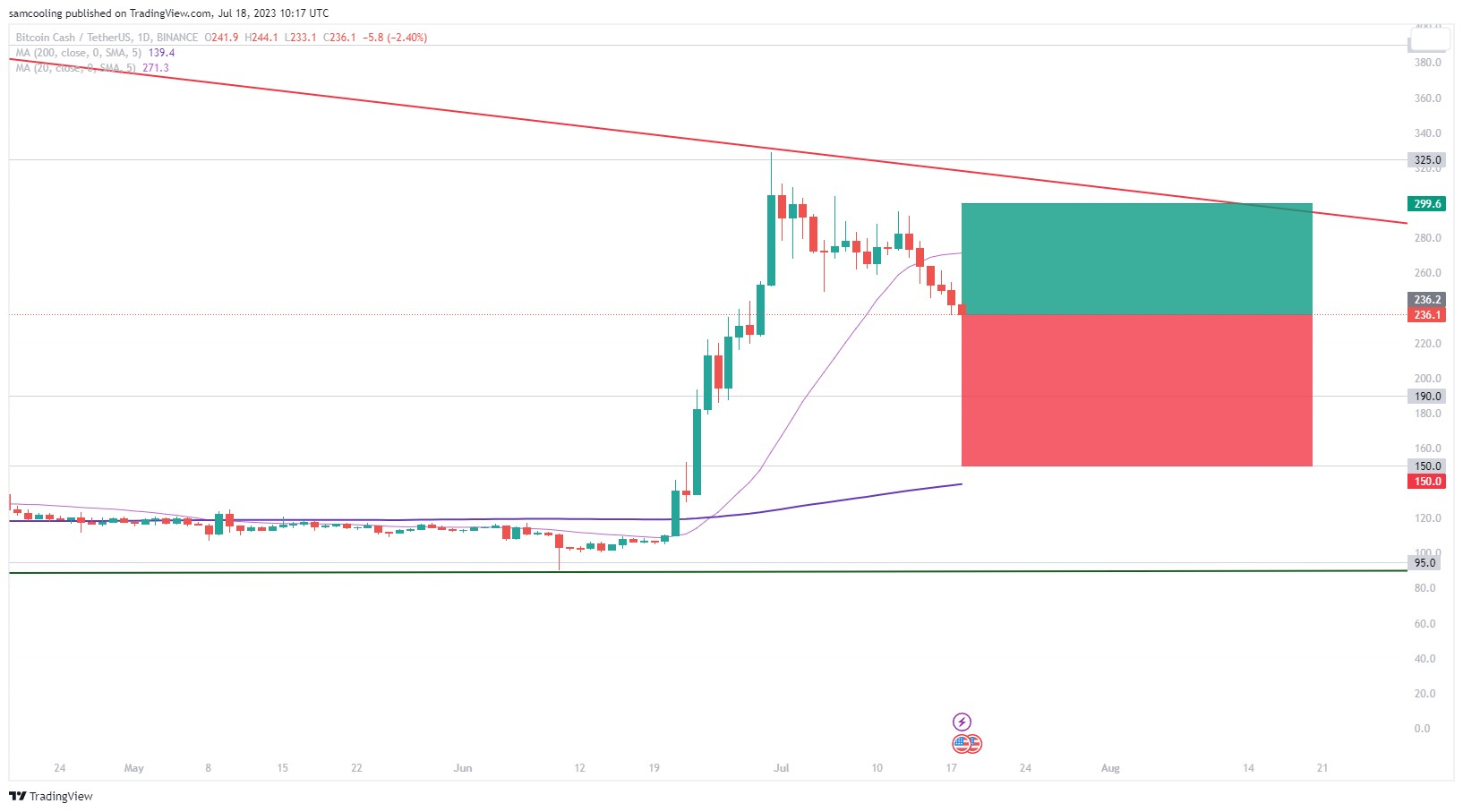 BCH is currently facing a Risk: Reward ratio of 0.74 - and spectators and analysts alike are predicting a race to zero could soon be on the horizon.
Best Bitcoin Cash Alternative: BTC20
But all is not lost for the ranks of Bitcoin aficionados seeking opportunities to maximize their returns in the Bitcoin space, with a new project emerging captivating the hearts of Bitcoin maxis and evangelists alike.
Launched yesterday, in a highly anticipated move, BTC20 has emerged as a new contender for best Bitcoin altcoin - with a visionary promise of fixing Bitcoin's dirty energy problem and bolstering holders with lucrative reward mechanisms.
How Does BTC20 Fix Bitcoin's Dirty Energy Problem?
The major criticism of Bitcoin in recent years has stemmed from the huge carbon emissions generated by Bitcoin miners globally.
Reliance on energy-intensive proof-of-work mining has seen emissions surge from just 0.9 metric tons in 2016, to a jaw-dropping 113 metric tons in 2021.
With the ever growing difficulty of Bitcoin mining, and an imminent halving event next year, BTC20 has stepped up to the plate to fix Bitcoin's energy consumption.
By shifting to a proof-of-stake model, built on ERC-20, BTC20 holds the promise of reducing emissions by 99.95% for every transaction.
How Does BTC20 Boost Holders With Rewards?

But BTC20 goes beyond just re-imaging the environmental impact of Bitcoin, it aims to bolster ranks of loyal holders with the introduction of a novel long-term holder reward system.
Holder rewards will be delivered through a stake-2-earn mechanism, incentivising holders to participate in validating on the proof-of-stake system.
The proposed staking mechanism will distribute 14.96m tokens, unsold in the presale, over a period of 120 years - providing a longevity that may well outlive the original Bitcoin network itself.
With an initial 3m tokens up for grabs in the sensational BTC20 presale, at an attractive price of just $1 it is hoped that BTC20 will help create an entirely new generation of Bitcoin holders.
With the promise of seismic returns driven by tokenomic supply matching Bitcoin's 21m tokens and a committed team of developers working towards the 120-year roadmap - BTC20 is your chance to become a wholecoiner.
Don't miss out on the future of Bitcoin.
Disclaimer: Crypto is a high-risk asset class. This article is provided for informational purposes and does not constitute investment advice. You could lose all of your capital.
---