Bitcoin (BTC) Slides Back Below $30K, But Should Pump if These Correlations Re-emerge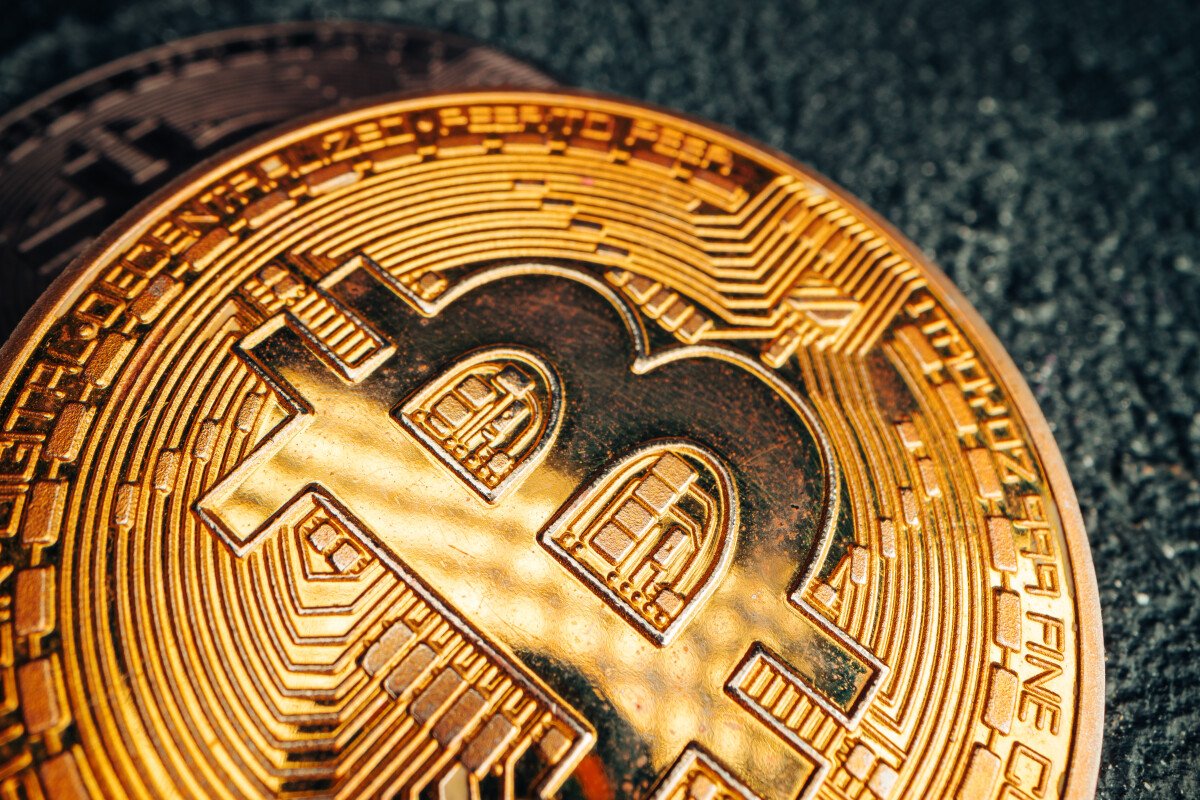 Bitcoin (BTC), the cryptocurrency that powers the world's largest decentralized cryptographically secured network in the world, fell around 1.5% on Tuesday to the $29,700 area and briefly hit fresh one-month lows around $29,500 earlier in the day.
The cryptocurrency's momentum has continued to fade since it hit a fresh yearly high last week near $31,800, boosted at the time by optimism regarding 1) recent spot bitcoin exchange-traded fund (ETF) filings from Wall Street heavyweights and 2) a US judge's ruling on XRP that markets deemed as crypto bullish.
BTC's latest slide has seen it dip around 2.5% below its 21-Day Moving Average.
If the cryptocurrency also loses its grip on support in the mid-$29,000s from late June/early July, a dip to support in the mid-$28,000s is likely.
While the short-term technical outlook for bitcoin is precarious, macro tailwinds could come to BTC's aide.
Indeed, if a few of bitcoin's historically strong correlations, such as to the US stock market and the US dollar, return, then bitcoin could be set up for a pump.
Bitcoin (BTC) Should Pump if These Correlations Re-emerge
In the last three or so years, bitcoin has typically had a strong positive correlation to the US stock market.
That could be because, while bitcoin has emerged as a mainstream asset in recent years, most investors still viewed it, and traded it as a "risk assets" (much like how they trade stocks).
Bitcoin also seems (or seemed) to have that same positive correlation with easing liquidity conditions as the stock market.
Indeed, in 2020/2021, bitcoin pumped in tandem with the stock market on low interest rates and massive QE from the world's major central banks, before then pulling back sharply in tandem with stocks in 2022 as those same central banks started rapidly lifting interest rates due to rampant inflation.
The below chart produced by CoinMetrics.com demonstrates how, in 2023, there has been a sharp drop off in the correlation.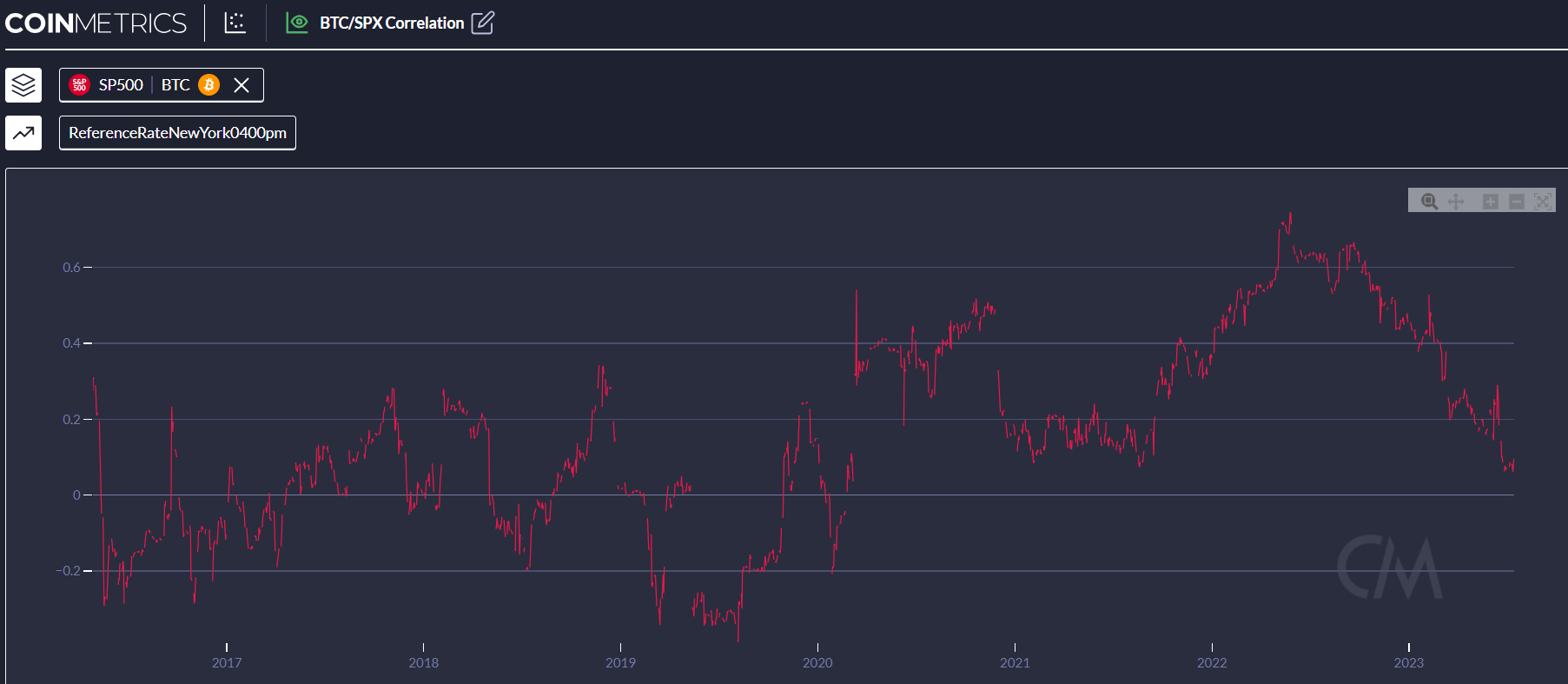 That could be because some are coming to view bitcoin more as its creators and major proponents have always wanted it to be viewed – as a safe haven alternative to the centralized, inflationary fiat currency-based financial system.
That explains why bitcoin pumped in March as US regional banks were going under, while US stocks fell on worries about how the mini-crisis would impact economic growth.
The 60-day Pearson correlation between the daily change in the bitcoin price and in the S&P 500, the most commonly cited US equity benchmark, was last under 0.1, having been as high as 0.75 in May 2022.
With the S&P 500 plowing higher and now only about 6% below its all-time highs as US inflation falls, US growth holds firm, the Fed's tightening cycle coming to an end and AI optimism continuing to bubble, bitcoin bulls will be hoping that the positive relationship returns.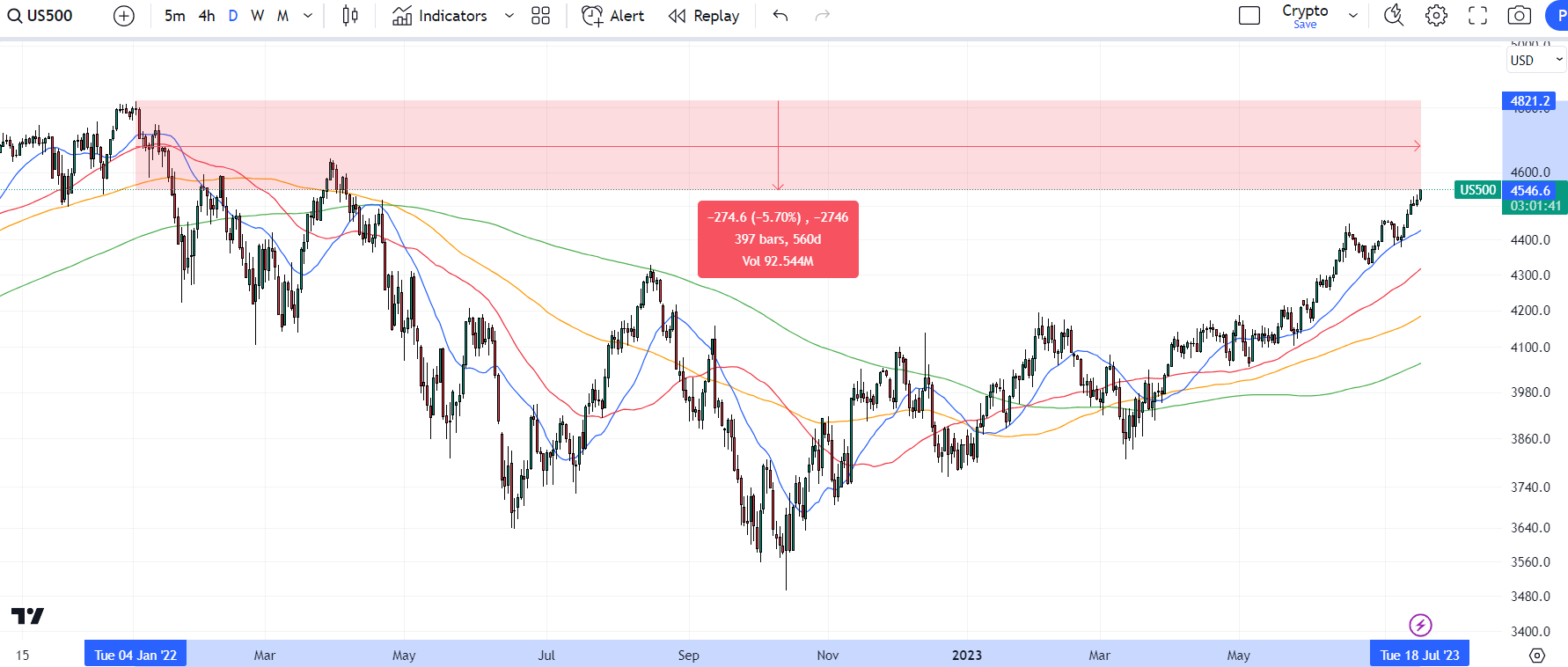 After all, with stocks having now recovered most of their 2022 losses, the implication is that bitcoin is undervalued at current levels below $30,000.
Another correlation that could return to the benefit of bitcoin is its historically negative relationship to the US dollar, or to the US Dollar Index (DXY), which is a trade-weighted basket of USD exchange rates.
As per CoinMetrics, this negative relationship has recently hit its weakest of the year at just above -0.2, having been below -0.5 in 2022.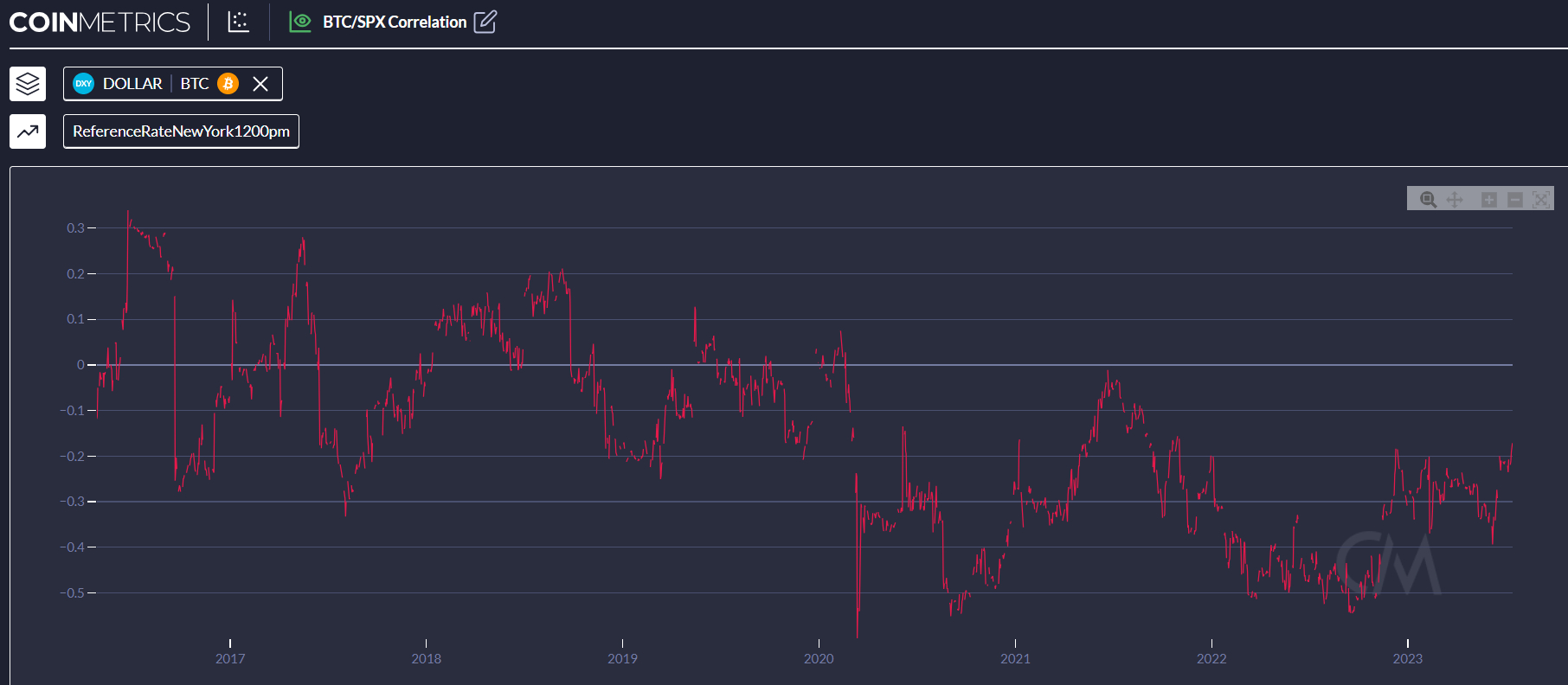 With the DXY recently cratering to new yearly lows around 100, the implication here is also that bitcoin is undervalued at current levels.

Bitcoin has historically had a negative relation to the DXY given its relationship to US financial conditions – when the Fed eases, the DXY falls and stocks and bitcoin do well and vice versa (or, at least, that's the theory).
Bitcoin Dip Buyers Eyeing These Levels for a Re-entry
Given macro tailwinds from the US stock and US dollar market, it makes sense to remain bullish on bitcoin in the medium-term, and to continue looking for opportunities to buy the dip.
Bitcoin bulls will likely be eyeing potential retests of support in the mid-$28,000s and then of the 2023 uptrend, which should come into play in the mid-$27,000s, as potential re-entry points.

Disclaimer: Crypto is a high-risk asset class. This article is provided for informational purposes and does not constitute investment advice. You could lose all of your capital.
---