Binance Coin Price Prediction as BNB Overtakes XRP to Become 5th Largest Coin in the World – Can BNB Reach $1,000?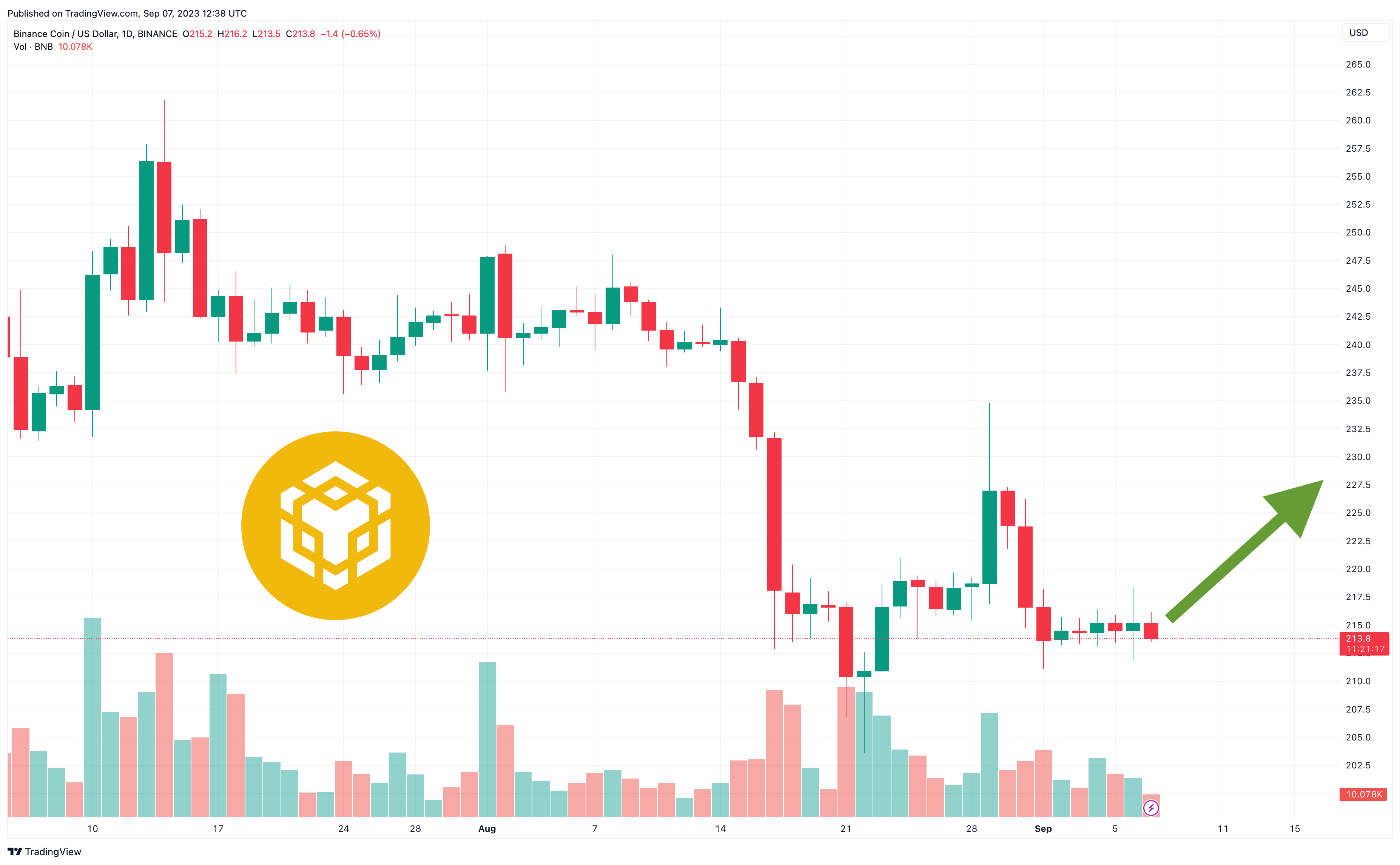 The price of Binance Coin (BNB) has fallen by 0.5% in the past 24 hours, with its drop to $213.55 coming as many other major tokens face similar falls.
This includes XRP, which has fallen a little harder than BNB in recent days, meaning that the latter has reclaimed its former place as the fifth-largest cryptocurrency in the market by capitalization.
Despite this good news for BNB, the exchange token remains down by 5% in a week and by 12% in the last 30 days, with the coin also down by 13% since the beginning of the year.
Yet its reclamation of the fifth spot in the market cap rankings may provide it with the momentum to mount a recovery, especially when it has been so oversold for such a long time.
Binance Coin Price Prediction as BNB Overtakes XRP to Become 5th Largest Coin in the World – Can BNB Reach $1,000?
BNB's indicators suggest that the altcoin has potentially bottomed out after declines over the past couple of months, with its 30-day moving average (yellow) now so far below its 200-day average (blue) that a recovery must soon be on the cards.
It's a similar story with the coin's relative strength index (purple), which has regained some ground after falling close to 20 in the middle August, meaning that BNB has been strongly oversold in recent weeks.
Some hope is provided by the fact that BNB's support level (green), which has inched upwards in the past couple of weeks, inviting the suspicion that the altcoin's recent downturn has bottomed out (at least for now).
However, it would perhaps be overly optimistic to expect a substantial comeback for BNB, even if XRP's declines have meant that BNB is now the fifth-biggest crypto in the market again.
On the one hand, the overall market remains subdued, with investor sentiment undermined by recent Bitcoin ETF delays and concerns surrounding the Chinese economy.
On the other, Binance continues to face severe regulatory pressures, while the company has witnessed an exodus of its executives in recent weeks.
In fact, the past few days saw the exit of another major honcho at the company, with Mayur Kamat – now Binance's former Global Head of Product – leaving the company.
As such, investors should prepare for the possibility that things may get worse for Binance before they get better, with the company facing serious legal actions in the US from both the SEC and the CFTC.
In view of this, it's possible that BNB doesn't rise too far from its current price, potentially reaching $230 in the next few weeks before running out of momentum again.
New High-Potential Presale Token
Even though BNB may be in a weakened position at the moment, traders looking for strong short-term gains do have other options, with the market continuing to produce a fairly regular supply of new and promising altcoins.
One of the most promising of these is Bitcoin BSC (BTCBSC), a BNB Chain-based version of Bitcoin that offers holders the opportunity to own a form of BTC that provides them with passive staking income.
Bitcoin BSC open ts presale only a couple of days ago, and has in fact already raised more than $100,000, providing a clear sign that investors are quickly gaining an interest in the novel token.
What's interesting about Bitcoin BSC is that it offers investors the chance to make up for having missed out on Bitcoin when it was much cheaper than it is now, with 1 BTCBSC selling during the presale at a price of $0.99, which is what Bitcoin cost back in 2011.
The sale will have a hard cap of 6,125,000 BTCBSC, with the remaining supply of the token (coming out at a total of 21 million BTCBSC) being issued via staking.
This means that holders of Bitcoin BSC will be able to earn a steady passive income from the token, which is also likely to enjoy steady price increases, given its hard cap.
New investors can get involved in the token offering before it sells out by visiting the official Bitcoin BSC website and connecting their wallets.
The coin will then list on BNB Smart Chain DEX once the sale is over, with more listings – and corresponding price gains – likely to follow soon after.
Disclaimer: Crypto is a high-risk asset class. This article is provided for informational purposes and does not constitute investment advice. You could lose all of your capital.
---