Binance Coin is Going to Zero as $500 Million Sends BNB Price Lower While Green Crypto Ecoterra Just Raised $5.5 Million – What Does it Do?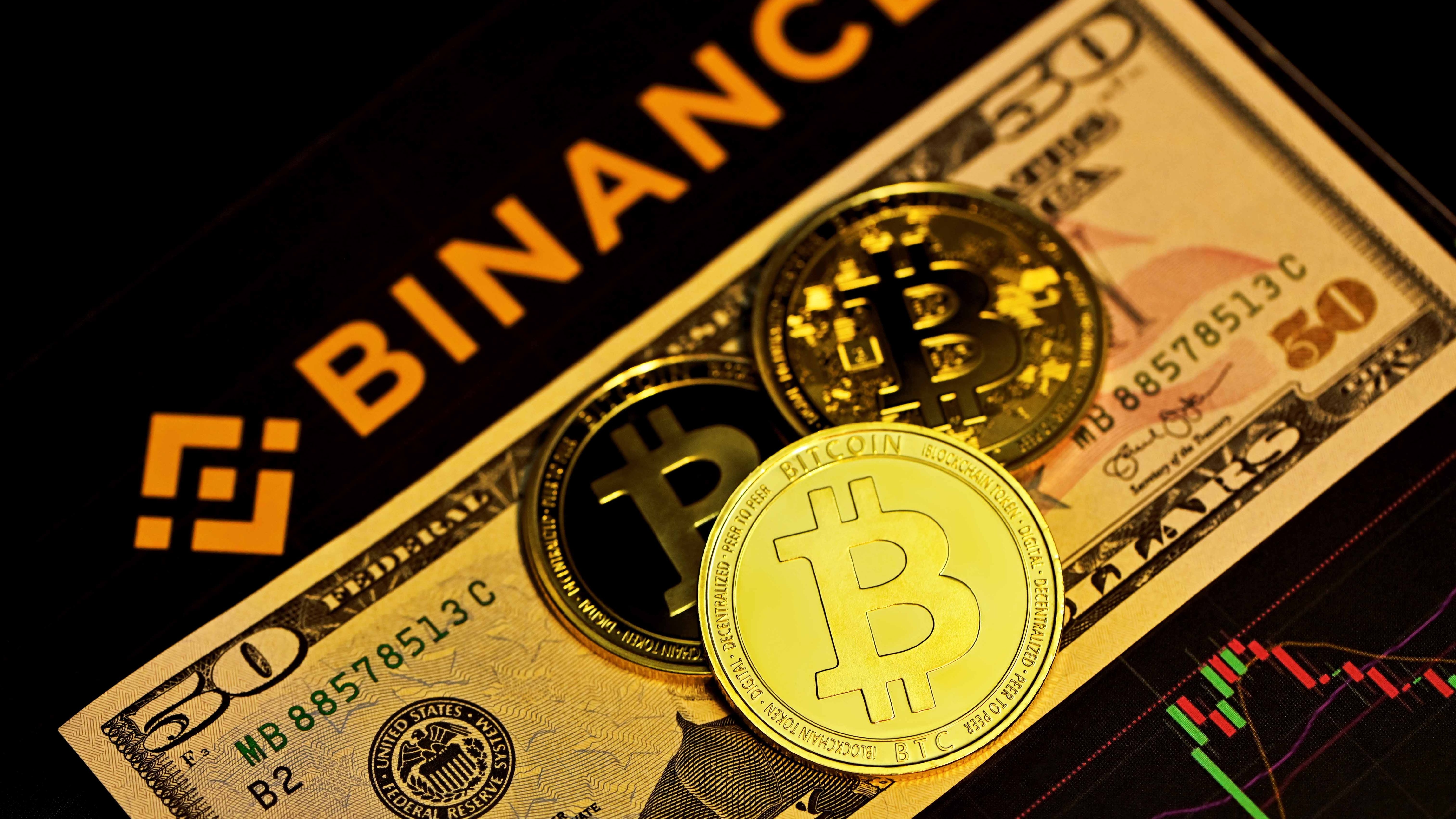 Binance, the leading cryptocurrency exchange, has changed its initial decision to delist several privacy coins in Europe.
This comes after the exchange revised its operations to ensure compliance with European Union (EU) regulations.
Binance stated, "After carefully considering feedback from our community and several projects, we have revised how we classify privacy coins on our platform to comply with EU-wide regulatory requirements."
The exchange is bound by the laws and regulations of the European Union jurisdictions in which it operates. As per these regulations, the exchange is obligated to perform transaction monitoring for all the coins that are listed on the platform.
This reversal has led to assurances from various crypto projects on social media, confirming their continued listing on Binance.
In a bid to establish itself as a prominent hub for digital assets and cryptocurrency, the European Union is making progress in refining its standards for these assets. The Markets in Crypto-Assets (MiCA) regulations, which were recently approved on May 31, are a part of this effort.
With these regulations, EU policymakers seek to create a transparent and conducive environment for digital assets, thereby making Europe an attractive destination for cryptocurrency and digital asset-related businesses.
Binance Coin Technical Analysis: Potential Downtrend Continues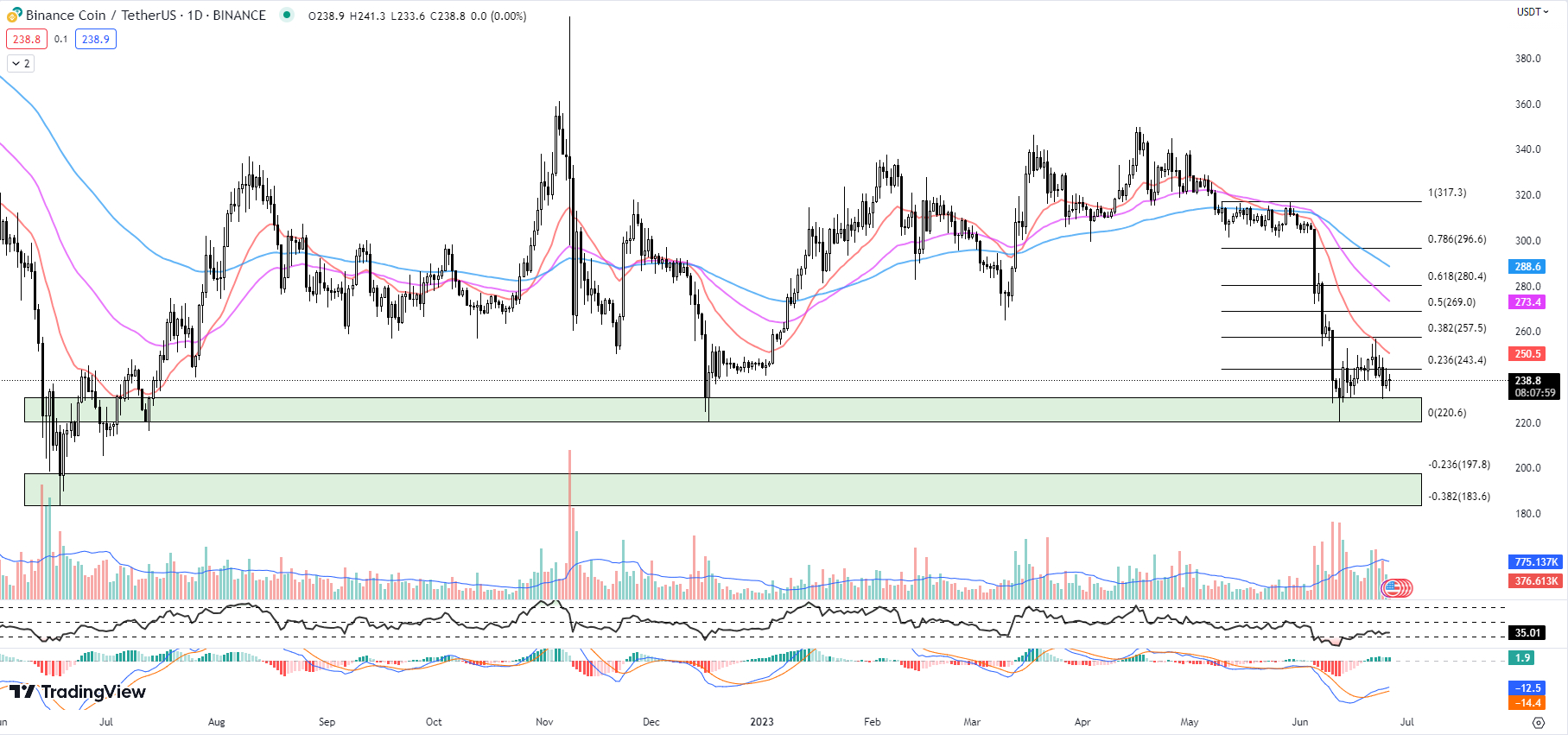 In light of recent events, Binance Coin (BNB) has experienced a drawback after failing to break out from the 20-day EMA at $250.5 and the Fib 0.3872 level at $257.5.
The cryptocurrency has since retreated, breaking down below the Fib 0.236 level at $243.4.
Technical indicators suggest further downside for BNB, with key levels including a 20-day EMA of $250.5, a 50-day EMA of $273.4, and a 100-day EMA of $288.6.
The RSI stands at 35.01, unchanged from yesterday, while the MACD histogram has risen slightly to 1.9.
The market cap is currently at $37 billion, down 0.26%, and the 24-hour volume has decreased by 15.85% to $410 million.
The current price of BNB is $238.8, with a resistance level at the Fib 0.236 level of $243.4 and immediate support between $220.6 and $231.1.
Considering the current technical indicators, BNB is likely to experience further downside movement.
Traders are advised to stay cautious and monitor the key support levels at $220.6 and $231.1, as a break below these levels could indicate a more pronounced downtrend.
On the other hand, a recovery above the Fib 0.236 level at $243.4 might signal a potential trend reversal.
As Binance Coin faces difficulties from tightened EU regulations, a new green cryptocurrency called ecoterra is gaining attention with its approach to recycling incentives and environmental responsibility.
ecoterra: Encouraging Environmental Responsibility through Crypto Technology
Eco-crypto initiative ecoterra's presale is gaining momentum, collecting over $5.4 million so far.
The founders of ecoterra have networked with prominent sustainable tech companies such as Tesla and Audi at Berlin's premier Green Tech Summit.
The ecoterra team is working diligently to launch the beta version of its R2E application, which will be available on both desktop and mobile platforms.
The app will support countries using Reverse Vending Machines (RVMs), opening up a substantial potential market.
With its user-friendly and intuitive interface, the platform intends to make recycling and carbon offsetting more accessible to people and businesses.
Scheduled for release by the end of the year, the alpha version of ecoterra's R2E application is part of the project's $ECOTERRA-powered web3 ecosystem.
This comprehensive solution is designed to encourage recycling through its R2E system, facilitate trade in recycled materials, and help users offset their carbon footprint.
ecoterra: A Potential Favorite for 2023's Best Green Crypto?
Industry observers are considering ecoterra as one of the most promising web3 projects this year. Analysts have ranked it as one of the top green cryptocurrencies to invest in.
The upcoming release of the demo version of ecoterra's R2E app is expected to fuel its presale growth, which has already been impressive since its launch just over two months ago.
The $ECOTERRA token, the foundation of ecoterra's blockchain-powered ecosystem, is currently priced at $0.00925 each.
However, investors will need to act quickly if they want to secure the token at a favorable rate.
Once the pre-sale reaches $5.7 million, the token price will increase to $0.01. After hitting the $6.7 million milestone, the token will launch on major crypto exchanges.
ecoterra's web3 application will leverage blockchain technology to encourage sustainable practices by rewarding recycling, simplifying carbon offsetting, and tracking environmental impact.
Through the platform, users will receive $ECOTERRA tokens as a reward for recycling, and they will be able to access a carbon offset marketplace to offset their emissions.
ecoterra will also introduce a recycled materials marketplace, which will allow businesses to purchase recycled goods using $ECOTERRA or other cryptocurrencies.
Additionally, ecoterra's Impact Trackable Profile will enable users to monitor their eco-friendly practices and progress, offering valuable insights for businesses seeking to improve their brand reputation and customer loyalty.
By utilizing these cutting-edge features, ecoterra intends to become a leading blockchain-powered platform for promoting sustainable practices in the future.
With the potential for significant gains and built-in utility, $ECOTERRA is attracting attention in the green crypto market.
As the world focuses on addressing climate change, ecoterra's unique approach to environmental stewardship through cryptocurrency technology is generating interest among industry analysts and investors alike.
Disclaimer: The Industry Talk section features insights by crypto industry players and is not a part of the editorial content of Cryptonews.com.
---