14 Best Web 3.0 Coins to Invest in 2023
Disclosure: Crypto is a high-risk asset class. This article is provided for informational purposes and does not constitute investment advice. By using this website, you agree to our terms and conditions. We may utilise affiliate links within our content, and receive commission.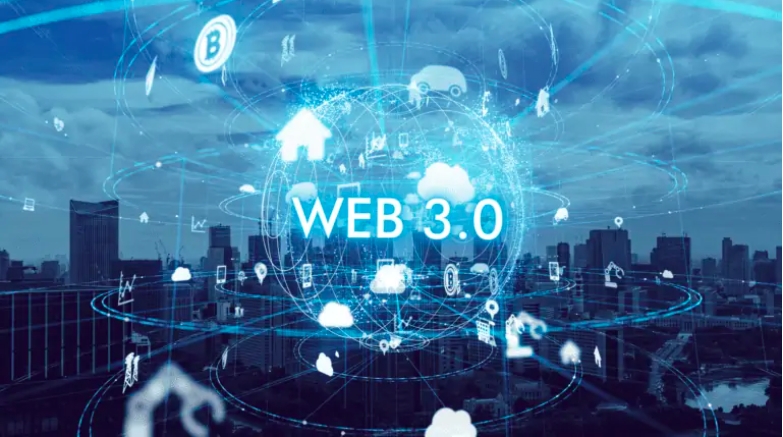 Disclaimer: The Industry Talk section features insights by crypto industry players and is not a part of the editorial content of Cryptonews.com.
Web 3.0 is the new generation of the internet – which leverages blockchain technology to offer decentralized protocols through various cryptocurrency tokens. The best Web3.0 crypto coins leverage these technologies to provide multiple use cases. 
With Web3.0 cryptos expected to witness rapid growth in the coming decade, this guide reviews a range of the best Web 3.0 cryptocurrency projects in 2023. 
Best Web 3.0 Cryptocurrency to Invest in Now
The web 3.0 crypto coins list below provides a quick look at the top digital assets we will be reviewing shortly:
Bitcoin ETF Token – The latest crypto presale with 500% staking APY and up to 25% token burn mechanics based on events around the spot Bitcoin ETF approval by the SEC. The presale has raised close to $500k within the first week.
Bitcoin Minetrix – A hot new Web 3 coin offering a unique Stake-to-Mine model. With a strong commitment to security and offering high APYs for passive income, it saw its presale raise over $3.1M in just over a month. It is also offering a $30,000 'Minedrop'. 
Meme Kombat – ERC20 PoS coin with 112% APY and a variety of betting options on the outcomes of meme vs meme fights. Season One features 11 of the world's most iconic meme figures and the presale has raised $1.1M so far. 
Wall Street Memes – Launched in 2019 as a meme platform, Wall Street Memes has now launched its native token, $WSM. The presale has raised over $25 million and offers token holders huge staking benefits.
Scorpion Casino – Earn Daily Passive Income Up to $10,000. 
Tamadoge – Top Web 3.0 Coin with Ongoing Bull Run
Battle Infinity – New Cryptocurrency Project with Multi-Use P2E Platform
Lucky Block – Decentralized Crypto Casino and Sportsbook
Solana – Web 3.0 blockchain Offering High Throughput
Decentraland – Metaverse Real-Estate Project to Buy Now
Ethereum – Top Smart Contract Protocol with $166 Billion Market Cap
Aurora Finance – Layer-1 Blockchain with Ethereum Bridge
Binance Coin – Binance's Governance Token Running on BSC
Yearn.finance – Web 3.0 Protocol Offering Passive Income Opportunities
Analyzing the Best Web 3.0 Crypto Coins
The best web 3.0 crypto tokens offer unique use cases by leveraging decentralized protocols. Furthermore, some of the coins on this list have provided high returns to investors, with the potential to grow further. 
Continue reading to get an in-depth look at the best web 3.0 crypto coins in 2023: 
1. Bitcoin ETF Token – Best Web3 Coin Offering With 500% Staking APY And Up To 25% Token Burn Mechanics
Bitcoin ETF Token is a new Web3 token presale designed to reward holders based on events around the spot Bitcoin ETF approval by the Securities and Exchange Commission (SEC). Every time a certain milestone is reached around the spot Bitcoin ETF, such as ETF approval and ETF launch, the team will burn 5% of the total token supply up to 25% burned.
Buy $BTCETF tokens with ETH, USDT or card. All you need is to connect your Ethereum wallet with the presale site to complete the purchase. There's also the option to buy $BTCETF tokens with BNB and MATIC, but this isn't recommended as you won't be eligible for the staking APY.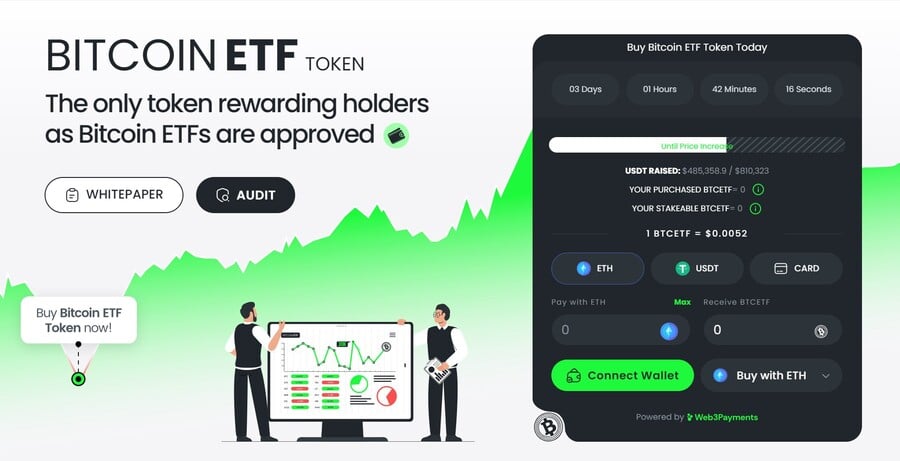 Buying early in the presale may be prudent given there are 10 presale stages, each with a higher token price than the previous. During the first stage, you can buy $BTCETF tokens for $0.0050, but in the last stage, you'll pay $0.0068 per token.
Regardless in which stage you buy, you can maximize your rewards with the staking mechanism. The staking APY currently stands at 500%, which makes it important to stake early on to take advantage of this. As more tokens are bought and staked, the APY will drop.

Follow Bitcoin ETF Token on X and join the Bitcoin ETF Token Telegram channel to get the latest information on the project and the spot Bitcoin ETF approval. Read the Whitepaper to learn more. 
| | |
| --- | --- |
| Presale Started | 6 Noe 2023 |
| Purchase Methods  | ETH, USDT, BNB, MATIC and Card |
| Chain | Ethereum |
| Min Investment | None |
| Max Investment | None |
2. Bitcoin Minetrix – Eco-Friendly Bitcoin Cloud Mining With its "Stake-to-Mine" Model
Bitcoin Minetrix ($BTCMTX) is a hot new web 3.0 coin in the Bitcoin cloud mining space that offers a unique and eco-friendly "Stake-to-Mine" model.
The presale of its native $BTCMTX tokens offers the tokens at $0.0114 at press time. It follows a progressive pricing model, reaching $0.0148 by the presale's end. Within a month, the project raised over $3.1M, reflecting strong community support.
Of the total 4 billion tokens, 2.8 billion (or 70%) are reserved for the presale, aiming for a hard cap of $33 million. The remaining tokens are set aside for liquidity, rewards, and other ecosystem plans.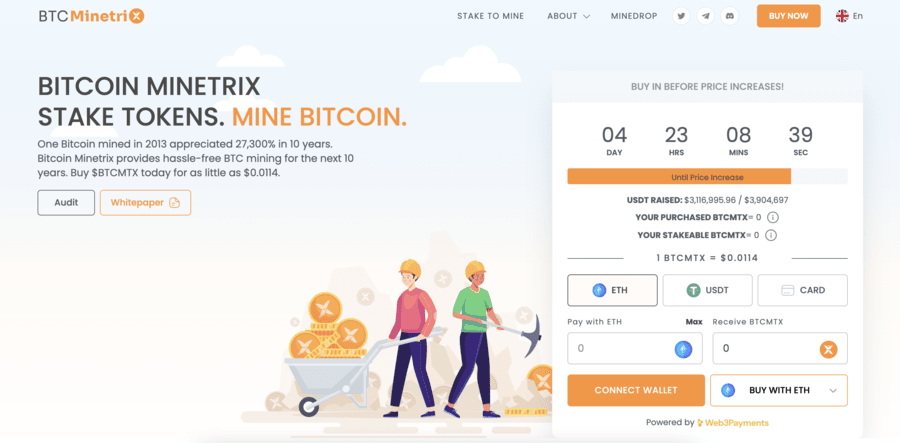 Instead of the traditional cloud mining method, where users buy cash contracts, The platform offers a user-centric Stake-to-Mine approach. 
By staking the $BTCMTX tokens, users get mining credits. These credits can be burned to secure Bitcoin mining power, offering a transparent and simple way to participate in Bitcoin mining.
It also offers a user-friendly dashboard to track all the key metrics relating to mining. From monitoring hashing power and mining credit earnings to tracking projected daily, weekly, and monthly rewards, everything is accessible with a simple click. This mobile optimization allows users to engage in mining activities anytime, anywhere.

Per the Bitcoin Minetrix whitepaper, the project respects users' financial freedom. No locked-in contracts allow individuals to unstake and trade their tokens based on market conditions. 
The platform offers a dynamic APY of over 190% at press time, with over 220 million tokens staked in its initial month, showing robust community trust.
Bitcoin Minetrix has completed a third-party smart contract audit, reinforcing its commitment to user security. 
For the latest updates on Bitcoin Minetrix, you can follow them on X (formerly Twitter) or join the dedicated Telegram group.
| | |
| --- | --- |
| Presale Started | 26 Sept 2023 |
| Purchase Methods  | ETH, USDT, BNB |
| Chain | Ethereum |
| Min Investment | $10 |
| Max Investment | None |
3. Meme Kombat ($MK) – ERC20 Web3 Token offers 112% APY and Meme vs Meme Kombat, Raises $1.1M 
Meme Kombat ($MK) is a new concept that gathers the world's most iconic meme tokens together and pits them against each other in combat.
It's the first presale of its kind with a variety of betting options on fight outcomes.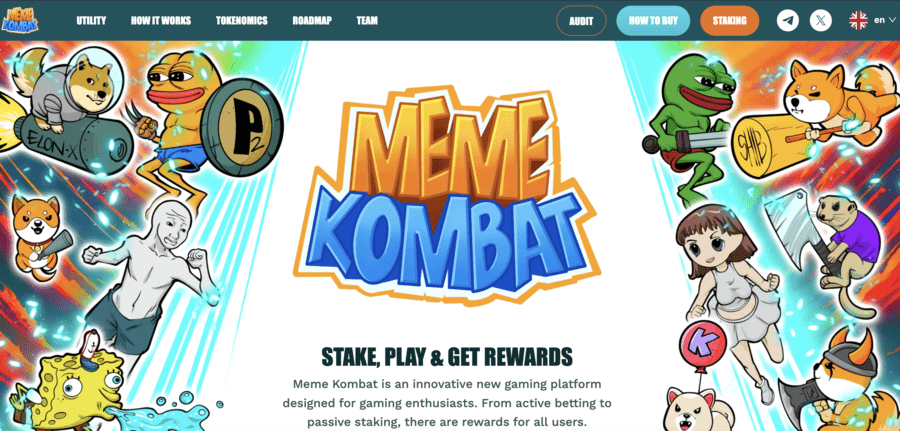 Season One features 11 of these meme icons – Doge, Floki, Baby Doge, Milady, Kishu, Mong, Pepe, Pepe 2, Shiba, Sponge, and Wojack. All fights are processed on chain for increased transparency and the memes are selected at random by AI. So fight outcomes are tamper resistant and harder to predict.
This presale has also put a lot of emphasis on its graphics. State of the art visuals using AI rendering makes the combat as vivid as it can possibly be. This presale is also differentiated based on its high levels of transparency.
It scored very well in its third party smart contact audit from Coinsult. The founder of this presale is also doxxed, meaning he can be publicly viewed on LinkedIn. This is very uncommon within the presale industry. Plus, no tokens have been allocated to a core team.
50% of the overall supply (60 million $MK)  is available throughout the presale. Of the remainder, 30% goes to staking and battle rewards, 10% to DEX liquidity, and 10% to community rewards. The total supply is 120 million $MK.
To take part in this exciting new presale, a compatible Web3 wallet such as MetaMask or Wallet Connect is required. ETH, USDT, or BNB can be used to complete the transaction.
This is a new paradigm within the meme industry and the price could shoot up when the presale finishes and it lists on an exchange.
More details can be found within the Meme Kombat Whitepaper.
| | |
| --- | --- |
| Presale Started | Sept 21, 2023 |
| Purchase Methods  | ETH, USDT, BNB |
| Chain | Ethereum |
| Min Investment | $10 |
| Max Investment | None |
4. Wall Street Memes – Get 55% Staking APYs With this New Meme Crypto, Over $25 Million Raised In Completed Presale 
One of the best cryptocurrency investments right now is Wall Street Memes ($WSM). In 2019, Wall Street Memes was created as a meme platform. After a few years, this platform has garnered a huge following on social media platforms such as Instagram and Facebook.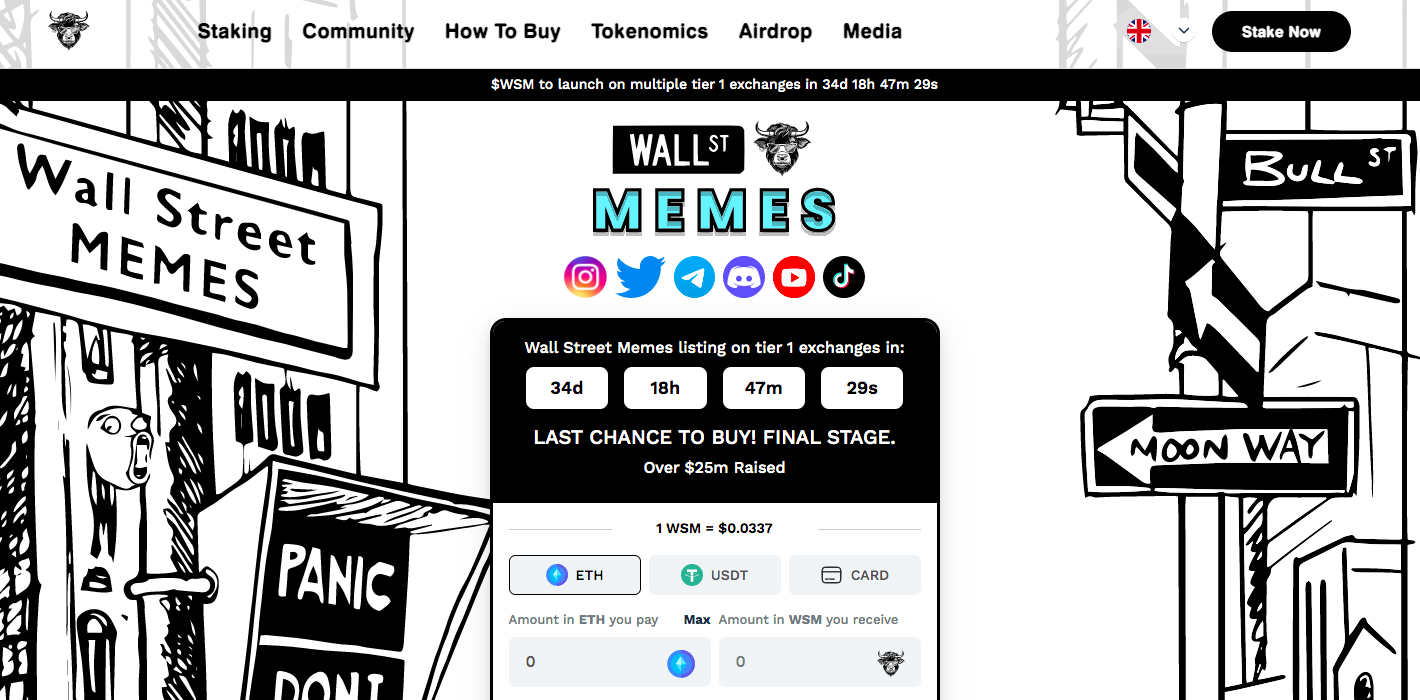 In total, Wall Street Memes has more than 1 million followers. The loyal community helped the project after the Wall Street Memes creators released their own NFT project, Wall St Bulls. This Web 3.0 project sold out its first NFT drop in only 32 minutes. 
The drop consisted of 10,000 Ethereum NFTs. Now, Wall Street Memes has released its own native token, $WSM.
The presale allocated 1 billion tokens, which represents half of the maximum 2 billion supply. Another 30% of the supply will be offered as community rewards. Token holders can buy and stake $WSM to earn passive income.
With high investor enthusiasm, the Wall Street Memes presale ended after raising over $25 million. Post its listing on OKX on 26 September, the coin witnessed a swift 275% upside in just four days.
In 2023, popular meme coins such as Pepe Coin and Floki Inu have been listed on the Binance exchange.
For more updates, join the Wall Street Memes Telegram channel. 
5. Scorpion Casino – Earn Daily Passive Income Up to $10,000
The next Web 3.0 coin that has the potential to bring triple-digit returns to early investors this year is SCORP – the native crypto of Scorpion Casino. It has excellent use cases in the multi-billion dollar online gambling and betting market.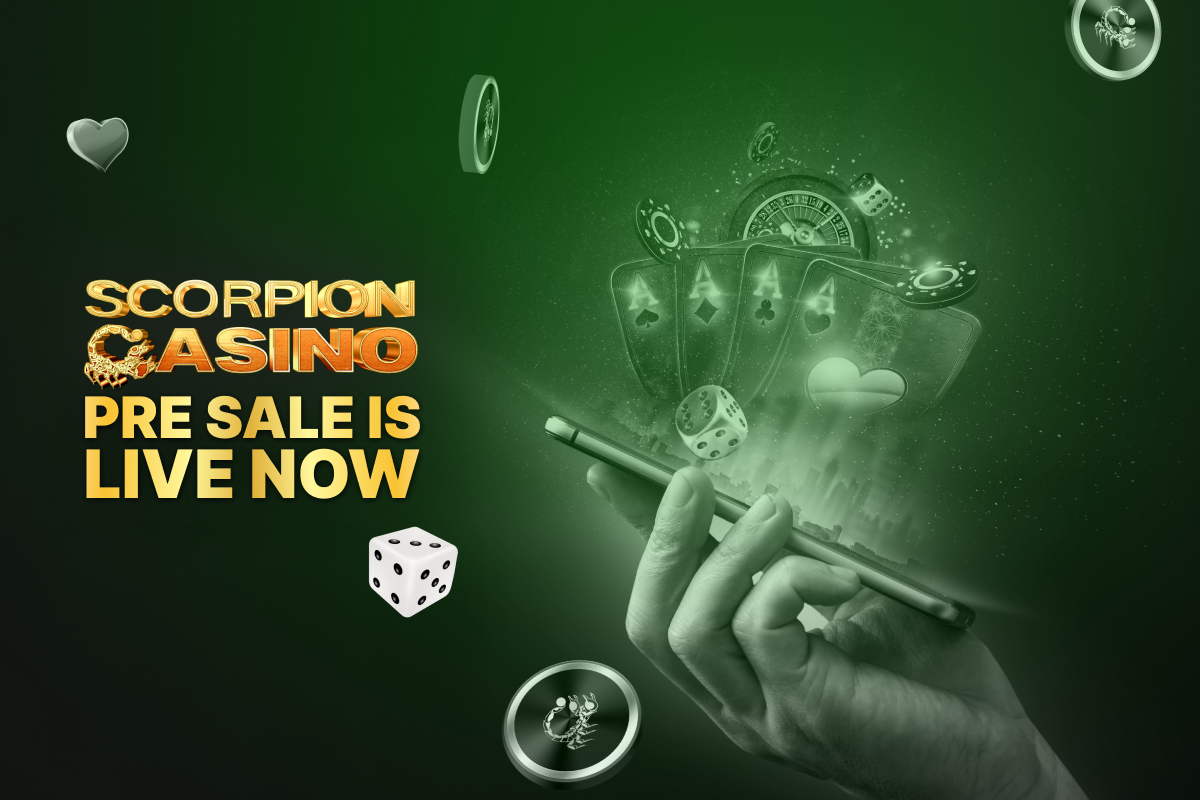 SCORP fuels the Scorpion Casino ecosystem, which consists of a licensed crypto casino platform that features 200+ casino games like slots, blackjack, roulette, poker, and 160 live games. The other key component is a licensed sports betting section that covers different football, tennis, American football, horse racing, basketball, golf, boxing, and MMA events. You get more than 30,000 bet opportunities here monthly.
The Web 3.0 makeup of the underlying ecosystem gives it a sharp competitive edge in terms of fairness, transparency, and decentralization. The platform addresses the manipulative nature of the gambling industry, making it a safe and secure environment for people looking for fun sources of extra income.
It also has an attractive reward system, where SCORP holders can earn up to $10,000 as daily passive income based on an integrated re-distribution system. It is worth noting that a burning mechanism sustains the healthy value of the token. So, you can benefit from the long-term appreciation of the token while earning passive rewards.
Scorpion Casino's providers consist of only credible platforms like Evolution, NetEnt, Play N Go, Novomatic, EGT, and AMATIC, emphasizing its focus on delivering a safe and secure gambling experience. As per the latest announcement, Scorpion Casino has secured a listing with a top-tier Centralized Exchange. More are on the way. 

The platform is currently hosting the presale of SCORP, which provides probably the cheapest and most profitable entry to the project. Early investors get the best deals at the presale. (To get 20% extra tokens, use the Exclusive Bonus Code Scorpion20. Live for a limited period only). 
| | |
| --- | --- |
| Token Symbol  | SCORP |
| Presale Supply | 200,000,000 SCORP |
| Token Type | BEP-20 |
| Payment Method | ETH, USD, BNB |
| Listing Price |  $0.05 |

6. Tamadoge – Top Web 3.0 Coin with Ongoing Bull Run
Tamadoge is a play-to-earn (P2E) ecosystem that leverages blockchain technology to implement in-game earning opportunities for players. Tamadoge offers these P2E features via TAMA – the native cryptocurrency. 
With TAMA, players can purchase Tamadoge Pets, which take the form of digital dog-like characters. These pets are minted as NFTs via smart contract functionality, each offering unique characteristics and designs. One of the best utility NFTs to buy, Tamadoge Pets can be grown and bred for inter-community competitions.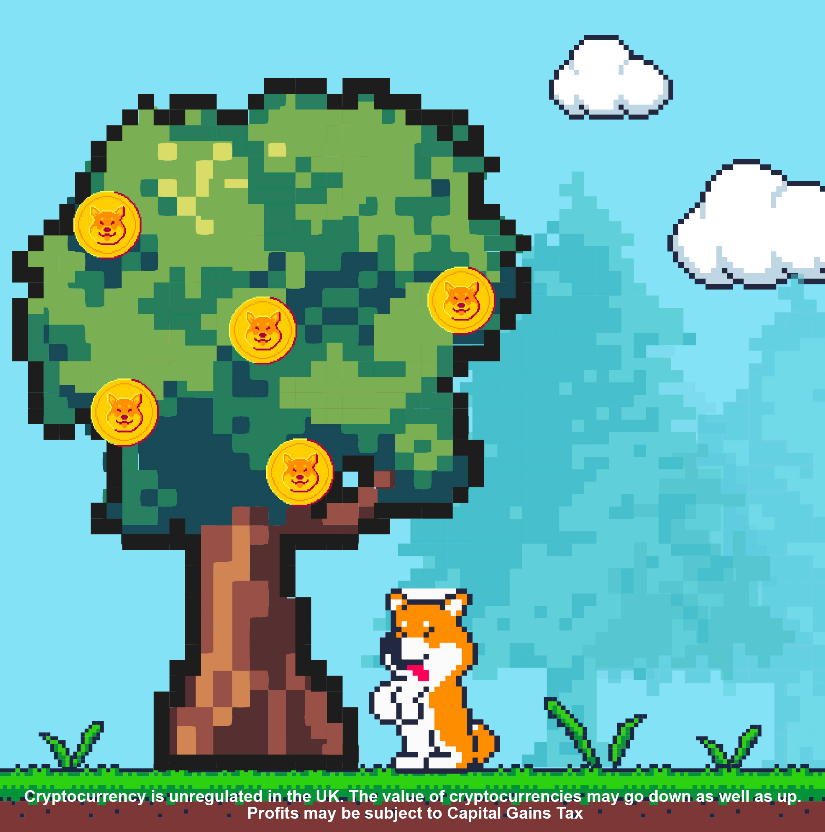 On Tamadoge, players can utilize their Tamadoge Pets to earn points on a monthly leaderboard. The top performers are rewarded with TAMA tokens. Completing one of the best crypto ICOs in 2022, Tamadoge raised $19 million in over 8 weeks of the presale. 
One of the reasons for the successful round stems from the tokens' tokenomics. TAMA is a deflationary asset with a limited supply of 2 billion tokens. Moreover, 5% of all tokens spent on the ecosystem will be burnt to ensure the demand increases in the long term. 
This can potentially make TAMA more valuable than some of the best meme coins like Dogecoin – which displays inflationary tokenomics due to its 132 billion (and rising) token supply. 
In September 2022, Tamadoge was listed on OKX – its first exchange – and, after listing on OKX at $0.03 per token, TAMA reached an all-time high (ATH) of $0.194 – a 533% price increase from the list price and near-2,000% increase from the presale price.
 As such TAMA has become one of the best IEO cryptos of this year.
While the coin has since retraced amid the wider chaos in the market following the collapse of FTX, the token is now offering investors a low entry point.
With the main game still in development and an augmented reality app to come in 2023, TAMA looks primed to break out when market conditions improve.
7. Battle Infinity – New Cryptocurrency Project with Multi-Use P2E Platform
Battle Infinity is one of the new Web 3.0 crypto projects – offering 6 unique P2E features in its ecosystem. One of the best metaverse crypto coins, Battle Infinity, gives participants access to a virtual environment where all characters and avatars are minted using ERC 721 smart contracts.  
The NFT avatars can be purchased and upgraded on Battle Infinity's NFT marketplace – the Battle Market. Web 3.0 elements are implemented with the IBAT Premier League – a decentralized NFT-based sports fantasy league which lets players compete by purchasing NFT passes. Rewards are paid out in IBAT – the native cryptocurrency.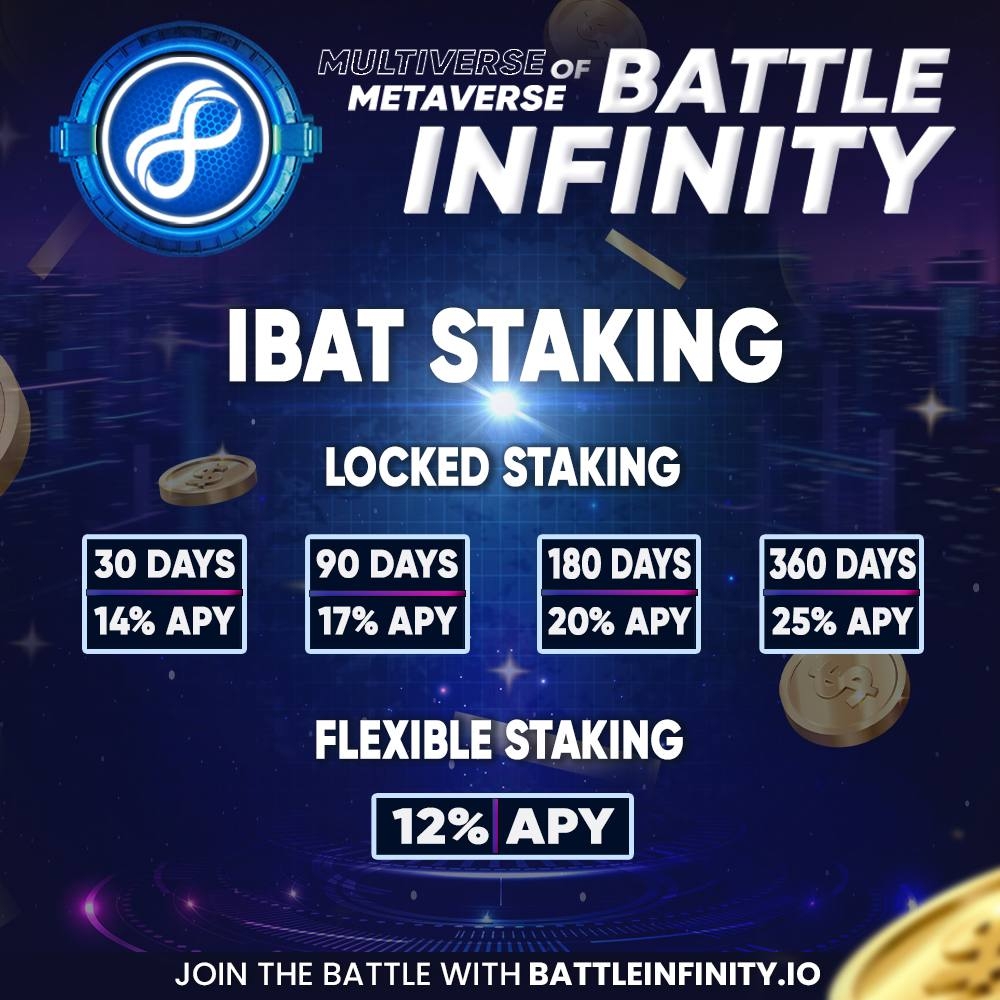 One of this ecosystem's most notable P2E features is IBAT Battle Stake – Battle Infinity's staking protocol. One of the best proof of stake cryptos, IBAT, can be staked on this protocol to earn up to 25% APY (Annual Percentage Yield). 
In August of this year, Battle Infinity's IBAT token successfully sold out during its best crypto presales – gathering 16,500 BNB in just over three weeks. Afterwards, the cryptocurrency was listed on PancakeSwap – one of the most popular DEXs. From a $0.0015 presale price, IBAT reached an ATH of $0.0105 – a 600% price increase. 
8. Lucky Block – Decentralized Crypto Casino and Sportsbook
Lucky Block is a leading crypto casino and sportsbook that launched at the end of 2022 and has already become one of the top destinations around.
The site offers thousands of games and enticing welcome bonuses to new players, as well as being provably fair.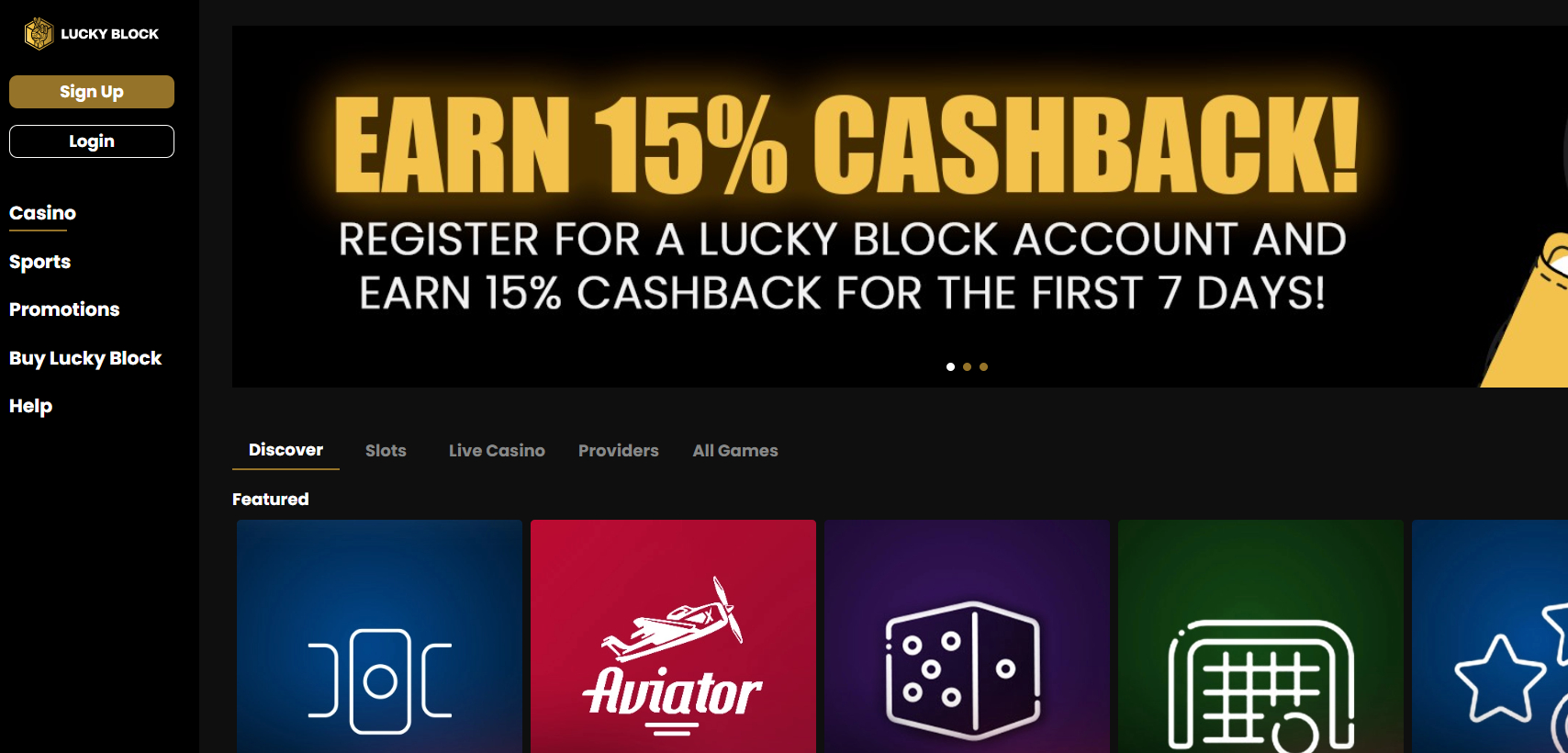 Sign up takes less than a minute – although some players will need a VPN – with no KYC verification needed to get started.
Players can take advantage of 15% cashback on losses in the first seven days, with no wagering requirements, and need just $1 to get started.
There are no fees or limits on deposits or withdrawals and payouts on crypto – with BTC, ETH and DOGE among those available – rapid and transparent. 
LBLOCK will soon be added as a payment option and has pumped by 70% since the casino went live.
Lucky Block offers more than 2,700 games including slots and classic casino games such as poker, blackjack and roulette, with virtual and live tables available.
It is also a leading sportsbook, offering pre-game and in-play markets on thousands on sports from the Premier League, NBA and NFL to badminton and eSports.
9. Solana – Web 3.0 blockchain Offering High Throughput
A layer-1 blockchain, Solana (SOL), has been created to deploy smart contracts and support the creation of various decentralized finance (DeFi) protocols and decentralized applications (DApps). While Ethereum is a popular smart contracts platform with the most number of DApps, Solana's network offers high-speed transactions at a low cost.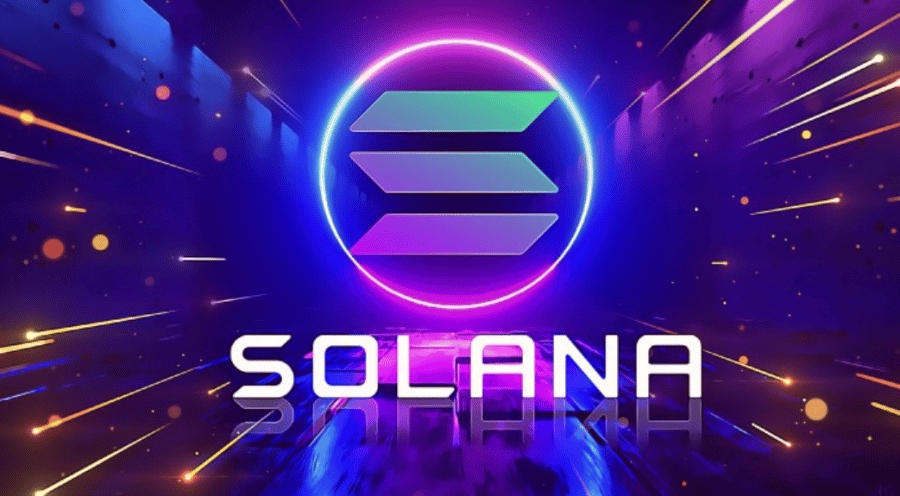 This blockchain network can conduct up to 65,000 transactions per second (TPS), with an average cost of just $0.00025 per transaction. Solana can offer such high speeds due to its unique algorithm – which combines Proof-of-Stake (PoS) with Proof-of-History (PoH).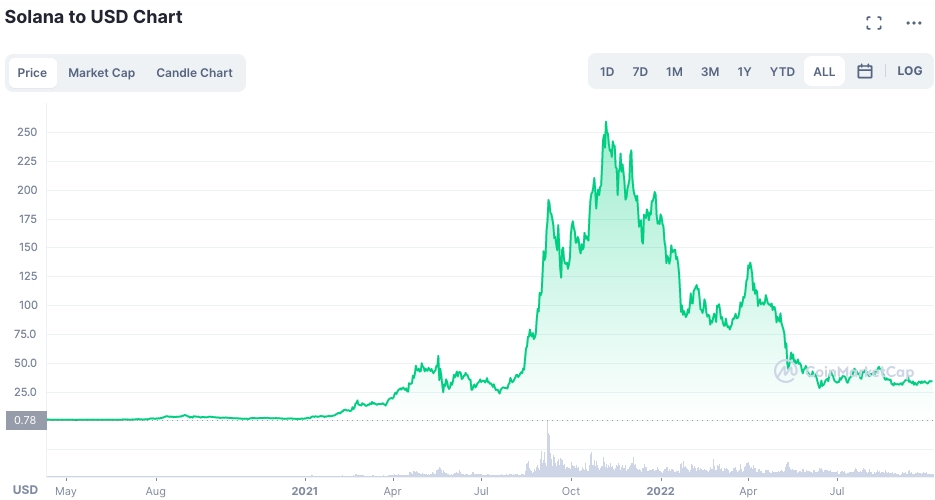 After trading at $1 at the beginning of 2020, SOL reached an ATH of $260 in the same year, making it one of the fastest growing cryptocurrency assets in the year. As of October 2022, SOL has corrected to $34 with a $12 billion market cap. 
10. Decentraland – Metaverse Real-Estate Project to Buy Now
Decentraland leverages Web3.0 protocols to offer participants a metaverse ecosystem where virtual real estate can be built, traded and purchased. Built on the Ethereum blockchain, Decentraland has implemented several NFT-based use cases for participants.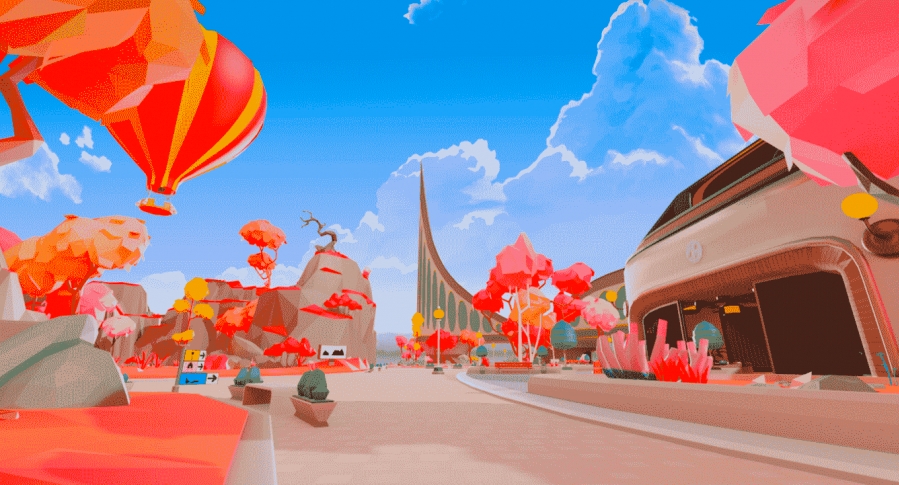 For example, Decentraland offers LAND – an NFT minted as an ERC 721 smart contract representing a digital land parcel. Over 90,000 unique LAND pieces on the ecosystem can be bought, sold and traded. Another NFT on the game is Estate, an ERC 721 smart contract comprising multiple LAND pieces. 
These NFTs can be traded via MANA – the governance token of Decentraland. An ERC-20 token, MANA, is also used to govern the platform on the MANA DAO (decentralized autonomous organization). Players can stake MANA and participate in community-wide voting to maintain and secure the network.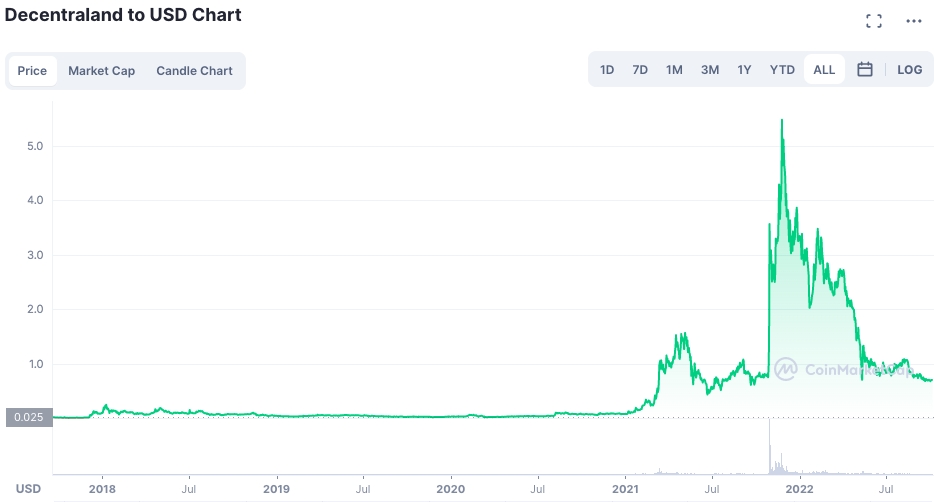 With a current price of $0.7, MANA is the 41st largest cryptocurrency with a market cap of $1.3 billion. 
11. Ethereum – Top Smart Contract Protocol with $166 Billion Market Cap
Similar to Solana, Ethereum is an open-sourced and decentralized Layer-1 blockchain. Ethereum was one of the first blockchains to deploy smart contracts to support DApps creation by developers. The most widely used network, Ethereum, has over 2,700 DApps built on its network.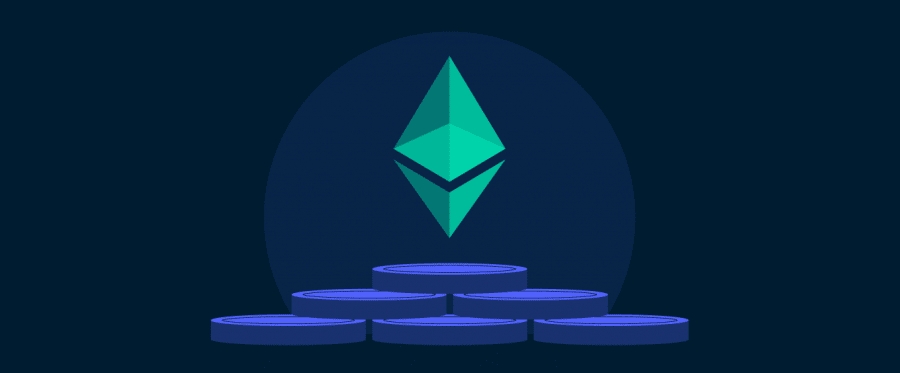 One of the best web 3.0 coins, Ethereum supports multiple NFT marketplaces such as OpenSea – which offers the biggest NFT tokens like the Bored Ape Yacht Club collection. In 2022, Ethereum officially announced its switch from a Proof-of-Work (PoW) to a PoS consensus. This move is expected to allow Ethereum to reduce gas fees and increase transaction speed. 
After reaching an ATH of $4,900 in 2021, Ethereum has corrected to under $2,000 per token. Despite the price correction, Ethereum is the largest altcoin with a massive market cap of $166 billion.
12. Aurora Finance – Layer-1 Blockchain with Ethereum Bridge
Aurora Finance is a layer-1 blockchain and an Ethereum Virtual Machine (EVM) – a software developers leverage to create DApps, based on the Ethereum network. 

Aurora Finance offers the Aurora Bridge – a tool which connects its network with the Ethereum blockchain. Thus, developers can access the Ethereum network to deploy DApps on the chain without paying the network's high gas fees. Moreover, the bridge can be leveraged to transfer ERC 20 and ETH tokens between Aurora and Ethereum. 
By providing more scalability to the Ethereum network, Aurora Finance has become a popular Web 3.0 blockchain project. AURORA, the native cryptocurrency, is used to settle transactions between the bridge. The token also gives users access to the AURORA DAO – the governance mechanism that promotes decentralized decision-making.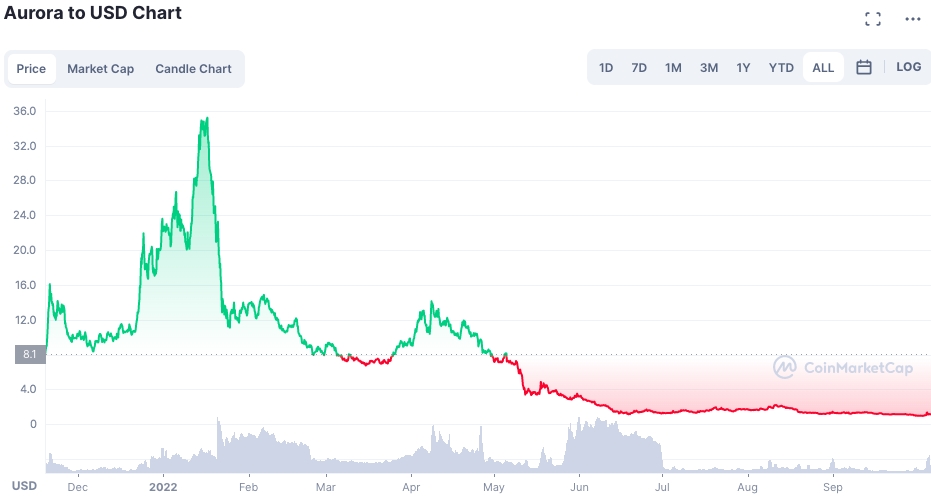 AURORA is trading at $1.1 with a market cap of $83 million. 
13. Binance Coin – Binance's Governance Token Running on BSC
Binance Coin is the native cryptocurrency of the Binance exchange – the biggest cryptocurrency exchange in terms of trading volume.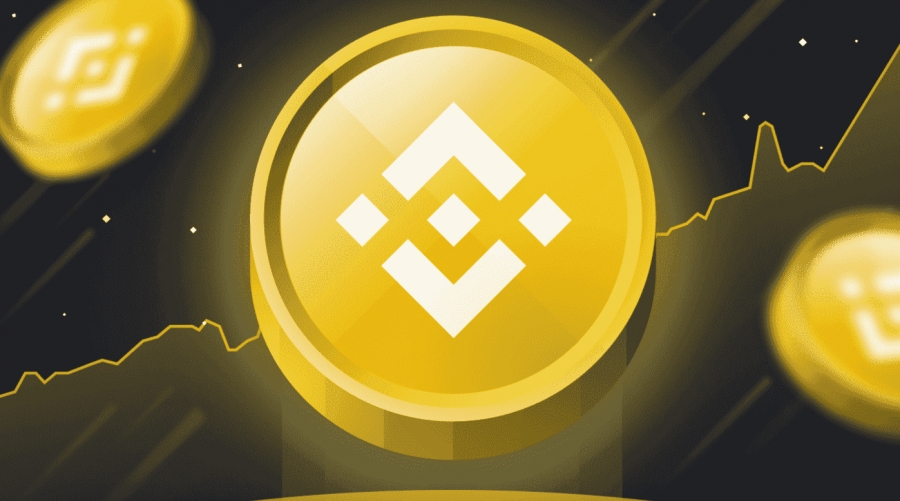 Built on the Ethereum chain, Binance Coin (BNB) is now trading on the Binance Smart Chain (BSC) – a highly scalable blockchain network that offers high throughput, smart contract deployment and faster transaction speeds. BSC is a project built to support the Binance exchange – which handles the buying and selling over 600 digital assets. 
Leveraging BNB on the exchange, the token offers lower transaction costs and is used to govern the network. The BSC allows BNB to conduct up to 160 TPS – which is greater than Ethereum's 17 transactions per second. BNB is the 4th largest token with a market cap of $47 billion and one of the best altcoins right now.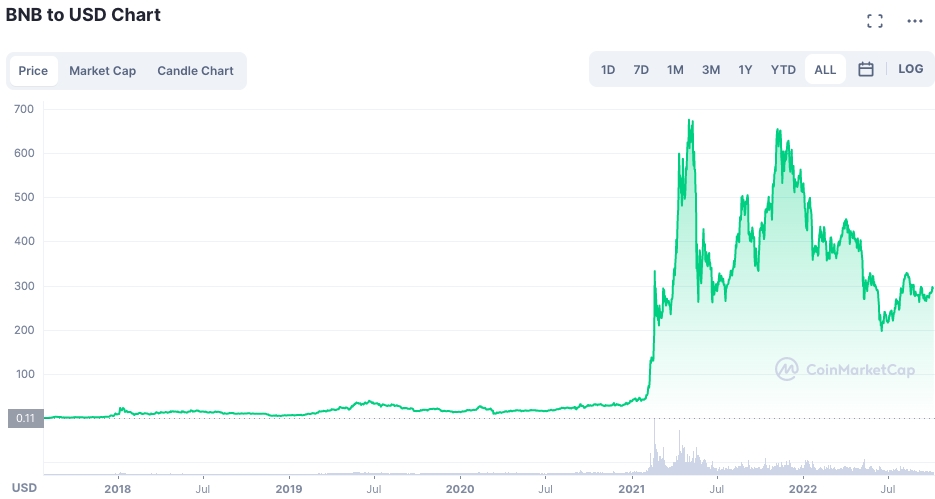 Binance Coin is trading at $293 per token, with a circulating supply of more than 161 million tokens. 
14. Yearn.finance – Web 3.0 Protocol Offering Passive Income Opportunities
Yearn.finance (YFI) provides various decentralized finance products, which can be leveraged to access passive income via cryptocurrencies. Among the available DeFi products are yield generation, lending aggregation and receiving insurance on the Ethereum blockchain.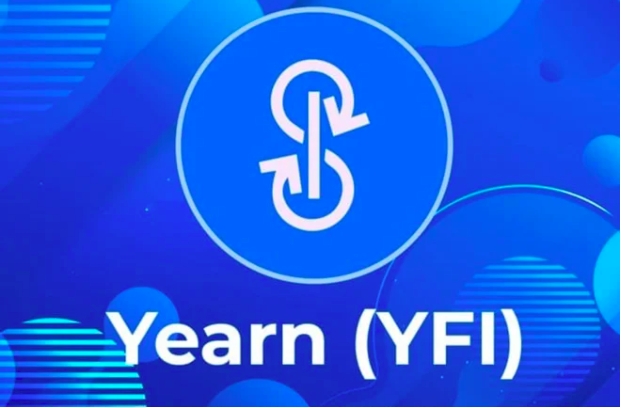 One of the platform's main features is vaults – which are staking pools that work to provide returns depending on the market factors. Another DeFi protocol is 'Earn' – a lending aggregator that connects with decentralized exchanges like AAVE and Compound to exploit the best interest rates possible for users.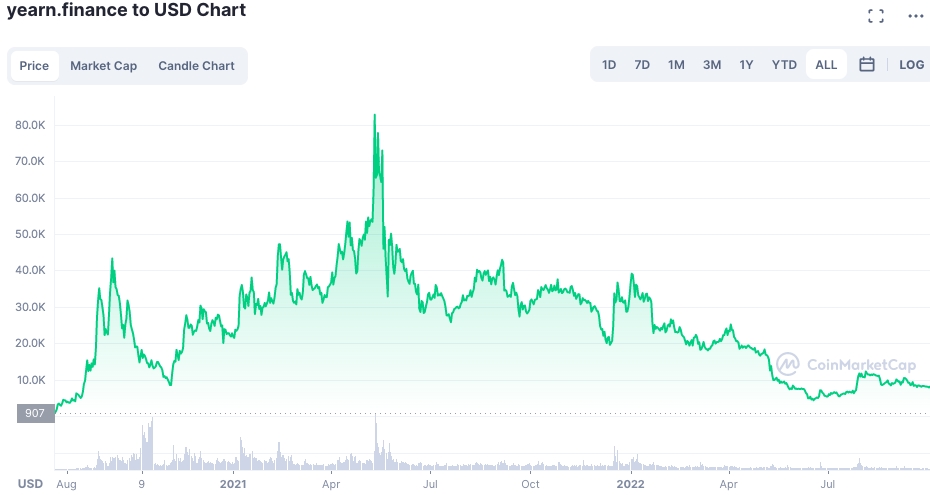 A deflationary token, YFI is the native cryptocurrency with a maximum supply of 36,666 tokens. Currently, YFI is trading at $8,251 per token. 
What is Web 3.0 Crypto?
Web3.0 refers to the decentralized form of the internet. Initially, Web 1.0 was categorized as the beginning of internet technology which first introduced an online forum. Web 2.0 refers to the development of the internet with the introduction of peer-to-peer communication methods. Some of the best technology companies, including Apple, Meta, Amazon and Netflix, are a part of the Web 2.0 community. 
However, Web 3.0 looks to make the internet decentralized and give individuals more autonomy. Web 2.0-based companies all act in a centralized manner – where a central authority controls what the consumer can and cannot control. Web 3.0 leverages blockchain technology to implement smart contracts, which can be used to offer decentralized finance products and protocols. 
Web 3.0 cryptos offer DeFi initiatives by providing staking opportunities to allow multiple users to govern the networks, validate transactions and vote towards community-building projects. Thus, the main users of the platform have a say in controlling the network. 
Is Web 3.0 Cryptocurrency a Good Investment?
Here's a look at the top reasons why Web 3.0 cryptos may be a good investment opportunity:
Decentralization
The main benefit of Web 3.0 cryptocurrencies is providing decentralization – simply meaning that there is no need for third parties to complete activities. For example, banks and financial institutions are the third parties involved in centralized finance. Decentralized finance, on the other hand, allows each individual to have complete control over their assets. 
Automated Market Makers like Uniswap allow individuals to directly access liquidity by making them liquidity providers. Thus, funds can be accessed more quicker and can be transferred and swapped at a rapid rate. 
Earning Opportunities
With the growth of web 3.0 cryptocurrency projects, investors can earn crypto-based rewards in multiple ways. Platforms like Yearn.finance offer passive income-earning opportunities via lending aggregators, yield farming, and staking initiatives. 
Furthermore, GameFi cryptos like League of Kingdoms let users access in-game tokens to participate in its fantasy game and battle for cryptocurrency rewards. Similarly, platforms like Battle Infinity offer tradable NFTs, staking platforms and NFT marketplaces with its decentralized platform. 
What Drives the Price of Web 3.0 Coins?
Before investing in the best web 3.0 crypto coins, it is important to learn about the price movements and the main driving factors of this space. Similar to other cryptocurrency assets, web 3.0 coins experience high levels of volatility. In the past few years, Bitcoin's performance has determined the price performance of other digital assets.
For example, some of the best web 3.0 coins, such as Ethereum, Solana and Binance Coin, experienced high upwards movement towards the end of 2021 – simultaneous to the Bitcoin bull run. In 2022, Bitcoin's price correction has also resulted in a bear market among the web 3.0 cryptocurrencies.
Another important driving factor in Web 3.0 is the growing popularity of use cases. With the popularity of the metaverse – web 3.0 cryptos are implementing playable NFT avatars and in-game earning opportunities. Cryptocurrencies like Tamadoge have soared due to their unique use cases – such as playable NFT avatars, upcoming AR-based applications and new metaverse partnerships. 
Finally, long-term momentum is one of the main drivers of web 3.0 projects. Ethereum has experienced major growth and has become the biggest altcoin in the space. One of the main reasons for this is the implementation of smart contracts and DeFi protocols. Many investors see Web 3.0 as the future of the internet and want to get in early. Therefore, many platforms experience tremendous growth and regular volatility due to the unpredictable nature of these assets in the long-term. 
Conclusion
Web 3.0 cryptocurrencies implement decentralization via blockchain technology – allowing projects to offer various DeFi protocols, decentralized applications while providing more autonomy to users. 
Our top pick right now is Bitcoin ETF Token ($BTCETF). Bitcoin ETF Token has quickly captured investor attention by raising close to $500k within the first week of the presale. It has a speculative nature based on events around the spot Bitcoin ETF approval by the SEC and offers high-reward opportunities, evident in its dynamic APY of 500% at press time.
FAQs
What cryptos are Web 3.0?
Some of the popular web 3.0 cryptos include Bitcoin ETF Token, Tamadoge, Battle Infinity, and Ethereum. Cryptos like Ethereum deploy smart contracts to allow developers to build decentralized applications and network protocols. 
How do you invest in Web 3.0?
Web 3.0 cryptos can be purchased from the top cryptocurrency exchanges. For example, eToro is a popular exchange which offers multiple web 3.0 cryptocurrencies after making a $10 deposit.
What is the best Web 3.0 crypto coin?
One of the best Web3 projects is Bitcoin ETF Token. $BTCETF, the native token, can be staked to earn a high APY.
---