Best Crypto to Buy Now November 20 – Fetch.ai, Synthetix, NEAR Protocol
Disclosure: Crypto is a high-risk asset class. This article is provided for informational purposes and does not constitute investment advice. By using this website, you agree to our
terms and conditions
. We may utilise affiliate links within our content, and receive commission.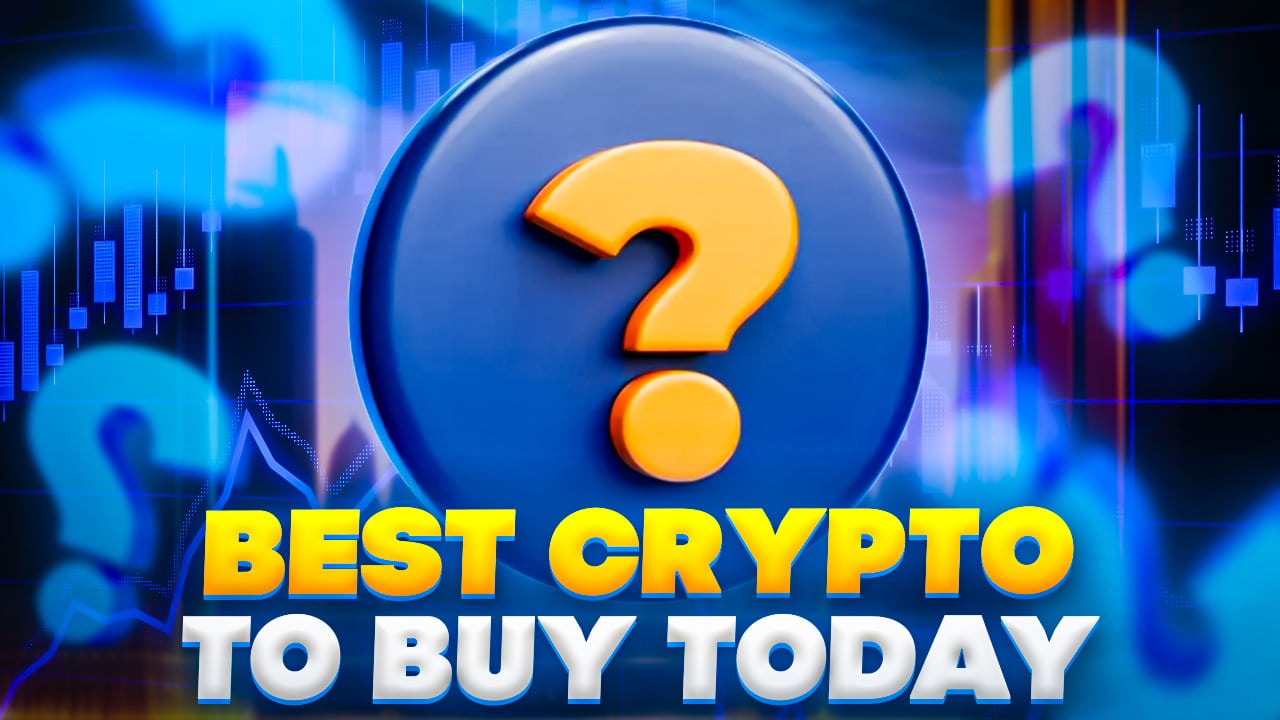 As the FET price soars, and Synthetix and NEAR Protocol make significant strides, these cryptocurrencies are becoming the best crypto to buy now.
Alongside these established tokens, ongoing crypto presales such as Meme Kombat and TG.Casino are also drawing attention in the cryptocurrency market.
Best Crypto to Buy Now in the News

Fetch.ai's token, FET, has seen an impressive surge in price for the past few weeks.
FET is currently trading at $0.5165  up by 3.40% so far today after setting a multi-month high of $0.5794 earlier today.
FET's performance significantly outpaced that of Bitcoin and other major cryptocurrencies in the past month, recording a substantial 140% gain over the past month.
The general market sentiment around Fetch.ai is positive, despite challenges in the broader AI industry.
Price predictions suggest that Fetch.ai is on the verge of breaking its year-to-date high of $0.6083.
Synthetix has also been gaining a lot of attention recently.
Exciting news! Perps V3 is on the horizon, set to build upon the remarkable success of V2. Get ready for its upcoming launch on @BuildOnBase via the Andromeda Release.

V2 brought a paradigm shift to onchain perps, focusing on risk management and introducing now-standard features… pic.twitter.com/z2a7U9N4nv

— Synthetix ⚔️ (@synthetix_io) November 19, 2023
Synthetix recently announced the platform's upcoming Perp v3 upgrade, introducing multiple functionalities to improve the platform's trading experience.
SNX was trading higher earlier today, setting a new year-to-date high of $3.736.
However, as SNX trades around a major resistance level, it has since declined to the current level of $3.348, down 2.33% so far today.
Meanwhile, NEAR Protocol has also recently announced a partnership with the metaverse platform ZEP.
This collaboration seeks to enhance user onboarding and develop ZEP's Web3 capabilities.
During the NEARCON '23 event, NEAR Protocol unveiled significant developments, including a partnership with EigenLayer to enable swift and economical transactions, particularly for Ethereum rollups.
These recent developments may have contributed to NEAR's positive price performance over the past few weeks.
NEAR is currently trading at $1.993, up 0.4% so far today and having risen 22% over the past week.
Emerging crypto presales Meme Kombat and TG.Casino are drawing attention to their potential in the cryptocurrency space.
They represent fresh Bitcoin alternatives that are worth keeping an eye on.
Fetch.ai, Synthetix, NEAR Protocol, Meme Kombat, and TG.Casino are demonstrating significant potential in today's cryptocurrency market.
With recent developments and strong market performance, they are becoming the best crypto to buy now.
Fetch.ai's FET Price Approaches Year-to-Date Peak, but Resistance Looms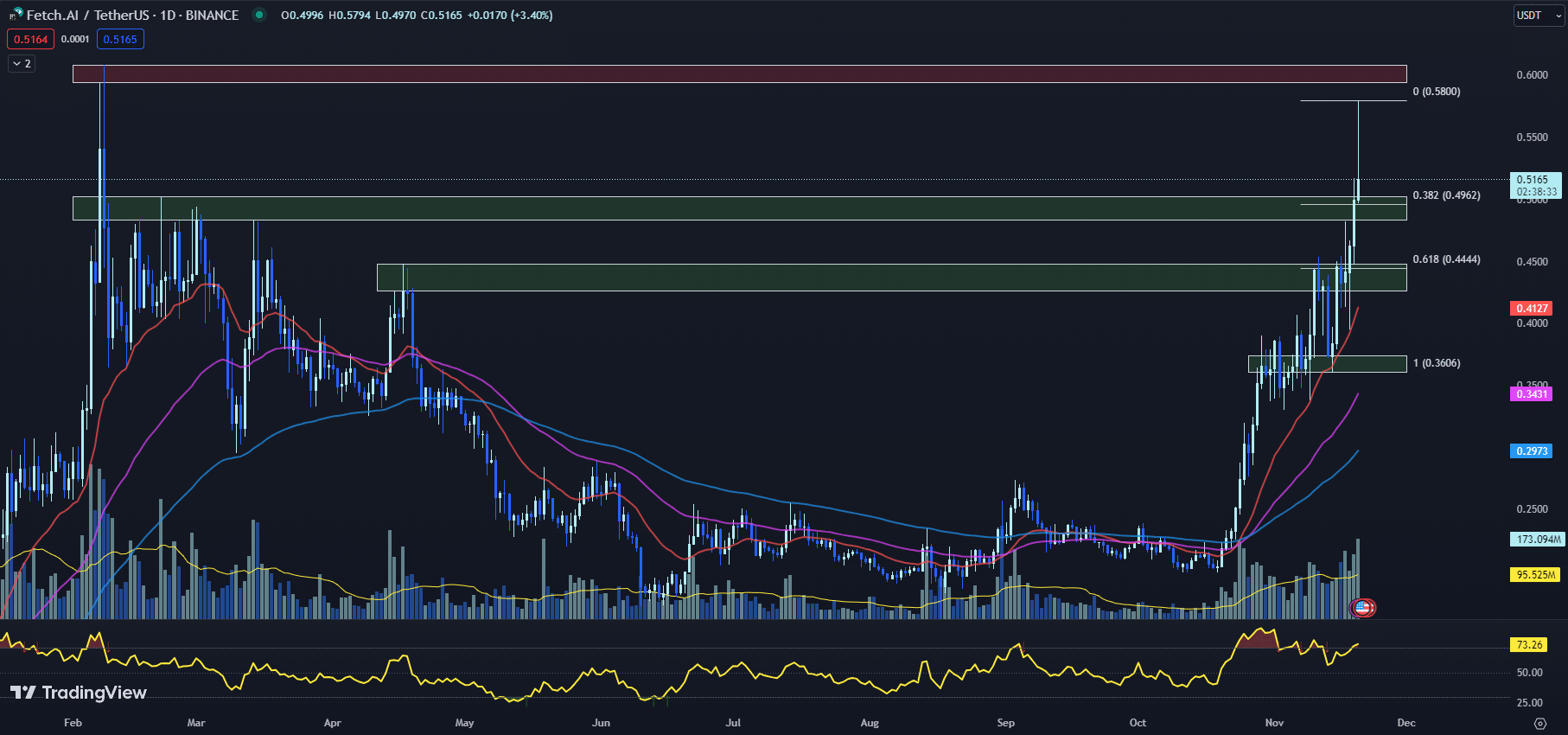 The FET price has seen a dramatic turnaround in recent weeks, surging over 40% since the start of November.
However, after marking a new multi-month high earlier today, signs are emerging that this powerful uptrend may be fading.
Currently trading around the $0.5165 level, the FET price is hovering just below its year-to-date peak of $0.5941.
The current 2023 high represents a crucial resistance point for the FET price.
While the 20-day EMA for FET stands at $0.4127, above the 50-day EMA of $0.3431, the closeness of these moving averages points to building volatility.
The RSI for FET has climbed to 73.26, up from 71.59 yesterday. This shows growing optimism but also nears overbought territory above 70.
At the same time, the MACD histogram sits at 0.0064, an increase over the previous reading of 0.0042.
The positive histogram suggests bullish momentum, but its incremental gain hints that buyers may be losing steam.
With the FET price stalling below resistance, unable to extend its uptrend, the emerging bearish RSI divergence raises warning signs.
On the downside, initial support appears at $0.4835 to $0.5022, which aligns with the Fib 0.382 level at $0.4962.
A break below this area would put the FET price en route to retest its 20-day EMA.
However, if bulls can propel the FET price through the immediate resistance at $0.5941 to $0.6084,
it would signal a resumption of the uptrend. The next target would be the psychological $0.70 barrier.
In summary, while the FET price set a new high earlier today, indicators are flashing caution.
Stalled momentum and bearish divergence on the RSI suggest additional consolidation is likely before the next meaningful move.
With Fetch.ai stabilizing below key resistance, the coming days will be pivotal.
A decisive breakout or breakdown from its recent trading range should set the trend. In the meantime, a neutral stance may be prudent while awaiting confirmation.
Synthetix's SNX Price Correction? RSI Dip and Fading Momentum Indicate Caution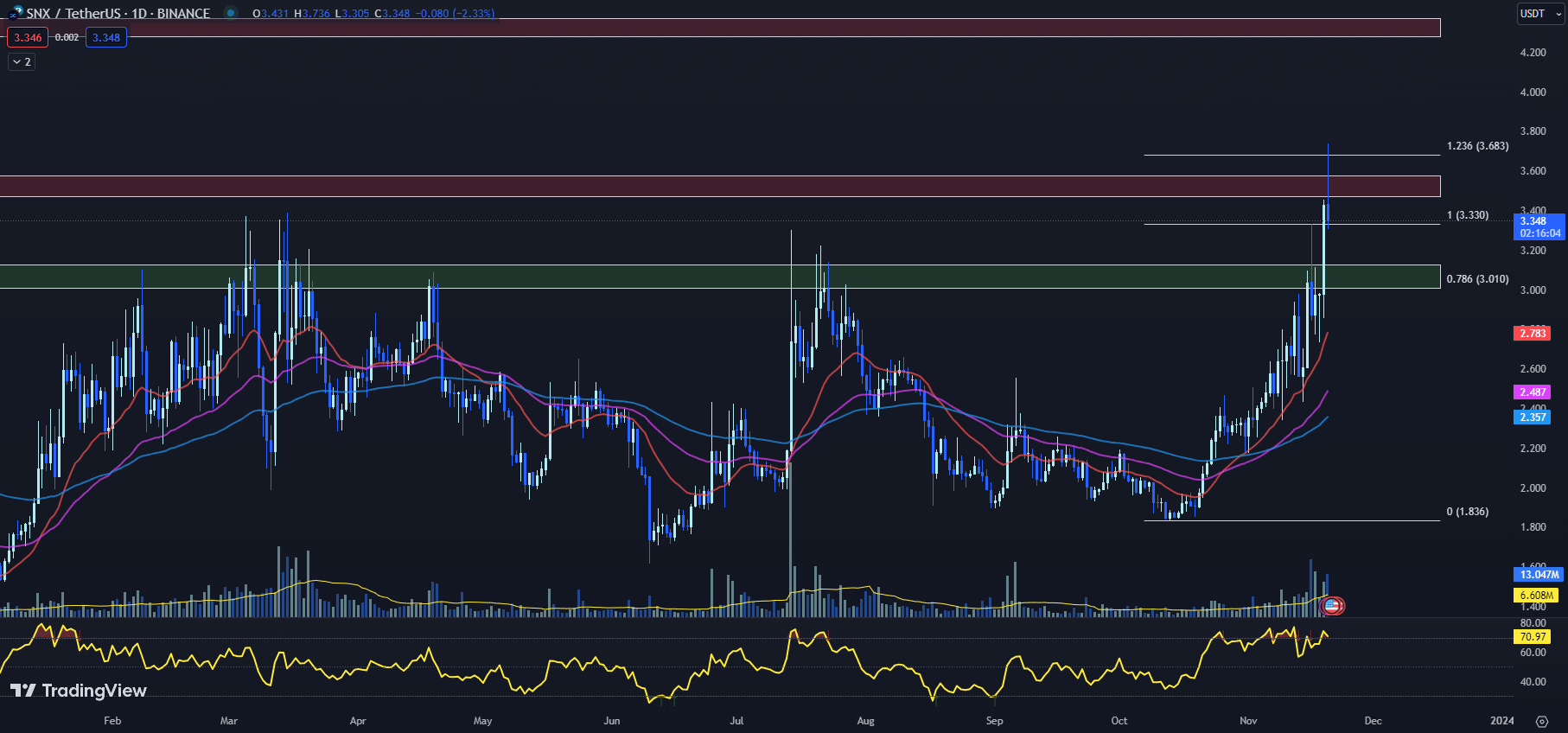 The SNX price has seen a strong uptrend over the past few weeks, but today's 2.33% decline suggests the rally may be due for a pullback.
With SNX trading in the red despite reaching a new 2023 high earlier today, technical indicators point to potential retracement ahead.
The 20-day EMA for the SNX price stands at $2.783 while the 50-day EMA sits at $2.487.
With the faster-moving average above the slower one, this shows an established uptrend.
However, SNX price movement today indicates traders may want to exercise caution chasing new highs here.
The RSI currently reads 70.97, down from yesterday's overbought 74.44 level.
While still in bullish territory, the dip towards 70 signals fading momentum that could foreshadow a correction.
Traders may look for the RSI to find support above 50 to maintain the broader uptrend.
The MACD histogram sits at 0.060, up from 0.053 yesterday. The positive reading confirms bulls remain in control.
However, if selling pressure accelerates, traders will watch for the histogram to slip towards the zero line.
That would signal the rally is losing steam.
With the SNX price down 2.33% so far today to $3.348 despite earlier reaching a new 2022 peak of $3.736, its retreat from highs highlights lurking resistance.
Immediate resistance sits at the previous week's high around $3.330. Beyond that, SNX faces a tougher band of resistance from $3.473 to $3.578.
Clearing that area would open the door for a retest of today's high.
On the downside, initial support rests around $3.011 to $3.125 along with the Fib 0.786 level at $3.010.
If selling accelerates below here, it could presage a drop towards the 20-day EMA which sits around $2.783.
Overall, the SNX price remains in an uptrend but overbought technical readings after hitting a new high point to caution.
While key support around $3.010 could buffer a pullback, breaking below that level risks accelerating declines.
Traders may look to lock in some profits while awaiting indicators to reset before positioning for the next leg higher.
Until a clearer direction emerges, nimble trades and defined risk points remain prudent.
NEAR Price Prediction: Navigating the Path to Further Gains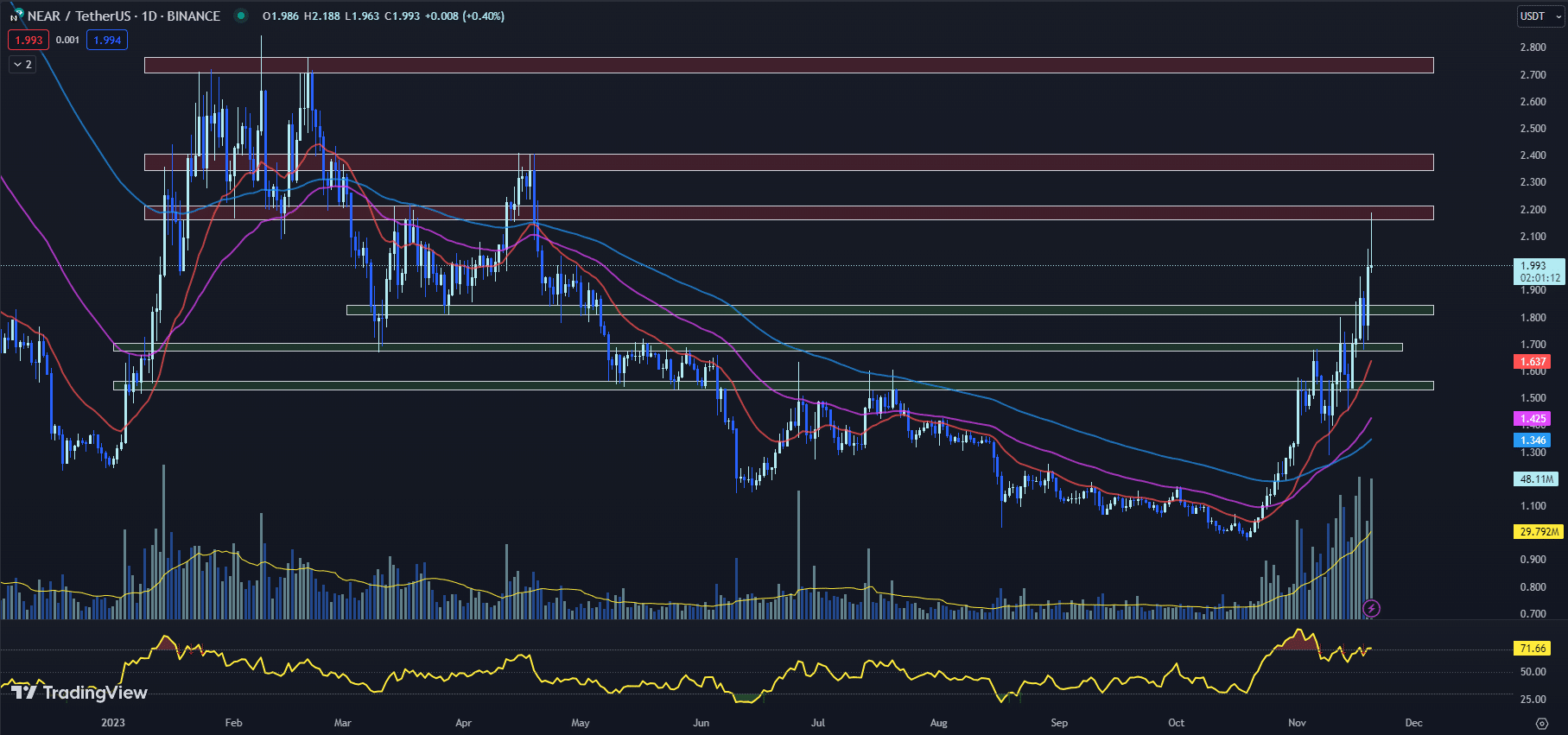 The NEAR price has seen some bullish momentum, up 0.40% so far today to $1.993 and 22% for the past week.
However, technical indicators show there may be challenges ahead for further upside in the NEAR price.
The 20-day EMA for the NEAR price currently stands at $1.637 while the 50-day EMA is at $1.425.
With the short-term EMA above the long-term, this suggests bullish sentiment.
However, with the EMAs nearby, it signals potential volatility and uncertainty ahead for the NEAR price.
The RSI currently stands at 71.66, up slightly from yesterday's 71.44 reading.
This shows NEAR is approaching overbought territory above 70, which could mean the NEAR price is due for a pullback after its recent gains.
The MACD histogram is currently at 0.030, an increase from yesterday's 0.026 value.
The positive and growing histogram indicates bullish momentum may be accelerating for the NEAR price in the short term.
After testing resistance at $2.214 earlier today, the NEAR price was rejected and currently trades around $1.993.
There is a resistance zone between $2.162 and $2.214 that NEAR will need to break above to see further gains.
On the downside, NEAR has an immediate support zone between $1.811 and $1.845. A break below this could lead to a steeper decline in the NEAR price.
With NEAR stabilizing above key support but facing overbought RSI, the coin appears at a crossroads.
A convincing break past resistance at $2.214 could restart the uptrend. But failure to hold support could see the bears take control.
NEAR price will need a catalyst to make its next major move.
Beyond surging cryptocurrencies like FET, SNX, and NEAR, Meme Kombat and TG.Casino are crypto presales offering exposure to fresh crypto projects with major upside potential that are still flying under the radar.
Checking Promising Bitcoin Alternatives Before They Go Mainstream

Bitcoin has dominated the crypto space for years, but investors are now searching for the next big cryptocurrency before it gains mainstream traction.
The goal is to invest early in promising yet overlooked Bitcoin alternatives, purchasing them cheap before exchange listings increase demand.
One way to find these hidden gems is through crypto presales which allow early token purchases at discounts.
Presales let developing projects raise funds while granting investors early access.
Platforms like Meme Kombat and TG.Casino are presale opportunities that may become relevant Bitcoin alternatives.
Though risky, presale investments provide exposure to new cryptocurrencies before the mass crypto market catches onto them.
Careful research is key to identifying quality projects with long-term potential beyond initial hype.
Meme Kombat's $MK Token Is the Best Crypto to Buy Now for Staking Profits
To provide additional value to its community, Meme Kombat has recently launched a staking program enabling token owners to accrue passive returns.
Meme Kombat seeks to establish a foothold in play-to-earn gaming and meme coin ecosystems through its signature AI battles featuring famous meme characters.
Players can bet on matches using $MK, Meme Kombat's native token.
We hitting new heights this week?
🌕
.
☁️ . ☁️
.
🚀
🔥 pic.twitter.com/ggXZiNuak8

— Meme Kombat (@Meme_Kombat) November 20, 2023
Staking is a pivotal part of Meme Kombat, giving users another way to profit via staking their $MK tokens.
Meme Kombat is currently holding a token presale where investors can buy $MK at $0.0205 per token with ETH or USDT. The presale has raised over $1.93 million so far.
Meme Kombat utilizes innovative strategies like automatic re-staking and high APY to maximize returns and encourage long-term investments.
There is a 10-day lock period for staked tokens, which resets every time users take actions affecting their staked balance.
This lock period provides stability and deters quick sales.
When users withdraw staked tokens, any outstanding rewards are automatically claimed and re-staked.
This compounding effect enhances gains for committed users.
Current stats show over 7.57 million $MK tokens staked, representing 63% of the circulating supply.
The APY is 520% with over 842,000 rewards distributed to 2,201 stakers so far.
Once the presale closes, Meme Kombat looks to debut $MK on DEX networks to extend the tokens' access to the extensive cryptocurrency investor base.
The project intends to build its community through partnerships and evolving gameplay based on user feedback.
With its meme-inspired brand and fusion of crypto, gaming, and betting, Meme Kombat is one of the best crypto to buy now.
Rollbit Whales Are Rotating Funds Into TG.Casino's $TGC Token: Is It the Best Crypto to Buy Now?
The crypto gambling sector is being shaken up by a new decentralized platform called TG.Casino.
Its native token, $TGC, has gained traction, raising over $2.68 million in its ongoing crypto presale.
We have passed $2.6 million raised in presale!

One step closer to our FINAL goal⭐ pic.twitter.com/EfO9jAPmWy

— TG Casino (@TGCasino_) November 19, 2023
TG.Casino offers features like staking rewards and cashback incentives that give it a leg up on competitors like Rollbit.
According to on-chain analysis, some Rollbit whales have even begun rotating funds into $TGC.
One anonymous whale recently sold $150,000 worth of Rollbit's token, RLB, and used the funds to purchase and stake $50,000 in $TGC.
This whale behavior signals growing confidence in TG.Casino's potential.
TG.Casino's platform is built on Telegram, which allows seamless access for the messaging app's millions of users.
Signups require no KYC, further reducing barriers to entry.
Since launch, TG.Casino's Telegram channel has rapidly grown to over 6,450 members.
The full integration of $TGC into the platform has driven even faster adoption through features like 200% rakeback bonuses up to 10 ETH.
By enabling 25% net cashback on losses, $TGC incentivizes the use of the token for placing bets while its creative addition helps users potentially stretch their bankrolls.
According to CoinMarketCap data, competing token RLB saw astronomical 5,282% gains since inception.
TG.Casino is well-positioned to deliver similarly outsized returns for early adopters as the project gains momentum.
An audit by Coinsult also found no major issues, further establishing the project's credibility.
While risks remain in crypto gambling, TG.Casino presents an intriguing option for those looking for the best crypto to buy now in the booming GameFi sector.
Disclaimer: Crypto is a high-risk asset class. This article is provided for informational purposes and does not constitute investment advice. You could lose all of your capital
---