Best Crypto Interest Accounts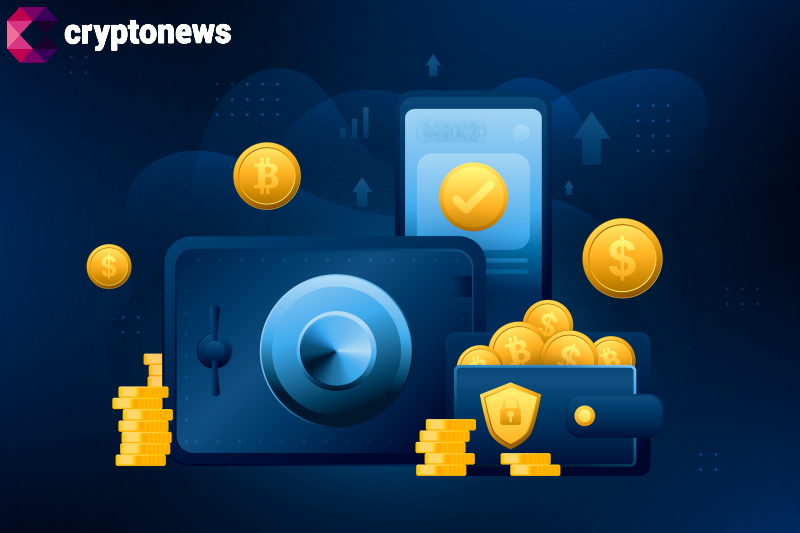 Disclaimer: The Industry Talk section features insights by crypto industry players and is not a part of the editorial content of Cryptonews.com.
Cryptocurrencies and DeFi apps (Decentralized Finance) are changing the way that people can earn money through crypto interest accounts. These accounts let individuals earn interest on their crypto holdings over time.
In this article, we'll look at the 14 best crypto interest accounts for 2023 and explain everything you need to know about these platforms.
The Best Cryptocurrency Interest Accounts Ranked
Here are the 14 best crypto interest accounts available right now:
Bitcoin Minetrix - A new stake-to-mine initiative that is tokenizing cloud mining. On Bitcoin Minetrix, users can stake $BTCMTX tokens and generate more than 7,000% in returns. The token has recently been launched on presale and aims to raise a $32 million hard cap.
eTukTuk - BSC PoS platform provides interest of 33,487% while tackling many initiatives including banking the unbanked, improving CO2 emissions, and removing financial barriers in developing countries.
Wall Street Memes - Popular ERC20 meme token for financial inclusion with $25 million raised through the successful presale. Currently, $WSM is trading on the OKX exchange.
XRP20 - An ERC20 model of Ripple with an ultra low entry price and PoS rewards. Presale sold out and set to launch on exchanges soon - current estimated APY of 43%.
BTC20 - An environmentally-friendly version of Bitcoin on an Ethereum blockchain, with a dynamic yield and 120-year token unlock. Fully diluted market cap of $25 million and an estimated APY of 63%.
Crypto.com - Promising interest rewards for stablecoins
BlockFi - High interest rates on many top cryptos
YouHodlr - Regulated interest accounts with compounding
Binance - Global exchange with flexible crypto interest accounts
Coinbase - Best for new crypto investors to earn passive income
Nexo - Flexible interest accounts with no lock-up periods
Hodlnaut - Specialized crypto interest platform with good rates
Midas Investment - High crypto yields & investment opportunities
Gemini - Highly secure platform for hassle-free crypto investing
Reviewing the Top Crypto Interest Accounts
To help crypto investors find the best crypto interest account for their needs, we'll take a closer look at the top accounts available today.
1. Bitcoin Minetrix - Stake and Earn Over 7,000% and Get Cloud Mining Credits, Buy $BTCMTX on Presale Before the Price Jumps
Bitcoin Minetrix ($BTCMTX) is a stake-to-mine cryptocurrency platform. On Bitcoin Minetrix, investors can generate a high interest and earn credits, which can be converted into Bitcoin mining power.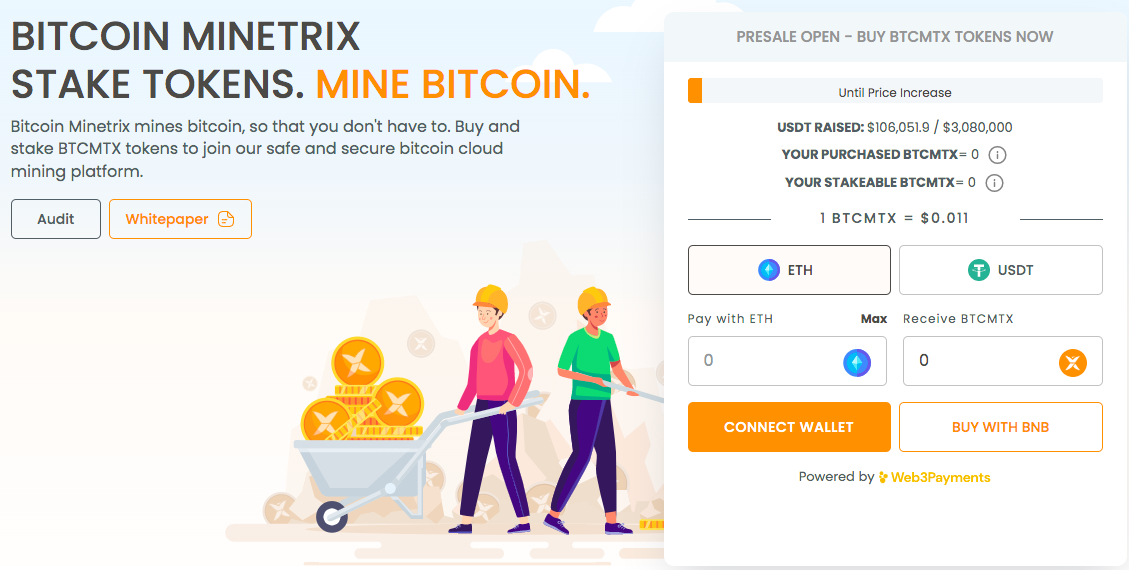 This platform combines token staking and cloud mining. While cloud mining has grown in popularity, third-party corporations have been prone to scam investors with their dubious activities. By tokenizing cloud mining, Bitcoin Minetrix provides security to investors and gives them control over their assets.
At present time, one can buy $BTCMTX through the ongoing presale. During the ongoing round, the token is priced at $0.011. You can automatically stake your holdings once you purchase at least $10 worth of tokens. The live APY (Annual Percentage Yield) being offered is more than 7,700%.
By staking tokens, investors can also earn cloud mining credits. These credits, once burnt on the platform, will be converted into Bitcoin mining power. Thus, users can earn a percentage of mining revenues and gain an allocated mining time.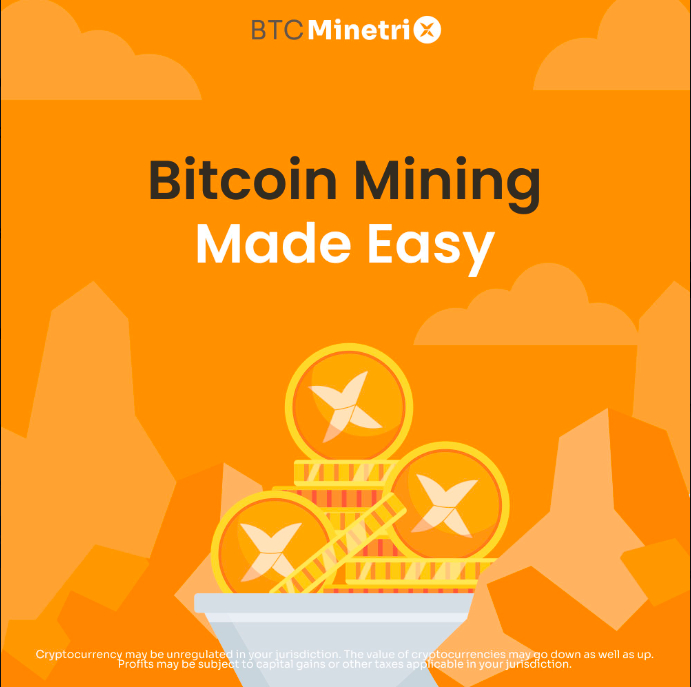 Despite launching on presale a day ago, Bitcoin Minetrix has raised more than $106K. $BTCMTX has a total supply of 4 billion tokens, 2.8 billion of which are allocated for the presale. While the price for the first round is $0.011, $BTCMTX will jump to $0.0119 by the tenth and final presale round.
Bitcoin Minetrix wants to raise a hard cap of over $32 million by the end of the presale. The high interest and cloud mining utility can make it one of the top cryptos to buy in the coming years. Read the Bitcoin Minetrix whitepaper and join the Telegram channel to learn more about this project.
| | |
| --- | --- |
| Presale Started | 26 Sept 2023 |
| Purchase Methods | ETH, USDT, BNB |
| Chain | Ethereum |
| Min Investment | $10 |
| Max Investment | None |
2. eTukTuk - New Crypto Interest Account Offers 33,487% And Green Transport Model
eTukTuk (TUK) is an eco-friendly campaign that aims to replace TukTuks with Zero Emission Vehicles (ZEVs).
TukTuks are 3-wheeled vehicles frequently used in developing countries, and they have a heavy carbon footprint that is worse than that of a car.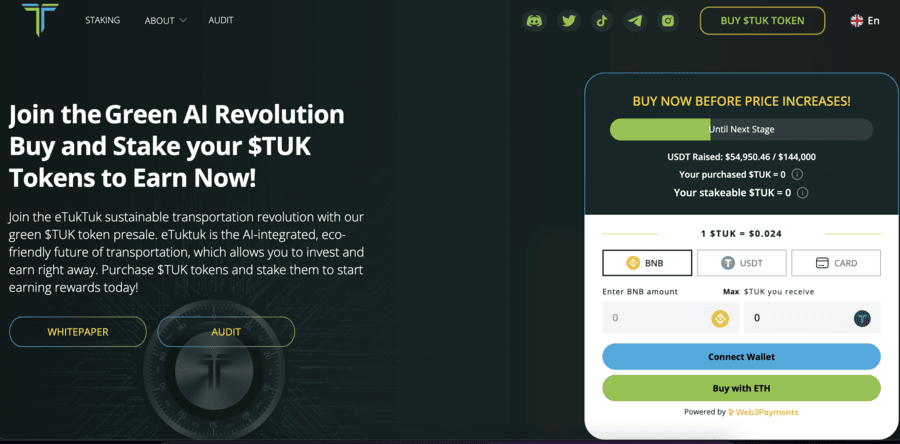 eTukTuk plans to replace them with a battery powered vehicle that is more environmentally friendly and far more affordable to purchase. This means there will be no fuel costs for drivers, who do not earn much of an income anyway.
So drivers can purchase it for cheaper, with no fuel costs, and benefit from staking the native TUK token. This token is currently generating rewards of 33,487% with a reward schedule of 4.75 per Block.
The TUK token can also be used by drivers with additional benefits such as bonuses and rewards. The electric vehicles will incorporate AI, which will select the best possible routes to further save on energy consumption and unnecessary waste.

This ecosystem is launched from the Binance Smart Chain, for increased speed and lower costs than other blockchains.
Binance uses proof-of-stake-authority, which is more eco friendly than both Ethereum (proof-of-stake) and Bitcoin (proof-of-work). eTukTuk has also undertaken a smart contract audit, with no issues found.
The project is based in Sri Lanka, a county with a poor carbon footprint profile, and this is a national concern. This is an initiative that aims to bank the unbanked, repair the environment, remove socio economic barriers, upgrade the transport infrastructure, and install a sharing economy.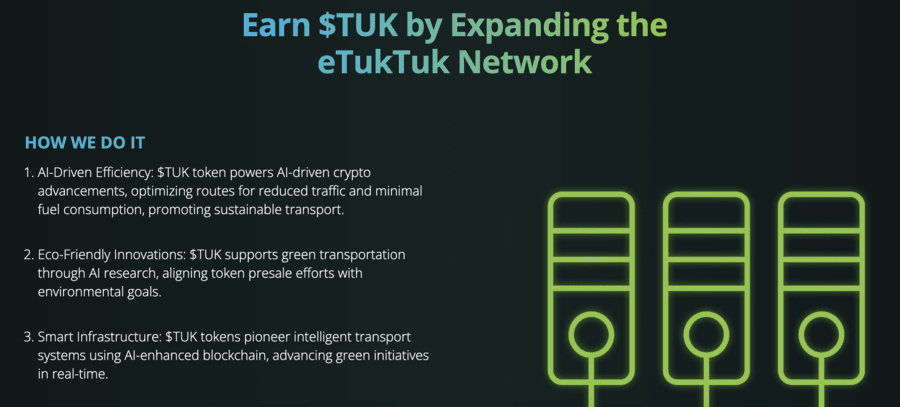 In other words, it has many aims and aspirations, but primarily seeks to bring people together under a more unified architecture, supported by decentralized technology and AI powered electric vehicles. It is a blockchain project for the people, and currently offers high yields.
There are a total of 2 billion TUK tokens. The price per token is $0.024, but this is likely to increase as time goes by.
More information can be found in the Telegram and Twitter accounts, as well as the Whitepaper.
| | |
| --- | --- |
| Presale Started | August 2023 |
| Purchase Methods | ETH, USDT, BNB |
| Chain | Binance Smart Chain |
| Min Investment | $5 |
| Max Investment | None |

3. Wall Street Memes - Extremely Popular Meme Token That Raised $25 Million on Presale
Wall Street Memes ($WSM) is a new staking token that has already proven to be wildly popular among investors, raising a huge $25 million in its sold-out presale.
Few presales reach anywhere near this amount, and now the token has been listed on the OKX exchange.
There are multiple reasons for its popularity. The project has seen interaction from Elon Musk on Twitter, a figure that has raised the price of Doge on multiple occasions.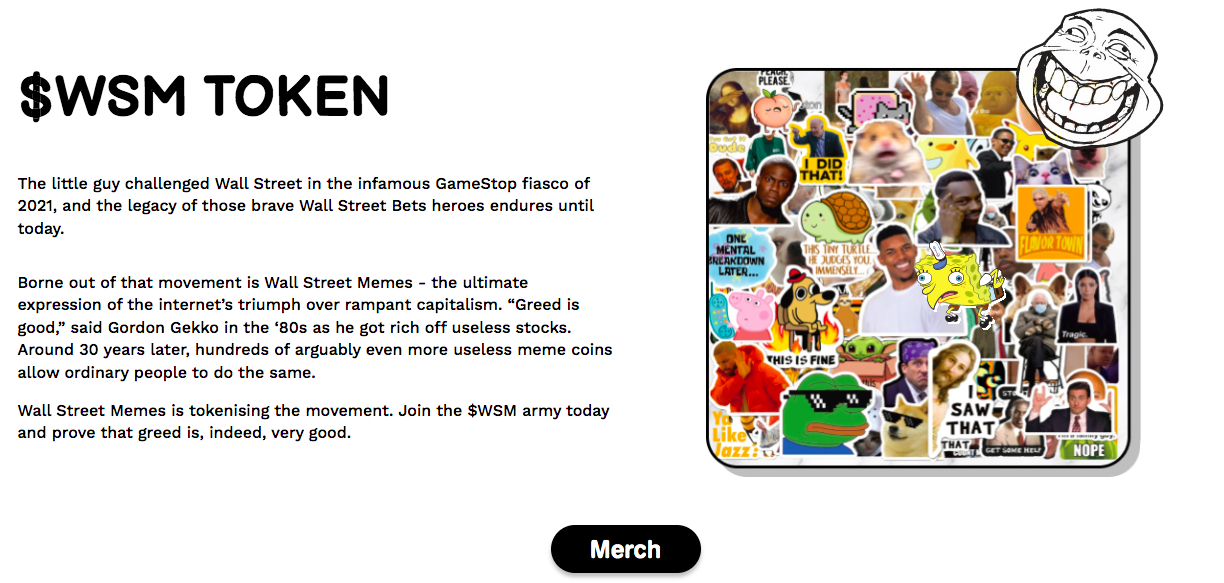 Meme coins that target wall street and mainstream actors have also proven to be extremely successful in recent years. Dogecoin and Shiba Inu enjoyed explosive returns as retail investors want a way of leveling the playing field.
And some of the meme tokens are hilarious, entertaining, and often quite accurate, proving a hit amongst retail investors. People feel that they are part of a unified group, termed an "army", but the protest is fun and peaceful. Last, but not least, such tokens serve as crypto interest accounts. Meaning it is possible to take part in a community but also earn interest with staked tokens.
At the present time, Wall Street Memes is offering an estimated APY yield of 68%, with a total of 293,350,640 coins staked. In terms of token allocation, 50% go to marketing, 30% to community rewards, 10% to DEX liquidity, and 10% to CEX liquidity.

$WSM is currently trading in the $0.039 zone.
4. XRP20 - ERC20 Token With DeFi Staking & Token Burning to Mirror Ripple Tokenomics
XRP20 ($XRP20) is a novel concept combining the tokenomics of Ripple with the benefits of token burning and DeFi staking. The project calls itself the "Second Coming of Ripple", though the website clearly states that it bears no affiliation with this separate project. It could be a powerful ecosystem to use for those looking to earn interest on their tokens.
The project, which offers staking and a deflationary mechanism, sold out its $3.7 million presale hard cap in just over two weeks and is set to launch on exchanges soon. The staking pool is already open with more than 23 billion tokens added so far, which will return an estimated annualized percentage yield of 43%.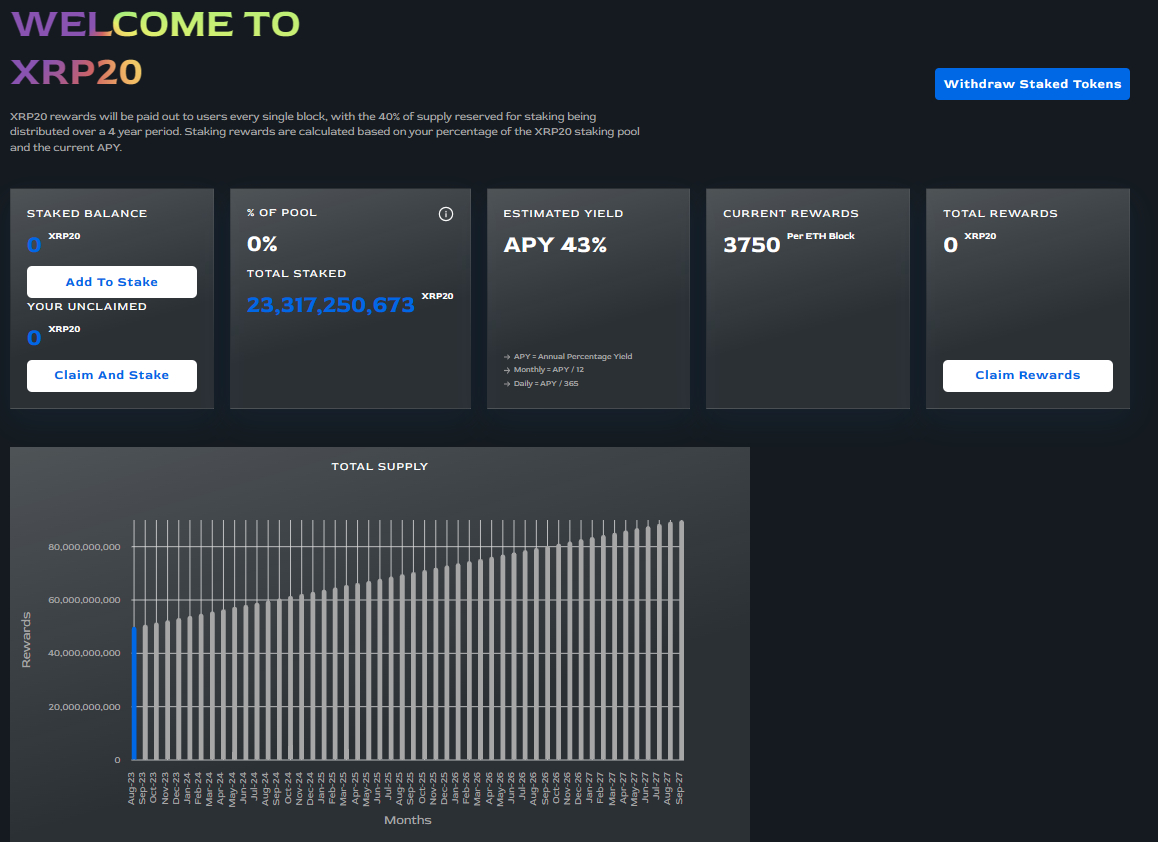 XRP20 is aimed at retail investors who failed to get into the original Ripple token at an early stage, before its price skyrocketed. Ripple has made headlines recently after winning a partial victory against the Securities and Exchange Commission (SEC), as it is definitively not a security.
One appealing aspect of XRP20 is its low entry price. It was priced at $0.000092 during the presale, which is 30x less than the all time low of Ripple, which was $0.0028. The campaign further hopes to build its own "XRP Army", much like previous movements such as Doge and Shiba Inu, which have large community followings that actively promote the project on social media.
DeFi is the icing on the cake for the ambitious XRP20 project - 40% of the overall supply (40 billion $XRP20) is set for staking with a four-year unlock.
An additional 10% (10 billion $XRP20) are also set to be burned. This token burning could help with price appreciation over time, as the supply becomes scarcer. 0.1% of each buy/sell is sent to a token burning address to further promote token scarcity.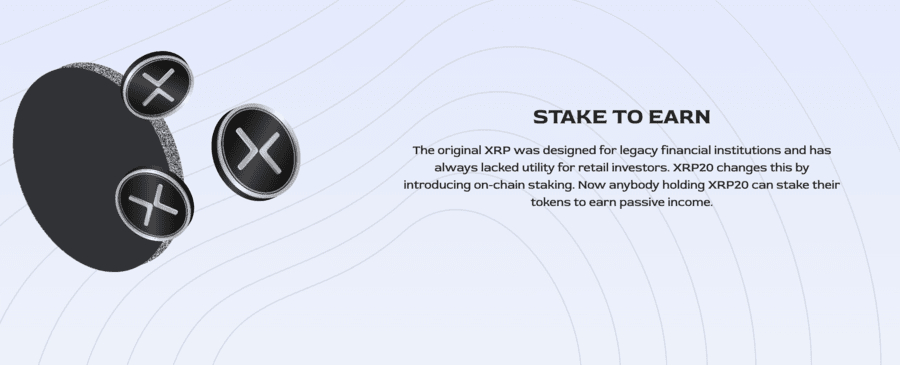 DeFi staking will become a prime area of focus for the XRP20 team post launch. This is stated in their roadmap. A 40% staking allocation is very generous, especially when coupled with the 10% burning mechanism.
This DeFi staking is in stark contrast to the original Ripple project, where the founders kept most of the token supply to themselves. Moreover, the XRP20 project has undergone a third party smart contract audit.
You can stay in touch with the XRP20 project through Telegram. Remember to read as much as you can about the ecosystem prior to investment, and to check out the XRP20 whitepaper.
5. BTC20 - Bitcoin on Ethereum Blockchain With DeFi Staking, 63% APY and $25m Market Cap
BTC20 ($BTC20) has made huge waves since it launched its presale, reaching its $6 million hard cap in just two weeks.
Having been priced at just $1 during the presale, the token reached as high as almost $6 before settling back down to its current price of $2 - millions of tokens have been added to the staking pool, which will provide an estimated APY of 63%, while the project has a fully diluted market cap of more than $25 million.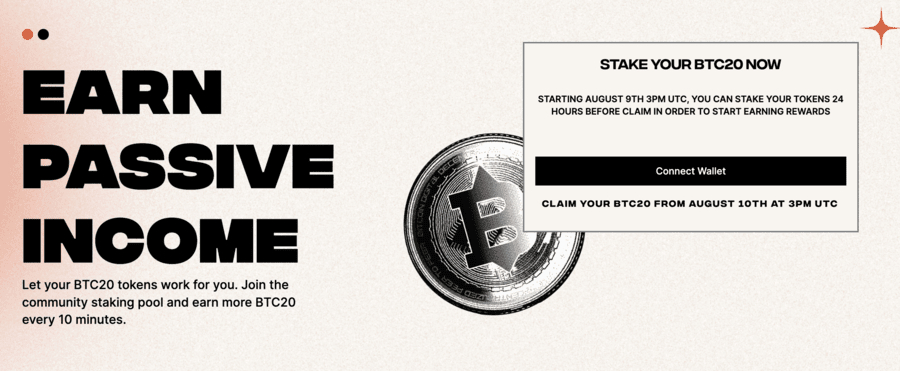 BTC20 is an ERC20 token - built on the efficient and fast Ethereum network - that mirrors the tokenomics of Bitcoin as it was all the way back in April, 2011. At that time, the circulating supply was 6.05 million with an overall supply of 21 million, and the price was just $1.
So BTC20 played heavily on Bitcoin nostalgia as a second opportunity to purchase an early-stage crypto at a low price. The whitepaper also demonstrates the commitment to align with the core principles of Bitcoin, which is sure to win the hearts of many BTC maximalists. The BTC20 ecosystem also uses the same block rewards system of BTC to power its DeFi economy.
For every block confirmation, 50 $BTC20 tokens are released and distributed to all participants in the staking pool, as aligned with the Bitcoin blockchain. 14,950,000 tokens are locked in the staking contract to reward staking pool participants. Rewards are generated in real time, every 10 minutes.
Staking yields are governed by smart contracts, adjusted per wallet. The block rewards will be halved every 4 years. A fixed token release schedule takes place over 120 years. The long token release schedule should help to preserve price stability and ensure long-term investment as opposed to short-term attention.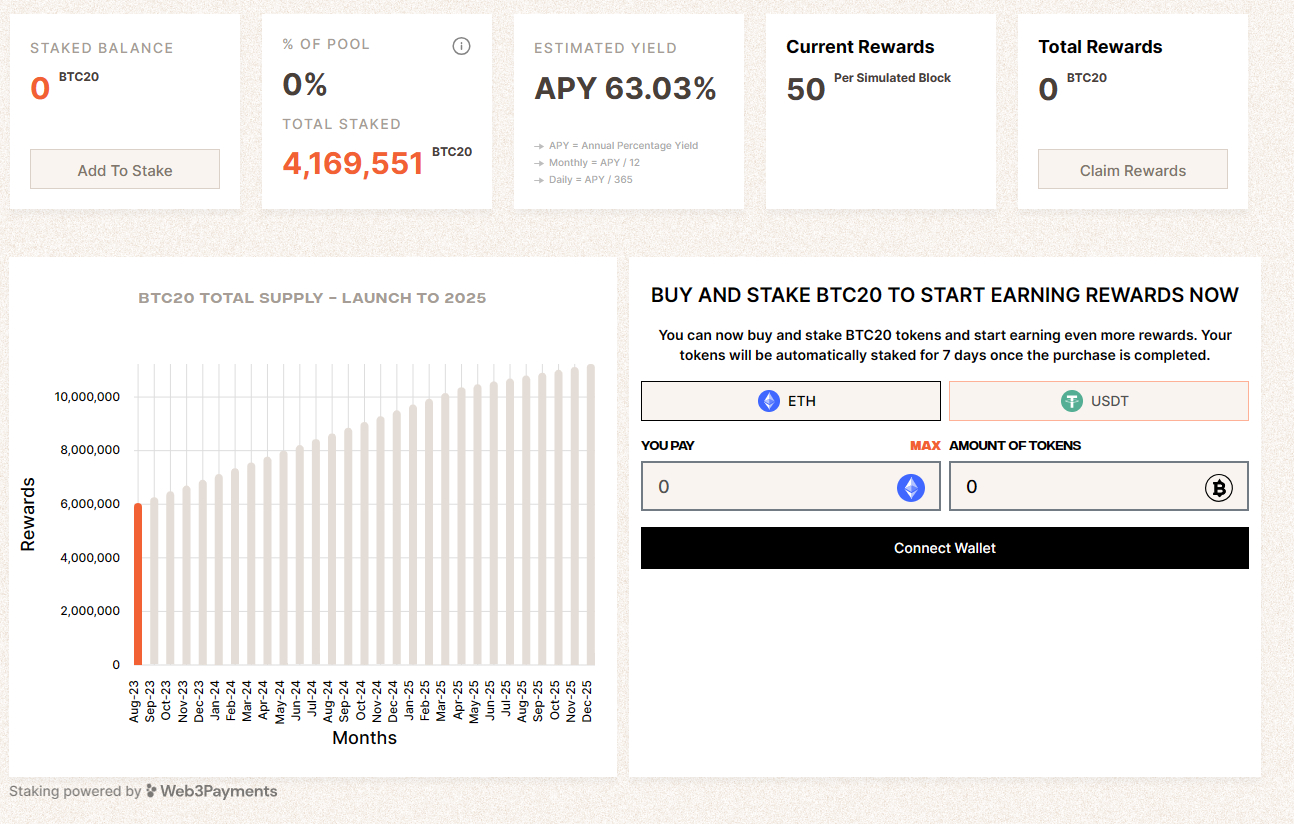 For further information, investors can remain in touch with the project through Telegram or Twitter.
More information is also available through the BTC20 whitepaper which should be read prior to investment. Prices can go up or down, as mentioned in the whitepaper.
6. Crypto.com - Promising Interest Rewards for Stablecoins
Crypto.com has one of the largest selections of interest-eligible coins through its Earn program. Investors can earn interest on both traditional cryptocurrencies like Bitcoin and Ethereum as well as stablecoins like USDC and DAI.
There are several reasons to consider Crypto.com as a strong contender for offering the best crypto interest accounts. First, the maximum interest rate can climb up to 14% APY (Annual Percentage Yield) for regular cryptocurrencies and up to 8.5% APY for stablecoins.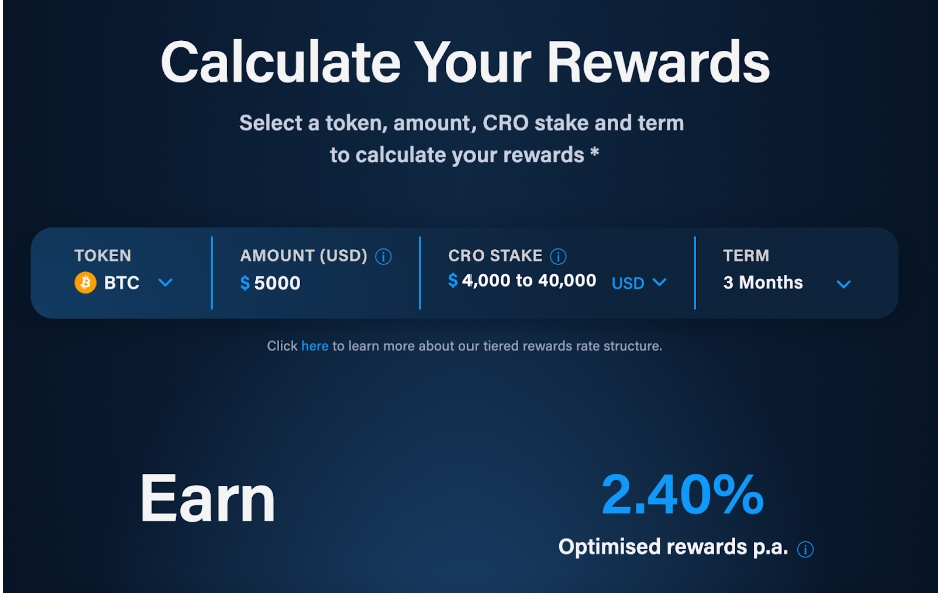 Those are impressive rates when looking at the currently available crypto interest accounts. However, it is worth noting that conditions to earn the highest yields include extensive lock periods and large deposits.
Crypto.com has also earned a strong reputation as one of the best places to earn interest on crypto
and as a reliable exchange and custodian for customers' funds. That's critical since investors need to be certain that their crypto is stored safely while earning interest. Earning interest on cryptos is one of the ways to earn free crypto in 2023.
Overall, Crypto.com's high rates, user-friendly features, and security make it our pick as one of the best crypto interest account providers for 2023.
Pros:
Trusted by 10 million+ users
Earn up to 14.5% APY
High interest rates for stablecoins
Strong security
Intuitive mobile app
Earn calculator provides an estimate of rewards
Higher rates for users who also hold CRO
Cons:
Top rates require 6-month lock-up period
Here's an example of some of the coins that users can deposit for additional rewards as well as the Crypto.com interest rates:
Coins

Rate - Flexible Terms

Deposit <$4000

Rate - 3 Month Lockup
Deposit >$4000
APY
Requirement
BTC
0.2%
3%
3%
3 Month Lockup
Deposit >$4000
ETH
0.2%
4%
4%
3 Month Lockup
Deposit >$4000
DOT
1.15%
12.5%
12.5%
3 Month Lockup
Deposit >$4000
USDC, USDT, DAI
0.4%
6.5%
6.5%
3 Month Lockup
Deposit >$4000
7. BlockFi - High Interest Rates on Many Top Cryptos
BlockFi has earned a reputation for offering some of the highest interest rates in the industry. Customers depositing funds with BlockFi can earn interest of up to 15% APY on specific cryptocurrencies.
Plus, earnings compound over time to give users the best possible return.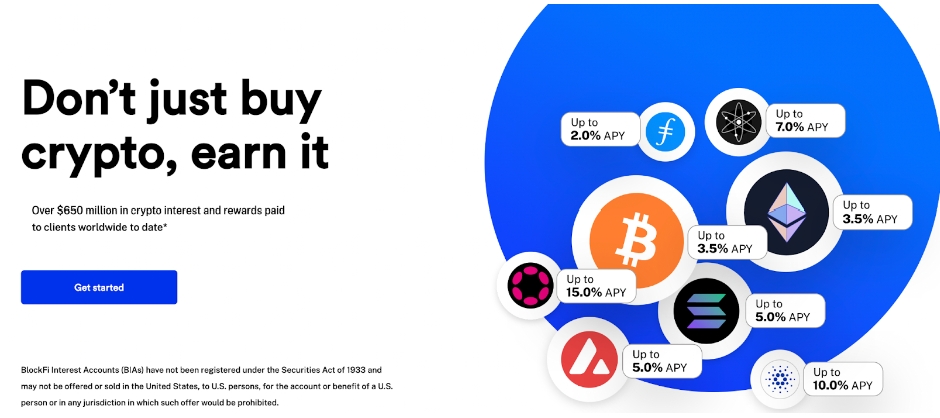 The platform is also noteworthy for its compliance with cryptocurrency regulation and for being based in the U.S.A. The fact that BlockFi closely adheres to laws and regulations makes it all the more appealing for crypto users desiring a high level of security.
BlockFi's customers will have a wide array of cryptocurrencies from which they can earn a profit through the BlockFi Interest Account (BIA). No minimum balances are required, and the yield gets paid out monthly.
Pros:
Highly regulated service
Interest rate of up to 15% APY
Based in the US
Yield is paid out monthly
Cons:
Tiered interest rates with varying requirements
BlockFi provides these rates at the moment:
| | | |
| --- | --- | --- |
| Coins | APY | Requirement |
| BTC | 3.5% | Deposits of up to 0.1 BTC |
| ETH | 3.5% | Deposits of up to 1.5 ETH |
| DOT | 15% | No limit deposit |
| USDC | 8.5% | Deposits of up to 20000 USDC |
8. YouHodlr - Regulated Interest Accounts with Compounding
YouHodlr is one of the top crypto interest platforms and earning interest on crypto is simple. Once users pass the KYC verification process, they can simply deposit their funds, sign the Savings Reward Agreement and start accruing funds. The yields are paid out once per month.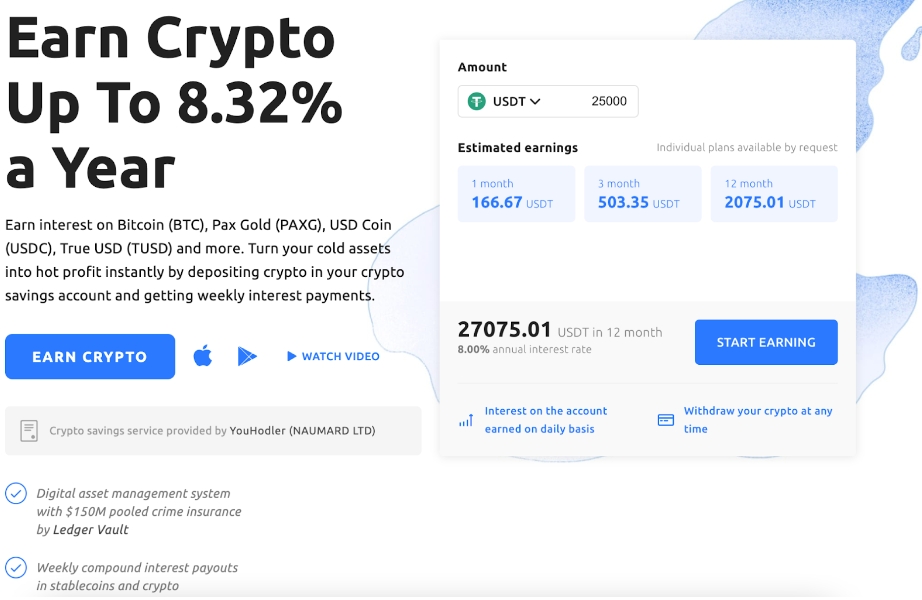 The company was founded in Switzerland and currently has hundreds of thousands of users worldwide. Customers are drawn to YouHodlr because the company offers interest rates up to 8.32% APY. It's also highly secure since YouHodler stores digital assets in both hot and cold storage.
Customers can also experiment with additional features such as Multi Hodl. This enables them to try to use the market's volatility to boost rewards.
At the time of writing, there are over 50 cryptocurrencies supported. Funds are generally locked for 30 to 365 days. There is a minimum deposit requirement of $100.
Pros:
50+ cryptocurrencies for earning interest
Profits can be easily and quickly withdrawn
Rates up to 8.32% APY
Cons:
Minimum deposit of $100
Highest rewards are for less-used altcoins
Some of the rates that YouHodlr currently offers include:
| | | |
| --- | --- | --- |
| Coins | APY | Requirement |
| BTC | 3.05% | Deposits of at least $100 equivalent |
| ETH | 4% | Deposits of at least $100 equivalent |
| USDC | 8.32% | No limit deposit |
9. Binance - Global Exchange with Flexible Crypto Interest Accounts
Binance has more than 21 million active users around the world and is one of the largest crypto platforms in the industry. The exchange's version of interest-earning crypto services is called Binance Earn. Binance Earn includes a number of options, the most important of which are Locked Staking and DeFi Staking.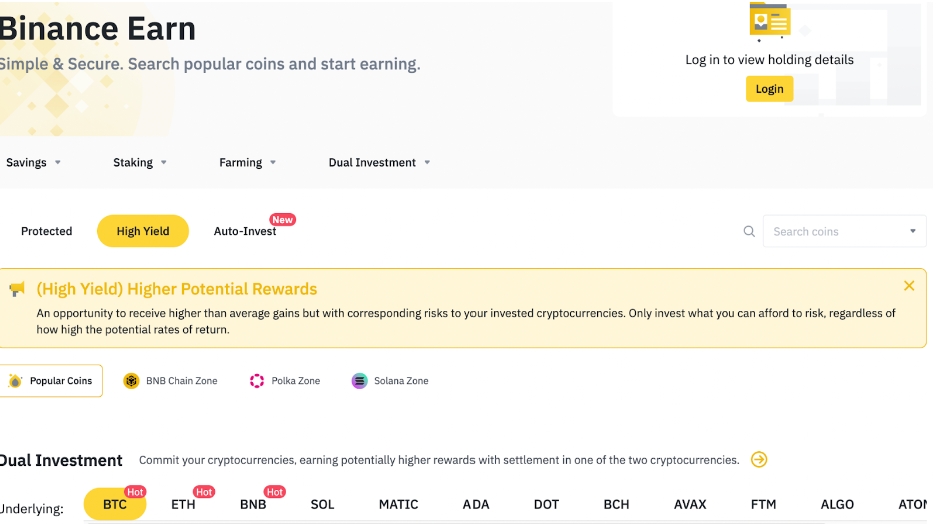 With Locked Staking, customers agree to lock up their assets for 30, 60, 90, or 120 days in exchange for an estimated APY. It's similar to the crypto interest accounts found at many other platforms.
DeFi Staking promises large yields in exchange for slightly more risk. Binance uses your funds on selected staking pools, which typically involve more volatile cryptocurrencies with less well-established followings.
The DeFi Staking program should not be confused with Binance Savings, in which funds are locked in the exchange and used as rewards for customers. Besides this, the DeFi Staking program also promises higher rewards in exchange for participating in various decentralized projects.
Pros:
21 million+ global users
Huge selection of coins for earning interest
Earn interest on deposits up to $150 million
Locked and DeFi staking programs available
Cons:
Some staking pools are sold out
Low rewards for flexible interest accounts
Binance offers the current rates at the time of writing:
Coins
APY
Requirement
BTC*

Up to 5% in Binance Savings

Up to 3.1% in DeFi Staking

Lock period of 60 days for DeFi staking
ETH*

Up to 5% in Binance Savings

Up to 3.9% in DeFi Staking

Lock period of 120 days for DeFi staking
DOT
Up to 20.98% in Locked Staking
Lock up period of 120 days in Locked Staking
USDC*
Up to 1.1% in DeFi Staking
Flexible lock
*Not currently available as part of Locked Staking program
10. Coinbase - Best for New Crypto Investors to Earn Passive Income
Coinbase is the largest crypto exchange based in the U.S. Because of this, as well as the large number of cryptocurrencies that it hosts, using the Coinbase Earn program in order to earn passive rewards is a highly attractive option for numerous users.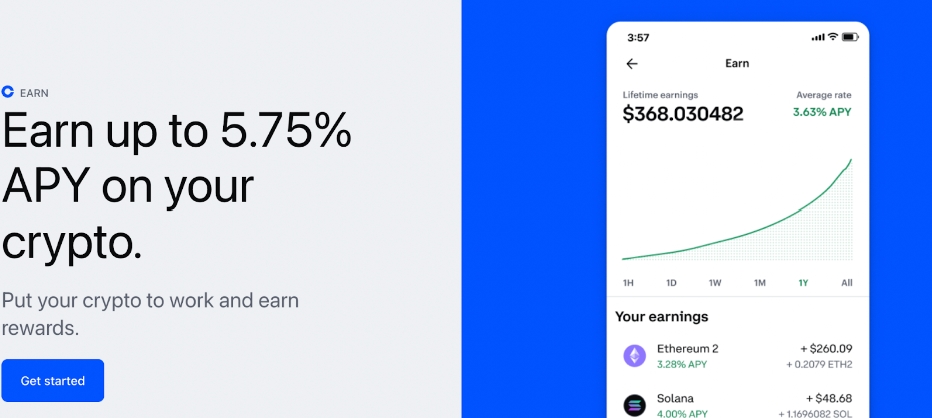 Coinbase allows users to earn passive income through their staking service. The service boasts good security features, but customers will need to lock up their assets while their coins are deposited into staking pools.
At the moment, Coinbase advertises APY of up to 5.75%. The minimum deposit can be as low as $1. While the list of eligible coins isn't very large, this has grown in the past year. Customers can earn the highest rewards for digital coins of projects such as Tezos and Algorand.
Note that the program also allows users to earn select crypto coins in exchange for viewing informative videos and answering questions about those crypto projects. Furthermore, Coinbase also includes a DeFi Staking option for certain coins.
Pros:
Highly secure and reputable company
Minimum deposits of as little as $1
Regulated by SEC and listed on NASDAQ
Cons:
Few coins available for earning interest
High fees compared to market competitors
| | | |
| --- | --- | --- |
| Coins* | APY | Requirement |
| ALGO | 5.75% | Staking |
| ETH | 3.28% | Staking |
| ADA | 2.6% | Staking |
| USDT | 0.15% | Standard Rewards |
*Note that at the time of writing Coinbase had not included BTC for their Earn program. However, this is likely to change soon.
11. Nexo - Flexible Interest Accounts with No Lock-up Periods
Nexo's primary focus is on offering instant crypto loans provided in over 40 digital coins. But the company also offers an easy way for customers to earn interest on crypto through savings accounts.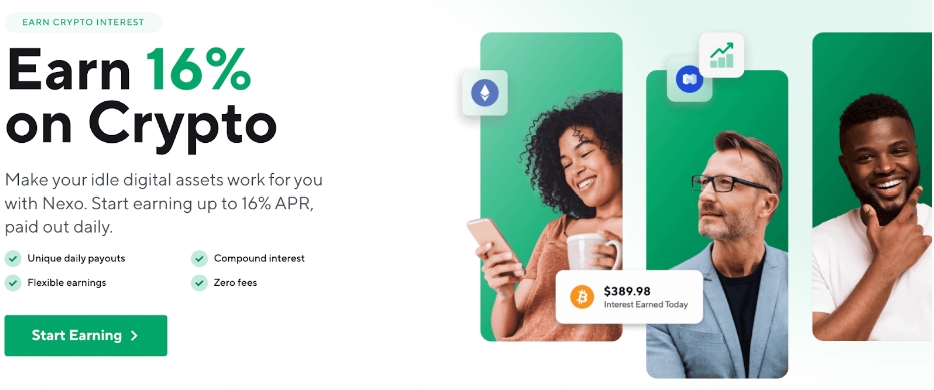 What's great about Nexo crypto interest accounts is that the lock-up period for funds does not exceed 24 hours. In addition, Nexo has no fees for depositing and withdrawing funds.
Nexo offers yields up to 12% APY on stablecoins. Interest rates for traditional cryptocurrencies are typically around 8% APY but can climb to as high as 36% APY under certain conditions.
Pros:
High interest rates, particularly for stablecoins
Lock-up periods don't extend past 24 hours
Regulated and secure
Cons:
Complex system and platform
Highest rates require investing in NEXO token
Coins
APY
Requirement
BTC
Up to 7%

Platinum-tier eligibility

Earn in Nexo tokens

ETH
Up to 8%

Platinum-tier eligibility

Earn in Nexo tokens

DOT
Up to 15%

Platinum-tier eligibility

Earn in Nexo tokens

USDT
Up to 12%

Platinum-tier eligibility

Earn in Nexo tokens
12. Holdnaut - Specialized Crypto Interest Platform with Good Rates
Holdnaut is relatively new to the crypto space, but this Singapore company is enticing customers with eye-catching benefits. Holdnaut's website advertises that customers can earn up to 7.25% on most available crypto coins.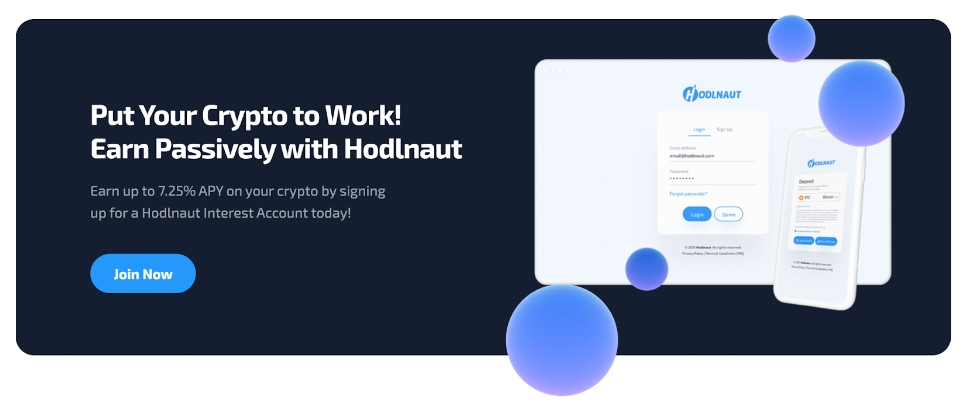 There's no minimum deposit to start earning rewards and no lock-up period for interest-earning funds.
The catch is that only 7 digital assets are currently available to earn interest. Also, to receive the highest level of rewards, customers must pass a thorough KYC verification process.
Users looking to quickly cash in on their rewards will be able to choose to earn daily. Rewards will be credited to their accounts at the beginning of each week, allowing for fast compounding.
Pros:
No lock-up period
No minimum deposit required
Intuitive, well-designed platform
Cons:
Few coins supported for earning interest
No support for fiat deposits
| | |
| --- | --- |
| Cryptos | APY |
| BTC | 3% |
| ETH | 4% |
| DOT | 10% |
Note that at the time of writing, Holdnaut has suspended deposits, and is currently under interim judicial management. However, the situation could return to normal shortly.
13. Midas Investments - High Crypto Yields & Investment Opportunities
Midas is a relatively new crypto company that presents itself as a passive crypto income ecosystem. At the time of writing, it provides up to 12.6% APY on stablecoins (USDC, USDT) and up to 8.3% on cryptocurrencies such as ETH.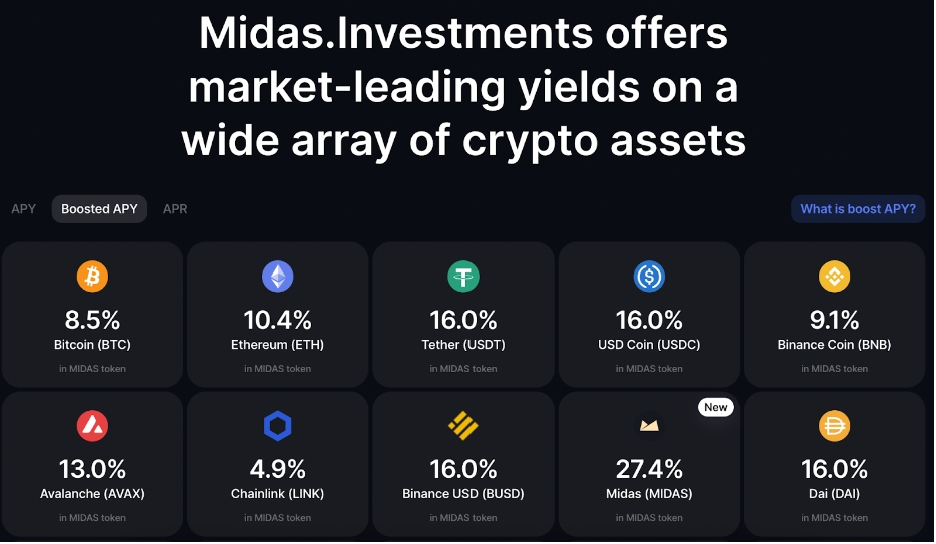 Those looking to earn through interest accounts should know that there are no deposit fees, and payouts will occur every week.
On top of that, Midas is in the process of rolling out more investment opportunities for existing crypto investors. Keep an eye on new developments at Midas that could offer higher interest rates in exchange for slightly more investment risk.
Pros:
Interest paid weekly
No deposit fees
Rates up to 12.6% APY for stablecoins
Cons:
Relatively complex system for new crypto users
Still in the process of rolling out alternative investments
| | | |
| --- | --- | --- |
| Coins | APY | Requirement |
| BTC | Up to 8.5% | Paid out in MIDAS token |
| ETH | Up to 10.4% | Paid out in MIDAS token |
| MIDAS | Up to 27.4% | Paid out in MIDAS token |
| USDT | Up to 16% | Paid out in MIDAS token |
14. Gemini - Highly Secure Platform for Hassle-free Crypto Investing
Gemini is a crypto exchange founded in 2014 and it currently supports over 100 cryptocurrencies.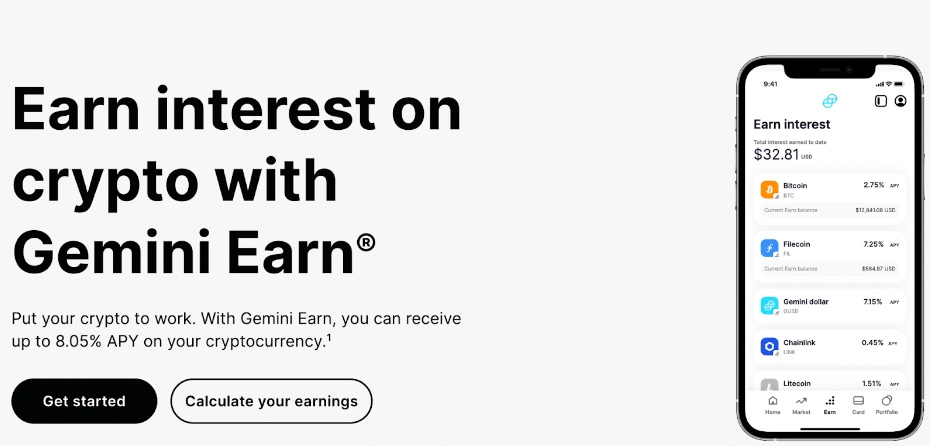 The Gemini Earn feature allows customers to open up an interest account and is fairly simple to use. Rates aren't the highest we've seen, but it's hard to argue with Gemini's hassle-free approach to earning crypto interest. Beginners especially will find Gemini Earn easy to use.
The fact that it is run through the Gemini Exchange, which is highly regulated, will make customers feel more secure about their investments. In addition, Gemini is licensed in the U.S.A. and has FDIC insurance for fiat deposits of U.S. dollars.
Pros:
Highly secure
Simple to use interface
Supports a wide range of cryptocurrencies
FDIC-insured for USD deposits
Cons:
Relatively high fees
Interest rates are lower than some competitors
| | | |
| --- | --- | --- |
| Coins | APY | Requirement |
| BTC | 2.75% | None |
| ETH | Up to 3.04% | None |
| SOL | Up to 5.06% | None |
| USDx | Up to 6.36% | None |
Best Crypto Interest Rates Comparison
Here are the different APY rates offered by the best crypto interest platforms in 2023:
| | | | | |
| --- | --- | --- | --- | --- |
| Crypto Interest Account | BTC | ETH | DOT | USDC |
| Crypto.com | 3% | 4% | 12.5% | 6.5% |
| BlockFi | 3.5% | 3.5% | 15% | 8.5% |
| YouHodlr | 3.05% | 4% | 10% | 8.32% |
| Binance | 5% | 5% | 20.98% | 1.1% |
| Coinbase | * | 3.28% | * | 0.15% |
| Nexo | 7% | 8% | 15% | 12% |
| Midas Investments | 8.5% | 10.4% | * | 16% |
| Gemini | 2.75% | 3.04% | * | * |
* Cryptocurrency unavailable currently for interest rate account
How Does Earning Interest on Crypto Work?
Let's examine the best ways to earn interest on crypto in 2023.
Crypto staking involves depositing an amount of a particular coin that functions on a proof-of-stake blockchain. The pledged coins help secure and run the protocol.
On the other hand, various exchanges, DeFi and CeFi (Centralized Finance) apps entice customers with sizable rewards for depositing their crypto assets. Most often, these funds will be locked for a set period, and the funds will be used to offer loans to other users.
Furthermore, companies such as Binance may have a product that uses elements of the previous strategies. For example, their DeFi Staking program allows users to earn large rewards for investing in decentralized projects pre-approved by the exchange.
In all cases, customers pledge their crypto assets in return for an additional passive income stream.
Which Accounts Have the Best Crypto Interest Rates?
Established crypto exchanges such as Binance or Coinbase can also provide substantial rewards in exchange for locking up crypto assets. Meanwhile, BTC20 and XRP20 are two projects that offer robust staking rewards through their pools.
What Cryptocurrencies Can You Earn Interest On?
While many companies aim to create unique investment programs, the two types of investment opportunities involve either stablecoins or cryptocurrencies.
Stablecoins are a type of digital asset whose value is consistently pegged to a fiat currency, most often the U.S. dollar. They typically involve lower market volatility. Companies tend to offer higher rewards for these types of deposits.
DeFi apps and exchanges will also deliver yields for popular cryptocurrencies whose value varies based on the rules of supply and demand. The most popular crypto coins, such as Bitcoin and Ethereum, will almost always be included in the list of available options. Well-established coins such as Cardano, Litecoin, and Dogecoin may also be included.
Companies will pay higher rewards for cryptocurrencies that are in demand. This is because the funds provided by customers will, most often, be used to supply loans for other crypto users.
What is Crypto Compound Interest?
When depositing funds in a bank and with a crypto company, you will sign up either for simple interest or crypto compound interest.
Simple interest is a percentage based on the principal amount (the original sum) of the deposit.
On the other hand, the compound interest rate is based on the principal amount and the interest that accumulates over a determined period. The interest is paid out frequently - for example, weekly - and then begins to earn interest itself. So, returns compound over time.
Not all crypto companies that offer yields when depositing include crypto compound interest. In fact, many of the best crypto interest rate account programs do not. However, some of the notable ones that do include BlockFi, Nexo, and Holdnaut.
For example, BlockFi will offer this kind of rate for over 20 crypto coins at an APY of as much as 3.5%. Note that you'll get higher rewards on this service for larger crypto deposits.
How to Earn Interest on Crypto - Step by Step Guide
Taking advantage of the interest rate program offered by Crypto.com is a simple process. Here are the steps that you will need to follow:
Step 1: Sign up for Crypto.com
Register for an account or log in to Crypto.com. For investors who don't already have an account, download the Crypto.com app. Tap Sign Up and then enter details including name, email, phone number, and address.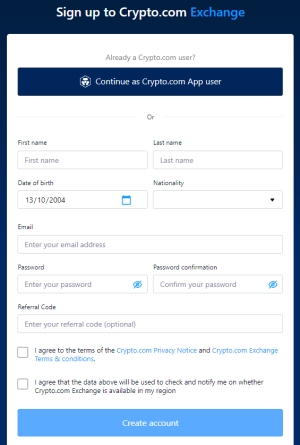 Step 2: Visit Earn
From the Crypto.com app's homepage, tap on Earn from the upper right corner.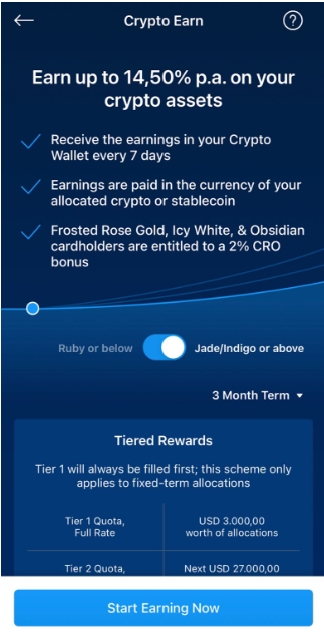 Step 3: Select Crypto and Term
Next, select the cryptocurrency to be deposited in the interest-earning account and choose the lock-up period. A longer lock-up period will come with a higher interest rate.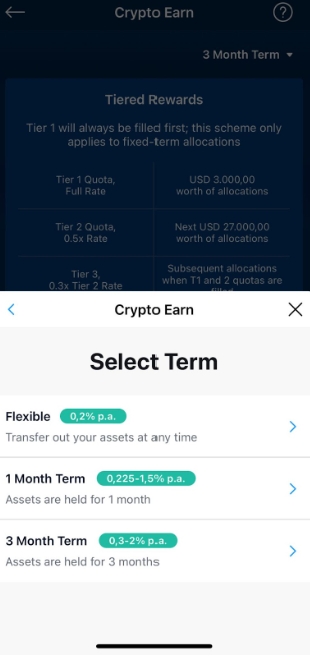 Step 4: Start Earning
Crypto.com calculates rewards daily and deposits interest in a Crypto.com wallet once per week. These interest payments are available to use immediately.
Is Crypto Interest Taxed?
Crypto interest is currently taxed in most areas of the world. Typically, crypto interest is treated as a capital gain similar to if an investor made money because the price of a crypto token increased.
Investors must report their income from crypto interest when reporting taxes. Failure to do so could result in penalties or fines.
Conclusion
There are numerous reputable companies offering crypto interest accounts to help investors earn more money from their crypto holdings.
Where can you find the best crypto interest accounts? Coinbase, Crypto.com and BlockFi are all good options, offering transparency and security as well as good rates through products such as staking and yield farming.
One of the top ways to earn interest is through Bitcoin Minetrix. By staking $BTCMTX tokens into the Ethereum smart contract, investors can earn more than 7,700% in annual yield. One can also earn cloud mining credits with Bitcoin Minetrix.
Currently on presale, $BTCMTX looks to raise a hard cap of $32 million.
FAQs
Can I earn interest on my crypto?
Yes, crypto investors are able to put their digital assets to good use and earn interest when depositing their crypto with several DeFi dApps. Bitcoin Minetrix offers and estimated yield of 7,700%.
Where can I find the best crypto interest rates?
Due to being in its early stages, Bitcoin Minetrix offers the best crypto interest rates. At press time, users can earn an interest of 7,700%.
What is the best crypto to earn interest on?
Crypto investors can earn interest when pledging their stablecoins and other cryptocurrencies. Generally, stablecoins provide the highest yearly rewards since they are not subject to the volatility of the market.
What are the best crypto interest accounts?
Many high-profile exchanges and DeFi protocols provide suitable options to earn interest for crypto. While the likes of Binance, Coinbase, and, especially, BlockFi are noted for their rewards.
Does Coinbase have an interest account?
Coinbase's Earn program allows customers to earn passive income through their crypto staking system at an APY of up to 5.75% and a minimum deposit of $1.
---