Best Crypto to Buy Today 7 March – FGHT, MANA, CCHG, GMX, TARO, RIA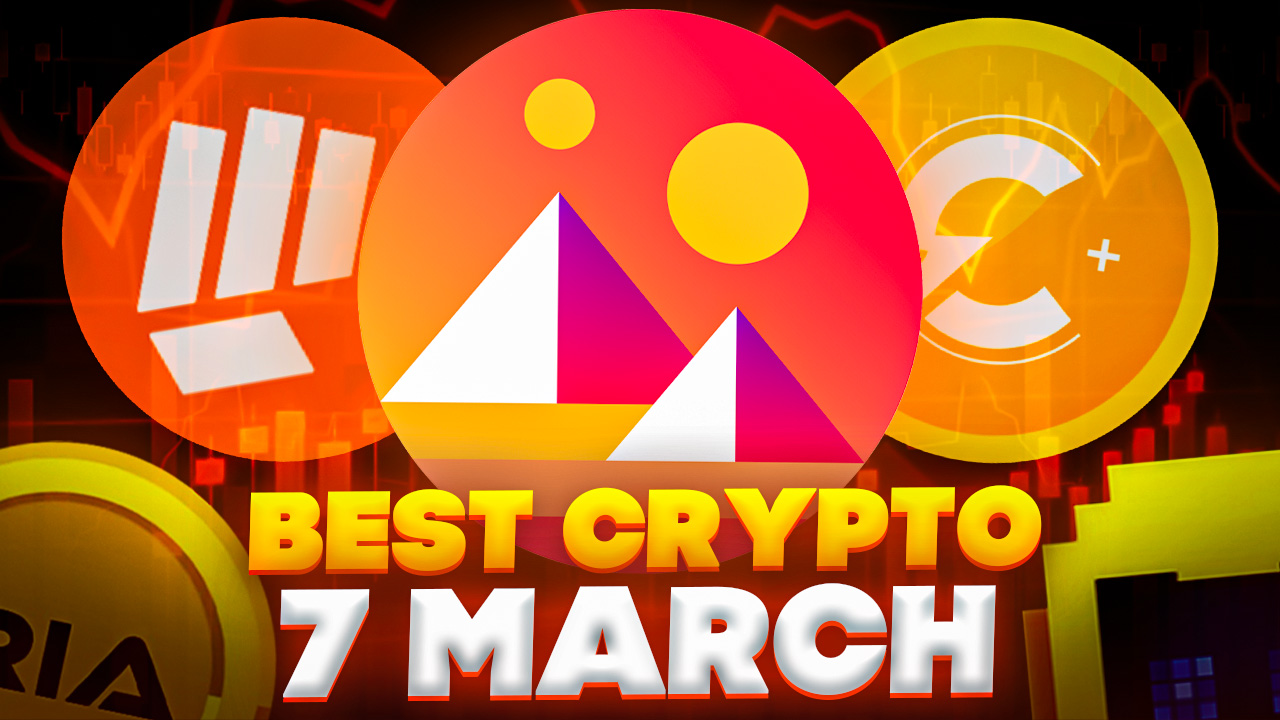 The cryptocurrency market has experienced minimal activity and lackluster performance in recent days as US regulators continue to target crypto companies and fiat onramps and offramps into crypto are disrupted. Meanwhile, the crypto and other risk asset markets are responding to Jerome Powell's less than bullish comments to Congress about the economy and interest rate policy.
How might this impact the selection of the best cryptos to buy today?
Bitcoin and Ethereum have seen a decline of 1.02% and 1.05%, respectively, today, bringing their prices to $22,338 and $1,561.
As the market responds to ongoing economic revelations, investors and traders are keenly anticipating upcoming economic data and Fed policy updates. Powell is scheduled to speak before the House Financial Services Committee on Wednesday, which may fuel further market action.
Several analysts have warned that negative headlines have dented market optimism and that the worst may not yet be over, with any rebound potentially leading to a significant correction.
CryptoQuant analysts have released data suggesting that the current funding rates of digital assets are indicative of a bearish market, indicating that further declines could be imminent.
Although some Federal Reserve members would prefer to remain at the current 25 basis points raise, other policymakers are willing to consider higher increases. According to CME's FedWatch tool, the chances of a 50-basis point rise on March 22nd are estimated to be approximately 29%.
Nevertheless, the impending employment report on Friday could drastically alter this picture and render prior forecasts irrelevant.
Investors in the cryptocurrency market are currently in a state of uncertainty, with the Federal Reserve's future monetary decisions and economic indicators likely to have a significant impact on the market's direction.
As a result, it is now more critical than ever for investors to carefully consider both fundamental and technical analyses when choosing investment options.
According to these analyses, several cryptocurrencies, including FGHT, MANA, CCHG, GMX, TARO, and RIA, seem to be among the best cryptos to buy today.
Fight Out a Knockout Combination of Fitness App and Fantasy Sports
Fight Out is a new and exciting way to engage with the world of fighting and fitness. This innovative platform allows users to create virtual teams of fighters and bet on the outcome of real-life fights. It's a new spin on traditional fantasy sports games, and it's one that's sure to capture the imagination of sports fans and fitness enthusiasts alike.
The platform is built around the concept of move-to-earn (M2E), which is becoming increasingly popular in the fitness industry. Fight Out takes this concept to a whole new level, combining it with a fantasy sports game to create an integrated fitness and training platform.
One of the key features of Fight Out is its ability to allow users to engage in virtual fights with their own NFT avatars. This adds a new level of excitement and engagement to the fitness app experience, as users can see their training and achievements reflected in the performance of their avatar.
Fight Out also offers a comprehensive fitness solution, with plans to launch Web3-powered gyms worldwide. The gyms will feature state-of-the-art equipment and services, as well as Web3-powered features like digital mirrors displaying the user's fitness profile and sensors tracking workouts for ongoing advice and insights.
Users can earn REPS tokens by completing workouts at home or in a gym and can also compete with other users for additional tokens. These tokens can be redeemed for discounts on app subscriptions, gym memberships, personal training sessions, and items.
In addition to its fitness features, Fight Out also offers a variety of fun and addictive games with both PVP and PVE modes. Users can pay $FGHT to enter leagues, tournaments, and special contest modes to win glory, titles, and claim the lion's share of the prize pools.
Overall, Fight Out is an innovative platform that brings together the worlds of fighting, fitness, and fantasy sports. With its cutting-edge technology and comprehensive approach to fitness, it's sure to be a hit with sports fans and fitness enthusiasts around the world.
With its FGHT token presale smashing the $5.25 million mark and continuing to surge, Fight Out is undoubtedly one of the best cryptos to buy today before it launches.
Decentraland (MANA)
Decentraland's MANA cryptocurrency has recently experienced a shift in market sentiment, as various indicators suggest a possible change in momentum. Although the cryptocurrency saw an impressive 152.24% rally in token price in January, it has faced multiple rejections at the $0.80 resistance level since then.
For the past two weeks, sellers have been gaining traction, indicated by the consecutive lower highs formed by the price action. While MANA posted a gain of 5.93% and closed yesterday's candle at $0.6109, it is currently trading at $0.5886 with a loss of 3.65% today.
Buyers now face a significant challenge, as the resistance at the 100-day EMA at $0.61 may be challenging to overcome. A break below the critical support level of $0.5620 to $0.5769 indicates a possible shift to a sustained bearish trend, with prices potentially falling to the next support level of $0.4468 to $0.4587.
Overall, although there are some signs of bullish momentum, it may not be sustainable in the long run. The market structure remains bearish, with lower highs and lower lows since February 20. Investors and resellers should exercise caution, as there is a possibility that the recent bullish move may be a trap.
However, if macroeconomic conditions improve and MANA finds support, it may yet be a good buy again in the near future.
C+Charge: Solution to Power Up Your EV and Wallet One of Best Cryptos to Buy Today
C+Charge is transforming the EV charging experience with its blockchain-based platform. As more people turn to electric vehicles, the demand for charging infrastructure grows. C+Charge's innovative approach offers a sustainable solution to this challenge.
The company plans to build new charging stations while collaborating with existing ones, creating a network that enables customers to find nearby charging stations quickly and pay with the CCHG token. The blockchain technology behind CCHG ensures transparent and efficient payment processing, and the platform's app provides real-time information on local charging options and vehicle diagnostics.
C+Charge is not just a platform for charging and payment; it also provides EV owners with the opportunity to earn carbon credits in the form of Goodness Native Tokens (GNT). These tokens represent verified voluntary carbon credits that can be traded on the app.
Through its partnership with Flowcarbon, C+Charge enables EV owners to earn carbon credits every time they charge, offering a unique opportunity for EV owners to contribute to the fight against climate change while charging their vehicles.
C+Charge's presale is divided into eight stages, with each stage lasting a week. The project's CCHG presale has raised over $2.5 million so far, and the next presale stage will see the token's price increase.
GMX.IO (GMX)
GMX, the official utility and governance token of the decentralized crypto exchange, experienced a significant 5% price surge upon yesterday's candle close.
Investors have been attracted to GMX's derivatives trading focus, leading to steady growth within the ecosystem. The recent surge in GMX's token price reflects the platform's potential for growth and development.
A Fibonacci retracement level plotted in its recent swing shows that the cryptocurrency bounced off the Fib 0.236 level at $65 on March 4, followed by two consecutive green candles on March 5 and March 6. Earlier today, GMX retested Fib 0.5, reaching an intra-day high of $73.34.
As of now, the token is trading at $70.23, with a loss of 1.65% so far today. It appears that GMX is facing some resistance around the 20-day EMA levels, currently at $71.37. Support levels may be anticipated at Fib 0.382, at $69.56, followed by the trailing dynamic support of the 50-day EMA at $66.34.
Building Your Dream World: RobotEra Unleashes Your Creativity
RobotEra is an upcoming metaverse gaming project that allows players to participate in creating and managing their own world. The project will offer a fully immersive gaming experience where players can acquire resources, manage their land, create robot companions, and participate in the creation of a new world.
What makes RobotEra stand out is its use of decentralized features that allow players to truly own their assets, whether it be their land, robots, or resources. The use of non-fungible tokens (NFTs) ensures that each asset is unique and can be freely traded or leased.
This means that players have complete control over their assets and can monetize them in any way they see fit.
The platform also features a shared world that connects players' unique lands together, opening up endless possibilities for theme parks, concerts, museums, and more. This creates a collaborative and interactive environment where players can work together to create a truly unique and engaging metaverse.
Another exciting aspect of RobotEra is the use of Web3 gameplay experience that allows players to earn money through various means, such as cultivating "sacred trees", selling NFTs, advertising, staking tokens, and more.
RobotEra also boasts an easy-to-use editing tool that allows players to add unique touches to their creations with no coding skills required. The editor lets players build production factories, dig for components and power blocks on their land to create robot companions, and construct buildings or decorations using item blocks.
This allows players to express themselves in the metaverse, creating works of art or high-tech assets.
Don't pass up this opportunity to be one of the first investors in TARO, RobotEra's crypto token that is quickly approaching $1 million raised during its presale. This digital coin has been identified as one of the best cryptos to buy today to take advantage of prices before they increase significantly with stage 2.
Calvaria (RIA): Duels of Eternity Changing the Web3 Game
Calvaria: Duels of Eternity is an upcoming blockchain-based battle card game that offers players the opportunity to participate in strategic tournaments with unique characters, each with their own strengths and weaknesses.
The game distinguishes itself from others in the genre with its dedication to decentralization, enabling players to truly own their in-game resources and assets with the freedom to buy, sell, and trade as they please.
One of the game's primary benefits is its elimination of barriers to entry, as players are not required to make any financial commitments or possess a high level of technical knowledge. Upon joining the game, players will receive free NFTs to start building their decks.
At the center of the Calvaria ecosystem is the $RIA token, which serves as the main currency of the game's economy. Every purchase will contribute 10% to the staking pool to maintain economic stability, with the rest going to the prize pool.
By utilizing blockchain technology, Calvaria: Duels of Eternity promises to transform digital gaming by offering real ownership of game resources and cutting-edge technology. It offers a new level of value and engagement for players that sets it apart from its peers.
To invest in RIA, players can do so now on exchanges such as BKex, LBank, and Uniswap. As the game's launch date draws closer, excitement continues to grow for the unique and innovative experience that Calvaria: Duels of Eternity is set to offer.
---