Best Crypto to Buy Now August 24 – Render, Immutable X, Internet Computer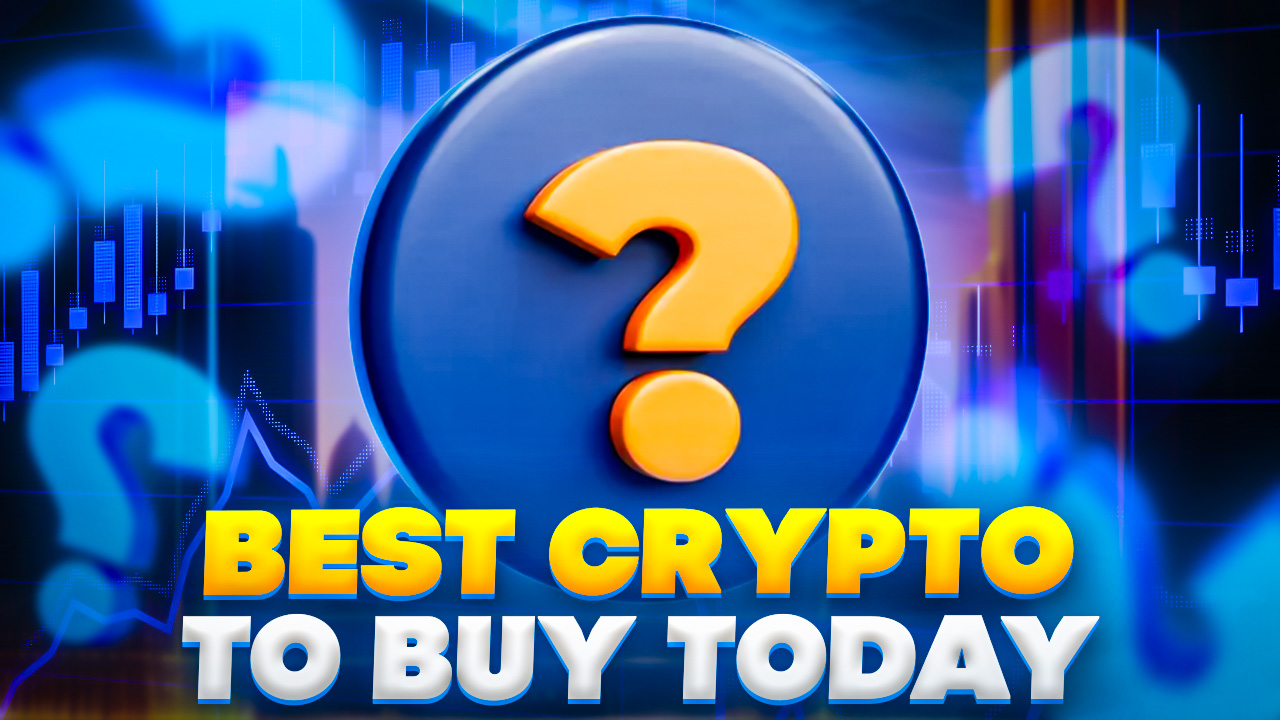 Financial markets are watching closely as Federal Reserve Chairman Jerome Powell prepares to speak at the annual Jackson Hole meeting this Friday.
A vital calendar event for central bankers and market watchers, the meeting will offer a platform for discussing changes in monetary policies and economic directions, among other topics.
In the lead-up to Powell's address, what are the best cryptos to buy now?
Last year, when Powell addressed the Jackson Hole meeting, Bitcoin was valued at $21,500, U.S. inflation stood at 8.5%, and interest rates were at 2.5%.
This week, Bitcoin is trading around $26,000, U.S. inflation has dropped to 3.2%, and interest rates have risen to 5.5%. This backdrop adds an extra layer of complexity to Powell's forthcoming remarks.
Powell clarified in his previous Jackson Hole speech that persistently high inflation could become more stubborn over time.
He also emphasized that any decision regarding a rate hike in September would be data-dependent, suggesting that July's low inflation data was insufficient for the Federal Reserve to alter its stance.
The chairman mentioned that interest rate increases would eventually decelerate, without offering a specific time frame.
The financial sector will be tuning in at 10:05 a.m. EST on Friday to hear Powell's speech. The gathering in Jackson Hole, Wyoming, includes representatives from central banks of various nations and is a closely monitored event by the banking industry.
As such, Powell's comments are expected to have broad implications, not just for traditional financial markets, but also for the cryptocurrency market.
Against the backdrop of Powell's impending remarks at Jackson Hole, some of the best cryptos to buy now are Render, Sonik Coin, Immutable X, yPredict, and Internet Computer thanks to their robust fundamentals and/or upbeat technical analysis.
Render's Indicators Align: A Potential Case for a Bullish Reversal
Render (RNDR) has seen a turbulent trading session today, following yesterday's 4.46% move to the upside.
Despite setting an intraday high of $1.479, RNDR was unable to maintain this momentum, succumbing to selling pressure that brought it down to the current level of $1.461, a modest 0.62% increase so far today.
The technical indicators tell a story of potential bullish signs ahead but with some cautionary notes.
The 20-day EMA, currently at $1.548, is sitting just above RNDR's current price level.
This acts as an immediate resistance level for the cryptocurrency, with further resistance provided by the reverse Fib 0.618 level at $1.678.
On the other hand, RNDR finds immediate support at the reverse Fib 0.786 level at $1.332, which is in confluence with a support zone ranging from $1.331 to $1.399. If this support level fails to hold, the next potential support zone lies between $1.087 and $1.151.
The RSI has risen slightly from yesterday's 35.32 to 36.43. This subtle increase indicates a marginal growth in buying pressure, though it's still within the 'oversold' territory, suggesting that a rebound may be on the horizon.
Additionally, the MACD histogram is also hinting at a potential bullish crossover. It has moved from yesterday's -0.011 to -0.005, indicating a lesser degree of bearish momentum.
That being said, the increase in RNDR's market capitalization by 3.68% to $542 million along with the surge in 24-hour trading volume by 181.61% to $57 million adds a note of caution.
This high volume could support a potential rejection from the 20-day EMA, which would necessitate a reevaluation of the RNDR's short-term trajectory.
While there are signs of a potential bullish reversal for RNDR, traders should tread with caution given the current technical landscape.
It would be prudent to keep a close eye on the 20-day EMA and the support levels, as well as the RSI and MACD, to make well-informed trading decisions.
Sonik Coin: Ride the Meme Coin Craze with One of the Best Cryptos to Buy Now
The cryptocurrency market has seen immense interest in meme-based coins and tokens over the past year, with projects like Dogecoin and Shiba Inu gaining worldwide recognition.
Now a new meme coin called Sonik Coin (SONIK) has entered the presale stage, aiming to capitalize on the current hype around such cryptocurrencies.
According to materials published on its website, Sonik Coin is inspired by the classic video game character Sonic the Hedgehog.
The project launched its presale with the goal of building an engaged community and reaching a $100 million market capitalization quickly after launch.
Sonik Coin has a total supply of 299,792,458,000 SONIK tokens. Of this supply, 50% is allocated to the presale, 40% is reserved for staking rewards, and 10% is for liquidity when the token lists on exchanges after the presale concludes.
The presale is scheduled to run until September 5, 2023, or until its hard cap of $2.09 million is reached. The SONIK token price is $0.000014 throughout the presale. Sonik Coin claims its presale saw strong interest in the first week, raising over $430,000 so far.
A unique feature of the Sonik Coin project is its staking utility called "Stake-2-Speed", which offers staking rewards with an advertised APY of 246%.
Per the website, these staking rewards will be distributed over 4 years, with 10% of the total SONIK supply already staked during the presale.
Like other meme-based cryptocurrencies, Sonik Coin's success will heavily involve growing an engaged community and capitalizing on the current hype around blockchain memes.
Its outlined roadmap focuses on community-building efforts, marketing campaigns, and eventually getting listed on exchanges.
Blending aspects of meme hype and staking utility, Sonik Coin represents a new breed of meme coins. With its presale ongoing, the project now focuses on sustaining momentum in the competitive crypto sector.
Immutable X (IMX): Unraveling Bearish Trends, Investor Interest, and the Potential for Reversals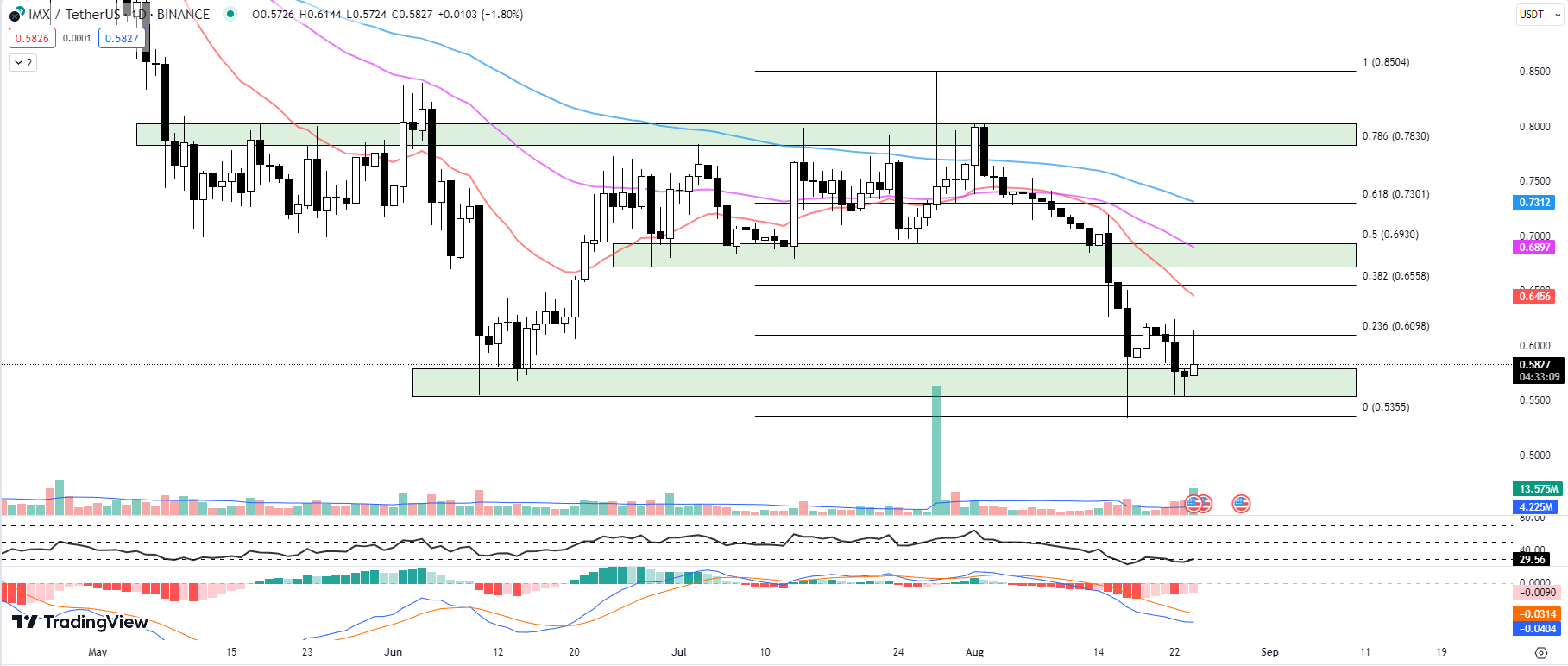 Despite reaching an intraday high of $0.6144, IMX was unable to break past the reverse Fib 0.236 level, which has been a consistent resistance for the past week. As it stands, IMX's price rests at $0.5827, a moderate 1.80% rise so far today.
The technical indicators present a mixed picture. The 20-day, 50-day, and 100-day Exponential Moving Averages (EMA) are all above the current price, at $0.6456, $0.6897, and $0.7312 respectively. This suggests a bearish sentiment in the short to long-term timeframes.
A marginal increase has been observed in the RSI for IMX, shifting from 25.86 to 29.56. Yet, the RSI stays beneath the 30 mark, signifying that IMX is presently in an oversold phase. This might suggest an imminent bullish turnaround, but it's not a surefire sign, urging investors to tread carefully.
The MACD histogram has also shown a slight decrease in negative value, moving from -0.0108 to -0.0090. This suggests that the bearish momentum is slowly decreasing.
IMX's market capitalization has seen an uptick of 2.24% bringing it to $653.9 million, while the 24-hour trading volume has also experienced a significant surge of 145.24% to $57.2 million. This increased activity could hint at growing investor interest.
In terms of support and resistance, IMX has a strong resistance at the reverse Fib 0.236 level at $0.6098. The immediate support zone lies between $0.5541 to $0.5789, which could act as a safety net should the price continue to decline.
Given these indicators, traders should maintain a cautious approach. While there are hints of a potential bullish reversal, the market is still showing overall bearish signals.
Traders might want to look for a confirmed breakout above the resistance level or a bounce off the support zone before making their moves.
yPredict Raises $3.58 Million to Shape the AI-Driven Crypto Landscape
A new AI-driven platform called yPredict has raised $3.58 million to fund the development of its crypto trading and analytics tools.
By employing AI algorithms, the startup plans to equip traders with predictive crypto signals, sentiment analysis, pattern recognition, and other tools designed to enhance their trading prowess.
At the core of yPredict's offerings is a utility token called $YPRED, which is currently being sold in a public presale. The presale has seen strong demand so far, with the price per token starting at $0.10 and expected to rise to $0.11 once $4.58 million is raised in total.
According to a company spokesperson, the $YPRED token will offer holders a variety of benefits within yPredict's ecosystem. These include potential staking rewards, discounts on future AI products, and access to the platform's crypto prediction system.
The company has outlined plans to eventually allow AI developers to monetize predictive models through a subscription marketplace. One model called Alt_Pump_001 is already in development to try predicting price movements in altcoins specifically.
With an eye on expanding beyond cryptocurrencies, yPredict is set to introduce AI tools tailored for content creation teams. The sheer demand for AI-driven content solutions was evident when a backlink estimator tool drew in excess of 5,000 requests on its debut.
According to industry analysts, yPredict's broad scope across crypto, AI development, and content creation gives $YPRED differentiated utility compared to other tokens. With staking and discount benefits for holders, it may attract investors interested in everything from automated trading to machine learning.
In its early phase, yPredict has shown promising signs of success with its presale, indicating investor confidence in AI-powered crypto platforms. As the no-code revolution unfolds, yPredict is well-positioned to further expand the horizons of AI accessibility within the crypto industry.
Navigating ICP's Price Trends: Bullish or Bearish?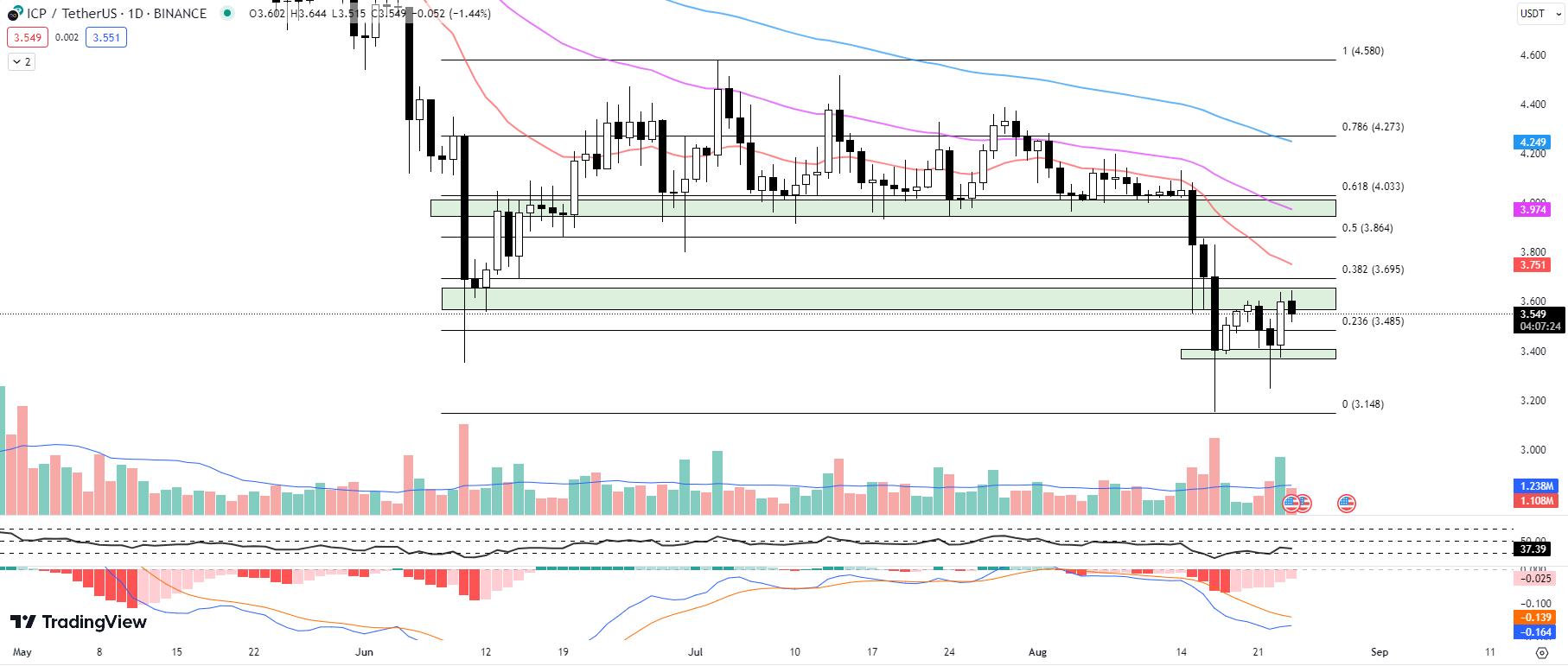 Bouncing back by 5.14% yesterday, Internet Computer (ICP) managed to pull away from its swing low support and break free from the Reverse Fib 0.236 level at $3.485.
However, it's now coming up against selling pressure as it ventures into the immediate resistance zone of $3.568 to $3.656. At this time, ICP is trading at $3.549, showing a 1.44% dip so far today.
The 20-day EMA is currently at $3.751, which is above the current price. The 50-day EMA and 100-day EMA are also higher, at $3.974 and $4.249 respectively, suggesting that ICP is in a downtrend in both the short and long-term timeframes.
The RSI is currently at 37.39, down from yesterday's 39.17. This downward movement in the RSI suggests that the selling pressure on ICP is increasing, which could potentially lead to further price declines.
However, the RSI is nearing the oversold territory (below 30), which could mean a bounce back might be on the horizon if selling pressure dissipates.
The MACD histogram has moved from yesterday's -0.035 to -0.025. This change suggests that while the bearish momentum is still present, it may be starting to decrease.
If this trend continues and the MACD histogram moves above the zero line, it could signal a possible bullish reversal.
Considering the current resistance zone between $3.568 to $3.656 and the immediate support at the Reverse Fib 0.236 level at $3.485 followed by the swing support zone of $3.369 to $3.406, traders should tread cautiously.
The current technical setup suggests a bearish bias, but a break above the immediate resistance could trigger a short-term bullish move.
While the present technical indicators paint a bearish picture for ICP, traders should keep a close watch on these levels and indicators. 8A break above resistance or a bounce off the support could provide potential trading opportunities.
Disclaimer: Crypto is a high-risk asset class. This article is provided for informational purposes and does not constitute investment advice. You could lose all of your capital.
---