Best Crypto to Buy Now 29 May – CAKE, INJ, WMS, Ecoterra, Mask, ypredict, QNT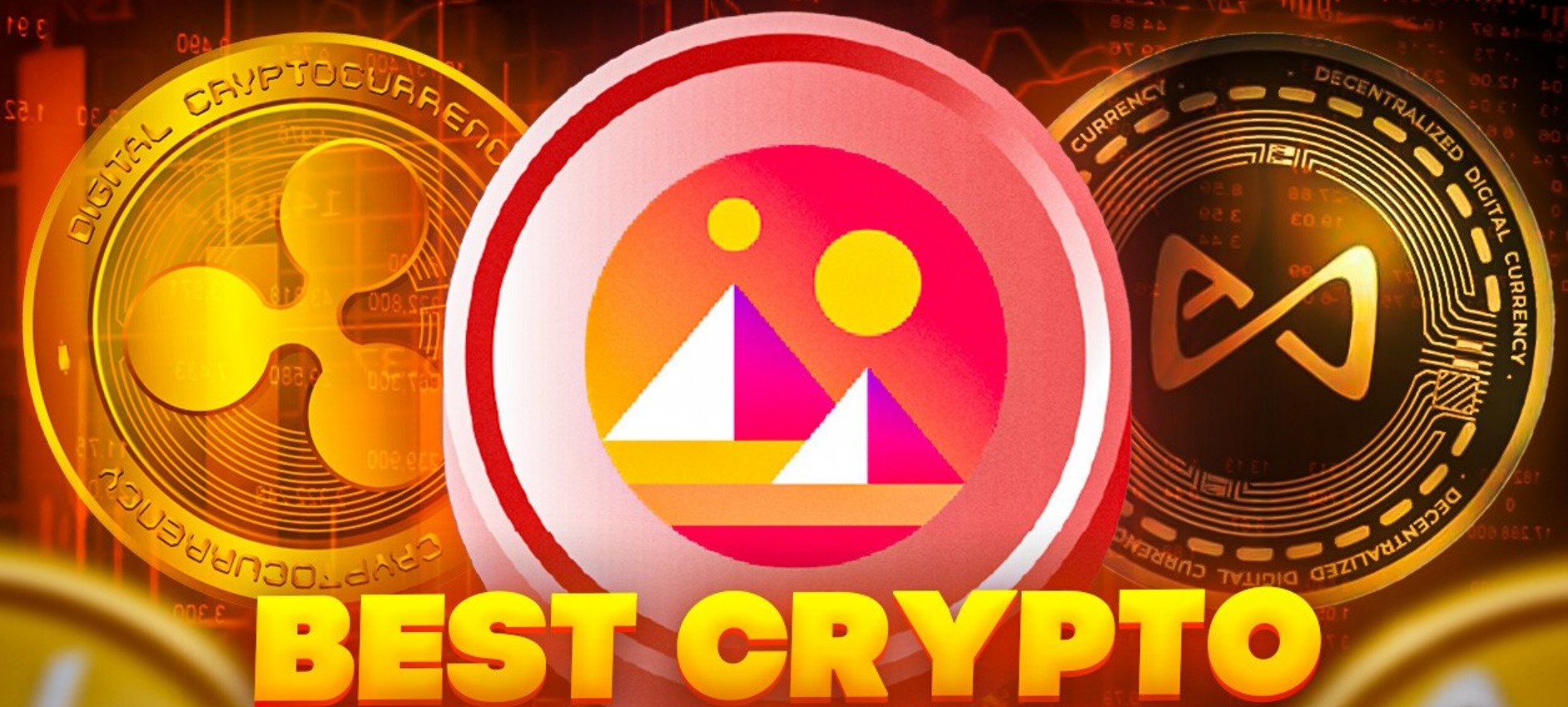 Cryptocurrencies are experiencing a significant surge in popularity, with numerous new coins capturing the attention of investors. In this update, we will focus on one particular group of cryptocurrencies that show high growth potential.
Specifically, we will discuss CAKE, INJ, WMS, Ecoterra, Mask, yPredict, and QNT as the best cryptocurrencies to consider buying as of May 29th.
Our analysis will delve into each cryptocurrency's unique qualities and promising aspects, shedding light on why they are compelling investment options in the current market.
PancakeSwap (CAKE)
PancakeSwap is a decentralized platform enabling users to trade digital tokens on the Binance Smart Chain network easily. Operating without a central authority, PancakeSwap offers a unique farming feature, allowing users to deposit tokens into pools and earn rewards in return, including the native token CAKE.
Recently, PancakeSwap joined forces with Binance Earn to introduce the Liquid Staking service, which received positive feedback from the PancakeSwap community. This partnership has the potential to impact the price of PancakeSwap (CAKE) positively and has generated increased interest and enthusiasm among users.
Currently, the current price of PancakeSwap stands at $1.75, with a 24-hour trading volume of $7.4 million. Over the past 24 hours, PancakeSwap has experienced a surge of around 13%.
It currently ranks #98 in the market, boasting a live market cap of $36 million. With 209,170,869 CAKE coins in circulation, the maximum supply is capped at 750,000,000 CAKE coins.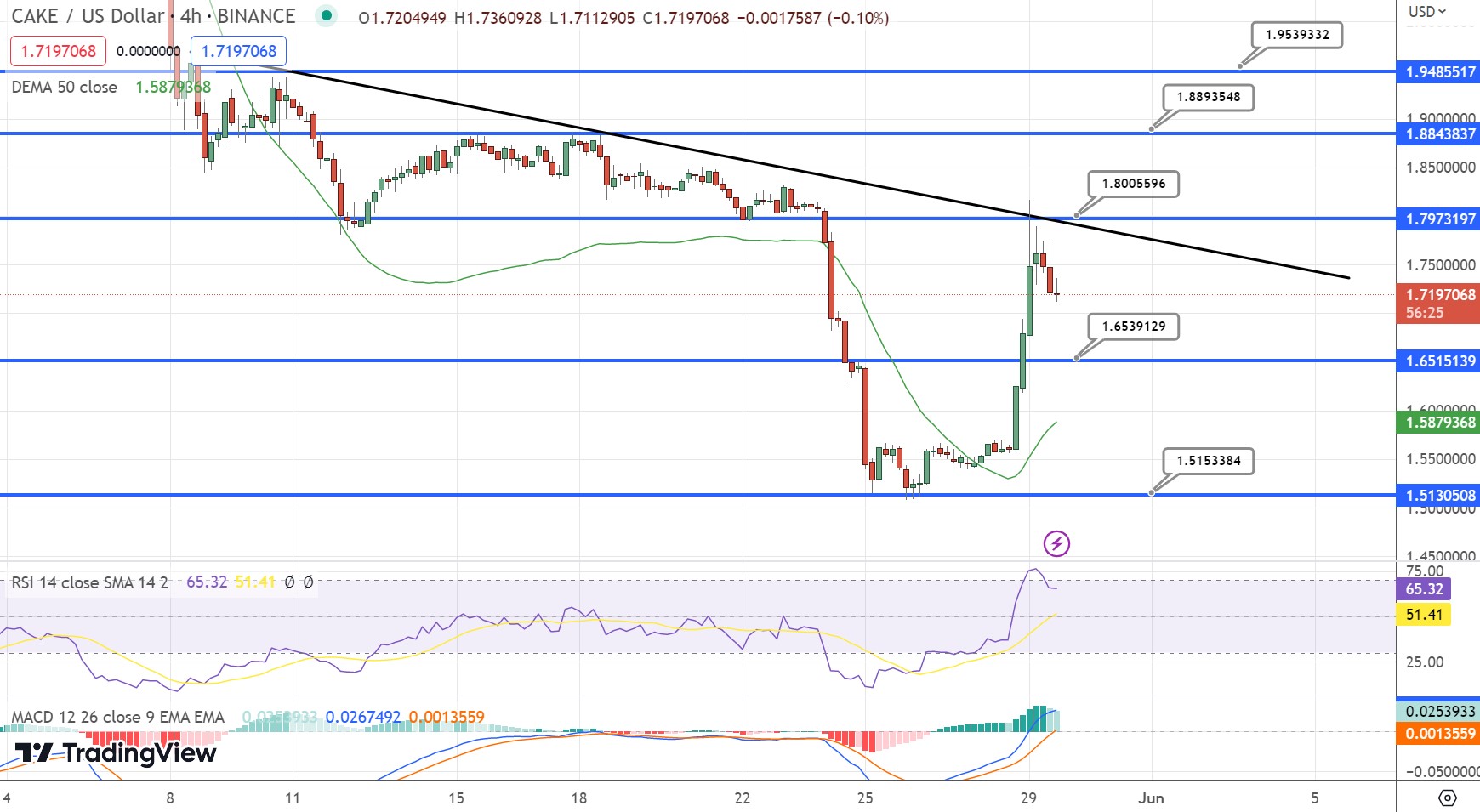 In exciting news for Pepe (PEPE) enthusiasts, PancakeSwap announced on May 22nd the introduction of a new liquidity pool that allows users to engage in yield farming with Pepe (PEPE) and US Dollar Tether (USDT), a stablecoin pegged to the value of the US dollar.
This development signifies that PancakeSwap (CAKE) now supports trading for PEPE.
If you're interested in exploring the potential of PancakeSwap and its associated tokens, consider keeping an eye on the platform for further updates and opportunities for participation in their farming and trading activities.
Injective (INJ)
Injective is a specialized blockchain designed specifically for financial purposes, serving as the underlying infrastructure for advanced decentralized finance (DeFi) applications. These applications encompass various functionalities, including decentralized exchanges for trading multiple assets, prediction markets, lending platforms, and more.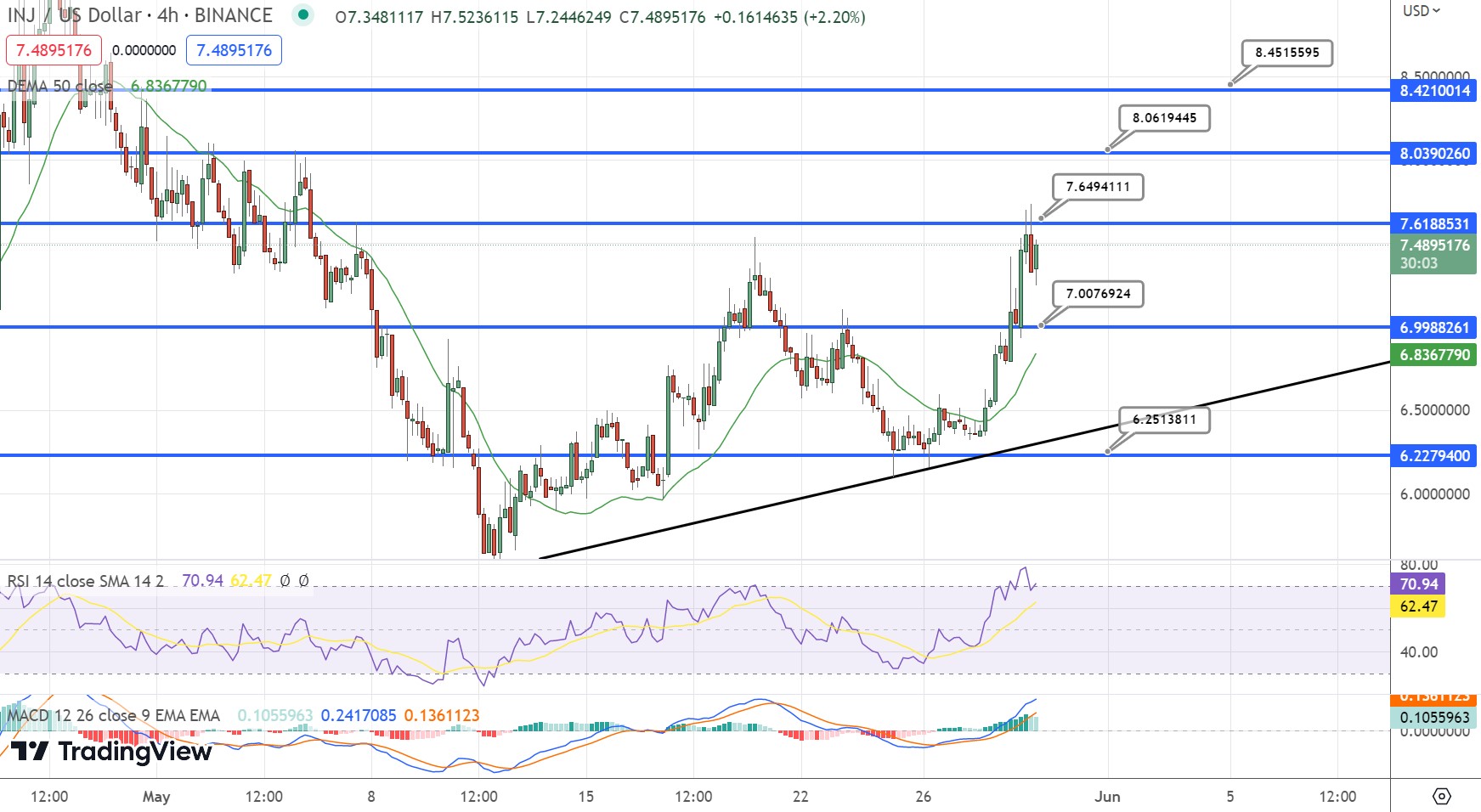 Over the past 24 hours, the price of Injective (INJ) has recorded a 13% increase, attracting renewed bullish sentiment from long-term investors. This positive trend is further reinforced by the recent token burn conducted by Injective on May 26, destroying a significant number of INJ tokens.
The timing of the token burn coincided with a market rebound fueled by positive sentiment surrounding the resolution of the US debt ceiling crisis.
Consequently, INJ emerged as the top-performing cryptocurrency, experiencing a 13% price surge by Monday morning.
Wall Street Memes (WMS)
Moving on to Wall Street Memes (WMS), a new cryptocurrency project that has garnered considerable attention, it has successfully raised an impressive $100k during its presale within a matter of minutes.
With a substantial social media following of over a million users, the project has gained significant support from the community. The presale offers 1 billion tokens out of a total supply of 2 billion, with prices increasing in 30 stages.
The token's hard cap is set at $30,577,000, and the first stage of the presale is scheduled to close soon.
Additionally, an ongoing generous airdrop is valued at $50k in $WSM tokens, providing participants with the potential for substantial returns.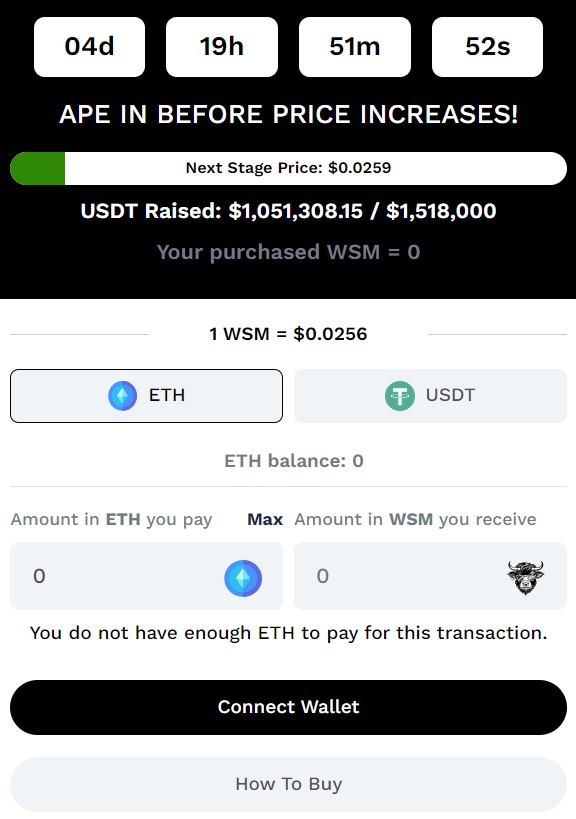 So far, Wall Street Memes (WSM) has raised an impressive $1 million. Buy Wall Street Memes now and be part of an exciting and rewarding venture!
Ecoterra
Ecoterra has an incredible "Recycle-to-Earn (R2E)" initiative that rewards individuals and businesses for recycling plastic and glass. The primary objective is to promote recycling and reduce our carbon footprint. To ensure security and transparency, Ecoterra utilizes the Ethereum blockchain.
Ecoterra provides a comprehensive system that includes a marketplace for recycled materials, carbon offset trading, and a means to track individual environmental impacts. It serves as an all-in-one solution for embracing an eco-friendly lifestyle.
Ecoterra has implemented reverse vending machines (RVMs) in stores to make recycling enjoyable. When someone recycles an item like a bottle, the RVM dispenses $ECOTERRA tokens as a reward.
These tokens hold significant value as they can be used for various purposes, such as earning additional rewards or participating in staking.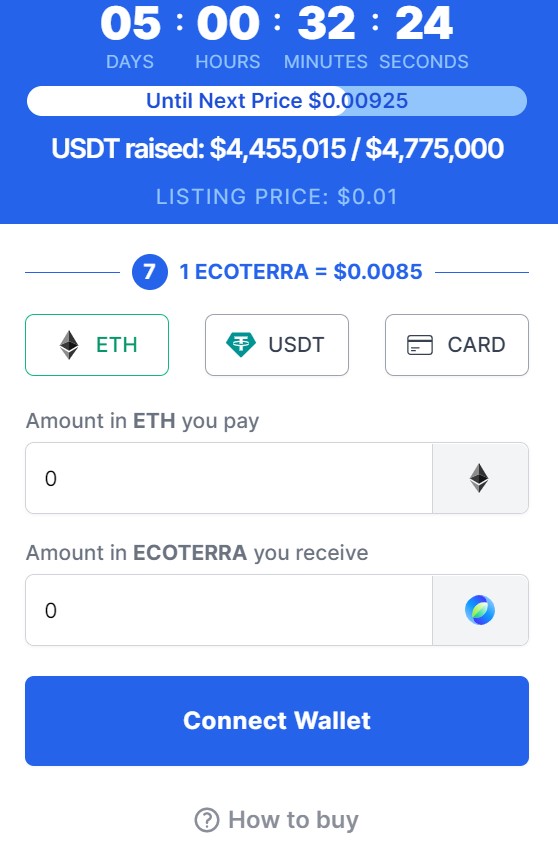 Ecoterra's core focus is leveraging technology and creativity to safeguard our environment. They have successfully raised over $4.4 million in their presale and have been recognized with an award for their outstanding work in building a sustainable ecosystem.
Mask Network (MASK)
Mask Network (MASK), a decentralized social network bridging Web2 and Web3 applications, has seen a notable price surge of over 10% in the last 24 hours, with the current price of MASK standing at $4.60.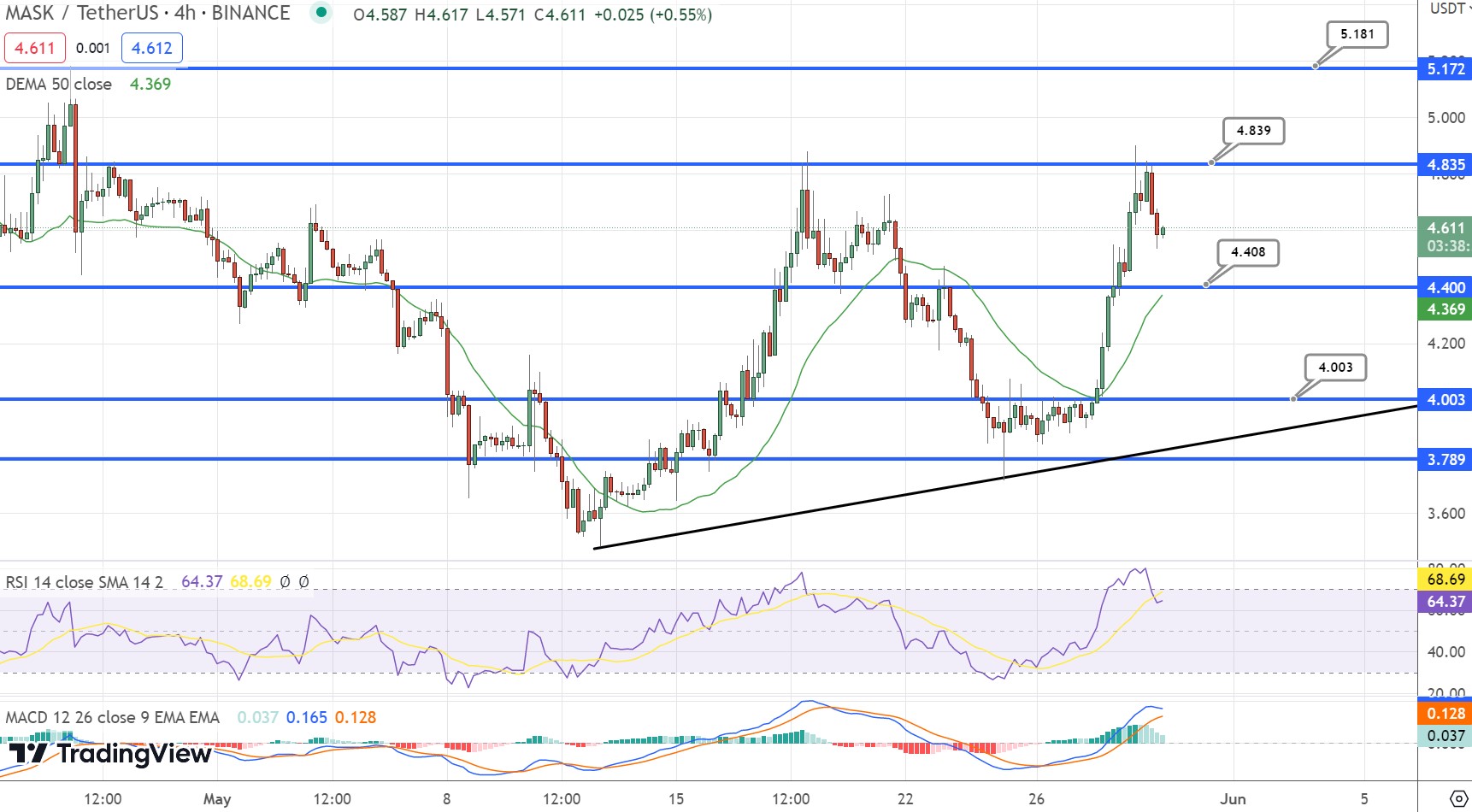 Over the past two weeks, MASK's price has experienced a growth of more than 17%. While there isn't a specific catalyst for today's double-digit rally, investor confidence may have been boosted by the project's recent investment in The Open Network (TON).
Mask Network's daily trading volume has surged to over $80 million, marking a significant 148% increase in the past 24 hours. This heightened market activity has propelled Mask Network to a market capitalization of approximately $354 million, positioning it at 110 on CoinGecko's rankings.
Overall, the surge in MASK's price and the increased trading volume indicate a growing interest and potential among investors.
yPredict Coin
yPredict is a unique crypto platform that leverages AI technology to assist traders and analysts in the cryptocurrency market. Their native token, YPRED, has achieved a significant milestone of $1.8 million in presales, establishing itself as one of the hottest cryptocurrencies in 2023.
Its advanced technology sets yPredict apart, empowering individual traders with a level playing field against larger market participants. They provide robust tools such as chart pattern identification, recommendations on technical indicators, and AI-driven price predictions, offering users a competitive advantage.
However, yPredict goes beyond analysis. The platform features a social trading aspect, allowing novice traders to learn from experienced ones and replicate their strategies.
Additionally, users are incentivized through the Learn-to-Earn (L2E) program, where engaging with educational materials earns them YPRED tokens.
YPRED also implements a decentralized governance model, enabling users to participate in decision-making through voting mechanisms. Furthermore, holding YPRED tokens rewards users through staking, contributing to token supply control and increasing the value of YPRED.
In its sixth presale stage, each YPRED token is valued at $0.09. With $1.8 million already raised and $2 million on the horizon, yPredict is gaining significant momentum. Following the conclusion of the presale, the tokens will be listed on exchanges at a fixed price of $0.12.
YPRED is poised to be a successful project with its practical applications and exciting features. Prepare to immerse yourself in the world of yPredict and enhance your cryptocurrency trading with intelligence!
---