Best Crypto to Buy Now 22 June – Conflux, Shiba Inu, Cardano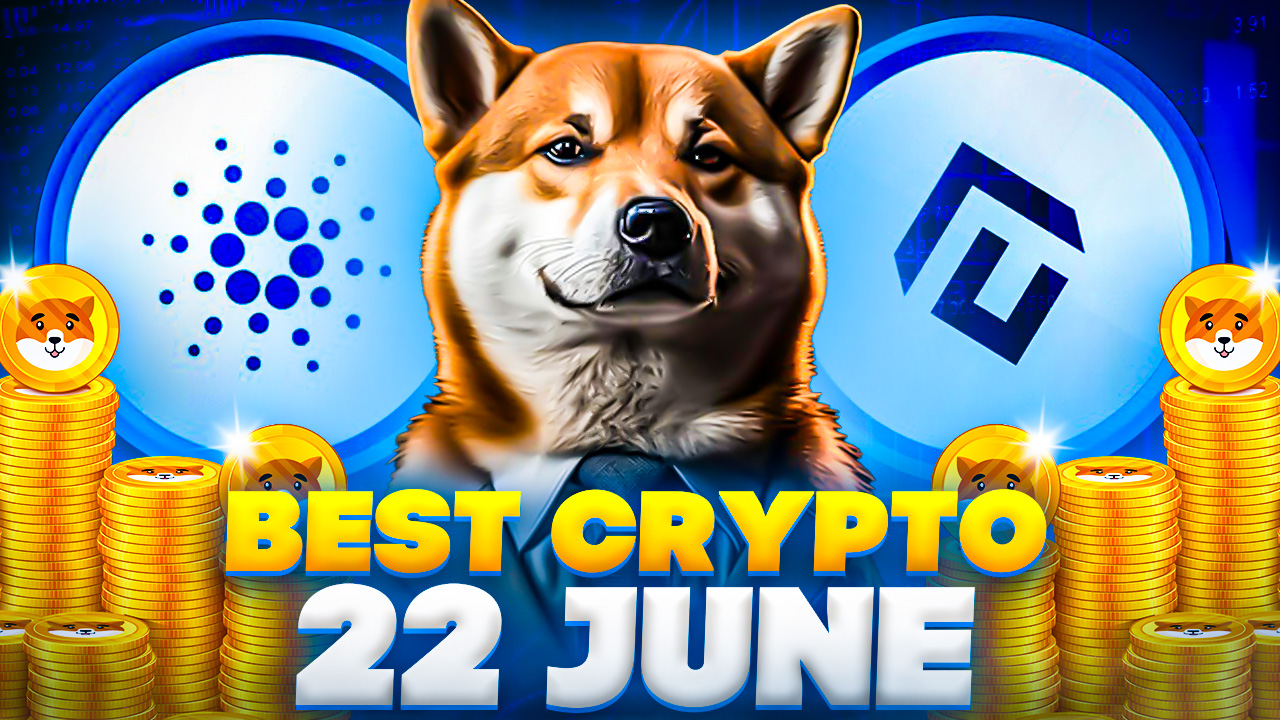 Blockchain analytics firm Santiment's recent blog post suggests that the cryptocurrency markets may be on the verge of a substantial upswing.
This follows Bitcoin's (BTC) recent multi-week high of $30,778 posted yesterday, driven by BlackRock's application for a Bitcoin spot ETF, at the same time as other institutional investors entering the cryptocurrency space.
With Bitcoin making efforts to maintain its position and consolidate above the crucial $30,000 mark, what are the best cryptos to buy now?
While the previous week saw a decline in the cryptocurrency market due to SEC lawsuits against major exchanges Binance and Coinbase, Santiment believes that the continued growth of cryptocurrencies can be attributed to institutional interest, particularly through ETFs.
ETFs provide a secure and simplified way for large investors to gain exposure to cryptocurrencies without actually owning them, thereby increasing the potential for more capital to enter the markets.
The blockchain analysis platform suggests that leading digital currencies like Bitcoin and Ethereum could also rise to keep pace with the stock market, which has been outperforming cryptocurrencies recently.
With many cryptocurrency traders holding positions at a loss, Santiment predicts that there is likely to be more buying than selling, which could drive up prices further.
With the cryptocurrency market showing signs of optimism, WSM, CFX, YPRED, SHIB, LPX, ADA, and DLANCE are some of the best cryptos to buy now due to their fundamentals and/or positive technical analysis.
Navigating the Meme Minefield: Wall Street Memes
Flipping through the pages of cryptocurrency's recent history, it's impossible to ignore the influence of meme coins.
Amid the sometimes humorous chaos, a promising contender--Wall Street Memes (WSM)--is surfacing.
Traders are eyeballing this rising star as possibly the best crypto to buy in 2023.
During its ongoing presale, Wall Street Memes has collected an impressive $9.37 million, as it approaches stage 17.
The presale intends to rake in $30,577,000 across 30 stages, and considering the current trend, the goal might be reached sooner than the projected fourth quarter of 2023.
This early success places WSM in the spotlight, making it an attractive option for those considering the best crypto to buy now.
The secret sauce behind WSM's potential success is its vibrant community of meme enthusiasts.
Born from this dynamic network that's been thriving since 2019, WSM enjoys a solid base of over a million followers.
This dedicated support provides WSM with stability that's absent in other meme coins that often appear and vanish with passing trends.
WSM's anticipated success is also attributed to its tokenomics system. To ensure sustainability, Wall Street Memes has dedicated 30% of its total token supply to community rewards.
Regular giveaways and airdrops are in place to incentivize investors to hold onto their tokens, even amid market turbulence.
With these strategic moves, WSM is shaping up to be one of the best cryptos to buy now.
Conflux (CFX)
Conflux (CFX) has been experiencing bullish momentum over the past four days. CFX bounced off the swing low support of $0.1708 to $0.1761 on June 19 and is currently trading at $0.2568, up by 5.03% so far today.
The technical indicators are suggesting that CFX might continue its upward trajectory, and traders should keep a close eye on the price action in the coming days.
The 20-day EMA for Conflux is currently at $0.2213, while the 50-day EMA stands at $0.2520 and the 100-day EMA at $0.2560.
The fact that the price is trading above these EMAs suggests that the short, medium, and long-term trends are leaning bullish.
The RSI is currently at 58.40, up from yesterday's 55.18. This increase indicates that the buying pressure is on the rise, but it is still not in the overbought territory (above 70), leaving room for further price appreciation.
Additionally, the MACD histogram shows a value of 0.0093, increasing from yesterday's 0.0061, which indicates a strengthening bullish momentum. The MACD's upward movement is a positive sign for the bulls.
In an attempt to overcome its immediate resistance at the Fib 0.382 level of $0.2683, CFX rallied earlier today and even achieved an intraday high of $0.2699.
However, the cryptocurrency faced selling pressure afterward, resulting in a retracement to current levels.
Despite this setback, a successful breakthrough of this resistance level could potentially trigger additional gains for CFX.
Alternatively, the Fib 0.236 level at $0.2164 serves as the immediate support level and may offer some protection for the price in case of a retracement.
Cracking the Code: Is yPredict Your Next Best Crypto to Buy?
yPredict.ai offers a platform designed for trading research and analysis. It integrates financial analysts, AI experts, and traders, striving to deliver insightful, data-fueled trading suggestions.
The backbone of yPredict's value proposition is its broad spectrum of analytical tools and platforms, which are designed to provide advanced financial predictions utilizing alternative data sources.
YPRED is the token behind yPredict's advanced trading tools and marketplace. Built on the Polygon Matic chain, it offers various utilities and staking opportunities.
yPredict incorporates a prediction marketplace that serves as a platform for financial data scientists to offer their predictive models on a subscription basis.
This platform could potentially benefit traders by providing reliable and data-driven information, allowing for more informed trading decisions.
Holders of YPRED tokens can use their holdings to analyze different coins and access data-driven insights and metrics.
The tokens can also be used to subscribe to predictive models provided by financial data scientists, giving access to valuable trading signals and predictions.
As a bonus, YPRED token holders have voting rights in the yPredict Marketplace and can participate in decision-making processes.
One of the exciting developments from yPredict is a new predictive model designed to assist users with strategies to enhance their website rankings.
And with a pre-sale fundraising success of over $2.5 million so far, the potential for yPredict as the best crypto to buy now is clear.
Shiba Inu (SHIB)
Shiba Inu (SHIB) has recently witnessed an attempt to break free from a horizontal resistance level, ranging from $0.00000824 to $0.00000850, which coincided with the reverse Fib 0.786 level at $0.00000839 and the 50-day EMA at $0.00000825.
The meme coin managed to register an intraday high of $0.00000846 before encountering selling pressure that pulled it back to the current support of the reverse Fib 0.618 level at $0.00000776.
SHIB is currently trading at $0.00000785, reflecting a 3.97% increase so far today.
The 20-day EMA is at $0.00000749, which is below the current price, suggesting a bullish short-term trend.
However, the 50-day and 100-day EMAs, at $0.00000825 and $0.00000910 respectively, are above the current price, indicating potential resistance in the medium to long term.
The RSI has shown a significant increase from yesterday's 47.60 to its current level of 53.78, implying a shift in momentum toward the buying side.
This could signify that the market sentiment is gradually turning positive for Shiba Inu.
Meanwhile, the MACD histogram has risen from yesterday's 0.00000010 to 0.00000014 today, indicating an increase in bullish momentum.
This could potentially lead to a continuation of the current upward price movement.
The immediate resistance level for SHIB lies at the reverse Fib 0.786 level of $0.00000839, which had initially proven difficult to surpass.
On the other hand, immediate support can be found at the reverse Fib 0.618 level of $0.00000776.
Blasting Off with Launchpad XYZ: Best Crypto to Buy Today?
Launchpad XYZ is drawing the attention of many crypto enthusiasts looking for the best crypto to buy.
This Web3 analytics platform has already garnered over $1 million so far in its presale, suggesting strong investor interest.
Launchpad XYZ's mission is to facilitate and profit from the Web3 world by providing crypto traders and investors with valuable data and tools.
Launchpad XYZ has numerous analytical tools to offer, including a self-custody wallet, a decentralized exchange, a NFT marketplace, fractionalized assets, and a trading terminal.
It's designed to assist both new and experienced crypto users navigate the complex world of Web3 and crypto.
The platform is designed to help users find tokens with high potential for substantial returns, similar to the PEPE token's trajectory.
It provides curated lists of the most promising new crypto presales in the market, which could potentially yield considerable gains when users get in early on solid projects.
Launchpad XYZ has also introduced the Launchpad Quotient, an AI-powered ranking system that evaluates 400 live data points.
This system simplifies complex information into a single value, representing the risk-reward potential of any Web3 asset, be it a crypto token or an NFT.
As a bonus, the platform offers in-depth analytics on hundreds of coins, identifies arbitrage opportunities, and provides trading insights from leading professional traders.
For those interested in crypto tokens and other aspects of the Web3 ecosystem, such as crypto games, NFTs, and the metaverse, Launchpad XYZ offers extensive analytics and tools.
Considering its comprehensive range of tools and data, Launchpad XYZ is definitely worth considering as one of the best cryptos to buy now.
Cardano (ADA)
Over the last several days, Cardano is staging a comeback, rebounding from the horizontal support level between $0.2528 and $0.2608 on June 20.
The cryptocurrency managed to retest the Fib 0.5 level earlier today at $0.3034, reaching an intraday high of $0.3049. Cardano is currently trading at $0.2906, reflecting a gain of 1.54% so far today.
The 20-day EMA is at $0.2947, while the 50-day EMA stands at $0.3286, and the 100-day EMA at $0.3476.
These EMAs suggest that Cardano is trading below its short-term, medium-term, and long-term averages, which indicates a prevailing bearish sentiment among market participants.
The RSI has risen from yesterday's 39.84 to 42.38, signaling a slight increase in buying pressure.
Despite this uptick, the RSI remains below the 50 threshold, which signifies that the bears still have the upper hand.
The MACD histogram has also increased from yesterday's 0.0009 to 0.0029 today. While the MACD is still hovering around the zero line, this slight increase might suggest a modest bullish momentum building up in the short term.
Considering Cardano's current price of $0.2906 and the 1.54% gain so far today, traders should keep an eye on the immediate resistance level, the 20-day EMA at $0.2947.
If Cardano manages to surpass this level, it could potentially pave the way for further upside, with the next notable resistance level located at the Fib 0.5 level of $0.3034.
Conversely, in the event of selling pressure, the immediate support level to monitor is the Fib 0.382 level at $0.2838.
Dipping below this level could trigger additional declines, with the recent horizontal support zone ranging between $0.2528 and $0.2608 potentially serving as the next target for bearish traders.
The current technical indicators for Cardano (ADA) suggest that the market remains cautious, with a slight bearish bias in the short term.
However, a break above the immediate resistance or a continued increase in the RSI and MACD histogram could potentially shift the sentiment to a more bullish stance.
Freelance Frenzy: DeeLance's Market Approach
The allure of the freelance market is undeniable, with many seeing it as a key to a better work-life balance.
To meet this growing demand, several platforms have popped up, but their success often comes with a price. Issues like high commission rates, payment delays, and work ownership disputes persist.
Stepping into this turbulent landscape is DeeLance, which many crypto investors believe could be one of the best cryptos to buy.
DeeLance's strategy is to change how freelancers and clients connect using the Ethereum blockchain. The platform's crypto presale phase has already gathered over $1.39 million so far, demonstrating solid investor confidence.
Promising a lean fee structure, DeeLance plans to charge clients only 2% and freelancers 10%, presenting a stark contrast to Fiverr's hefty 20% fee.
Additionally, the platform plans to use a crypto-based payment system and smart contracts to ensure security and facilitate quick payouts for freelancers.
Among its many features, DeeLance's unique integration of non-fungible tokens (NFTs) for work ownership and a metaverse for immersive client-freelancer interaction sets it apart.
The platform's native ERC-20 token, $DLANCE, acts as the transactional currency, presenting potential investors with an intriguing prospect and making it a contender for the best crypto to buy.
With a beta version of DeeLance expected to launch later this year, and the current crypto presale offering tokens at just $0.038, the early-bird window is an inviting one.
With the price expected to rise as the presale progresses, now might be the time to consider DeeLance as the best crypto to buy.
Disclaimer: The Industry Talk section features insights by crypto industry players and is not a part of the editorial content of Cryptonews.com.
---