Best Crypto to Buy Now 20 June – Stacks, Sui, Render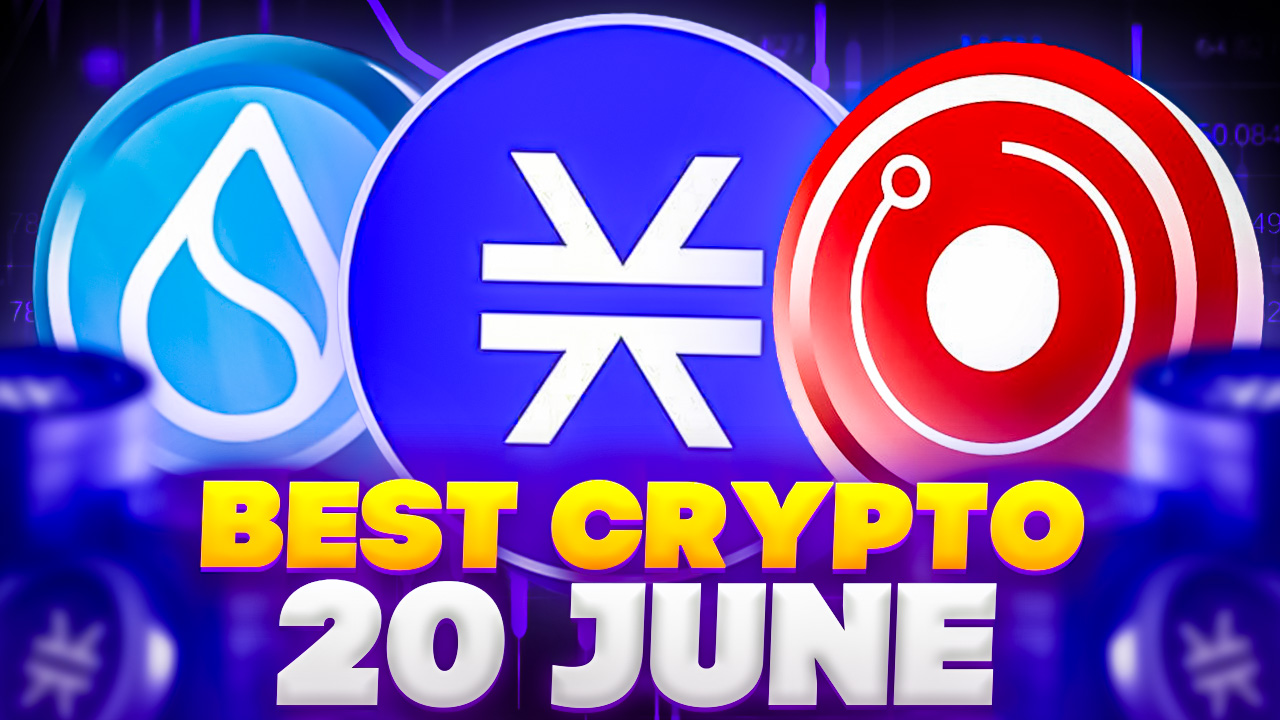 As June draws to a close, Bitcoin is working to stage a comeback with the backing of prominent financial players.
At one point, Bitcoin rose nearly 5%, hitting an intraday high of $28,158.92, the highest level since May 29, according to TradingView.
In light of Bitcoin's improving market sentiment, what are the best cryptos to buy now?
This surge has caused Bitcoin's monthly candle to turn positive, presenting a positive outlook for both investors and market observers.
Ethereum didn't lag far behind, displaying a gain of 2.39% so far today and setting its trading price at $1,778.46.25.
Despite suffering a dip exceeding 5% in the month, Ethereum continues its steady march.
The cryptocurrency market has been experiencing an optimistic streak since last week, adding to its momentum. A key proponent of this positivity is BlackRock, the world's largest asset manager.
BlackRock recently set the stage for what could be the U.S.'s maiden Bitcoin spot ETF through their application submission.
The timing of this move is interesting in that it came shortly after the Securities and Exchange Commission (SEC) lodged lawsuits against two formidable crypto exchanges, Binance and Coinbase.
Market observers continue to deliberate over this timing of BlackRock's move, primarily due to their crypto custody alliance with Coinbase.
Tuesday morning greeted the crypto space with news of a fresh crypto exchange entering the market as well.
Backed by financial titans such as Charles Schwab, Fidelity Digital Assets, and Citadel Securities, the platform has been facilitating Bitcoin and Ethereum trades for several weeks.
Fidelity has been vigilantly tracking crypto evolutions since 2014. In the years following, the firm launched the Fidelity Digital Assets division and introduced the commission-free retail investment platform, Fidelity Crypto. The firm has also extended the opportunity for 401(k) investors to access cryptocurrencies.
Countless financial heavyweights are eager to express their admiration for blockchain technology, and the potential enhancements it can bring to traditional financial systems. Their perspective on crypto investment, however, is often more reserved.
This hesitancy could be on the verge of change since the crypto space has seen notable entities like BlackRock and Fidelity openly exhibit their crypto affirmations.
This disclosure may be what led to an optimistic Tuesday for investors. They anticipate that the perceived risk associated with crypto transactions, which has been an inhibition for some, might start to recede in the face of such institutional support.
Bitcoin's recent price surge has brought the spotlight back to the cryptocurrency market, making it an opportune time for investors to explore other promising cryptocurrencies.
WSM, STX, ECOTERRA, SUI, YPRED, RNDR, and LPX are some of the best cryptos to buy now, owing to their robust fundamentals and/or favorable technical analysis.
Shooting Stars of Finance: Wall Street Memes Captures Crypto Market
The ashes of the legendary GameStop saga have given rise to Wall Street Memes (WSM), a cryptocurrency project that encapsulates the bold spirit of individual investors defying Wall Street's dominance.
WSM found inspiration in the WallStreetBets subreddit, popularly known for steering the GameStop and AMC short squeezes in 2021.
These same developers experienced a taste of triumph with the rapid sell-out of the Wall Street Bulls NFT collection, accumulating $2.5 million in revenue in a mere 32 minutes.
With a broad user community, $WSM has the potential to become one of the best cryptos to buy. The ERC-20 token exists on the Ethereum blockchain and has a maximum cap of 2 billion tokens.
Now in its 17th stage, $WSM has raised $8.9 million in an impressively short period.
Additionally, WSM developers plan an airdrop, distributing $50,000 worth of $WSM tokens to five lucky users.
Regarding token allocations, half are assigned to marketing, with the rest divided between community rewards and CEX and DEX liquidity.
The WSM roadmap outlines a three-phase journey. The "Foundation" phase emphasizes smart contract development, community building, marketing, and branding.
The second phase, "Launch", focuses on partnerships, token listings, and awareness campaigns.
The third phase, "Community Empowerment", highlights creating a gated community with exclusive benefits, aiming for a $1 billion market cap, and securing listings on top-tier CEXs.
The developers' planning further fortifies WSM's position as one of the best cryptos to buy now.
As we anticipate the project's official launch, Wall Street Memes promises to be a bright new star in the cryptocurrency market.
Stacks (STX)
The recent surge in Stacks (STX) has drawn attention in the cryptocurrency market as it continues to demonstrate a remarkable bullish momentum, rising by 21.34% so far in the last 24 hours and attaining a trading price of $0.7199 as of writing.
This significant increase has been accompanied by the breaking of key resistance levels, including the 50-day EMA, 100-day EMA at $0.6281 and $0.6476, and the Fibonacci retracement levels of Fib 0.5 and Fib 0.618 at $0.06327 and $0.6786, respectively.
Stacks is currently challenging the Fib 0.786 level, which adds to the excitement surrounding this cryptocurrency in the market.
The technical indicators employed to gauge this asset's market momentum confirm the strength of this rally.
The 20-day EMA stands at $0.5876, with the 50-day and 100-day EMA at $0.6281 and $0.6476 respectively.
STX's price is notably trading above these exponential moving averages (EMAs), which traditionally serve as dynamic support and resistance levels.
In this case, the EMAs underscore a bullish momentum, reaffirming the strength of the uptrend.
The RSI has surged to 65.77 from yesterday's 51.23. This marked increase indicates strong buying pressure in the market, as the RSI moves towards the overbought region.
However, investors should note that a reading above 70 might signal a potential pullback due to overbought conditions.
Nonetheless, Stacks faces significant resistance at the Fib 0.786 level at $0.7443. Traders should closely watch this level as a potential hurdle for the current rally.
If the bulls manage to drive the price above this resistance, it could pave the way for a trend reversal.
On the downside, immediate support has formed at the Fib 0.618 level at $0.6787, followed by the 100-day EMA at $0.6476.
These could provide crucial resting points for STX, should the rally experience a short-term pullback.
Market participants are advised to use these levels as a reference for potential stop-loss points for risk management purposes.
Paving Green Pathways: ecoterra - A Top Contender for Best Crypto to Buy
Rising rapidly among the ranks of cryptocurrencies, ecoterra brings to the fore an eco-conscious token model.
As this presale project nears its final phase, anticipation among investors mounts, as they eagerly await its arrival on trading platforms.
With an impressive sum of $5.24 million already dedicated to the venture, the presale is rapidly advancing to its conclusion.
Offering a fresh perspective on token accumulation, ecoterra's Recycle-to-Earn program is a uniquely appealing aspect of the project.
By simply depositing everyday waste items such as plastic bottles into designated Reverse Vending Machines (RVMs), users will earn ECOTERRA tokens.
Demonstrating its commitment to environmental sustainability, the ecoterra app will offer a variety of ways for users to put their earned tokens to work.
From supporting ocean clean-up projects to funding tree planting initiatives and purchasing carbon credits from its Carbon Offset Marketplace, ecoterra is planning on championing green initiatives.
Ecoterra recently launched the beta version of its marketplace for recycled materials. This platform encourages the promotion and purchase of recycled goods, strengthening connections between buyers and manufacturers.
In acknowledgment of its significant contributions to the sustainable crypto ecosystem, ecoterra was recently honored at the Blockchain Economy Istanbul Summit.
The project has also joined forces with Ahold Delhaize, a Dutch multinational supermarket chain, to implement RVMs in their outlets.
As the presale of ecoterra draws to a close, now might be the optimal moment for potential investors to seriously consider this eco-centric token for their next financial venture.
Sui (SUI)
Despite a recent dip to an all-time low of $0.7417 on June 10, SUI (SUI) has made an impressive comeback of almost 55%.
Nevertheless, the stock must break through the stubborn 20-day EMA of $0.7843 to prove its capability, a task it failed to accomplish on May 29.
As the current price of SUI oscillates around $0.7926, showing a slight upward inclination with a 0.97% rise so far today, traders should be wary of the significant resistance that the asset encounters at the 20-day EMA.
This resistance is further bolstered by a horizontal resistance area ranging from $0.7492 to $0.8162.
SUI's RSI currently stands at 45.42, a minimal uptick from yesterday's 45.95. While this indicates a marginal increase in buying pressure, the cryptocurrency is still in the neutral zone, not particularly favoring either the bulls or the bears.
The MACD histogram value also confirms this sentiment of cautious optimism. Yesterday's MACD histogram value of 0.0199 has risen to 0.0245, suggesting a bullish signal.
However, traders need to ensure the MACD line crosses above the signal line to confirm the bullish trend.
The market cap and 24-hour trading volume for SUI have both increased, with the former rising by 3.20% to $477 million and the latter by 8.54% to $282 million. These indicators suggest a rise in interest and trading activity in SUI.
Regarding the support levels, the current swing low support area for SUI is between $0.5721 and $0.6056.
This could be a critical level for traders to observe. If SUI's price falls below this region, it could trigger a bearish trend.
While the slight increase in buying pressure and increased trading activity in SUI are positive signs, traders should monitor these indicators closely.
yPredict: A Future Glittering with Crypto Potential
Delving into the complex labyrinth of the decentralized financial industry, yPredict is intertwining artificial intelligence with cryptocurrency forecasting.
yPredict's platform stands out as one of the best cryptos to buy, offering traders AI-supported tools for pattern recognition and news sentiment features.
These cutting-edge AI mechanisms, crafted by a team of accomplished AI developers and quantitative analysts, will dispense unparalleled insights to users.
Already, the beta version of yPredict is available to a select group of users, even while the platform is still in its growth stage.
Distinctively, yPredict offers "free forever" access to its cryptocurrency prediction system. This strategy is designed to attract users to yPredict's robust ecosystem, but their vision extends beyond just price prediction.
The team behind yPredict recently declared a shift towards an AI model to assist with refined backlink strategies.
yPredict's native token, $YPRED, serves more than just a payment function. This utility coin underpins yPredict's operations within the Polygon blockchain, ensuring speedy transactions and lower gas fees.
Additionally, yPredict's freemium pricing model will introduce membership levels and access to yPredict's premium features.
The advantages of possessing $YPRED tokens are diverse, including a slice of the $YPRED-based subscription fees and the possibility of monthly rewards from staking tokens.
Consequently, yPredict is shaping up to be a highly lucrative crypto opportunity for investors to scrutinize.
Render Network (RNDR)
Render Token (RNDR) has consolidated above the Fib 0.236 level at $1.940 and the 100-day EMA for the past four days.
With the improving market sentiment, the digital asset may be on the cusp of a potential bullish rally.
RNDR is currently trading at $2.056, exhibiting a slight 0.15% decrease so far today. Despite this minor dip, RNDR displays significant indicators that suggest a potential upward shift.
Examining the EMAs, the 20-day EMA stands at $2.116, slightly below the 50-day EMA which is at $2.130.
These levels are also in confluence with the Fib 0.382 level, thus creating a resistance level at around $2.134.
Considering the current price movement and consolidation pattern, this resistance may be the next target for RNDR.
The RSI currently sits at 46.39, a slight decrease from yesterday's 46.63. While this indicates a relative balance between buying and selling pressures, it is still below the 50-level which signals a slight bearish bias.
However, the MACD histogram shows an improving scenario as it rises to -0.010 from the previous -0.020, indicating a slowing down of bearish momentum.
Traders should keep a close watch on these indicators, as a continued rise in the MACD and a cross above 50 in the RSI could confirm a bullish reversal.
Further supporting the bullish outlook, RNDR's market cap has experienced a 1.41% increase to $760 million, while the volume has surged by an impressive 29.66% to $78 million in the last 24 hours.
This uptick in trading volume might indicate heightened investor interest, which could provide the buying pressure needed to push RNDR past the $2.134 resistance level.
However, investors should not overlook the downside risk. If the bullish scenario fails to materialize, RNDR has a robust immediate support level in the Fib 0.236 at $1.940 and the 100-day EMA.
The technical analysis of RNDR suggests that it is likely to move in an upward direction. This is especially true if it breaks through the resistance level at $2.134, which is in confluence with the 20-day and 50-day EMA.
Support at the Fib 0.236 level and 100-day EMA should prevent any significant price decline. Investors are advised to monitor the key indicators and adjust their positions accordingly.
Flipping the Script: Launchpad XYZ's Potential as the Best Crypto to Buy
Launchpad XYZ is readying a comprehensive app to streamline access to a variety of Web3 features and bridge the lack of advanced knowledge in the crypto industry.
The app, committed to handling most of the technical complexities, effectively reduces the entry threshold.
The "less tech, more access" strategy coincides with the average user's yearning for an easier pathway into Web3, a move that could potentially widen the user base of Launchpad XYZ and maintain consistent growth.
The current price of the LPX token stands at $0.0445, which will reach $0.046 in the forthcoming presale stage As the app inches closer to its launch, experts predict a significant price surge for LPX.
According to the project roadmap, the presale is expected to continue until Q3 2023.
Throughout this period, the app will incrementally introduce features, projected to push the post-listing price of LPX upwards as it makes its debut on Launchpad XYZ's proprietary decentralized exchange.
LPX, planned as a utility currency, will anchor all transactions, creating a steady demand and safeguarding it from the usual volatility of the crypto market.
These factors may lead to a substantial rise in LPX's value by the end of the year, placing it among the best cryptos to buy in 2023.
For crypto traders on the hunt for the next big crypto breakout, Launchpad XYZ is primed to be a critical tool.
The platform will leverage data-driven algorithms and expert analysis to scrutinize new token offerings and pinpoint those with the most promising potential for returns.
Providing access to exclusive deals and expert advice on new tokens may solidify Launchpad XYZ's reputation as an indispensable resource for dedicated crypto traders.
The platform's revenue-sharing model also proposes passive income opportunities through staking LPX tokens, offering a portion of the transaction fees.
Though Launchpad XYZ may have previously escaped the limelight, their $1 million presale signifies that progressive crypto investors are starting to pay attention.
With a clear objective to simplify Web3 access and assist traders in seizing new opportunities, Launchpad XYZ is likely to pick up speed in 2023.
Disclaimer: The Industry Talk section features insights by crypto industry players and is not a part of the editorial content of Cryptonews.com.
---