Best Crypto to Buy Now 19 June – Monero, Kava, Casper Network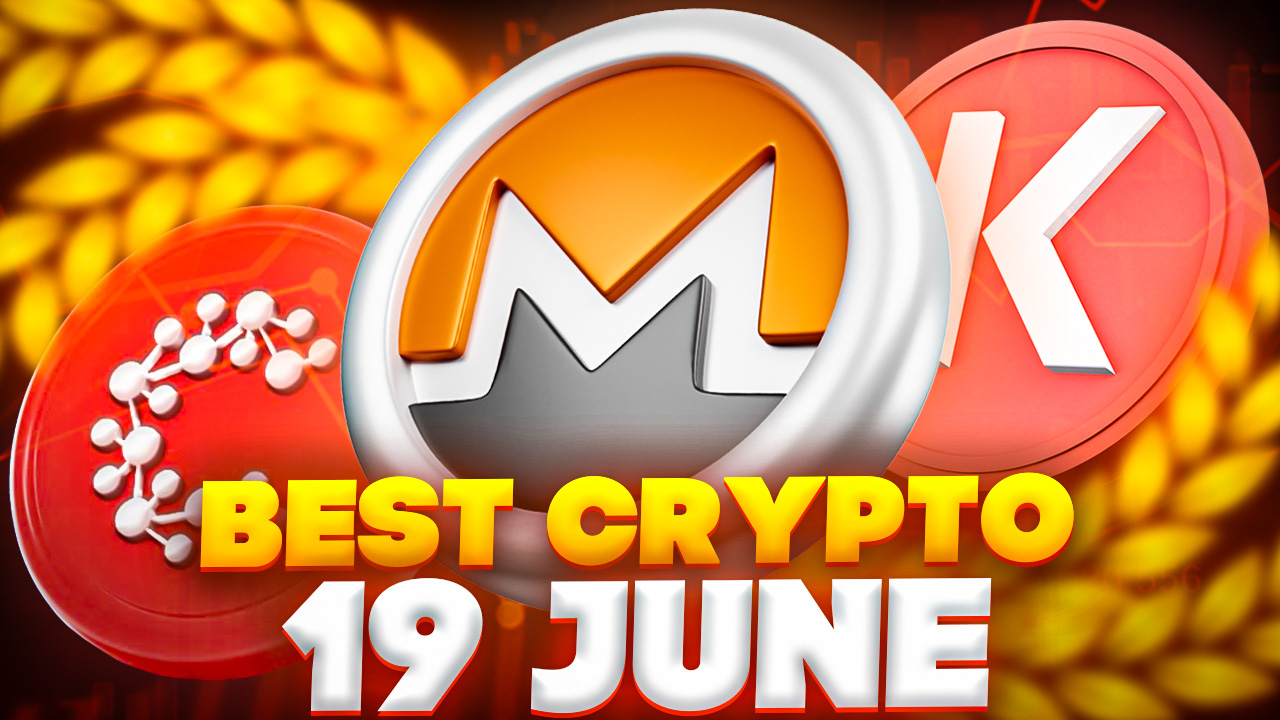 Earlier today, the BTC dominance index reached 50%, a level not seen since the turbulence of May 2021 when China's ban on crypto mining and Tesla's environmental concerns caused Bitcoin to plummet.
TradingView's data suggests that Bitcoin's market dominance is set to reclaim its commanding position in the digital currency realm, surpassing the total market cap of all remaining cryptocurrencies.
With Bitcoin's dominance on the rise, what are the best cryptos to buy now?
June 2022 marked the latest instance when Bitcoin's dominance approached the halfway mark. This attempt was made as the cryptocurrency market crashed due to increasing US inflation, leading to significant intervention from the Federal Reserve.
Although Bitcoin experienced a substantial drop, other cryptocurrencies like Ethereum were hit harder, resulting in the ETH/BTC ratio dropping to a mere 0.05. This month, the ratio decreased from 0.07 on June 6 to 0.065 presently.
The past week saw a 3% rise in Bitcoin, driven by BlackRock's application for a Bitcoin Spot ETF, which has instilled optimism among investors about the potential for unique SEC approval.
In light of Bitcoin's increasing market dominance and price recovery, investors may want to consider diversifying their holdings by investing in other promising cryptocurrencies.
WSM, XMR, ECOTERRA, KAVA, YPRED, CSPR, and SWDTKN are some of the best cryptos to buy now due to their strong fundamentals and favorable technical analysis.
Wall Street Memes: Meme Magic in Crypto Land
Wall Street Memes is a name that's been echoing throughout the crypto community, having drawn an impressive $8.5 million in its presale phase.
This fresh meme coin project is captivating investors with its potential and is one of the best cryptos to buy.
The creators of Wall Street Memes aren't novices to success. They've previously launched the Wall St Bulls NFT collection, which amassed a cool $2.5 million in sales.
The team has now trained its focus on the crypto market, introducing the $WSM token.
The $WSM token is more than just a digital asset; it's a passport to the growth of the Wall Street Memes brand.
With a sprawling community of over 1.1 million followers, the project has seen the demand for $WSM tokens skyrocket, aided by a highly enticing price point.
Currently, in stage 16 of 30, Wall Street Memes' presale offers the $WSM tokens at $0.0295, with a price increase planned at each stage.
This provides investors with an incentive to dive in early and secure their stakes at an appealing price.
The team behind Wall Street Memes has laid out a roadmap that promises to add value and fuel demand for the $WSM token.
It includes global awareness campaigns, partnerships with meme coin influencers, and plans for a private "gated community."
Adding to its allure, Wall Street Memes has managed to onboard Influencer Crypto Jamie as an ambassador, demonstrating the project's ability to attract big names from the crypto community.
With these elements combined, Wall Street Memes is a promising contender for creating the next batch of crypto millionaires.
Monero (XMR)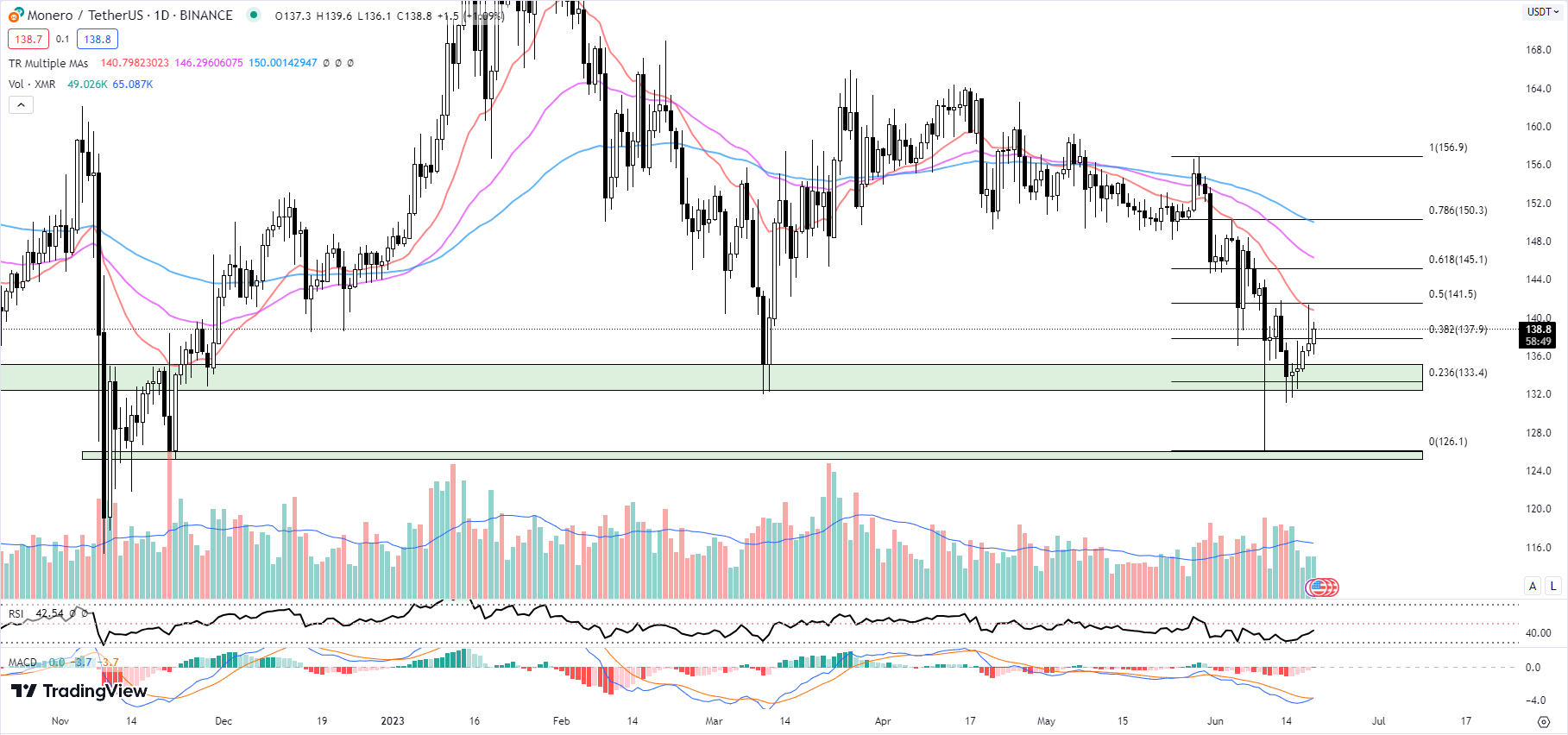 Monero (XMR) has shown significant resilience after bouncing off its support levels in the $132.4 - $135.1 range, marking its fifth consecutive day in the green.
This could potentially hint at a change in direction for the cryptocurrency, which is attempting to conquer the Fib 0.382 level at $137.9.
However, investors are urged to exercise caution, as the repeated rejections at the 20-day exponential moving average (EMA) of $140.8 over the past month and dwindling volume suggest that a solid recovery is still in its early stages.
With the current price of $138.8, which is up by 1.09% so far today, XMR still faces significant resistance to confirm a reversal.
The MACD histogram provides some promise for bulls, showing a neutral value of -0.0, up from yesterday's -0.3.
This narrowing gap indicates that a bullish crossover could be imminent, signaling a potential upside in the short term.
The RSI has increased to 42.43 from yesterday's 39.11. This suggests a slight increase in buying pressure.
However, it's noteworthy that the RSI is still below the midline of 50, which would otherwise signal bullish momentum.
Looking at the broader perspective, the 50-day EMA at $146.3 and the 100-day EMA at $150 remain significant barriers that XMR will need to breach to substantiate any potential bullish reversal. Until then, these levels serve as upper resistance barriers for Monero.
In the immediate future, XMR has support at the Fib 0.236 level at $133.4, which is in confluence with the horizontal support levels of $132.4 to $135.1. This serves as a critical line of defense for the XMR.
While there are tentative signs of bullish momentum, traders need to monitor these technical indicators closely.
To generate a bullish momentum for XMR, it will be important to maintain a position above the Fib 0.236 support level.
A positive indication can also be confirmed with a decisive close above the 20-day EMA and a positive MACD crossover.
Any signs of decline, however, may warrant a defensive approach until the market offers more confirmatory signals.
Invest in the Planet's Future: ecoterra, One of the Best Cryptos to Buy Now
ecoterra has quickly ascended as one of the best cryptos to buy, showcasing a unique, eco-conscious token approach.
As the crypto presale project approaches its last stage, excitement builds as investors eagerly await its debut on exchanges.
With a current investment total of $5.22 million, the presale is swiftly closing on its final stage, promising an 8% token price increase.
The project's Recycle-to-Earn program offers an inventive way for users to earn ECOTERRA tokens simply by recycling everyday waste.
Users worldwide can deposit items like plastic bottles into Reverse Vending Machines (RVMs) in local supermarkets, scan the barcode through the ecoterra app, and earn tokens.
The app supports green efforts by allowing users to spend earned tokens on initiatives like ocean clean-ups, tree planting, and purchasing carbon credits from its Carbon Offset Marketplace.
Not just this, ecoterra has launched a recycled materials marketplace, connecting buyers and manufacturers to promote recycled goods.
ecoterra's partnerships and contributions to the sustainable crypto ecosystem recently earned recognition at the Blockchain Economy Istanbul Summit.
The project is in association with Ahold Delhaize, a Dutch multinational supermarket chain, to install RVMs in their stores.
ecoterra's presale is nearing its end, making it a crucial time for investors to consider this eco-friendly token as their next investment.
Kava (KAVA)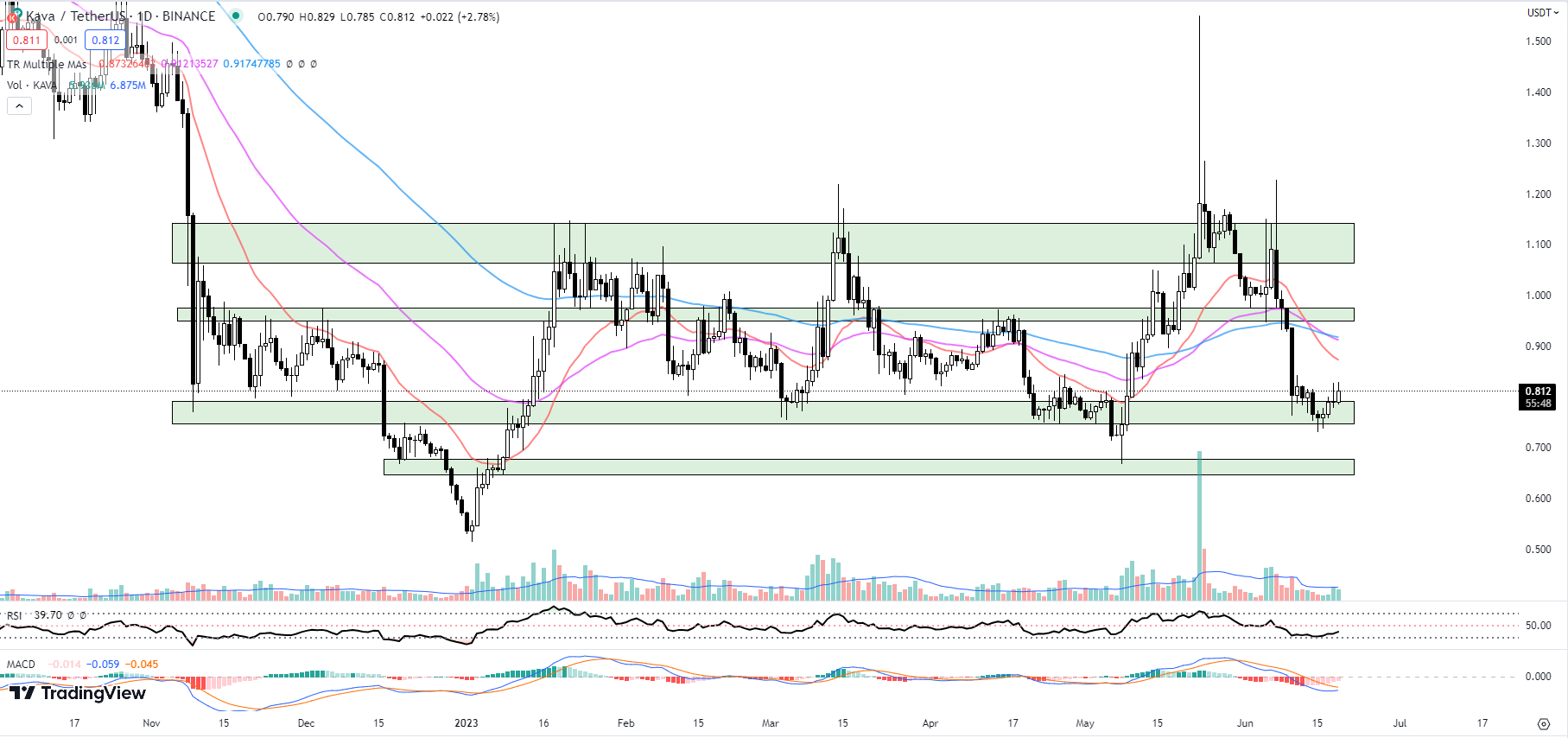 Recent data suggests that Kava (KAVA) is stabilizing around the $0.747 to $0.791 range, which could pave the way for a potential upward price movement.
Kava's 20-day EMA currently stands at $0.873, which is below the present price. The 50-day and 100-day EMAs also reside above the current price at $0.912 and $0.917, respectively.
These EMAs are often used by traders to determine medium to long-term trends, and in Kava's case, they're presenting a resistance barrier for the cryptocurrency.
If Kava's price action can sustain a bullish push and break past these EMAs, it could serve as a bullish signal for many traders.
Meanwhile, the RSI has improved to 39.70, up from yesterday's 36.40. While this suggests some positive momentum, an RSI below 50 still indicates that Kava is in bearish territory.
The MACD histogram, which is often used to identify potential buy and sell signals, has also shown slight improvement to -0.014 from yesterday's -0.019.
While this change could suggest the start of positive momentum, it's crucial to keep an eye on this indicator as a crossover above the zero line could serve as a bullish signal.
Against the backdrop of these signals, both the market cap and volume of Kava are on the rise, up by 2.15% to $472 million and by 1.59% to $27 million, respectively.
These are encouraging signs, as increasing volume can indicate growing trader interest and liquidity in the market.
The current price of Kava stands at $0.812, showing an upward movement of 2.78% so far today.
Despite this uptick, significant resistance still lies ahead. The crucial 20, 50, and 100-day EMAs, followed by the substantial resistance level of $0.951 to $0.975, may pose hurdles for Kava's bullish aspirations.
On the flip side, should the price begin to decline, immediate support is expected around $0.747 to $0.791.
If this support level fails, Kava could find further support in the range of $0.646 to $0.678.
While some positive signs are emerging in Kava's technical analysis, traders should remain cautious. The current scenario suggests a possible consolidation phase for Kava.
Traders should monitor these technical indicators and price levels closely for any signs of decisive movement.
yPredict: Not Your Ordinary Crypto Predictor
yPredict is a promising start-up that's weaving artificial intelligence into the financial sector, particularly into the intricate threadwork of crypto prediction.
As one of the best cryptos to buy, yPredict's in-development platform is intended to equip traders with AI-backed tools such as pattern recognition and news sentiment features.
These sophisticated AI tools, constructed by expert AI developers and quantitative analysts, are designed to provide users with unique insights.
Even though it's still under development, yPredict's beta version is already accessible to a limited circle of users.
Breaking away from the pack, yPredict is adamant about providing unrestricted access to its crypto prediction system for free, a move aimed at driving users toward yPredict's comprehensive ecosystem.
But this is not where yPredict's vision ends. It has its sights set on objectives that reach beyond simple price prediction.
"yPredict is moving beyond its usual emphasis on crypto analytics and price predictions," they recently announced, shedding light on their pivot towards an AI model intended to aid precise backlink strategies.
Taking pride of place in yPredict's toolkit is the $YPRED token. This crypto token is more than just a medium of exchange; it's a utility coin that bolsters yPredict's operations and functions within the Polygon blockchain. This model ensures swift transactions and minimal gas fees.
A freemium pricing model is also in the works, promising levels of membership and opening up access to yPredict's premium features.
The public presale of $YPRED, with 80% of the total supply available, highlights it as an investment opportunity.
The perks of holding $YPRED tokens are manifold, including a share in the $YPRED-denominated subscription fees and the potential for monthly rewards from staking tokens.
Hence, yPredict presents itself as a highly rewarding crypto prospect for investors to consider.
Casper Network (CSPR)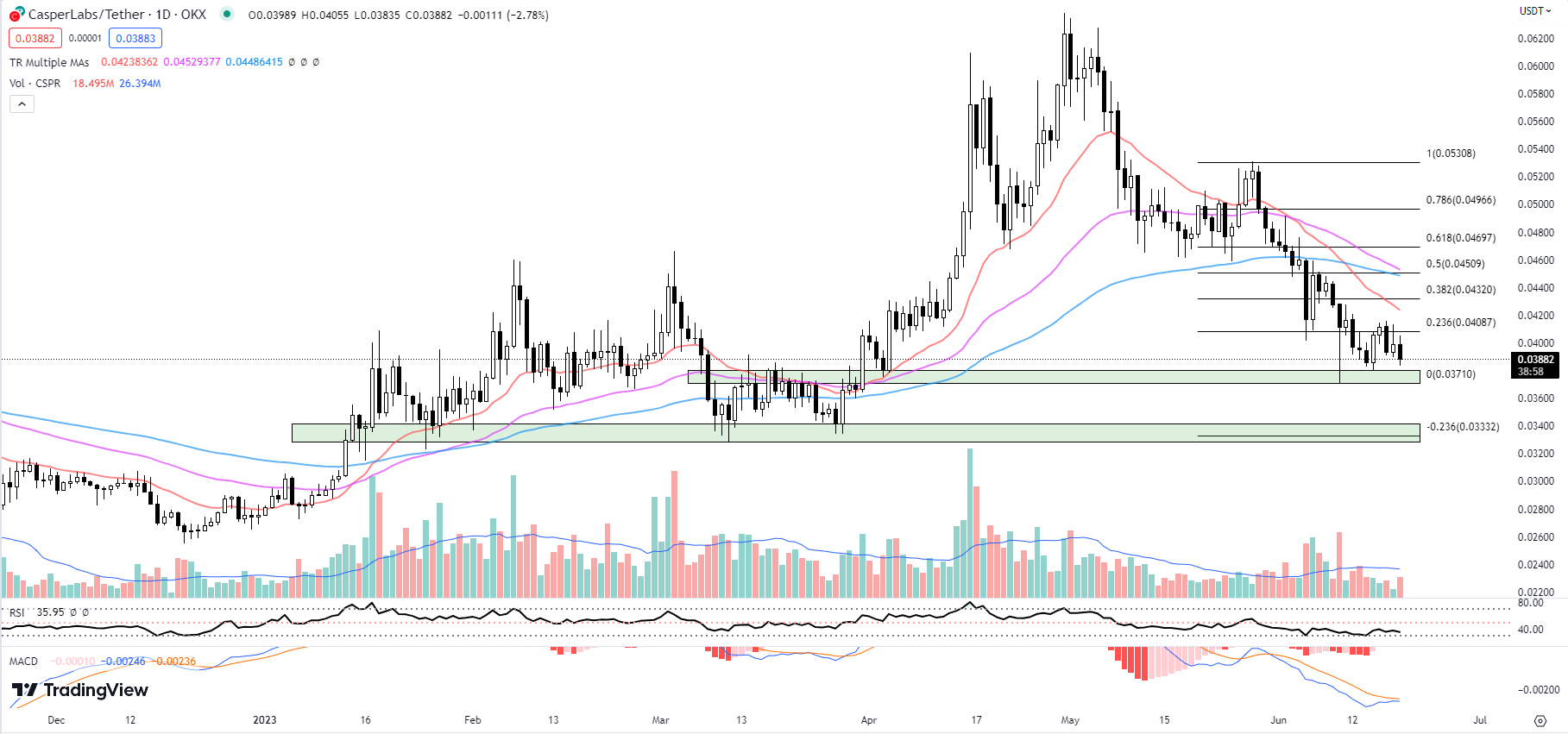 After a disappointing attempt to penetrate the Fib 0.236 level at $0.04087 on June 17, Casper Network (CSPR) appears to be retreating once again towards its standing horizontal support, a range that hovers between $0.03710 and $0.03804. CSPR is presently trading at $0.03882, experiencing a slight dip of 2.78% so far today.
A brief overview of the key technical indicators throws light on the current trend. The 20-day EMA stands at $0.04384, while the 50-day and 100-day EMAs are sighted at $0.04529 and $0.04486, respectively.
All these figures are markedly higher than the current CSPR price, indicating that the asset is trading below its average prices over these time frames. This demonstrates a short to long-term bearish momentum in play.
Meanwhile, the RSI has dipped slightly from yesterday's 38.34 to a current 35.95. Given that an RSI below 30 typically signifies an oversold condition, CSPR is edging closer to this threshold, hinting at a potential upside correction in the near future.
The MACD histogram also exhibits a negative reading, which further emphasizes the bearish momentum.
However, it has slightly improved from yesterday's -0.00011 to -0.00010 today, which could be the early signs of weakening downward momentum.
The immediate support region is between $0.03710 to $0.03804. A more significant bearish breach could push the asset toward the extended Fib -0.236 level at $0.03332, which coincides with the horizontal support level between $0.03283 to $0.033419.
Conclusively, the ongoing bearish signals are palpable in the Casper Network's market, but certain indicators suggest this trend may begin to wane.
Investors should consider these technical levels, keeping an eye out for potential reversals. A break above the Fib 0.236 level at $0.04087 would affirm an optimistic outlook, but failing to maintain immediate support could instigate a further downward spiral.
Highly Anticipated Action RPG Swords of Blood Announces Beta Test Launch
Cryptocurrency presales are the talk of the town these days, and Swords of Blood has been one of the best cryptos to buy.
The ongoing presale, speeding toward the $1.37 million target, is drawing investors who anticipate an Initial DEX Offering (IDO) announcement. Due to high demand, the presale has been extended to June 30.
With the final stage nearing its end, the Swords of Blood team initiated a much-anticipated loot box sale.
These limited-edition Founder's Boxes are exclusive to presale investors and contain Legendary items that can boost your game character's level, as well as bonus in-game gold and gems.
Swords of Blood is not just a game. It's a fusion of high-speed action and blockchain technology, rendering it the first AAA-quality hack-and-slash thriller on the Polygon network.
Back in 2019, the predecessor of this game, despite being unfinished, attracted more than 4 million downloads and continues to retain a considerable player base.
One of the best cryptos to buy, Swords of Blood has brought blockchain into the gaming world.
The players can choose to be intrepid dungeon explorers, bounty-hunting mages, or powerful warriors, embarking on a mission to restore peace in the World of Ezura.
The game's objective is to defeat the Dragon Betrayer, the disruptor of peace.
Swords of Blood excels at its immersive gameplay, allowing players to collect and upgrade their loot and gear.
All Legendary in-game items are hosted as NFTs, or GUTs, which players can level up using magical elements.
For those eager to have an early advantage, the team has unveiled a Founder's Box sale containing a range of GUTs.
Disclaimer: The Industry Talk section features insights by crypto industry players and is not a part of the editorial content of Cryptonews.com.
---