Best Crypto to Buy Now 13 July – Litecoin, Chainlink, Compound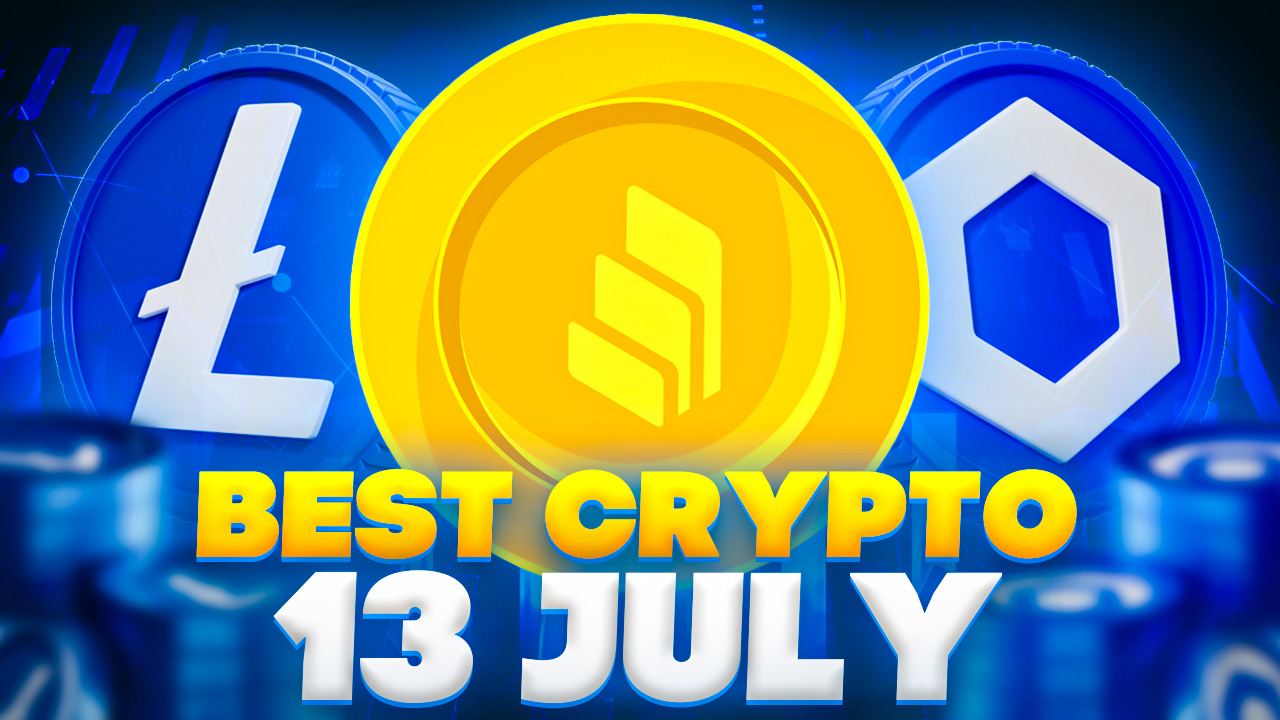 The crypto market is currently witnessing a notable uptick, propelled by the recent legal victory of Ripple, the company behind XRP, in its lawsuit against the SEC.
Bitcoin, along with other cryptocurrencies, is experiencing the ripple effect of this pivotal moment in the industry.
In light of this significant macroeconomic development, what are the best cryptos to buy now?
A court in the Southern District of New York recently declared that XRP, by itself, doesn't qualify as a security.
Consequently, the cryptocurrency is registering a robust 74.20% growth, with its value soaring to approximately $0.8202 as of writing.
This ruling has infused renewed optimism among crypto enthusiasts, leading to a lift in the price of other major cryptocurrencies.
Among the gainers were Cardano, Solana, and Polygon marking an increase of 17.61%, 16.59%, and 16.23%, respectively. Bitcoin and ether are also witnessing a bump of 3.5% and 6.2%.
This landmark judgment concludes a three-year-long tug-of-war between Ripple and the SEC, which had initiated a lawsuit against Ripple in 2020, accusing the company of infringing upon U.S. securities laws by selling XRP without its registration with the agency.
This ruling has brought much-needed relief to a cryptocurrency sector still grappling with an uncertain macro environment and heavy scrutiny from U.S. regulators.
As the dust settles on this court decision, it's clear that while it brings some immediate buoyancy to the crypto market, the industry's future regulatory landscape remains a labyrinth to be unraveled.
Amidst the favorable market conditions, robust fundamentals and/or positive technical analysis make Litecoin, Wall Street Memes, Chainlink, Mr. Hankey Coin, and Compound some of the best cryptos to buy now.
Litecoin (LTC): A Strong Contender for One of the Best Cryptos to Buy Now
Over the past five days, Litecoin has found some difficulty breaching the Fib 0.382 level but has recently managed to break through with the aid of a positive broader cryptocurrency market sentiment.
A pivotal point in the Litecoin price was the bounce off the 20-day EMA earlier today, which stood at $96.37.
This 20-day EMA, used by traders to identify short-term market trends, is now acting as a potential support level for Litecoin.
Surpassing this point demonstrates a possible change from price consolidation to a continuation of its bullish momentum.
Simultaneously, the 50-day and 100-day EMAs for LTC are at $92.22 and $89.95 respectively.
These longer-term EMAs, currently sitting below the 20-day EMA, further strengthen the argument for a bullish outlook. As LTC continues to stay above these levels, the bullish trend is likely to persist.
The bullish sentiment is reinforced by the RSI, which has seen an upswing from 52.45 to 59.89 in just a day.
This indicates an increase in buying pressure and momentum. An RSI value above 50 and moving toward 70 can often signal an asset is becoming overbought and therefore may see some resistance soon.
However, the current level of 59.89 suggests there's still some room before we hit the overbought zone.
Adding to this, the MACD histogram has also made a notable shift from -0.78 to -0.38.
While still in negative territory, the lesser magnitude indicates a reduction in the bearish momentum, possibly heralding an upcoming bullish crossover.
The current price of Litecoin stands at $103.54, which signifies a 7.62% increase so far today.
The immediate resistance to watch out for is the Fib 0.236 level at $104.58. If LTC can successfully breach this, it could further confirm the bullish momentum.
Meanwhile, the immediate support is the Fib 0.382 level at $98.11. A further safety net for LTC holders would be the 20-day EMA at $96.37, which previously acted as a robust support level.
These technical indicators suggest that Litecoin is currently in a bullish phase.
However, traders should remain watchful of the upcoming resistance at the Fib 0.236 level. It's also crucial to observe whether LTC will maintain its position above the 20-day EMA in the event of a pullback.
Wall Street Memes (WSM): One of the Best Cryptos to Buy Now for a Piece of the Meme Coin Action
Wall Street Memes is on the path to becoming the undisputed king of new meme coins, and its latest accomplishment of raising over $14.5 million so far in its presale is a testament to its path to dominance.
This retail investing community has impressively transformed its power on social platforms into financial might.
Boasting a following of one million across different platforms, the digital force unleashed their $WSM token, honoring the legacy of retail investors who bravely faced off against major financial institutions.
The presale of the $WSM token has already outdone the 2021 mint of the Wall Street Bulls 10,000-piece NFT collection.
Given the group's significant influence, industry analysts are suggesting $WSM could join the ranks of meme coins like Pepe, Shiba Inu, or Dogecoin.
Investors looking for the best crypto to buy now might want to consider the $WSM token.
Wall Street Memes is offering 100% of its token supply to its community, demonstrating its commitment to empowering small investors.
With 30% of the supply dedicated to community rewards, airdrops to holders are expected to become a significant part of the ecosystem.
What could potentially be a $20 million value of $WSM is up for grabs in community giveaways.
Bullish Momentum Emerges for Chainlink (LINK): Technical Indicators Point to an Upward Breakout
Chainlink (LINK) seems to be making a positive comeback, showcasing a strong upward momentum.
After trailing from both the 20-day and 50-day EMAs for the past six days, LINK is currently showing strong resilience and staging a notable comeback.
The cryptocurrency has broken through several levels of resistance. First, it surpassed the Fib 0.382 level at $6.310. Next, it outperformed the Fib 0.5 level at $6.786. Finally, it surpassed the horizontal resistance range of $6.752 to $6.874.
In terms of technical indicators, there has been a noticeable change in the trend for LINK.
The 20-day EMA at $6.219, the 50-day EMA at $6.187, and the 100-day EMA at $6.383 are all below the current price of $6.925, suggesting that Chainlink is operating in bullish territory.
The RSI, a common momentum oscillator used to gauge the speed and change of price movements, has spiked to 68.41 from yesterday's 54.48.
This uptick in the RSI indicates a growing bullish momentum in the market, which could further accelerate LINK's price upwards.
Another promising sign is the positive swing in the MACD histogram, a tool often used to identify potential buy and sell signals.
The histogram has changed from yesterday's -0.008 to 0.035 today, signaling a potential bullish crossover.
Such a positive MACD crossover often precedes an upward price swing, adding further fuel to the bullish case.
As Chainlink continues its upward movement, the cryptocurrency may encounter resistance at the Fib 0.618 level at $7.261, a level that had previously posed challenges between April 21 and May 6 earlier this year. Overcoming this resistance could lead to further gains and a new uptrend.
Meanwhile, the immediate support level for LINK is the Fib 0.5 level at $6.786, which coincides with the horizontal support range of $6.752 to $6.874.
Investors are advised to keep a close eye on this level, as a failure to stay above this support could potentially mean a reversal of the bullish trend.
The signs are currently pointing towards a sustained bullish momentum for Chainlink.
Investors should continue to monitor these key technical indicators closely, as they can provide important insights into the market's potential direction.
Steaming Ahead: How Mr. Hankey Coin (HANKEY) Could Be the Best Crypto to Buy Now
Barely three hours after its introduction, the Mr. Hankey Coin presale has already surged to over $283,000, stamping its presence on the cryptocurrency market.
This new meme coin, $HANKEY, distinguishes itself from the pack by boldly embracing its shitcoin identity.
Projected as a token that embraces its 'inner turd', this humorous token approach seems to be catching the attention of investors.
The presale that represents 40% of the $HANKEY's total supply values the coin at a modest $1.25 million.
This humble valuation indicates potential upside for the cheeky token, making it a contender for the title of the best crypto to buy for some investors.
Adding to the excitement are whispers about potential involvement from the teams behind $SPONGE and $PEPE.
Leveraging the popularity of South Park's character Mr. Hankey, the coin's already thriving social media presence points to an engaged community backing the project.
A dedicated 40% of its token supply for decentralized exchange (DEX) liquidity shows the team's commitment to ensuring smooth trading conditions for holders, bringing a serious side to this fun coin's potential for growth.
Compound (COMP) Maintains Strong Bullish Trajectory Despite Minor Dip
Following an impressive upward momentum, Compound (COMP) seems to have applied the brakes, albeit momentarily, as indicated by a 2.31% dip so far today.
However, this should not be a cause for concern for traders, as the broader picture reveals strong bullish tendencies.
COMP's performance over the last month, boasting an impressive 144.74% surge, underlines its positive market trajectory.
Notably, COMP registered a YTD high at $74.49 just yesterday, thereby reinforcing the uptrend narrative.
Taking a closer look at the technical indicators, the EMAs clearly highlight the bullish sentiment.
Currently, the 20-day EMA stands at $55.48, well below the current COMP price of $69.26. Additionally, the 50-day EMA and 100-day EMA, valued at $46.12 and $42.96 respectively, demonstrate the robust strength of the bullish trend.
These EMAs' positions imply that the market participants are willing to buy COMP at higher prices, pushing the price up.
The RSI has slightly cooled off to 69.36 from yesterday's 71.83. This moderate pullback from the 'overbought' territory may signal a temporary slowdown in momentum, but it remains in a relatively high range, suggesting continued buyer interest.
Traders should, however, monitor this closely for potential reversal signs if it starts dipping further.
Interestingly, the MACD histogram reveals a minor dip from 0.97 to 0.96, which could hint at a slowing bullish momentum.
However, since the value is still positive, the overall trend is generally bullish, emphasizing that buyers still control the market.
One of the most compelling insights into COMP's recent market dynamics is its market cap and trading volume.
The market cap stands at $536,849,244, reflecting a 6.04% rise today, indicative of strong investor confidence.
Further buoying this sentiment is the trading volume over the past 24 hours, which soared by 99.72% to $197,728,519, showcasing heightened investor interest and activity.
The immediate resistance for COMP lies at its recent YTD high of $74.49. Breaking past this level could further catalyze the bullish momentum.
On the flip side, the immediate support lies at the Fib 0.786 level at $63.55. A breach below this level may suggest a short-term bearish reversal.
For now, traders might want to keep a close eye on these levels and adjust their strategies accordingly.
Disclaimer: Crypto is a high-risk asset class. This article is provided for informational purposes and does not constitute investment advice. You could lose all of your capital.
---