As Raptor Token Shoots Up 3,000% on DEXTools, Crypto Whales are Stacking This Lesser Known Crypto Before it Lists on Exchanges – How to Buy Early?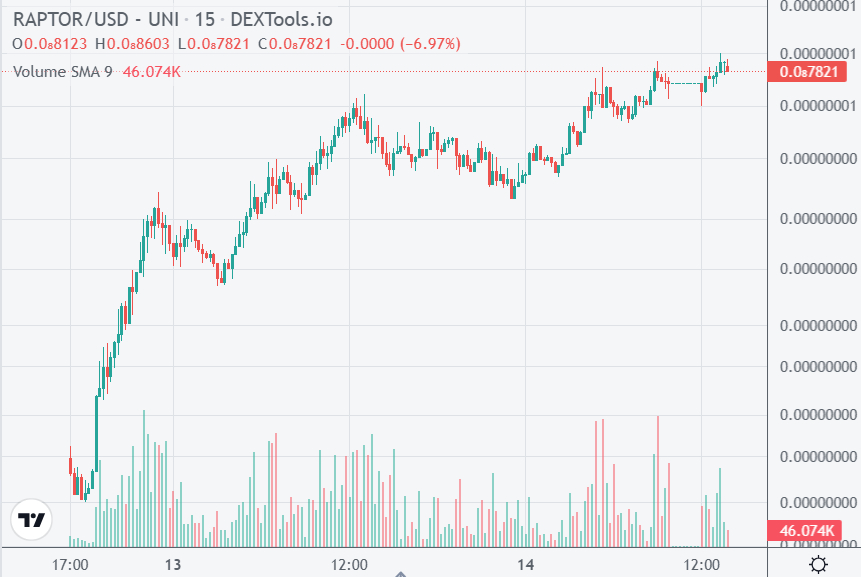 Raptor Token (RAPTOR), based on the iconic Raptor Jesus 4chan meme from 2006, has seen a stratospheric price rise in recent days.
As per DEXTools data, RAPTOR has shot up over 3,000% since its launch across decentralized exchanges on Monday.
RAPTOR Token was last changing hands at record highs in the $0.000000008 (eight zeros) area, around 30x up from its Monday low at $0.00000000028 (nine zeros).
That means RAPTOR now has a market cap of around $5.6 million, with nearly $1 million in liquidity.
Trading volumes also remain elevated, suggesting interest in the token is still strong.
Volumes were over $10 million in the past 24 hours, as per DEXTools, with RAPTOR having now secured nearly 2,000 holders.
That means Raptor Token has now progressed into the second stage of its roadmap.
As per the project's website, Phase 2 involves getting $RAPTOR trending on Twitter; starting a marketing campaign; starting to secure centralized cryptocurrency exchange listings; and growing the community via Discord, Reddit and 4chan.
CEX listings should bring a significant increase in visibility to the meme coin, which could help its market cap exceed the $10 million mark in the next few days and weeks.
While there is a lot of excitement regarding Raptor, crypto whales have been moving to aggressively stack up on a lesser-known crypto meme coin, created by one of the internet's top finance meme communities.
Crypto Whales Are Stacking This Lesser Known Crypto Prior to its Exchange Listings
Wall Street Memes is one of the internet's hottest retail investing communities. It rose to prominence in the meme stock craze of 2021 and has recently been expanding its relevance in the cryptocurrency space with the presale of its new $WSM token.
The presale, which has raised $7 million in just over two weeks, has already surpassed 2021's highly successful mint of the Wall Street Bulls 10,000 piece NFT collection, which famously made $2.5 million and sold out in 32 minutes.
Crypto whales have been aggressively buying $WSM. As per Etherscan, a whale bought nearly 30 ETH worth of $WSM tokens yesterday.
Meanwhile, another whale secured 37 ETH worth of $WSM tokens four days ago via two separate transactions.
Whales have executed trades to buy at least 10 ETH worth of $WSM tokens on 13 separate occasions since the presale began just over two weeks ago.
How to Get in Early on 2023's Hottest Memecoin Presale
The success of the $WSM presale is hardly surprising, given the size of the Wall Street Memes community.
Not only are there 523k hyper-engaged community members on its wallstbets Instagram account, there are another 214k on Twitter and more than 100k across its two other Instagram channels, wallstgonewild and wallstbullsnft.
All told, Wall Street Memes has a 1 million-strong social community of degens, which analysts think all but guarantees that the $WSM token will be listed on tier 1 crypto exchanges like Binance.
And in keeping with its focus on empowering the little guy, 100% of the token supply is for the Wall Street Memes community – there is no behind-the-scenes private sale and no team allocation largesse.
50% of the token supply is available in the presale; 30% as community rewards; 10% for CEX liquidity and 10% for DEX liquidity.
With 30% of the supply allocated to community rewards, it can reasonably be expected that airdrops to holders will be a big part of the ecosystem.
Indeed, the first $WSM airdrop is open now.
To buy $WSM tokens you will need ETH, BNB or USDT (ERC-20 or BEP-20 versions accepted) in your crypto wallet. Simply connect at the website to make your purchase.
Analysts are already predicting 10x gains for Wall Street Memes when it lists on exchanges and you can be a part of it.
Disclaimer: Cryptocurrency projects endorsed in this article are not the financial advice of the publishing author or publication - cryptocurrencies are highly volatile investments with considerable risk, always do your own research.
---