Another World-Famous Meme Capitalizes on the NFT Hype
First it was the 'Overly Attached Girlfriend', and now it's the 'Disaster Girl' - the faces behind the world-famous memes are reclaiming ownership of them by turning the viral images into non-fungible tokens (NFTs) and making bank.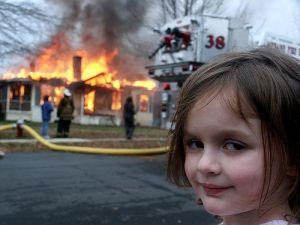 It's safe to say that the interest in the NFT technology is rapidly spreading beyond the cryptosphere. Zoe Roth, whose 2005 picture-turned-meme earned her global recognition as the wry-smiled 'disaster girl', has turned her fame into 180 ethereum (ETH) in an auction of an NFT featuring her image.
At the time the famous picture was taken in front of a controlled fire, the little girl - now a 21-year-old woman - was just four years old. For years, she had no way to monetize that global 'fame'.
"When disaster strikes...She is there," said the description on the Foundation platform.
The NFT was minted on April 16. The 24-hour auction that followed began with a bid of ETH 1 and was won by multimedia company 3F Music - which paid the equivalent of more than USD 470,000 as of pixel time (10 am UTC) for the NFT.
Roth told The News & Observer that she was encouraged to sell the viral photo as an NFT with a potential six-figure profit last February. She initially hesitated before seeking the advise of other meme celebrities including Laina Morris, popularly known as the 'Overly Attached Girlfriend'.
Earlier this month, Morris sold an NFT depicting her iconic, creepy smile for ETH 200, or more than USD 524,000.
The NFT was minted on April 1, and was three days later also picked up by 3F Music, which owns a larger and varied collection.
"Truly, you have no idea how this is going to change my life. I mean it. I am so incredibly thankful and also still just BLOWN AWAY," the now 29-year-old tweeted.
Some industry sources estimate the NFT market value exceeded USD 2bn last quarter, indicating the coming months are likely to boost the number of celebrities jumping on board the surging trend.
Anytime the NFT is bought, Roth and her father are to receive 10% of future sales. The NFT is the first source of money she has ever obtained from her online fame, according to the 'Disaster girl'.
"Being able to sell it just shows us that we do have some sort of control, some sort of agency in the whole process," Roth said. "Is it luck? Is it fate? I have no idea. But I will take it," she said.
David Yermack, professor and chairperson of the finance department at New York University, said that the blockchain is "a revolution in accounting," allowing only one person to have "the bragging rights" to a digital asset. "I think the fact that people are beginning to collect digital art really reflects the generation having grown up online," he said.
____
Learn more:
- New WWF Project To Use NFTs to Save Animals
- NFT Explosion Coming over Next 2 Years & Will Create Jobs, Say Insiders
- Why NFTs Aren't Just for Art and Collectibles
- NFT Performance Art: Corporations Could Capitalize On Protest
- Why Would Anyone Buy NFT – A Link To A JPEG File?
- Check These 4 Make-Your-Own-NFT Platforms
- Non-Fungible 2021: Prepare Your NFTs For DeFi, Staking, and Sharing
- Oversupplied NFT Market Sees Interest and Sales Plunge
- Proof-Of-Bitcoin Needed As Critics & Competitors Unite To Play Climate Card
---