Analysts Predict Massive Growth for DeeLance – Is It the Best Utility Crypto of 2023?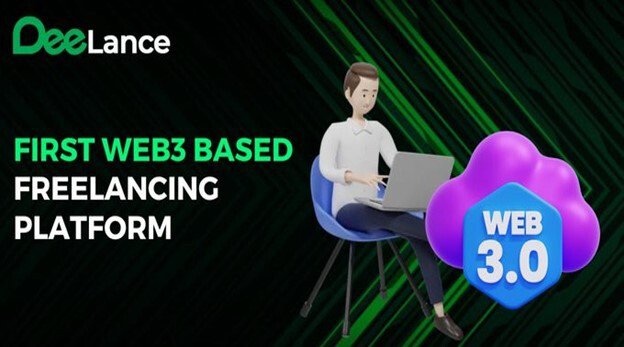 The freelance sector has recently received a significant boost as skilled workers look to break free from the constraints of the conventional 9 to 5 work model.
Despite the abundance of freelance marketplaces, most have been identified as Web2-based and often feature hassles such as inconsistent employment, delayed payments, and zero transparency.
An emerging crypto project, DeeLance, aims to redefine the traditional structure as it leverages Web3 technology to create a versatile freelance marketplace.
Selling fast on presale, its utility asset, $DLANCE, has raised over $493,000 from early birds as it gradually surges to become one of the hottest cryptos of 2023.
DeeLance Ecosystem: The New Digital Recruitment Sphere
The crypto market is a renowned financial sector that constantly provides investment opportunities for traders.
As of press time, over 22,000 crypto assets are available in the market space; however, most lack global utility, reflecting their stagnated price trajectory.
DeeLance asserts to stack a myriad of utilities as it aims to revolutionalize the traditional recruitment industry, worth over $761.6 billion in revenue.
This innovative project aims to revolutionize the entire sector and dethrone the recruitment platform of existing players such as Upwork, Fiverr, LinkedIn, and Freelancer.
Leveraging the power of the Ethereum blockchain, non-fungible token (NFT) technology, and the metaverse, DeeLance is bringing recruitment to the digital sphere.
A Transparent and Secure Freelance Marketplace
DeeLance's evolution of a digital workspace is geared towards simplicity, transparency, efficiency, and ownership.
The platform strives to provide low fees, quick and transparent payments through smart contract-powered escrows, and easy contract ownership using non-fungible token (NFT) technology.
Freelancers' tasks are tokenized via NFT so that employers can be sure they have secured ownership of a set task/service.
The incorporation of NFT tokenization not only creates trust for employers but also enables users to have secure ownership of their work until payment is released from escrow accounts.
Regarding fees, DeeLance charges hirers a 2% platform fee, the lowest in the industry, and 10% for creatives, which is also competitive compared to existing platforms.
Even better, the Web3-powered freelance market provides fast cashouts with no withdrawal fee and supports instant crypto payments to avert foreign exchange costs.
Although the benefits of DeeLance are endless, its most notable include super-efficient escrow, content ownership, consistent recruitment, and no limit on assigned tasks.
DeeLance Immersive Metaverse Experience
Another exciting feature of the DeeLance freelance marketplace is its emerging metaverse incorporation.
Apart from verification of contract ownership, the platform asserts to use of NFT technology to provide underpin avatars that will enable users to interact, collaborate, and pitch ideas in the virtual world.
In the metaverse sphere, clients and freelancers can advertise vacancies, and portfolios, set up offices for meetings, interviews, and more.
Stacked with real-world utility and rebranding the recruitment industry, DeeLance is set to be the paradigm for a new bull rally on the crypto market when it lists on public exchanges.
Invest in $DLANCE Discounted Price Now – Over $493,000 Raised So Far
DeeLance is set to fill the void left by Web2-powered traditional freelance platforms by simplifying the recruitment processes.
With the use of advanced Ethereum and Web3 technology, the potential of DeeLance and its native token, $DLANCE, are immense.
With the spate transition from traditional workers into the secure and transparent freelance sector offered by DeeLance, early investors can be excited for what's to come.
The innovative token is selling for a discounted presale price of $0.029 USDT with over $492,000 from early adopters.
Now is the best time for investors to take advantage of this price before it rises.
Disclaimer: The Industry Talk section features insights by crypto industry players and is not a part of the editorial content of Cryptonews.com.
---