All I Want for Christmas Is - Crypto
American singer Mariah Carey may have to revise her Christmas hit very soon, as various survey show that many prefer to get cryptocurrencies as a present.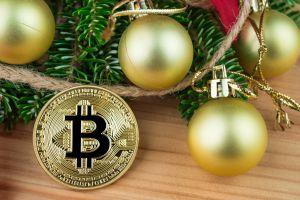 For example, for the first time, teenagers said they wanted cryptocurrency like Bitcoin and Fortnite "V-Bucks" virtual currency instead of cash, gift cards and gas money, according to the "Holiday 2018" consumer report released in November by investment bank and asset management firm Piper Jaffray.
The popularity of cryptocurrencies on the internet, from social media to online games, is drawing people to the nascent industry. From a way towards financial independence and autonomy to a lesson in investing, cryptocurrencies as a gift are attracting many fresh faces. Especially, when the young generation spends more time in front of computers and lives an increasingly digital life. In different online games, more and more so-called virtual currencies are used to buy and sell items in the game.
For many, in-game currencies like V-Bucks, from the wildly popular, online third-person shooter game Fortnite that is used to purchase outfits, "skins" and "Battle Passes" but holds no value outside of the game, are the first contact they have with virtual currencies. In some respects, cryptocurrencies are similar to the virtual money you find in a video game. You buy them with fiat currency, they have no tangible form, and you can use them to buy the goods and services you desire.
Another indication of this trend are Twitter polls. Although Twitter's algorithm does not let people see who voted for what, thus preventing any insight into potential trends such as the age of respondents, their area of origin etc., it can be reasonably assumed that most voters are relatively young, as they tend to be more tech-savvy than their elders - thus more likely to use Twitter in the first place.
Two of these come from the Bank of England and former Texas Congressman Ron Paul and show that digital currencies are vastly preferred to other options.
The Bank of England does not specify what "digital currencies" they mean in their question "If you receive money as a gift at Christmas, what's your favourite way to get it?" but this option took 71% of the votes, whereas 20% of respondents voted for cash, 7% for bank transfer, and only 2% for gift vouchers.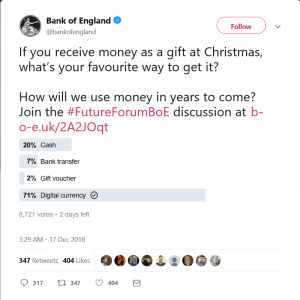 ___
A Twitter user reacted:
Ron Paul, meanwhile, does not beat around the bush with his wording: the question is, "A wealthy person gifts you USD 10,000. You get to choose in which form you'll accept the gift. But there's a catch: You must keep the gift in the form that you choose for 10 years without touching it. In which form would you accept the gift?" The options are Bitcoin (50% of votes), gold (37%), US 10-year Treasury Bonds (11%) and Federal Reserve Notes (2%).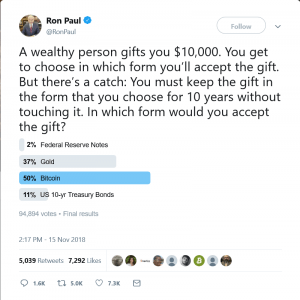 ____
If you're still wondering what to buy your friends for Christmas, check out our list of ideas. No matter what your budget is, you're bound to find something to save you so close to the 25th, especially if you're not that close to the person anyway. If you are - you should really consider buying gifts earlier. Merry Christmas and happy holidays!
---