4Chan Coin Blasts Up 25,000% as Reddit Blackout Continues and Experts Say Wall Street Memes is the Next Crypto to Explode – Here's Why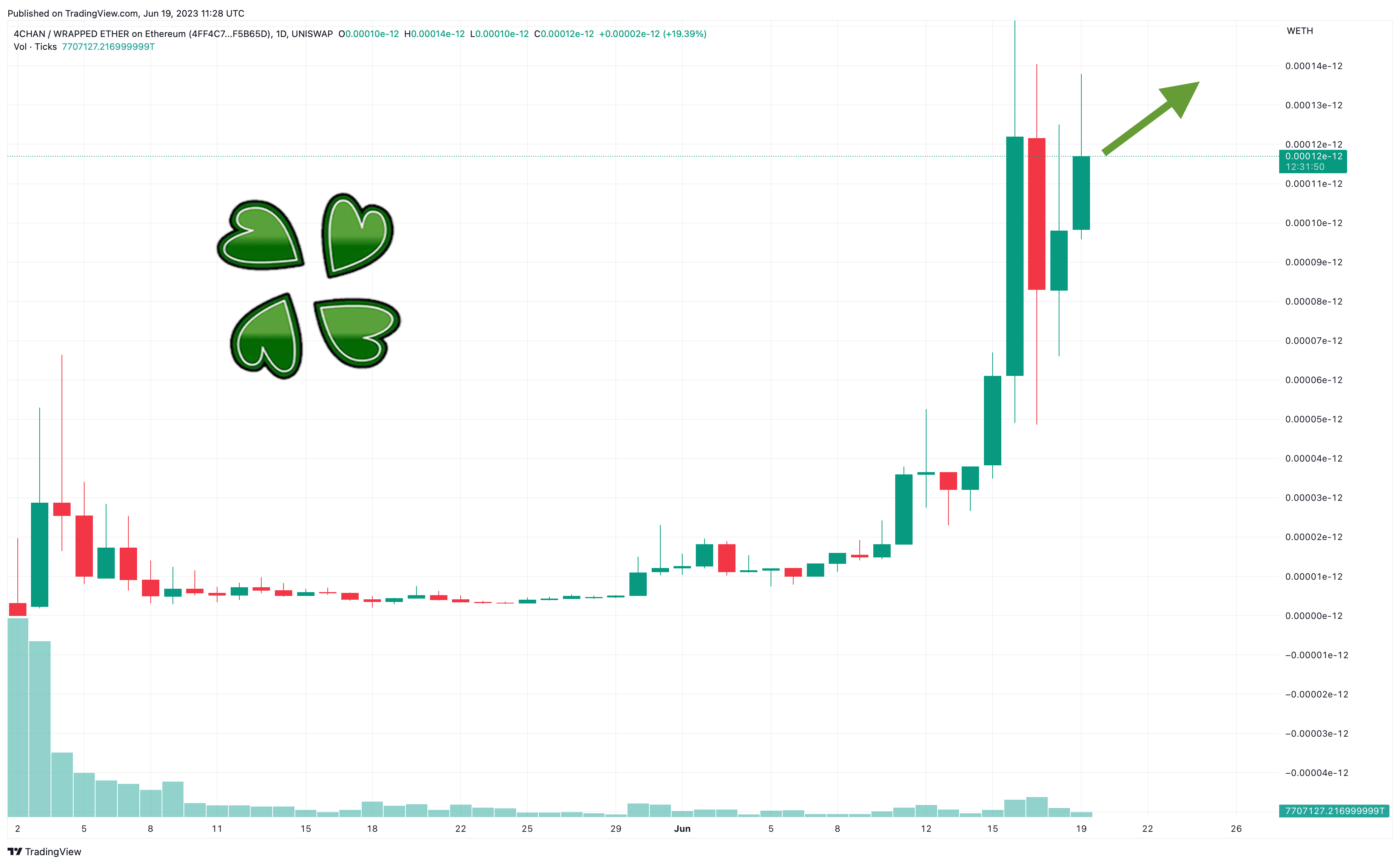 4Chan Coin has risen by 29% in the past 24 hours, with its current price of $0.000000000000179428 representing a massive 1,300% gain in the last 30 days and a 25,000% increase since the meme token launched.
This massive surge has come amid the ongoing Reddit blackout, which has seen thousands of forums on the micro-blogging site halt activity in a protest against its policy of charging third-party apps for accessing user data.
This blackout and the effect it has had on Reddit's reputation has seemingly played into the hands of rival forum 4chan and also 4Chan Coin, which doesn't have any clear connection to its namesake website.
Still, this year's appetite for new meme tokens has clearly helped 4CHAN enjoy some very big gains, and with very little else in the market promising big rallies at the moment, it may continue rising for a little while yet.
Of course, it could just as easily run out of momentum, with new meme tokens taking its place, and with Wall Street Memes (WSM) as one of the favorites to replace it.
4Chan Coin Blasts Up 25,000% as Reddit Blackout Continues
4CHAN's chart shows a cryptocurrency with plenty of momentum, with its short-term moving average (yellow) continuing to rise further above its long-term average (blue).
This suggests that 4CHAN will continue to rise over at least the next few days, before its rally runs out of steam.
The test of whether it can continue much further will be its ability (or not) to pass its current resistance level (red), which sits at around $0.00000000000020.
If it can rise above this price and stay there then it could easily mount further gains in the coming days and weeks.
But with 4CHAN largely being a meme token, there's no guarantee that its joys will continue for much longer.
Yes, it has an association with the image-based messaging board 4chan, but there's no public information available as to whether any of the operators or moderators of the infamous site actually have anything to do with the token.
As such, you could argue that its rallying has little or nothing to do with Reddit's recent blackout, which continues to endure for another week.
Still, the market has certainly had a taste for meme tokens this year, perhaps because fundamentally strong coins have underperformed.
For this reason, it would be unwise to predict that 4CHAN will suffer an inevitable demise, especially when the site it takes its name from remains so popular.
Experts Say Wall Street Memes is the Next Crypto to Explode – Here's Why
Even if 4CHAN does continue to enjoy steady gains, it's arguable that its biggest rallies are already behind it, seeing as how it has gained by over 1,300% in a month and by around 25,000% since first listing on Uniswap.
Because of this, some traders may prefer to look toward even newer meme tokens, and in particular towards presale tokens, which haven't yet had the chance to rally (since they haven't listed yet).
Possibly the most promising such token right now is Wall Street Memes (WSM), a new altcoin that has appeared out of the meme stocks movement, which was famously responsible for the 2021 GameStop and AMC rallies.
Wall Street Memes launched the presale for its WSM token only a few weeks ago, yet it has impressively raised more than $8.5 million.
If anything, this figure offers some indication of how strongly WSM could rally when it lists on exchanges, with the total suggesting that the meme token is already attracting a sizable community of holders and supporters.
Indeed, its Twitter account now has more than 234,000 followers, all of whom may potentially be WSM buyers and holders.
Interested investors can enter the WSM presale by visiting the official Wall Street Memes website and connecting their crypto wallets, with WSM buyable using ETH, USDT or fiat currency.
1 WSM currently costs $0.0295, although this sale price will rise to $0.03370000 by the time of the final, 30th stage.
Of course, such a final price may end up looking very cheap once the token lists on exchanges in the next few months.
Disclaimer: The Industry Talk section features insights by crypto industry players and is not a part of the editorial content of Cryptonews.com.
---