What It's Like To Mine Bitcoin As a Full-Time Job
Disclosure: Crypto is a high-risk asset class. This article is provided for informational purposes and does not constitute investment advice. By using this website, you agree to our terms and conditions. We may utilise affiliate links within our content, and receive commission.
Nick Sears is only 19-years-old, but in just two years he has managed to build himself a career as a full-time bitcoin (BTC) miner. He reportedly makes USD 54,000 a year, turning down college and living in a room located inside a cryptocurrency mining farm.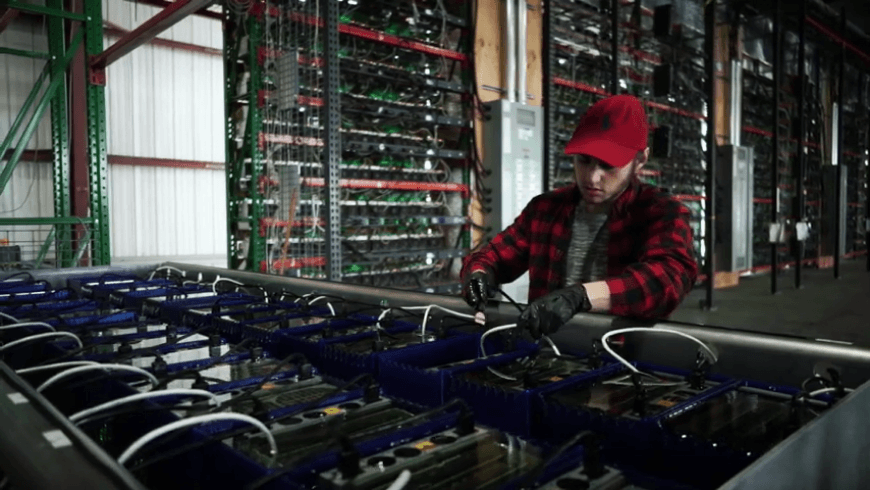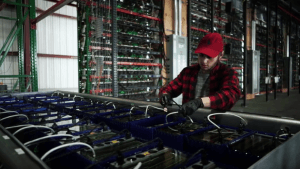 Sears, who was 17-years-old when he took part in building the farm, told CNBC he occupies a sound locked room inside a farm in Dallesport, Washington, and is responsible for ensuring a smooth operation of 4,500 Bitmain and Whatsminer machines.
"I can't hear the machines when I close my door, but they are definitely noisy if I have my door open," he said, adding the 80 decibels of noise generated by each of the devices did not discourage him from staying at the farm, as he preferred to stay close to the action and avoid commuting to the facility on a daily basis.
"I don't think about going to college at all, just pursuing further knowledge in the repairs of the miners," according to Sears who admits he has spent virtually every day of the past two years gaining knowledge on how the mining equipment works and how to fix it. The lead technician added that he has a certification in maintenance repair, so what he's been doing lately is perfecting his skills in that category.
Thomas Heller, Chief Business Officer at Compass Mining which works with Sears' employer SCATE Ventures, said that coping with noise and heat is crucial to launching a successful career in crypto mining.
"There's just so much action going on. It is quite cool to walk into a data center for the first time that's mining bitcoin, because you can really connect the intangible aspects of bitcoin as a currency, with the physical nature of these machines consuming power and doing these calculations," Heller told CNBC.
SCATE Ventures says the company's mining farm is fitted with a surface of 50,000 sq. ft (4,645 sq. m) and a 10 MW capacity.
At the farm, the company's staff has "learned how to manage and to optimize the unique electrical and cooling needs of 7,500 Bitmain S9's in a wide range of temperature scenarios. Since turning our focus into immersion cooling, we've tested, and are continuing to test new generation hardware (S19, M30, & M31's, etc.)," SCATE Ventures said.
For Sears, a typical day starts at 7 AM, and he works from 8 AM until 4 PM. Afterwards, he remains on site in case of an emergency, but night shift repairs are handled by a different technician. This said, every day brings a different set of challenges, he says.
"That's the cool thing about this job – I don't have a set routine that I do everyday," he said. "Every morning, I find what needs to be fixed" so if "we have to repair a camera, maybe I'm fixing a cable."
"Every day, you find the machines that have stopped hashing, then you remove them from the rack, and you troubleshoot," he explained, adding that sometimes all that is required is a power cycle or a reboot, but that other times, the issue could be related to hashboards themselves or even seasonal weather changes that could cause overheats and power outages.
In addition to his annual salary of USD 54,000, Sears also benefits from full health insurance and a quarterly bonus of about BTC 0.02 (USD 797) due to the fact that his company runs some machines exclusively for its staff.
"With all the miners in China going offline, the difficulty rate has been changing, so the rewards are higher," Sears said. "The last time we got a little bit more than we did the previous time, which is cool by me."
Scott Bennett, CEO of SCATE Ventures, is a self-taught miner who launched the firm in his parents' garage in 2017, and uses the facility's proximity to the Columbia River and the Dalles Dam to source renewable energy for the farm.
___
Learn more:
– BTC Mining Migration, Challenges & Forecasts for the Post-crackdown Industry
– MEV Harms Ethereum Users And it May Be Here For Some Time
– Chinese, Taiwanese Bitcoin Miners Eyeing Paraguay Move
– Bukele Teases Volcano-powered Bitcoin Mining Center as Exchange Arrives
– China's Global Bitcoin Hashrate Was On Decline Before Crackdown
– Shenzhen Crypto Mining Hardware Retail Hotspot Becomes a Ghost Town
---