What Effect Could an Indian Ban Have on the Global Crypto Industry?
Disclosure: Crypto is a high-risk asset class. This article is provided for informational purposes and does not constitute investment advice. By using this website, you agree to our terms and conditions. We may utilise affiliate links within our content, and receive commission.
Opinions are mixed whether the crypto-banning bill will be passed. Blockchain developers may suffer due to the possible confusion.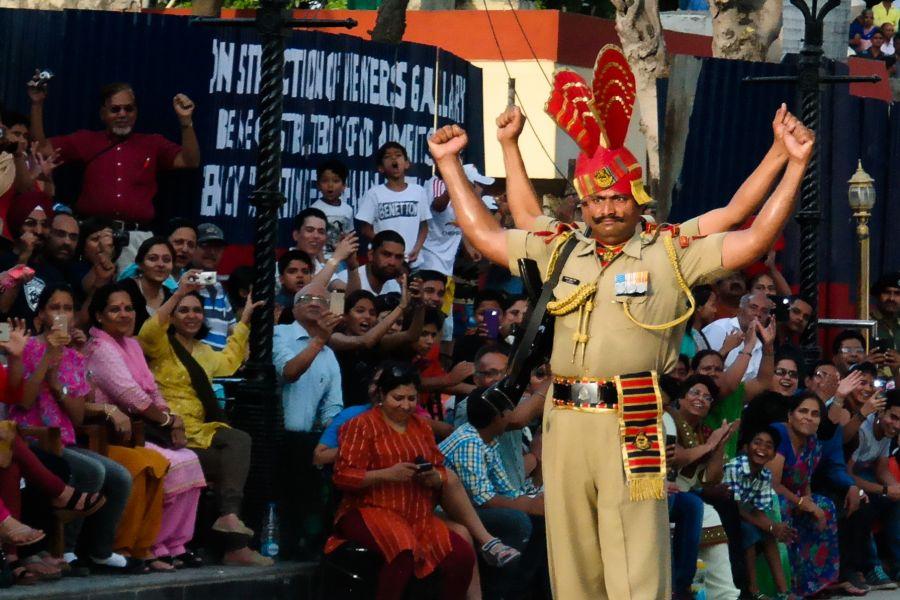 With a number of Indian crypto-exchanges having closed down in the midst of an already harsh environment for cryptocurrency, it would seem that the introduction of a cryptocurrency ban is now almost inevitable in India.
But while there's little doubt that this would be a massive blow for Indian crypto, it's likely that such a blanket ban would also have repercussions on the global cryptocurrency industry. This is particularly true for the development of blockchain projects and dapps (decentralized apps), although in terms of cryptocurrency market volume it may not be so much of an issue.
The ban is likely or not?
Back in April 2018, the Reserve Bank of India (RBI) banned banks and financial institutions from dealing in cryptocurrencies, making it very difficult for crypto-exchanges based in the Asian country to operate. A year later, government departments reportedly began discussing a draft bill proposing a complete ban on the use, trading and ownership of private cryptocurrencies, while in July the Department of Economic Affairs confirmed that the government was indeed considering such a ban.
Most controversially, the bill would introduce a prison sentence of up to ten years for anyone violating its terms. This seems remarkably draconian, and it opens up the question of whether the bill will actually be introduced in its current form and passed.
Figures working within the Indian cryptocurrency and blockchain industry seem to think so, although opinion is mixed beyond India. Kunal Barchha, the CEO of crypto-exchange CoinRecoil, tells Cryptonews.com that the ban's introduction is only a matter of time.
"Considering the statements made by the official, it seems the ban is inevitable," he says.
"We certainly expect the ban to be in place in the coming days. If the government can declare their own currency as invalid – demonetization, banning cryptocurrency won't be a surprise."
Meanwhile, Finance Minister Nirmala Sitharaman said in an interview with The Economic Times (published on July 29) that the report that suggested the ban is "a very futuristic and well-thought out."
"I have not spent time on it after the presentation. Of course, we will look into it soon and come back with a position," she added.
The Indian Government did not respond to our requests for comment.
That said, other industry figures aren't so sure that any crypto-banning bill will be passed, simply because it would emerge during debates on such a bill that a ban wouldn't be realistically enforceable.
"I would say it's incredibly unlikely that the Indian government would actually move ahead with a ban," Samson Mow – the chief strategy officer at Blockstream – tells Cryponews.com. "Tabling a bill is one thing, but once they think about enforcement they'd drop the idea because it makes no sense."
Possible repercussions
But assuming that the bill is introduced and passed, will it have a significant negative impact on crypto in India and in the wider world?
Even in India, the effect might not be as catastrophic as you'd suppose. Yes, Indian crypto-exchanges and crypto-related businesses would be decimated overnight, but as volume statistics from the Helsinki-based LocalBitcoins platform reveals, the 2018 ban on banks handling cryptocurrencies didn't stop Indian people from trading crypto.
Weekly LocalBitcoins volume (in bitcoin) in India: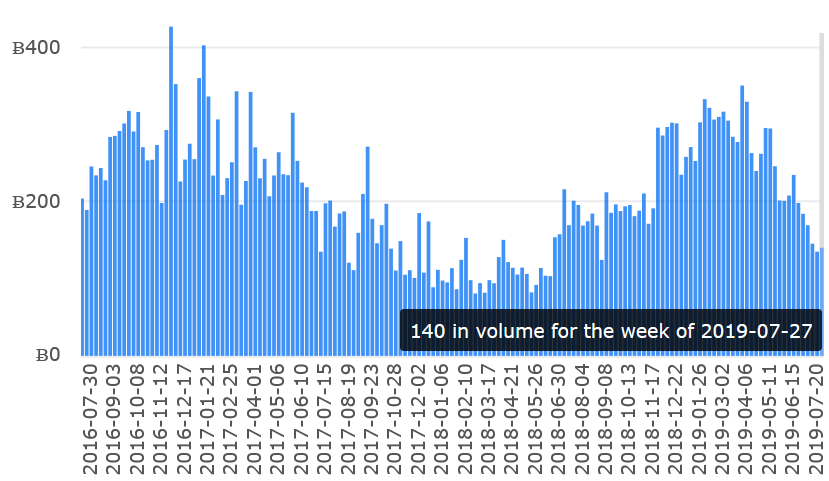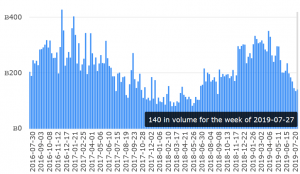 Samson Mow also notes that, in China, a ban on cryptocurrencies didn't stop Chinese investors from trading. And with the use of a VPN, for instance, Indian citizens will still be able to use platforms outside of India (however, it might be a risky affair).
"When BTCChina was shut down in 2017, the market didn't react that much and today there's actually a massive amount of OTC trading done in China. As for banning ownership, that would be a bad move by India because you cannot ban Bitcoin. It's impossible. You can't ban information and Bitcoin is just information."
Still, there's likely to be a reduction in Indian volume insofar as exchanges like Koinex, Coinome, Coindelta and Zebpay have already shut down their operations in India (Zebpay is now operating from Australia). But looking at the international picture, the situation is more complicated, as explained by Kunal Barchha.
"Currently, India doesn't represent much in global trading volume," he says. "But Indian IT companies do contribute enough in dapps and public blockchain development. With the ban, these companies may suffer, given the confusion regarding the ban. It will be tough to understand whether these companies can work on cryptocurrency projects or not."
And assuming that Indian blockchain companies do struggle, this decline would have a knock-on effect on the global blockchain industry. To be fair, the Indian government has retained a positive stance on blockchain and distributed ledger technology more generally, but even with this support, Barchha doesn't think it will be enough to sustain the kind of ecosystem that was growing prior to India's crackdown.
"It is certainly not enough to sustain with just a few doors open," he says. "Private blockchain is mainly for corporates having plenty of cash to build their infrastructure from scratch. That's not the case with SMEs, they look for ready made solutions mainly on public blockchains. These projects will suffer a lot as they may need to move out of India or give up their plans."
Mood swings
Added to this, a ban in India could have the effect of dampening the mood in global crypto markets, hinting at the possibility of further bans in other nations. Kunal Barchha says, "But we can expect negative sentiment around the market for a while and things will slowly but surely return to normal, similar to what happened when China introduced a ban."
The likelihood that the global market will return to normal is important here, as is the overall decentralization of cryptocurrencies such as Bitcoin, Ethereum and others. Because as Barchha concludes, decentralization means that no central government really controls crypto and the people who use crypto, regardless of the laws such governments introduce.
____
Read more:
Hey, Gov't Officials! Do You Still Think You Can Ban Bitcoin?
Senator Admits U.S. Can't Ban Bitcoin
---