Upbit Fosters Global Expansion With USD 71m Investment War Chest
The first two new markets should be launched by the third quarter of this year. Soon-to-be-issued token, LUK, will be the medium by which some blockchain startups will receive investments.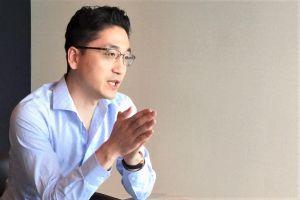 South Korean major cryptocurrency exchange Upbit is looking to expand their business beyond their current markets of South Korea, Singapore, and Indonesia - several new markets should launch by the end of 2019, Alex Kim, CEO of Upbit APAC, which is responsible for the Asia-Pacific region, told Cryptonews.com.
Moreover, the investment subsidiary of the exchange's parent company, Dunamu & Partners, has KRW 80 billion (c. USD 71 million) ready to invest into various blockchain startups over the next two years.
Upbit expansion, investment plans, and LUK
Upbit hails from South Korea, and has started service in Singapore in November 2018 and in Indonesia in January 2019. This is far from the end of their spread throughout Southeastern Asia (SEA): "We're in the process of procuring relevant licenses in other SEA markets, including Malaysia and Thailand, and we expect to launch in 3~4 additional markets by the end of the year," Kim explains. The first two markets should be launched by the third quarter of this year, he adds.
Upbit's parent company, Dunamu, is already reaching out to blockchain-related startups that could bring innovations within South Korea, and has invested around KRW 20 billion (c. USD 18 million) in 2018 through their investment subsidiary Dunamu & Partners, and another USD 71 million is in the warchest for the upcoming two years. (Among Dunamu's shareholders is South Korean internet giant Kakao Group with a direct stake of around 8%, while the company's CEO and some other executives previously worked at Kakao, also.)
"We think the key to sustainable success is to grow the blockchain ecosystem by investing in blockchain startups and providing them with development solutions to grow their businesses. This will ultimately allow Upbit to better serve the role of connecting high-quality blockchain projects to investors," Kim adds.
The exchange has also just launched a blockchain service platform called Luniverse, and its soon-to-be-issued token, LUK, will be the medium by which some blockchain startups will receive investments through Dunamu's other subsidiary, Lambda 256. A total of 3 billion LUK should go towards those investments at a rate of KRW 5.5 billion (around USD 5 million) per company. The value of LUK is not fixed yet as they aim to release a white paper in April.
Exchanges and regulations: an uphill battle
Right now, Upbit is one of the largest South Korean crypto exchanges, but they have had their share of issues due to the regulatory uncertainty surrounding the nascent industry there. Currently, the exchange has around 1.2 million users - this number is unchanged from last year. "This is due to regulatory issues in Korea, which makes it practically impossible for new Korean users to trade with fiat on Upbit," Kim explains.
Upbit has problems that stem from South Korea's strict laws, where one of the biggest ones is Korea's regulation regarding overseas bank transfers.
"It's hard to even call it a regulation because there are no actual laws or guidelines, but no Korean bank will allow Dunamu to make overseas bank transfers simply because we operate a cryptocurrency exchange. This has greatly hindered our global expansion plans and it simply makes no sense," Kim says, adding, "There's no easy solution because it's the result of various negative stigma surrounding cryptocurrencies and exchanges."
Other exchanges will face their own share of challenges in the coming days, but regulations will, most likely, help guide them all to a standardized way of operating, Kim believes: "The requirements for exchanges might be internationally standardized to fend off any balloon effect." He later added, "Consensus should be the keyword. Any business needs to interact with surrounding businesses and regulatory environment to secure its position and deliver value to users."
Another serious issue for exchanges are market manipulation tactics, especially wash trading.
"This is obviously a major issue for cryptocurrency exchanges, which is why objective organizations such as the Blockchain Transparency Institute have been publishing their own rankings that exclude any trading volume that can be considered wash trading. Upbit has ranked extremely high in these rankings, which shows that our trading data can be trusted," a spokesperson told Cryptonews.com.
As of the time of writing, Upbit has a daily trading volume of USD 315 million and ranks as the 16th largest exchange, according to coinpaprika.com.
Top markets on Upbit: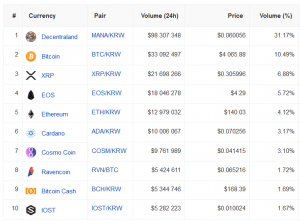 Allegations of fraud
The problem with wash trading ties into the allegations of fraud against three senior staff members of the exchange. Back in December 2018, the Prosecutors' Office of the southern district of Seoul has accused the members of using a fake corporate account to make equally fake orders worth KRW 254 trillion (around USD 226.2 billion) to inflate trading volume figures and attract more customers to the exchange. Additionally, they were charged with selling 11,550 BTC to customers to the tune of KRW 150 billion (around USD 133.8 million) through rigged transactions. All of this is said to have occurred over a time period between September 24th, 2017 to December 11th, 2017.
To the question of how these allegations affect their business today, a spokesperson told us, "This is an issue that will be settled in court over the next few years, so it's hard to speculate on the legal ramifications at this point. However, the trades in question are all pre-2018, and I can assure you and all of our users that all the Upbit trades you see are 100% legitimate."
The future of exchanges
"It's very tough to imagine how the blockchain space will change in a few years' time because of how fast the industry moves. But I would imagine the crypto exchange businesses will be highly regulated in most of the developed countries within a few years," according to Kim. He also adds, that depending on the liquidity and local regulations, "you can imagine the asset classes of crypto exchanges being diversified into securities, commodities and derivatives."
Meanwhile, the prospect of decentralized exchanges will depend on what additional value they can deliver compared to centralized and regulated exchanges, the CEO says.
"I believe the whole blockchain industry needs to prove its value with actual use case," he concludes.
---