'Untrusted' Crypto Exchanges Increased Their Market Share in 2019
Disclosure: Crypto is a high-risk asset class. This article is provided for informational purposes and does not constitute investment advice. By using this website, you agree to our terms and conditions. We may utilise affiliate links within our content, and receive commission.
Even though top-ranked exchanges have increased their market share in July, lower-ranked, 'untrusted' exchanges have increased their dominance this year even further, according to CryptoCompare, a provider of the crypto market data.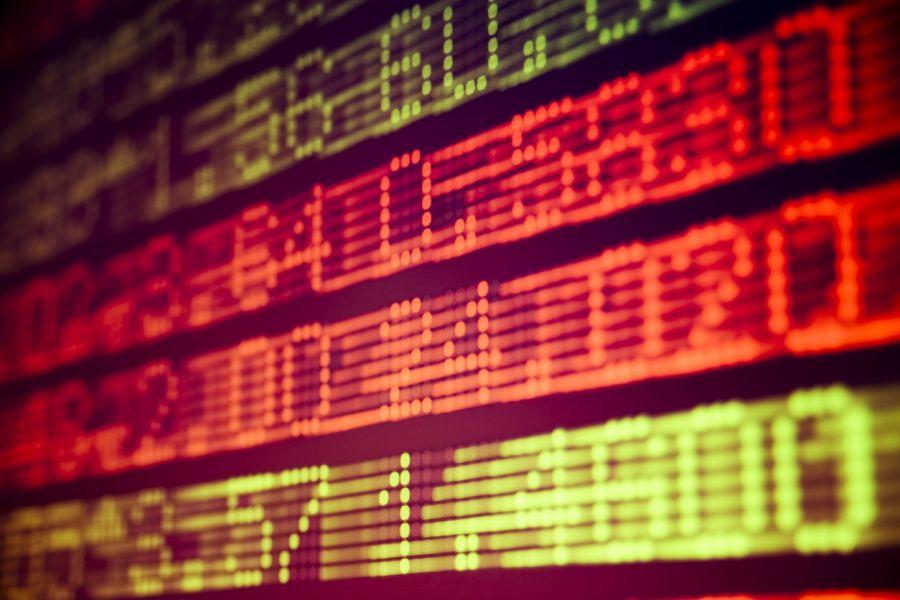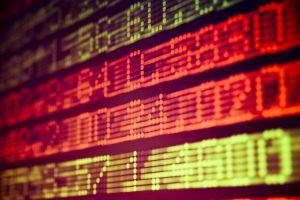 Based on CryptoCompare's Exchange Benchmark grading, those exchanges that have been graded AA saw a "substantial" rise in volumes in Juy and made 5%, or USD 31 billion of total aggregate volume, the company said in its Exchange Review for July 2019.
These are Coinbase, Poloniex, Bitstamp, bitFlyer, Liquid and itBit.
The exchanges that are rated A (such as Binance, Kraken, OKEx, etc.) represented 19%, or USD 119 billion, and those with a B grade (Bitfinex, Korbit, BitBank, etc.) represented 8%, or USD 47 billion.
_________________
_________________
However, the exchanges graded D-E dominated the trading volume, together representing 64%, or USD 316 billion, according to the review. These include Bitmax, HitBTC, Bitforex, Kuna, and many others.
CryptoCompare's ranking methodology utilizes a combination of qualitative (due diligence) and quantitative (market quality based on order book and trades) metrics, without using volume directly in the ranking.
Volume from the highest quality exchanges, increased 29% for the AA-graded and 10% for the A-graded, while volume of those exchanges that were rated with a lower quality E grade, and which represent USD 142 billion USD, decreased almost 20% since June.
Furthermore, volume from trusted exchanges, which are those ranked AA, A, and B, increased 4.4%, while volume from untrusted exchanges, ranked C-F, increased 0.7%. The report stated that aggregate trusted exchange volume still only represents 32% of the total market, while untrusted exchanges have substantially increased their share this year.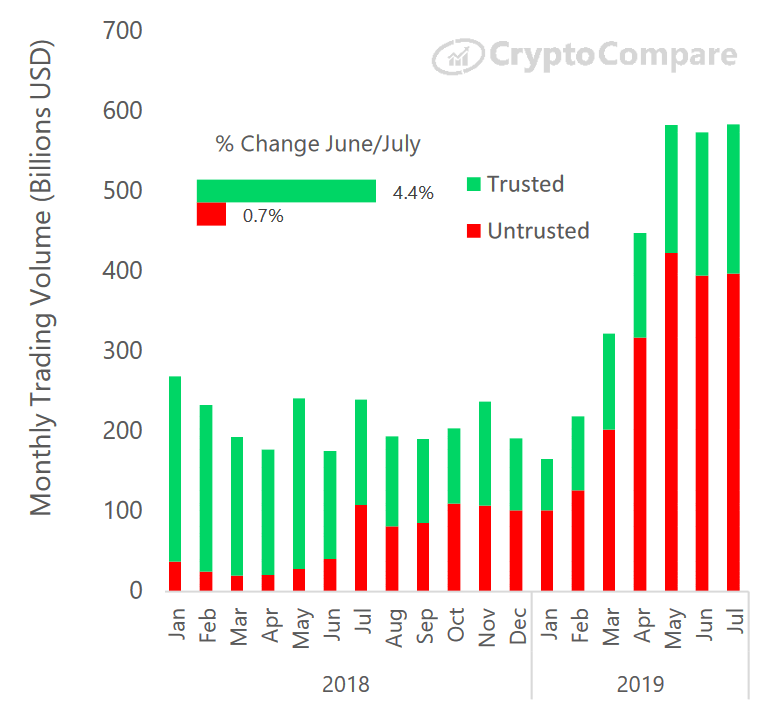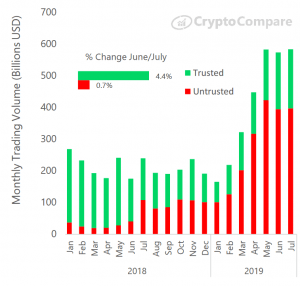 The lower quality (again, according to CryptoCompare) exchanges also have the largest average trade size. To be precise, "LBank, Coinsbit and CoinBene had the largest average trade sizes (bitcoin–tether markets) relative to other exchanges with an average of 3.7, 1.6 and 1.1 BTC respectively," says the report, adding that compared to the AA-rated Coinbase, trade size on the D-rated LBank was on average 15 times higher. But when it comes to trade count, while LBank traded an average of 25,000 trades per day, Coinbase traded over 100,000 trades per day.
Furthermore, with over USD 45 billion traded, up 42% since June, it's LBank that topped crypto-to-crypto exchange volumes, overtaking OKEx and Binance. Next on the list are OKEx at USD 43.9 billion (up 30%) and CoinBene at USD 39.3 billion (up 3.29%).
The number one exchange by total volume was Bithumb, with USD 20.4 billion, which is a rise of 46.4% since June, and it's followed by Coinbase at USD 12.5 billion USD (down 2%) and Bitfinex at USD 9.35 billion USD, both down by 2% and 15.2% respectively.
Another finding is that, despite the investigation by the U.S. Commodity Futures Trading Commission, the news of which reportedly caused net outflows on BitMEX to spike to USD 73 million, "total monthly volumes were largely unaffected" and trading activity increased 5.51% since June.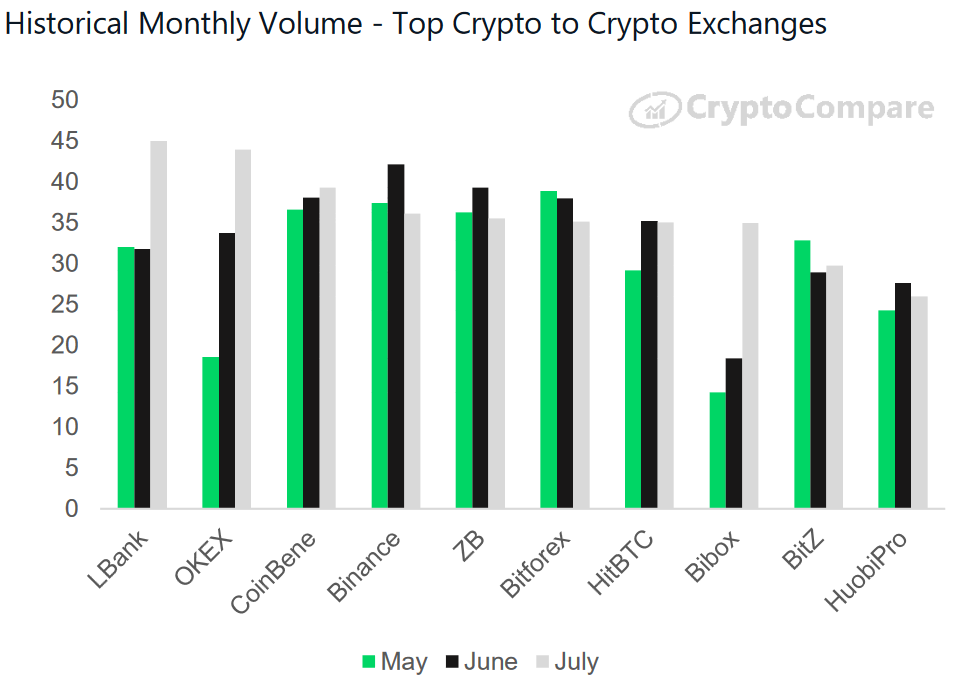 __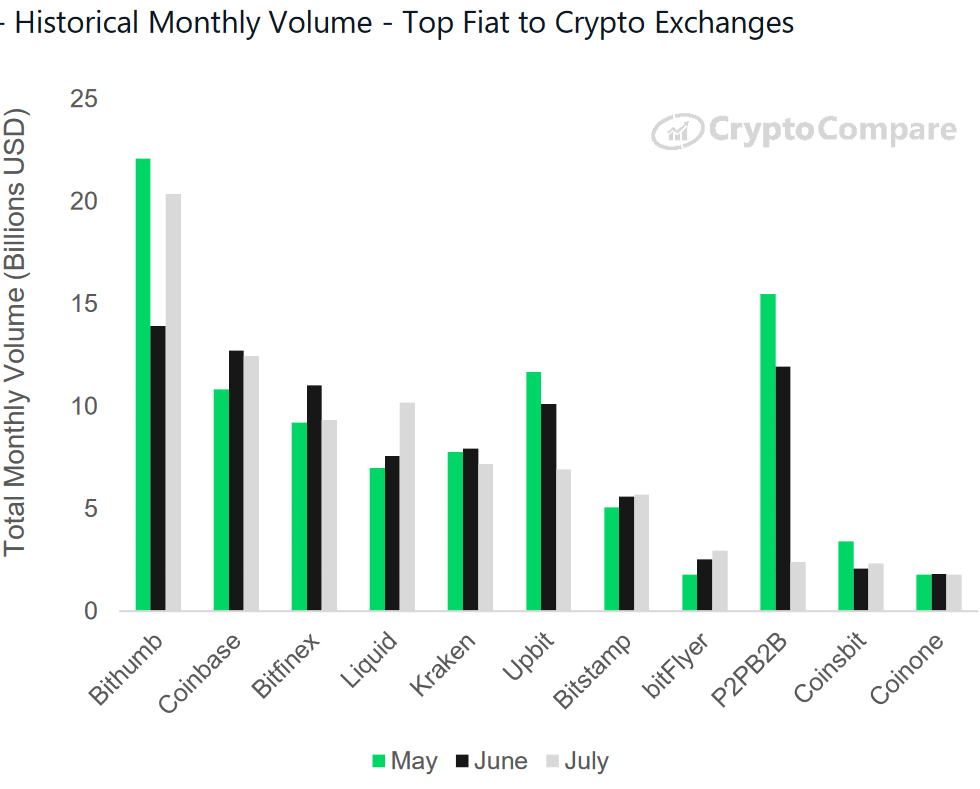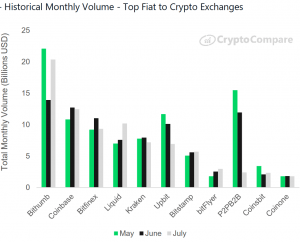 ---