Top 7 Bitcoin & Crypto Mining Stocks You Could Add to Your Stock Portfolio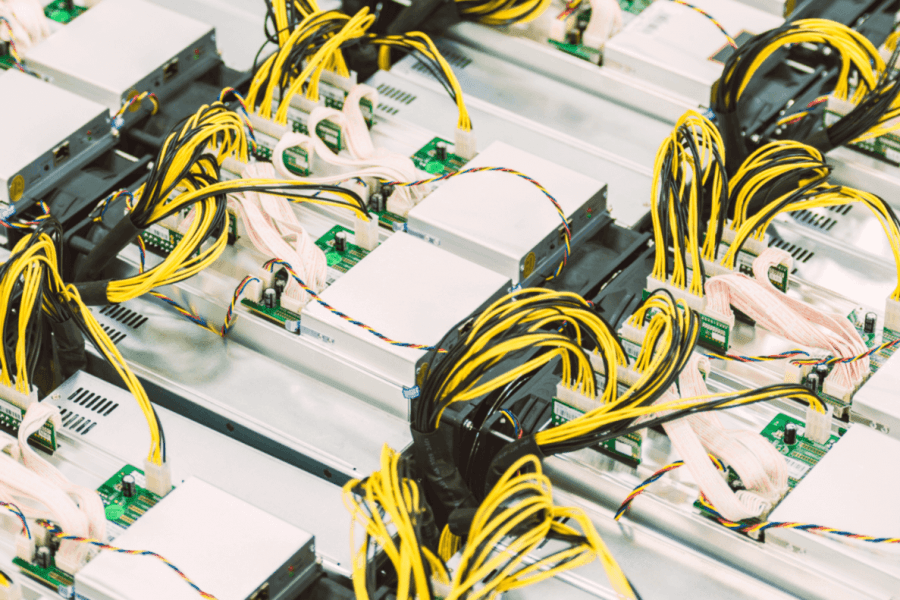 With the price of bitcoin (BTC) pushing for yet another all-time high before its latest drop, and with the recent shake-up in hash power distribution following China's bitcoin mining ban last summer, bitcoin mining operations have been enjoying substantial profits.
Adding a bit of exposure to bitcoin mining companies could, therefore, be the right play for equity investors who would like to add bitcoin exposure to their stock portfolios.
Read on to discover a list of promising bitcoin and crypto mining stocks.
Top Bitcoin & Crypto Mining Stocks
Currently, you can buy shares in a handful of mining companies trading on exchanges in the US, Canada, and Europe.
On the list below, you will find seven leading bitcoin and crypto mining stocks highlighted based on market capitalization, price performance, and industry relevance.
Nvidia Corporation
Nvidia is one of the most important companies in the crypto mining industry. The company itself doesn't mine. Instead, Nvidia produces General Processor Units (GPUs) that are often used in ethereum (ETH) mining operations.
When crypto mining started to take off, Nvidia's GPUs - which were initially used primarily for gaming - supported the Bitcoin mining process. Today, however, the company sells a GPU that is dedicated to mining, embracing its crypto clientele. Nvidia currently has a market capitalization of around USD 767.32bn.
Hut 8 Mining Corp
Hut 8 is one of the largest holders of self-mined bitcoin in North America. The company's mine-and-HODL approach has helped the stock to climb substantially in 2021.
The bitcoin mining company is based in Canada and was listed on NASDAQ in June 2021. In Q2/2021, Hut 8 had a revenue increase of 263.5% from the previous year while at the same time increasing its operating income by 230% to CAD 8.12m (USD 6.35m). It's current market capitalization is CAD 1.99bn (USD 1.56bn).
HIVE Blockchain Technologies
HIVE Blockchain Technologies is another bitcoin mining company you could add to your stock portfolio.
The company has its headquarters in Vancouver, Canada, and has mining operations in Sweden and Iceland. In 2017, HIVE became the first crypto mining company to be publicly traded, listing on the Toronto Venture Exchange and later on NASDAQ.
Mining farms by HIVE make the company stand out because of its efforts to utilize green energy in its operations. The company's sustainable business model also involves the strategic placement of its facilities in places with cooler temperatures.
HIVE has recently purchased 6,500 bitcoin mining machines, which has the potential of increasing their bitcoin mining capacity to 3 EH/s by March 2022. The company has a market capitalization of USD 1.55bn.
Canaan
Canaan helps bitcoin mining companies to increase their mining capacity by providing them with crypto mining hardware.
The technology company focuses on producing ASIC high-performance computing chip design, carrying out chip research and development, producing computing equipment, and providing software services.
In 2018, the company released two products that brought positive change to the bitcoin mining process - the world's first 7nm ASIC chip and the RISC-V architecture commercial edge AI chip. The ASIC chip increases energy efficiency in the mining process, while the RISC-V chip further enhances the ASIC's potential in making computing efficient.
In Q2/2021, Canaan reported a record-high revenue of USD 167.5m and currently has a market capitalization of USD 1.03bn.
Northern Data
Northern Data is a German technology company based in Frankfurt that provides high-performance computing solutions used in various fields such as machine learning, big data analytics, online gaming, and bitcoin mining.
In September 2021, Northern Data acquired Bitfield - a bitcoin mining company where it gained an equity interest of between 86% and 100% - to expand its bitcoin mining business. The company also plans to deploy a total of 26,000 brand-new miners in Canada and the US by Q2/2022. Northern Data currently has a market capitalization of EUR 2.21bn (USD 2.5bn).
Bitfarms
Bitfarm is a Canadian bitcoin mining company operating computing centers in Quebec. Bitfarms also owns Volta Electrique, a company solely dedicated to providing renewable energy to Bitfarm, which powers 99% of its bitcoin mining activities.
The company, which is considered as one of the largest bitcoin miners in the US, has mined BTC 2,750+ in 2021 and plans to achieve 3 EH/s power by the first quarter of 2022 and 8 EH/s by end of the same year. This will partly be facilitated by their goal to construct two more facilities, which will have the potential of adding 78 megawatts to their total capacity. Bitfarm currently has a market capitalization of CAD 1.54bn (USD 1.22bn).
Marathon Blockchain (MARA)
Marathon Blockchain is working towards the goal of energy preservation and efficiency to increase bitcoin mining. Located in Las Vegas, USA, MARA operates one of the largest mining operations in North America.
The company also runs a mining pool known as 'MaraPool', allowing crypto miners to combine computational resources to increase their mining revenues. MaraPool is audited by a third party to ensure security and transparency.
As of November 2, MARA has had about BTC 7,453 with a mining fleet of 27,280 active miners producing up to 2.96 EH/s. In 2022, the company expects to have about 133,000 operational miners generating 13.3 EH/s. Marathon currently has a market capitalization of USD 4.27bn.
____
Learn more:
- Chinese Crypto Mining Crackdown Turns Focus to PC Rooms and 'Home Miners'
- Elizabeth Warren Questions Bitcoin Miner

- Paraguayan Senate to Debate Taking Bitcoin Mining 'Out of the Grey Area'
- Russian Governor Who Slated Miners in October Now Plans to Welcome Them

- Major Swedish Power Company Defends Bitcoin Mining as Regulators Propose Ban
- Paraguay, Argentina Are 'Targets for Crypto Miners', May Provide Green Bitcoin Solution
---