Ripple: Why Bitcoiners Hate It And Banks Work With It
Within the cryptocurrency community, new projects are usually met with interest as well as scrutiny. However, when it comes to the blockchain-based company Ripple, many in the bitcoin community regard it with hostility. This is in stark contrast to the support the blockchain project has received from a significant number of traditional financial institutions.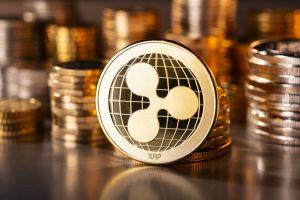 What is Ripple?
San Francisco-headquartered Ripple is a company that seeks to harness the power of blockchain technology to develop a platform through which real-time payments can be made in a fast and secure manner. The company created the platform specifically for banks and other financial institutions. The project refers to itself as the "world's only enterprise blockchain solution for global payments."
The company has developed the payments network RippleNet, through which financial institution, such as banks and payment providers are able to stay connected to each other to engage in interbank payments. Through RippleNet it is possible to transfer fiat currency as well as access orders in an easy, fast, secure and cheap manner. There are three products available for interested parties, each with different capabilities and specifications. These are xCurrent, a banking payment solution, xRapid, a source of on demand liquidity, and xVia, used by businesses to plug into RippleNet to send payments.
RippleNet is based on the Ripple Protocol consensus algorithm (RPCA), which is a network of distributed consensus ledgers that are validated by trusted nodes. This differs from the blockchain that underlies the Bitcoin network. The native cryptographic token of the project is called Ripple and is denoted as XRP.
XRP price chart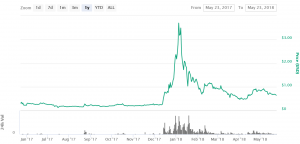 Why do banks work with Ripple?
Traditional financial institutions have demonstrated their support for the Ripple project. Currently, there are over 34 institutions, banks, and other financial service providers, such as Standard Chartered Bank and American Express, who are using one of the three Ripple products. This is a relatively large number with regard to adoption of blockchain technology in the traditional finance sector.
Financial institutions believe in Ripple because of a number of reasons. Firstly, it is fast and able to scale. The platform is among the fastest currently as it settles payments in a mere four seconds. Moreover, it is able to process up to 1,500 transactions per second (TPS). The settlement speed is a factor that banks see as an advantage because this results in greater customer satisfaction. Furthermore, the TPS value means the platform is able to support a large number of users which is where many digital currencies, such as bitcoin, are unable to effectively function and deliver.
Secondly, transferring money between banks is not a cheap affair with banks spending a large amount in fees. The use of Ripple platform can help them reduce the cost associated with these transactions through the use of its native digital currency XRP. Moreover, the platform supports cross-currency payments, which means that it is possible to change currencies within a transaction while still maintaining speed and cost-effectiveness.
Thirdly, the Ripple network provides financial institutions with the added security of a verifiable record. This reduces conflicts and other undesirable activities such as fraud. Lastly, the Ripple network can provide new revenue streams for the institutions as they may be exposed to new markets that they can conduct business in.
Why is the bitcoin community so hostile towards Ripple?
During the creation of Ripple's native cryptographic token XRP, 100,000,000,000 units were created. While some of the units were distributed to individuals and institutions, Ripple currently owns and controls over 50% of the total unit supply. This fact has made the company come under fire with accusations of centralization. Due to the large amount the company controls, they are theoretically able to manipulate the price of the token, which is an undesirable outcome for investors within the community.
In an effort to diminish these fears, the company introduced the concept of escrows where the units held by the developers will be kept safe through a smart contract with one billion XRP being released monthly for use by the company in order to fund its activities. However, it has done little to reduce these fears as the units will eventually fall into the hands of the developers.
Moreover, Ripple's distributed ledger uses a network of validators to achieve consensus. However, many believe that consensus should not be the purview of only some nodes but should be open to all who seek to join. In order to ensure the survival of the project even if the company should fail, approved validators have been added to the platform, some of which include the Massachusetts Institute of Technology, and a tech giant Microsoft. However, many of the addresses on the list are private and it is the worry of some that these may be controlled by Ripple, which is in contrast with the principles of decentralisation that bitcoin introduced.
On one of the internet forums, David Schwartz, the chief cryptographer at Ripple, explained that this is a matter of practicality but will change as time goes by saying:
"As it happens, much of the network infrastructure is run by us today. But we are more than happy to turn that over to others who are willing to do it."
Another criticism is the fact that only one of its products (xRapid) requires the use of the XRP token. While the number of financial institutions that use Ripple products is large, only a few use the xRapid protocol. This means that the adoption of the platform does not necessarily affect the value of the token. The company argues that this was by design. However, for some crypto community members question why the platform needed a token if the platform works just as well without it.
Also, some believe Ripple should not refer to itself as a blockchain because of its use of distributed validating servers.
Finally, many members of the bitcoin community who were attracted to the digital currency as it allows users to "be their own bank" have a strong dislike towards Ripple as it is using bitcoin's technology to help banks instead of disintermediating them. Since many bitcoiners have an anti-big banking attitude, there is little love for Ripple in the community.
Conclusion
While Ripple is a polarising project, with its market capitalization at around USD 28 billion it is the third largest cryptocurrency in the market today. Furthermore, Ripple is well positioned to become the go-to banking blockchain network as it has first-mover advantage and has already experienced substantial uptake in the financial industry.
While the project differs strongly from its predecessor bitcoin and has attract a significant amount of negative scrutiny, based on its performance, it is likely that Ripple (XRP) might stay in the market.
---