How to Make an NFT for Free & Sell It: A Beginner's Guide
Disclosure: Crypto is a high-risk asset class. This article is provided for informational purposes and does not constitute investment advice. By using this website, you agree to our terms and conditions. We may utilise affiliate links within our content, and receive commission.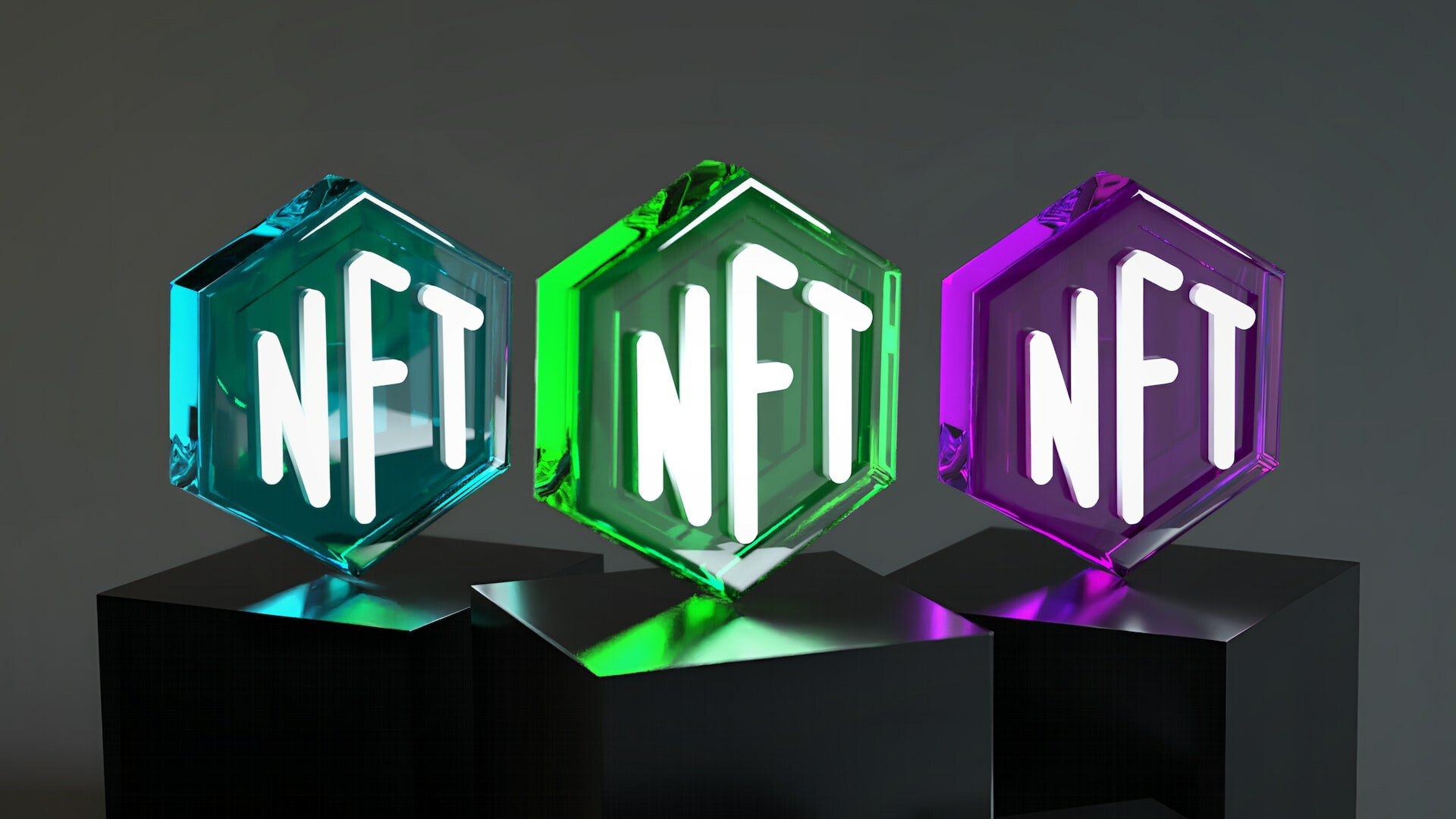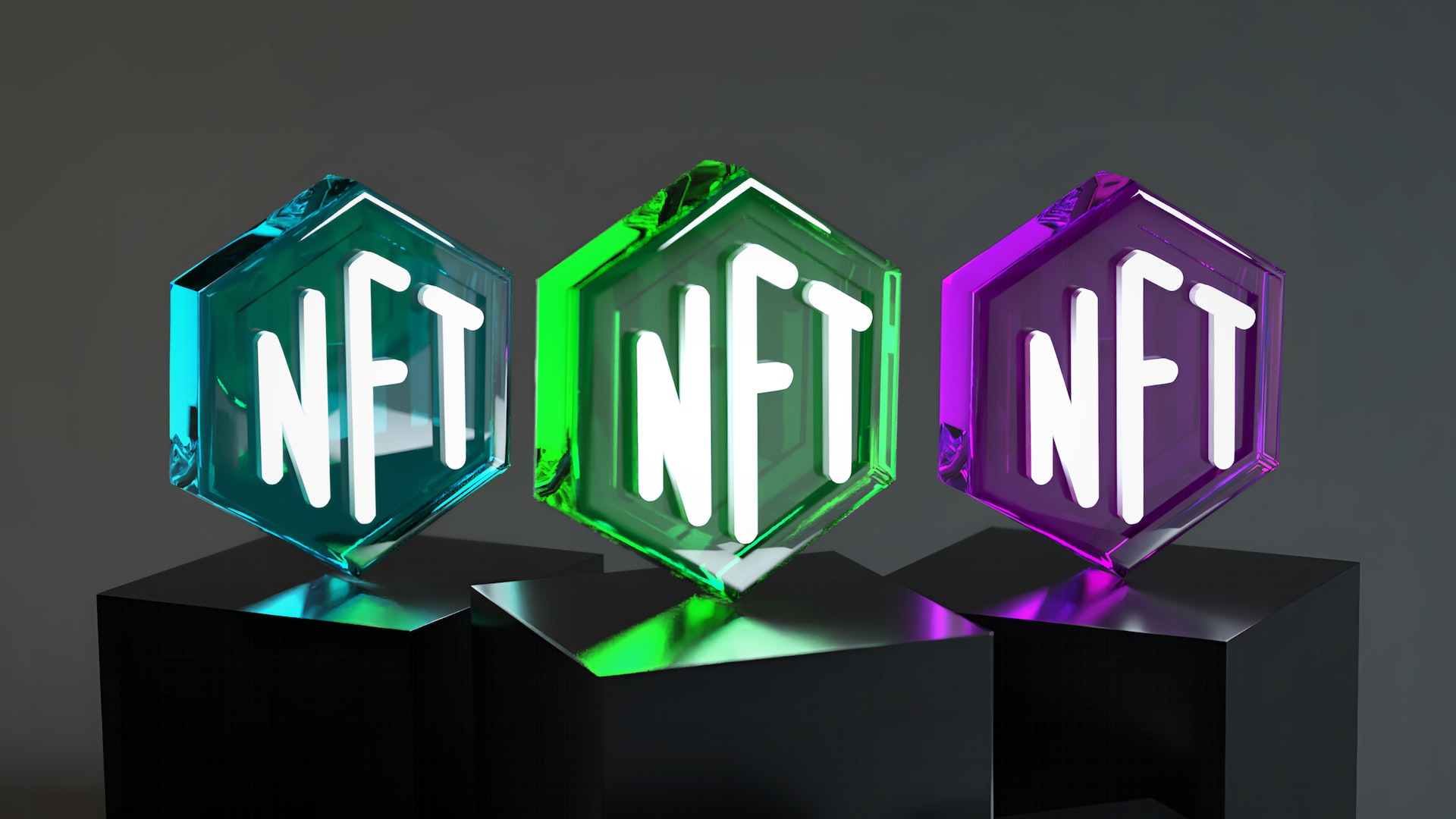 Making money by creating and selling NFTs has become alluring for digital creators looking to earn a living. High minting fees have, however, become a deterrent, creating a barrier to entry for artists and creators who can't afford them. Fortunately, you can now make an NFT for free and sell it on leading marketplaces. Read on to find out how!
What's an NFT?
An NFT (non-fungible token) is a unique digital asset that "lives" on a blockchain, enabling verifiable digital ownership for a wide range of different items and assets. Unlike cryptocurrencies, which are divisible and interchangeable, each NFT is one of a kind.
NFTs can be used to represent different digital and physical items, from digital art, real-world art, music, collectibles, investment assets, and more.
NFTs are created (minted) and stored on a blockchain like Ethereum, BNB Smart Chain, or Solana. This allows them to be easily bought, sold, or traded on different exchanges or NFT marketplaces.
One of the main benefits of NFTs is that they are unique and cannot be replaced, making them ideal for collectibles, gaming, and other use cases where uniqueness is important. NFTs also have the benefit of being stored on a blockchain, which makes them secure, transparent, and easy to trade.
Since NFTs can help to create value when they are sold in exchange for cryptocurrencies, they have gained popularity as a way to earn income. This has opened doors for creatives around the world to showcase their work, earn royalties from them and, avoid exploitation by intermediaries. As such, any artist, including beginners, can create and sell NFTs online (even for free).
Read on to learn how you can create and sell an NFT using Rarible, one of the top NFT marketplaces.
How To Make an NFT for Free and Sell it on Rarible: A Step-by-Step Guide
Creating an NFT on Rarible is easy and only takes a few minutes. Here are the steps you can follow.
When you create an account with a blockchain-based platform, you need to connect your crypto wallet. Your first time using this type of platform might be different from using apps like Facebook and Twitter. Those sites use social media accounts or email to log in. Blockchain-based platforms, however, require you to use your crypto wallet.
Rarible supports a wide range of wallets, including MetaMask, WalletConnect, Coinbase Wallet, Portis, Torus, and MyEtherWallet.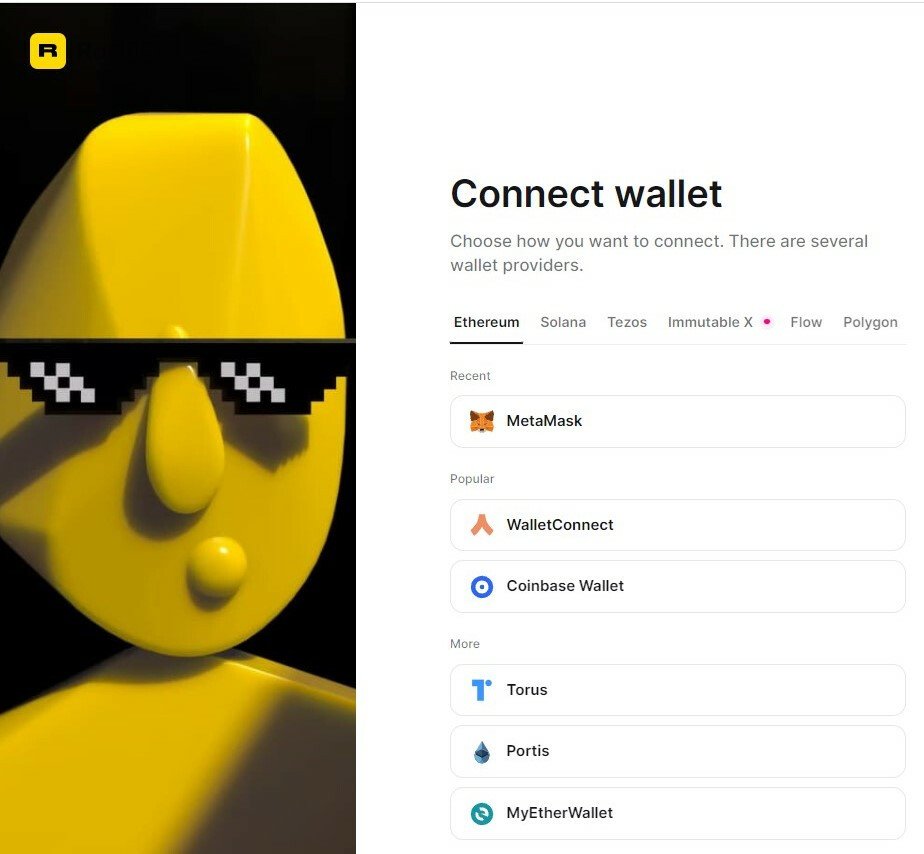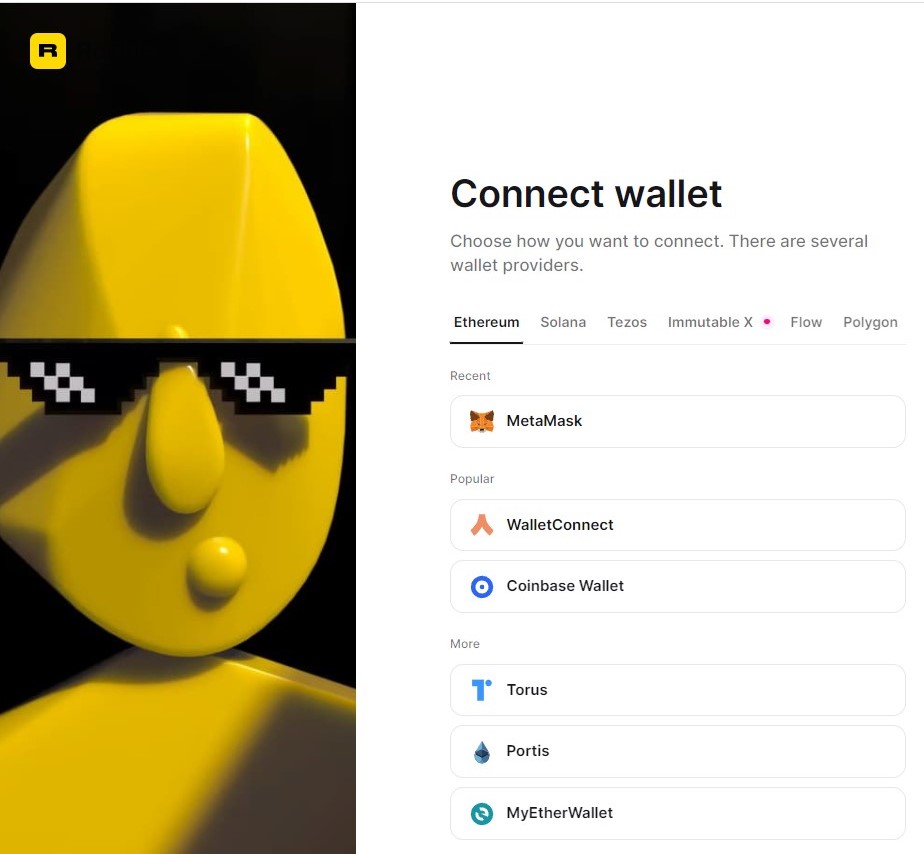 In this scenario, we are going to use Metamask. To connect your MetaMask wallet, go to Rarible.com and click on the 'Connect Wallet' Tab at the top right corner of the page.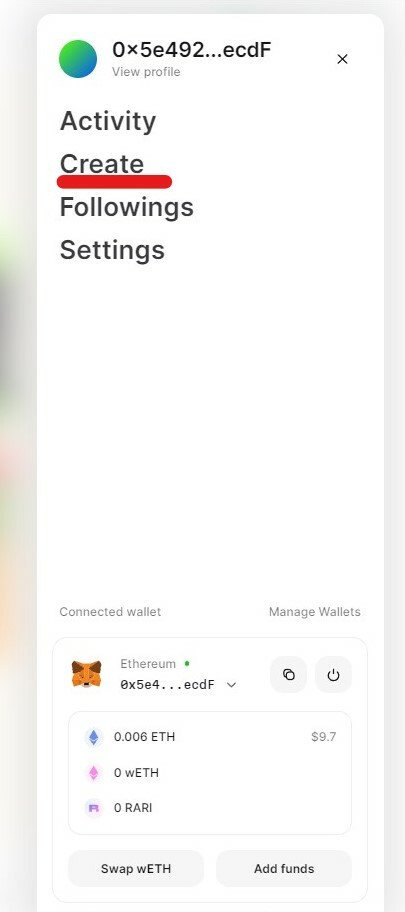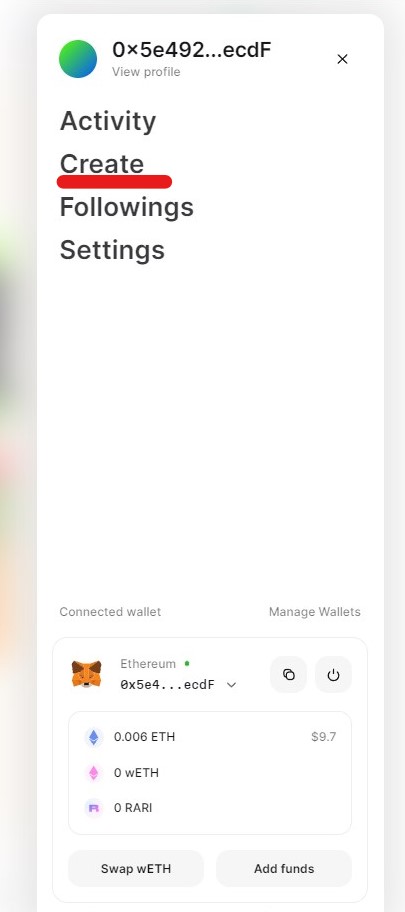 After you've chosen a wallet, such as MetaMask, a pop-up window will appear and ask you to approve the request for signing in.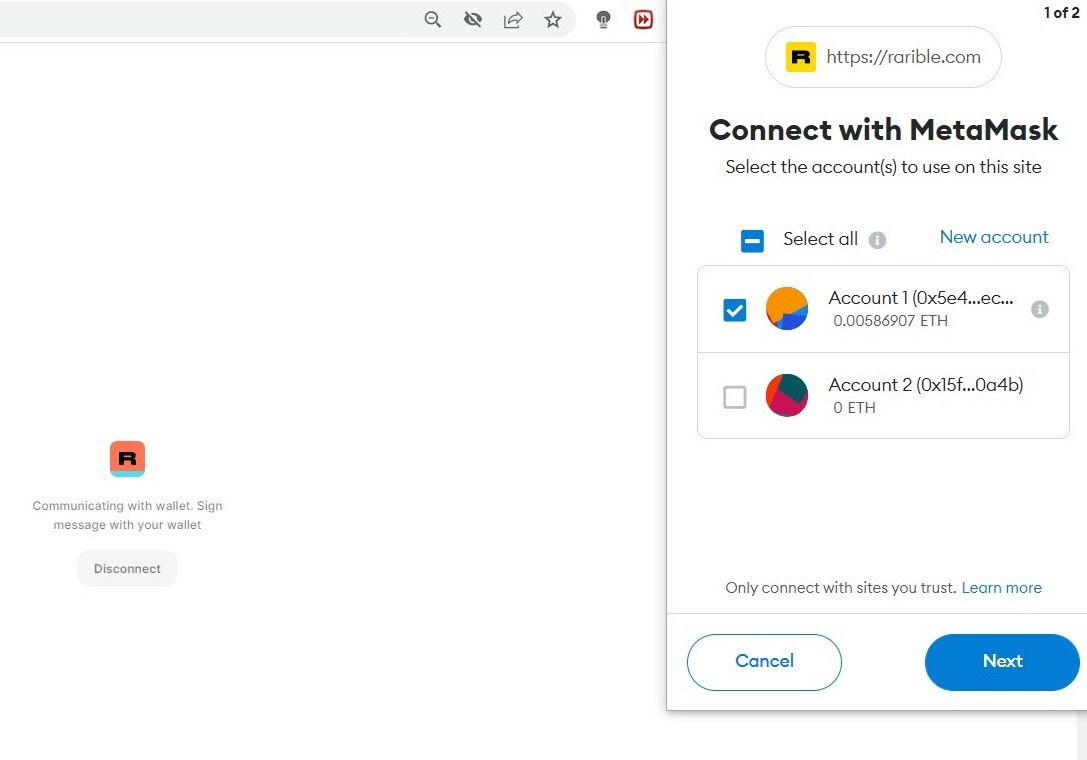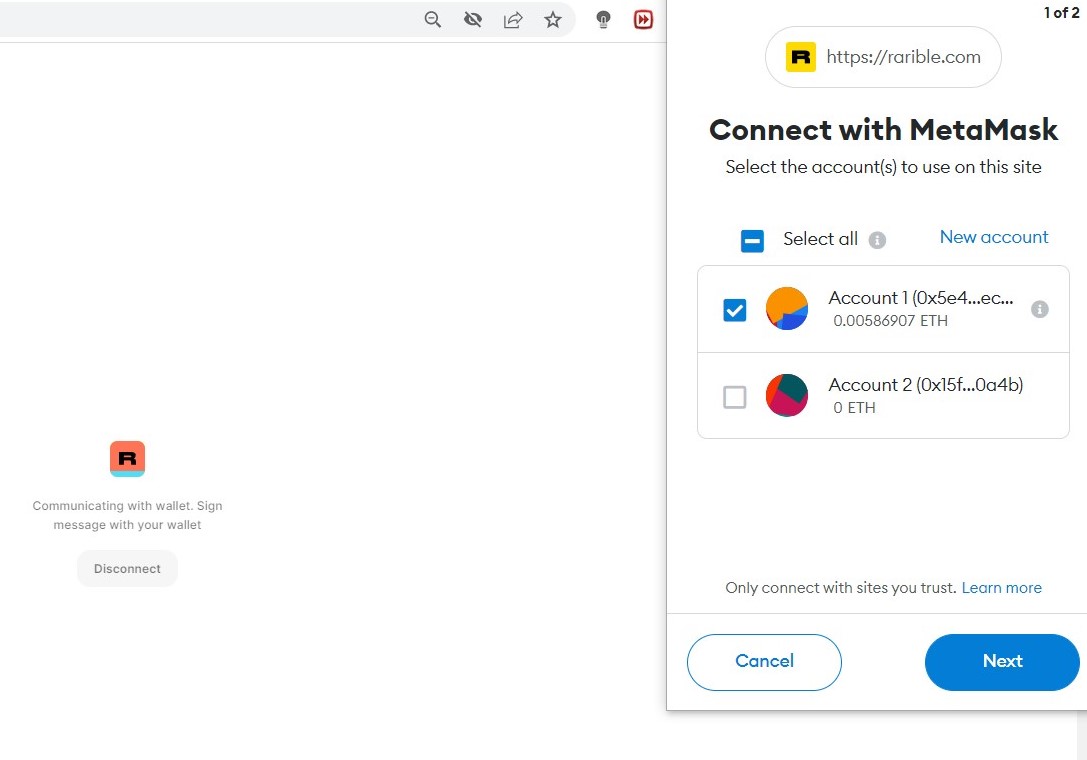 Once your wallet is connected, you'll be able to create your first NFT!
To do this, click on the avatar* at the top right corner of the page, then click the "Create" tab.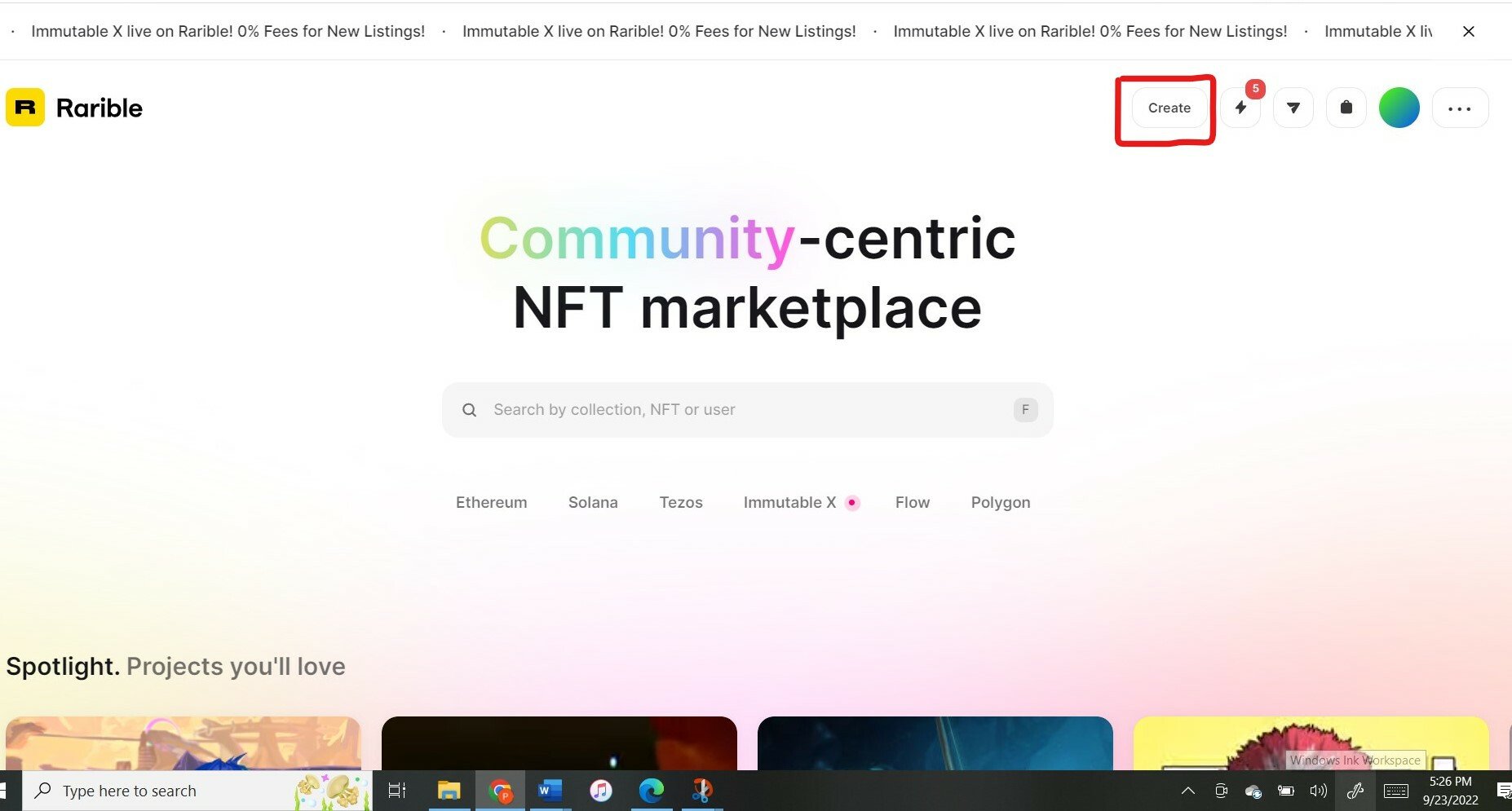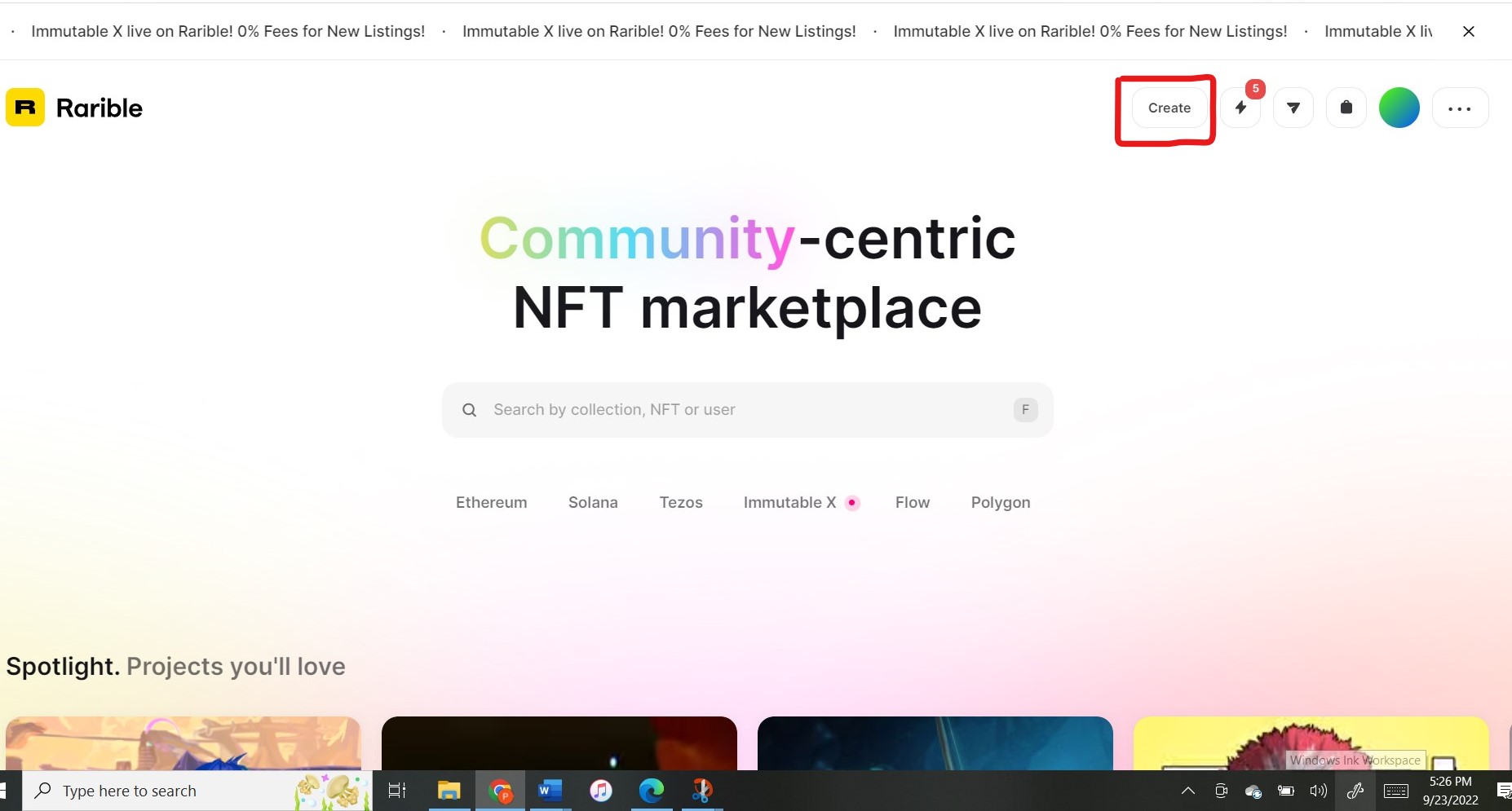 On the next page, you'll be able to choose which blockchain you want to mint your NFT on.
Rarible supports multiple blockchains, including Ethereum, Solana, Tezos, Flow, and Polygon.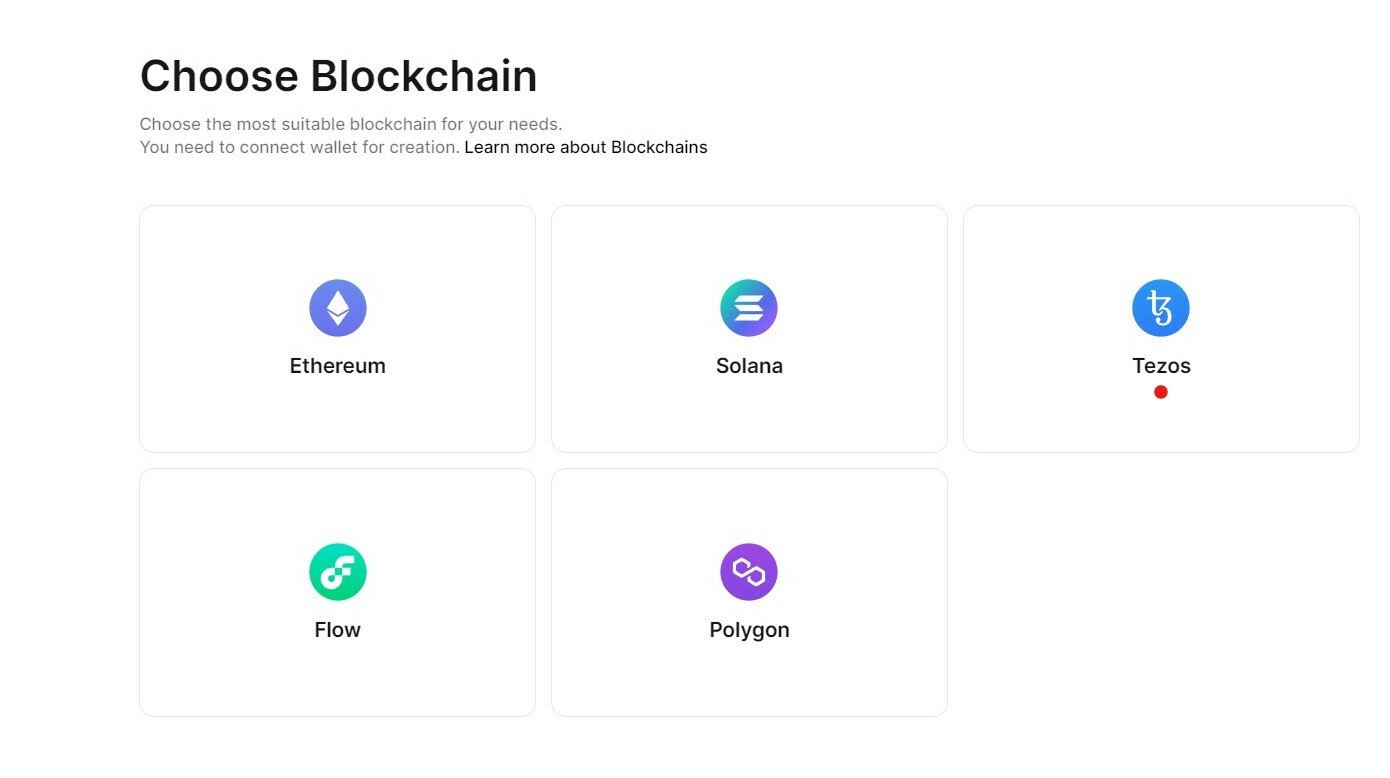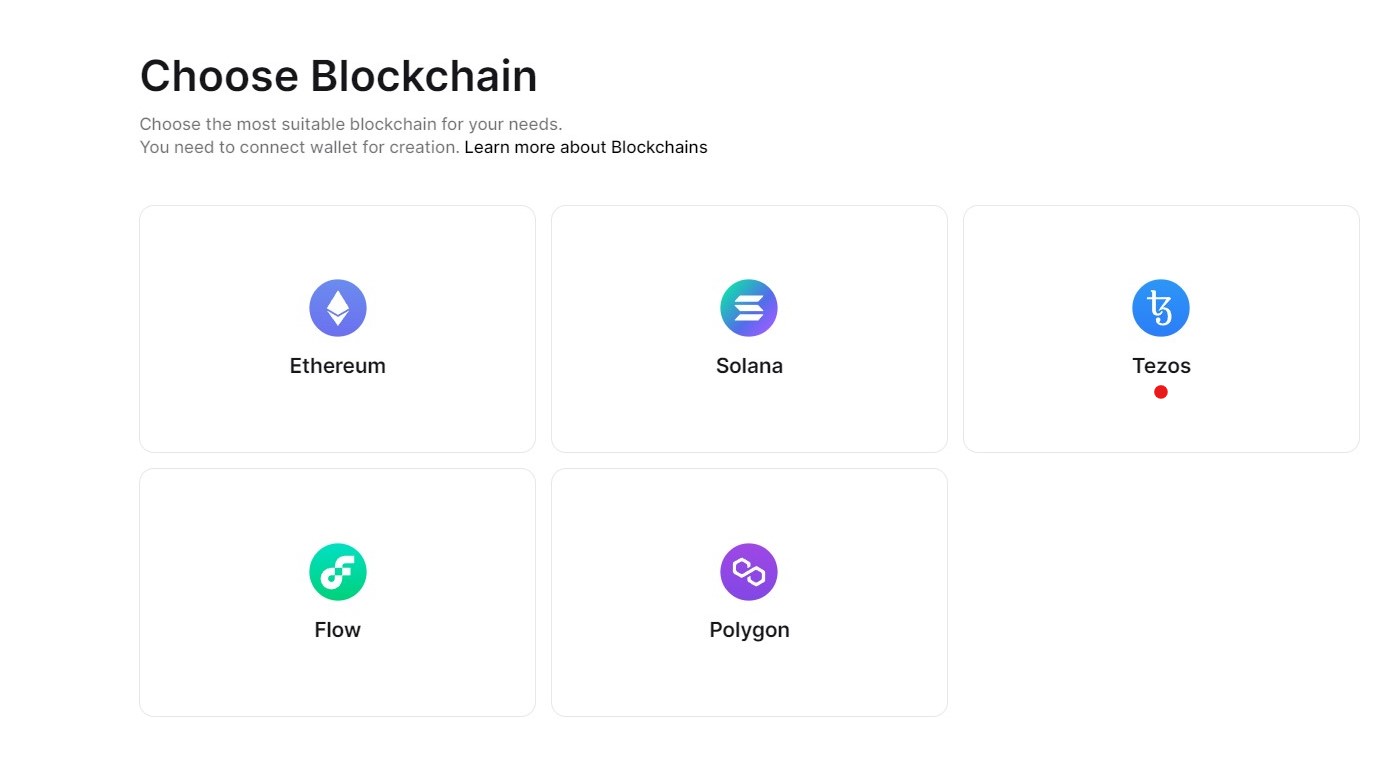 The next step is to decide whether you want to mint a single exclusive non-fungible token or if you want to mint multiple tokens of the same work.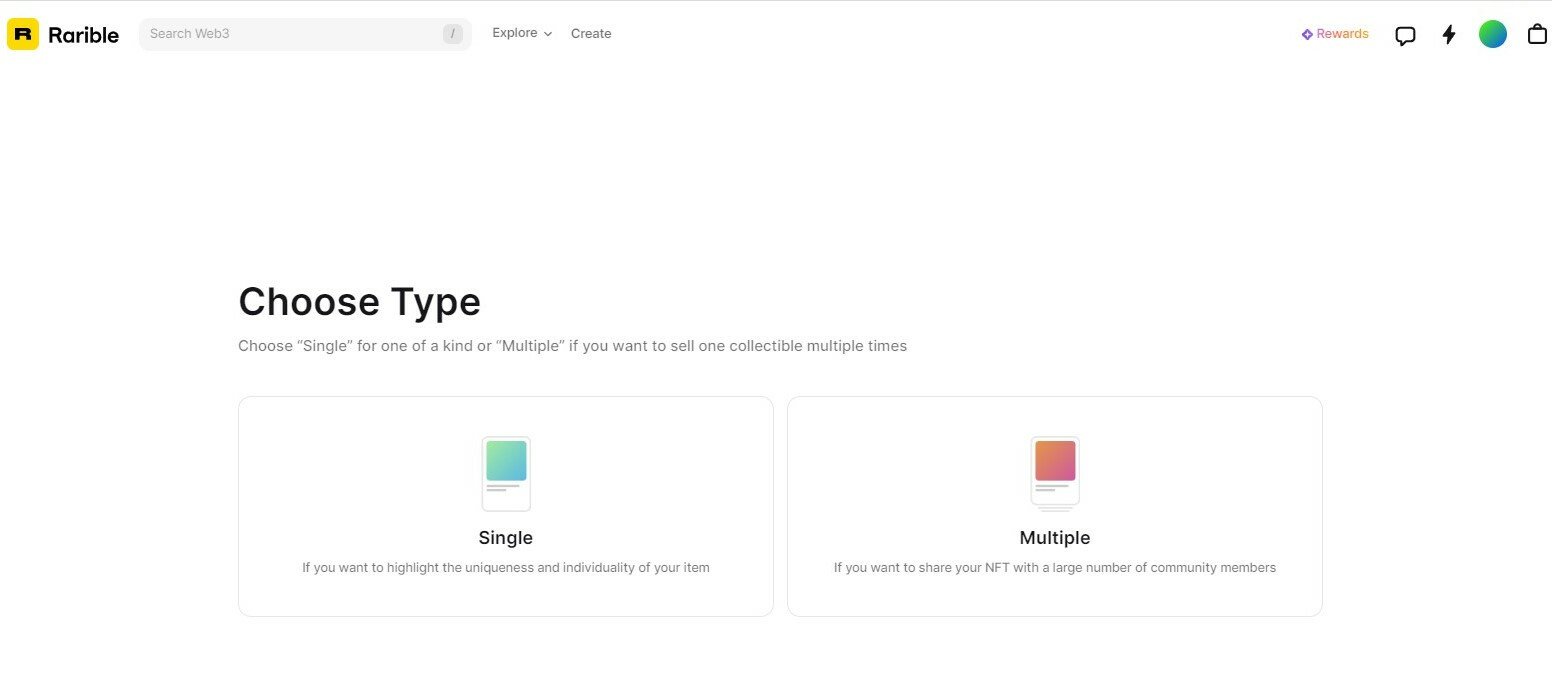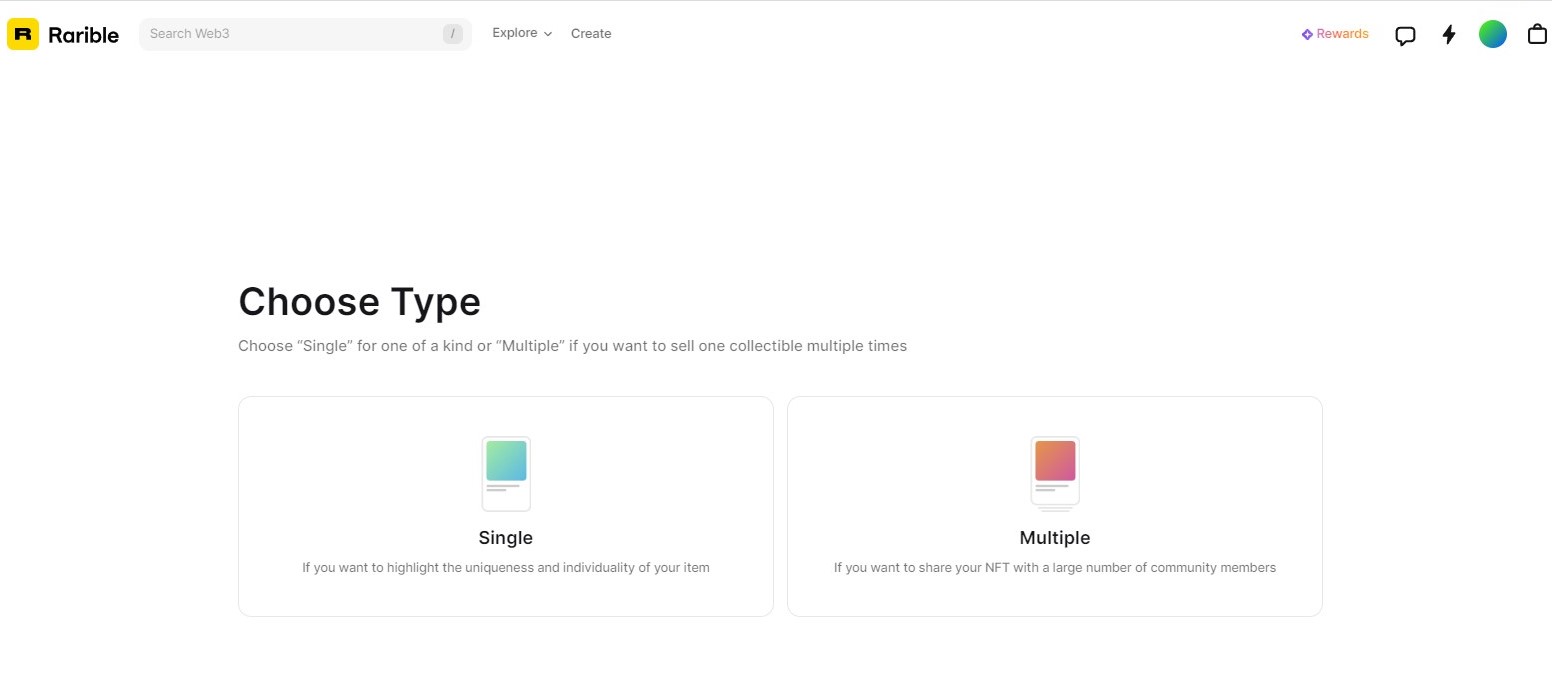 Next, you will need to choose what kind of NFT you want to create. For this guide, we'll be creating an image NFT.
After you've chosen what type of NFT you want to create, you'll need to upload your image. Make sure that your image is in PNG, GIF, or WEBP format and that it's under 100MB in size.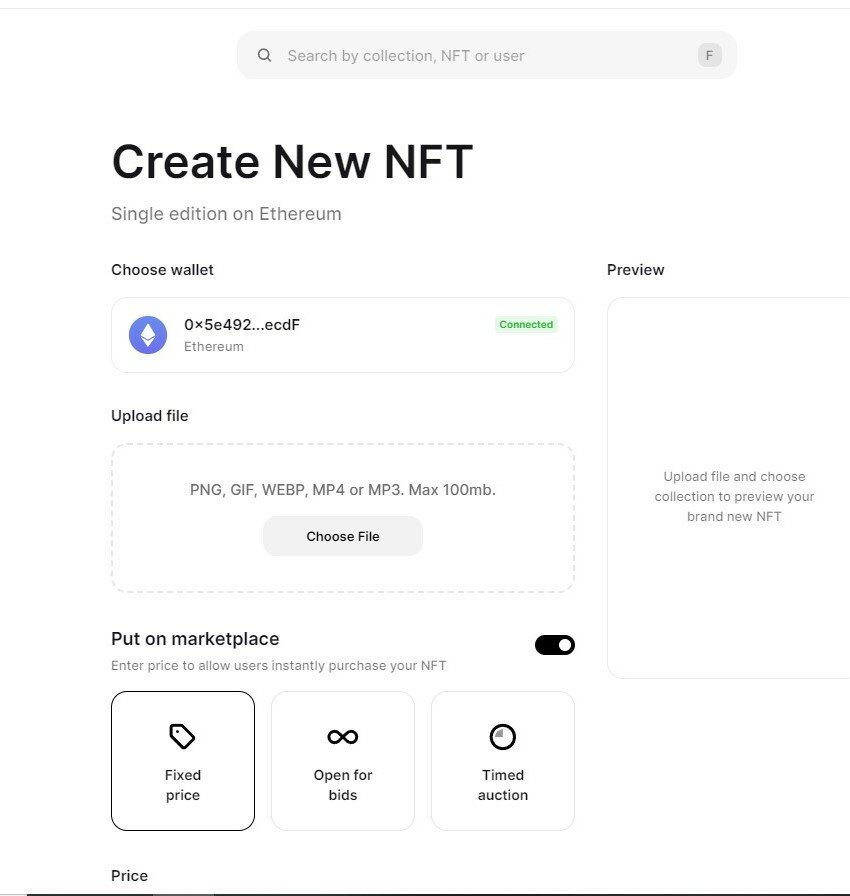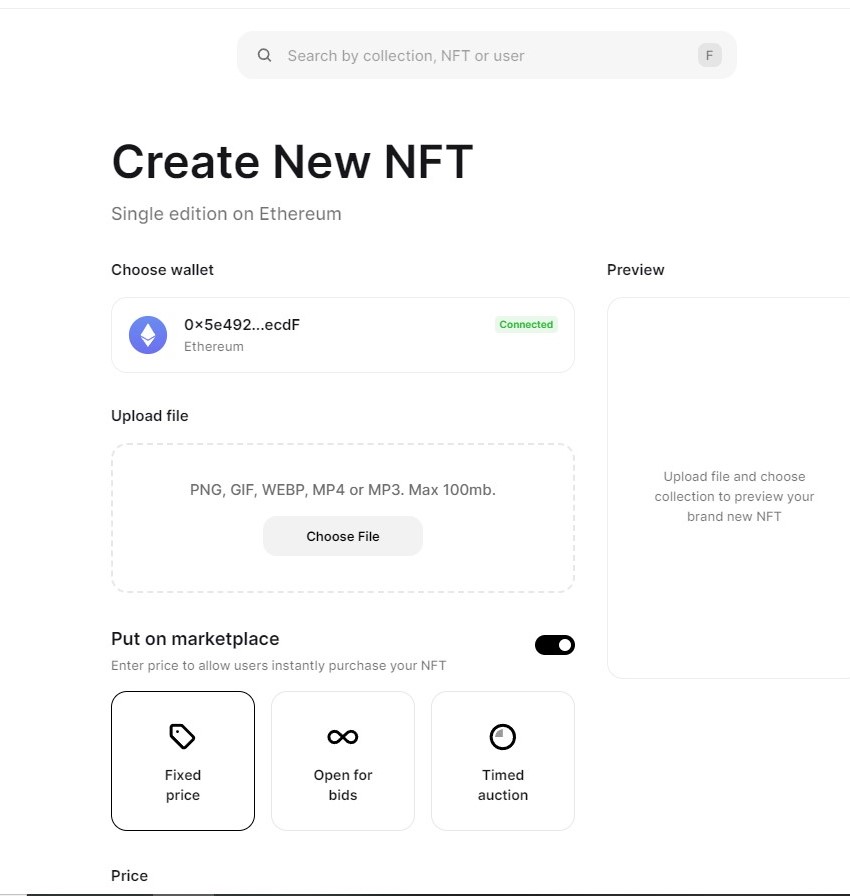 The next steps include filling out the title, description, and type of sale that you would like to offer for your NFT.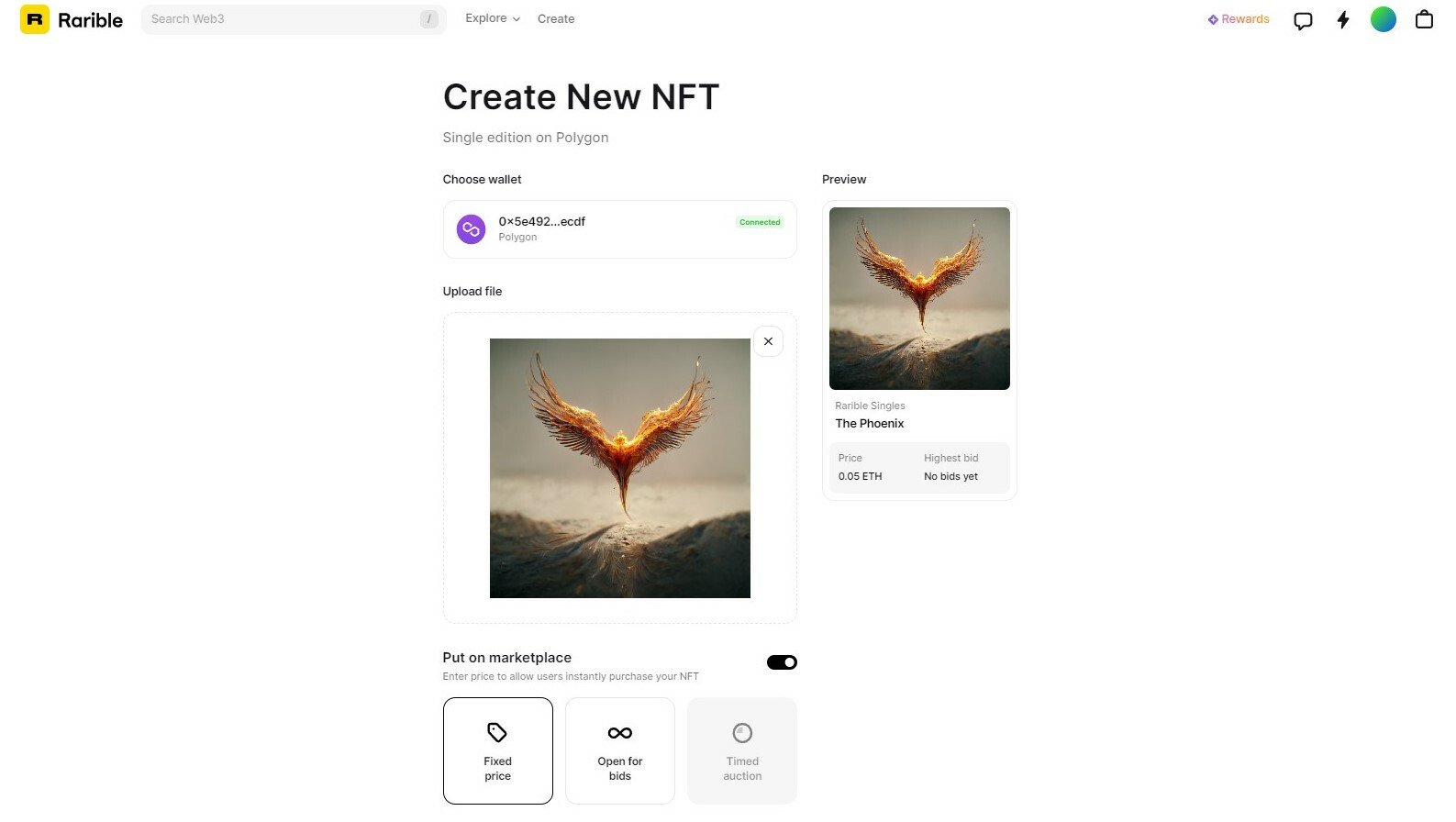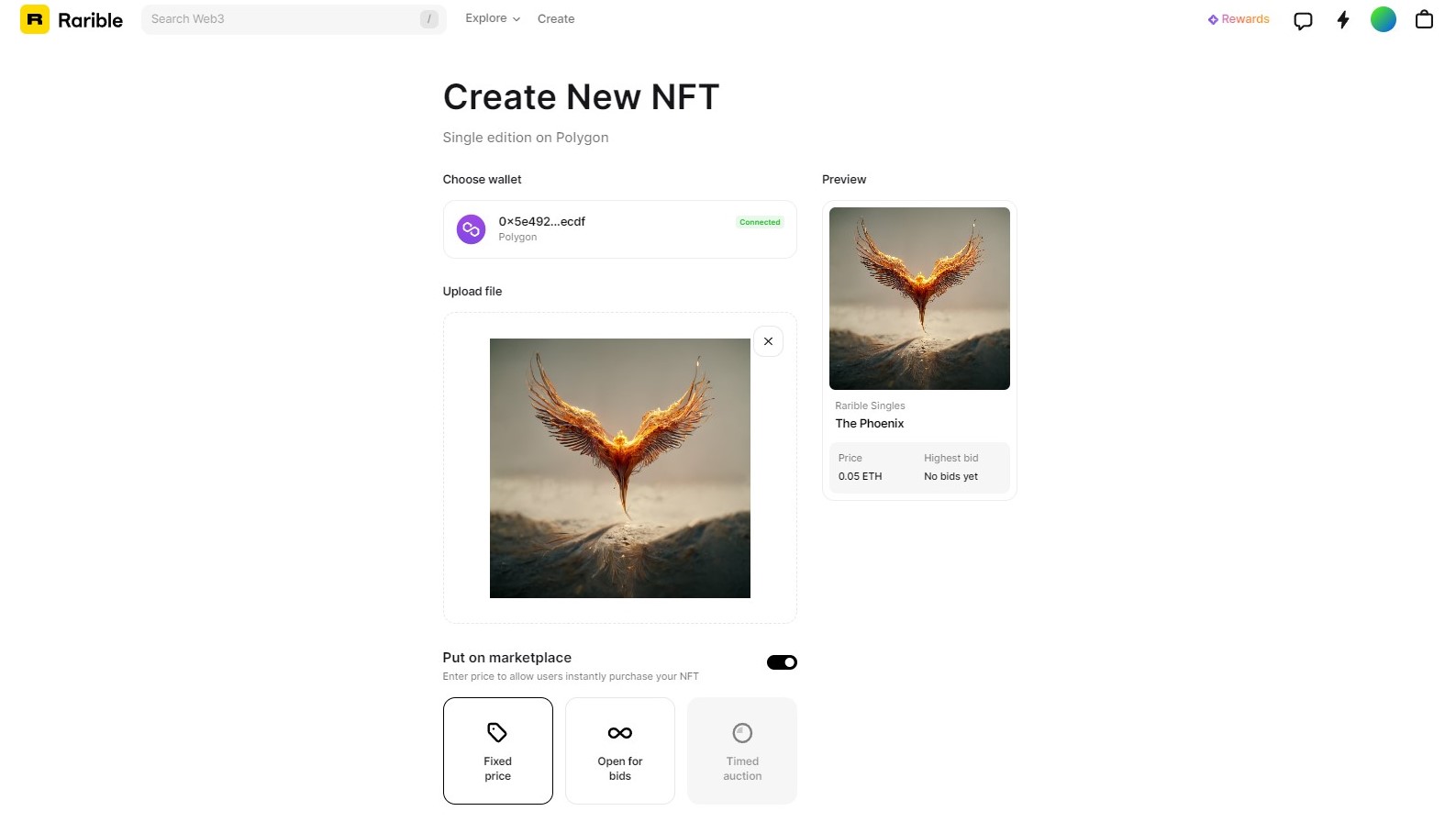 Next, set your royalty price – the amount you will earn for every resale of your NFT.
You can also add any extras like secret links or downloadable content, so your NFT is mintable and ready to be put up for sale.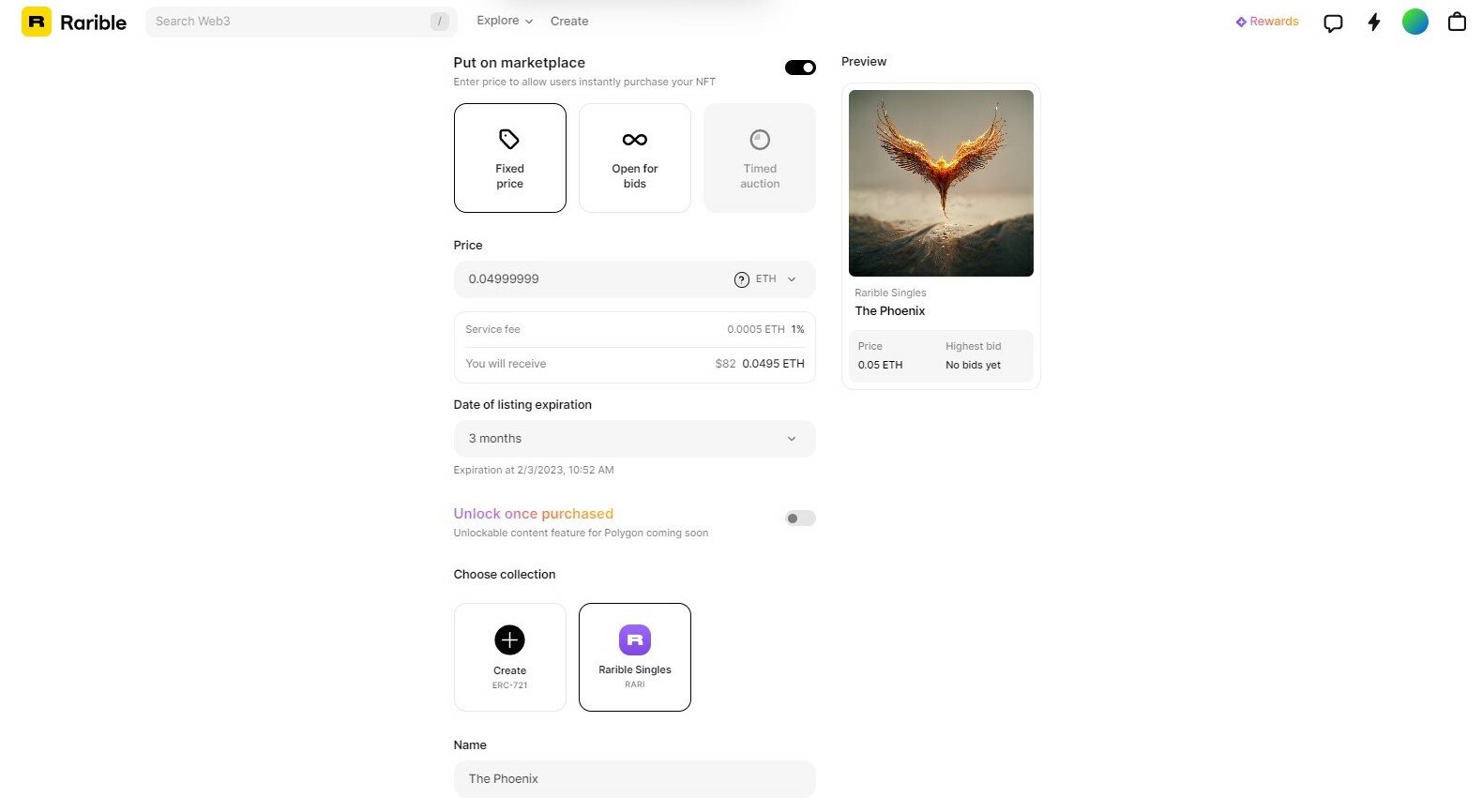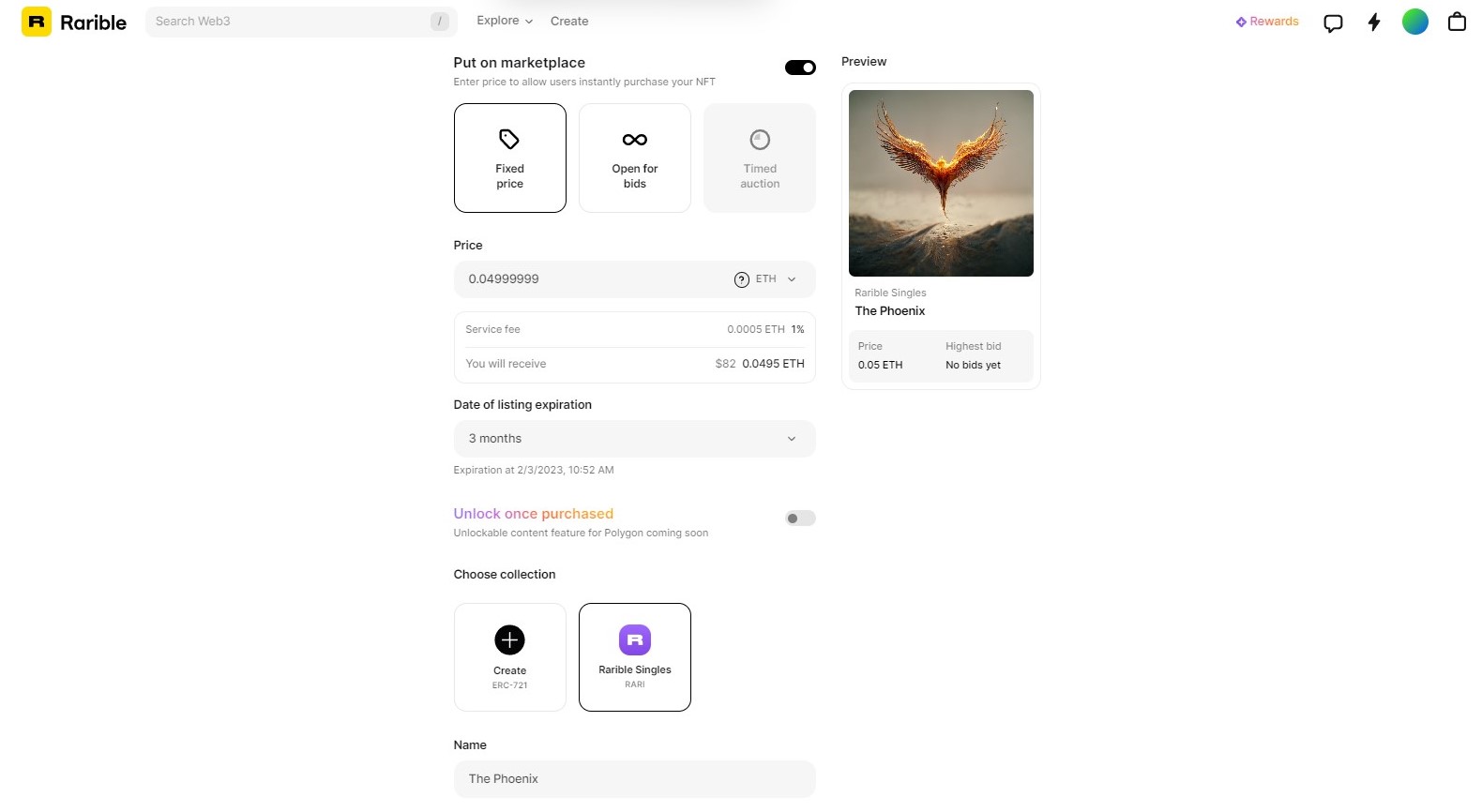 Lastly, you have the option of choosing to mint your NFT at a fee or publishing it for free.
If you publish it for free, you'll pass on the gas fees to the first buyer. This process is called 'lazy minting,' and while it might save you upfront costs now, it will result in a higher price for your NFTs for collectors.
Marketplaces The Allow Gas-Fee Free NFT Minting
Now let's take a look at where you can mint your NFTs for free.
Rarible
Rarible is an NFT marketplace where you can create and sell NFTs. It might be a good choice if you want to sell art-focused or photography-focused NFTs. It supports Ethereum, Flow, Solana, Tezos, Polygon, and Immutable X.
On Rarible, you can sell single NFTs or entire collections. As it supports Tezos, your fees for minting will be low (it costs only $0.5 to mint an NFT). With their "lazy minting" feature, you can also create an NFT for free and have the buyer pay gas fees when they buy it.
Rarible has its native token called RARI. By holding RARI tokens in your wallet, you get to vote on any new items that developers want to be added to the platform.
OpenSea
OpenSea is a popular NFT marketplace that supports all kinds of digital assets, from virtual worlds and collectibles to artwork, photographs, and sound recordings. It's easy to mint an NFT on OpenSea.
OpenSea supports various blockchains, including Ethereum, Polygon, and Klatyn. You can also trade using more than 150 different cryptocurrencies. Since transactions typically occur on Ethereum, expect to pay a higher gas fee on transactions. However, OpenSea recently launched its free minting option. Keep in mind, however, that they charge 2.5% on all transactions on the platform for processing.
OpenSea is currently the largest NFT marketplace on the market. It also allows content creators to charge a substantial 10% royalty fee.
Binance NFT
Binance is a leading crypto exchange with an NFT marketplace that offers excellent opportunities for anyone looking to mint on a well-supported platform.
If you're looking for an alternative marketplace with lower fees, Binance NFT may be what you need. It charges only 1% per transaction and gives you the option to cash out your funds in fiat currency. If you already own Binance tokens (BNB), buying and selling on the marketplace gets even easier due to the native support.
To trade on Binance NFT exchange, you need to use BNB, BUSD, or ETH. And because of its massive size and excellent partnerships with creators of new tokens, Binance NFT has become an excellent and suitable place to launch your first NFT.
Binance charges 0.005 BNB to mint an NFT on its platform. However, the first 10 are free to mint.
Nifty Gateway
Nifty Gateway is responsible for some of the largest NFT sales in history. Beeple's CROSSROAD, one of the most expensive NFTs, for example, sold on Nifty Gateway for millions in US dollars.
If you're working on a premium collection, Nifty could be a great place to mint it. Unlike other platforms, Nifty uses "open editions," which creates an unlimited number of variants of your work for a limited time, retailing at a fixed price.
The creator is not allowed to issue any more NFTs once the timer has expired. This creates a high level of exclusivity that leads to increased sales for creators. Additionally, creators can also choose to receive direct payments from the sale of the collection in fiat currency.
Nifty Gateway charges no minting fee for on-platform transactions. In addition, it lists non-fungible tokens that are on sale on external platforms, such as OpenSea.
As you can see, it's easy to make an NFT for free and sell it on a marketplace like Rarible. You can also mint NFTs without having to pay any gas fees on platforms like OpenSea, Rarible, and Nifty Gateway.
---