Crypto Enthusiast's Day-by-Day Guide to Davos
Once again the Swiss mountain resort welcomes one of the most diverse gatherings of people from across the world and across industries – both the elite and the fringe – coming together for the annual World Economic Forum (WEF).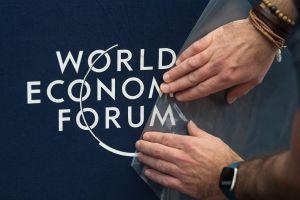 Scheduled for January 21st through 24th, the forum's celebrating its 50th rendition this year, and it'll see a number of major world figures, both established and newcomers, such as the executive director of UNAIDS Winnie Byanyima, president of the European Central Bank (ECB) Christine Lagarde, president of the European Commission Ursula von der Leyen, climate activist Greta Thunberg, International Monetary Fund (IMF) Managing Director Kristalina Georgieva, U.S. President Donald Trump, and many more of the people who run the world. Each year has a different theme, and for 2020, it's sustainable development or "Stakeholders for a Cohesive and Sustainable World".
That said, blockchain and crypto have been infiltrating the event at a rapid pace, though it's questionable if the event considers it mainstream enough to include more of the industry specialists in the "main stage" discussions. Let's take a look at what crypto and blockchain fans can look forward to from Davos this year.
(Are you interested in the main program at WEF? Check these numerous sessions that might be relevant to the whole crypto ecosystem.)
Blockchain Central Davos
For everything blockchain-related, this is your place. The Global Blockchain Business Council (GBBC) is again organizing the four-day Blockchain Central Davos event. This is a side event, so to say, and one that has been growing for several years now. With the rise of the industry itself, it is becoming increasingly difficult for the elites to ignore events such as this one.
This Crypto Davos event offers fourteen sessions to its attendees, plus a private invitation-only event, with thirty-two speakers announced. Among the many partners and sponsors, we find Fidelity Digital Assets, Mircosoft, IBM, Bitfury, Accenture, Odissey, Orbs, Steptoe, Tangem, and more. No live stream links are available as of yet.
January 21
Besides the general networking, meetings, and mingling, four discussions are planned for this day (CET time):
13:00-14:00 "The Revolution of Money Is Here: Are You Ready?," with Senior Managing Director and Head of Accenture's Blockchain Business David Treat, Chairman Emeritus of U.S. Commodity Futures Trading Commission J. Christopher Giancarlo, Vice-Chair and Head of Public Policy and Communications at Libra Association Dante Disparte, Head of Multimedia Content & Executive Producer at Coindesk Joanne Po, and Senior Advisor at FTI Consulting Ed Vaizey.
14:00-15:00 "The Next Breakthrough Technology: Governance," with GBBC Board Chair Tomicah Tillemann, Founder and Executive Chair at Apolitical Lisa Witter, Vice-Chair and Head of Public Policy and Communications at Libra Association Dante Disparte, and Executive Director at Hyperledger Brian Behlendorf.
16:00-17:00 "Tokenization - Moving From Theory to Practice," with Joanne Po, CEO at SEBA Bank AG Guido Buehler, CEO at TokenSoft Mason Borda, Head of Crypto Assets and Blockchain Advisory at Inacta AG Roger Darin, Associate Partner and Head of Volatility Desk at Banco BTG Pactual Andre Portilho, and CEO of Ledger Pascal Gauthier.
17:45-18:45 "Global Transparent Supply Chains," with GBBC Mercina Tillemann, Head of Europe at Everledger Evgeny Gokhberg, Senior Innovation Leader at Procter & Gamble Tanya Stephens, and Head of Development at Gübelin Gem Lab Klemens Link.
There's also the private event with the founder of ConsenSys and co-founder of Ethereum Joe Lubin, Head Risk Management at Bitcoin Suisse David Riegelnig, Managing Director, Capital Markets at Microsoft Sháka Rasheed, and GBBC CEO Sandra Ro at 19:00-21:00.
January 22
There are eight events planned for this day:
10:00-11:00 "Women In Blockchain" Power Hour
13:00-14:00 "Inflection Point: Will 2020 be the year digital assets join the mainstream?," with Joanne Po, Diginex CEO Richard Byworth, Director of the Digital Currency Initiative Neha Narula, COO of Stellar Development Foundation Jason Chlipala, Managing Director at Link Venutures John Werner, and Head of Innovation and Emerging Tech Strategy at London Stock Exchange Group Michael Coletta.
14:00-14:30 Get to Know the "Known Traveller Digital Identity," with Managing Director and Head of Blockchain Identity at Accenture Security Christine Leong, and Principal Director and Unique Identity Services Lead at Accenture Daniel Bachenheimer.
16:00-17:00 "Get to know Hyperledger, the Linux Foundation's Enterprise Blockchain Community," with Joe Lubin, Christine Leong, VP of World Wide Alliances at Hyperledger Daniela Barbosa, Founder and Co-CEO at Soramitsu Makoto Takemiya, and Senior Manager of Blockchain Services at IBM Jason Kelley.
17:00-18:00 "The Prosperity Collaborative: A Davos discussion of building an efficient and fair global taxation system by harnessing innovative technologies," with Tomicah Tillemann, Sandra Ro, Global Tax Innovation Leader at EY Jeff Saviano, Head of Blockchain and Distributed Ledger Technology at World Economic Forum Sheila Warren, and Director at MIT Connection Science Sandy Pentland.
18:00-19:00 "The Digitization of Everything," with Mercina Tillemann, Attorney at Ropes and Gray Marta Belcher, CTO at MIT Connection Science and Engineering Thomas Hardjono, Former Member of Estonian Parliament and Co-Founder of Cachet Kalle Palling, and Digital and IR Director at Sensorium Corporation Alex Blagirev.
There's also the presentation by Global Solutions Leader of Healthcare and Life Science at IBM, Mark Treshock, titled "The End of the Beginning: Pivoting From Today's Blockchains to the 2030s" at 15:00-15:20, followed by Remarks by Alan Boehme, Global Chief Technology Officer, Procter & Gamble at 15:30-16:00.
January 23
Five events await the participants and the audience on this day:
14:30-15:30 "Regulatory Roadblocks to Implementation," with Mercina Tillemmann, Partner at Steptoe & Johnson LLP Alan Cohn, At-Large Legislator of the 9th Legislative Yuan in Taiwan Jason Hsu, Governor at Astana International Financial Centre Kairat Kelimbetov, Chief FinTech Advisor to the Premier of Bermuda Denis Pitcher, and Co-Founder and CEO at Digital Asset Yuval Rooz.
15:30-15:55 "Shadows in the Dark: How Proof of Identity Can Change Lives," with CEO at Tangem Sergio Mello, and Co-Founder and CEO at World Identity Network (WIN) Mariana Dahan.
17:00-18:00 "Outcompeting Destructive Systems," with Yuval Rooz, Founder and CEO at Odyssey.org Rutger van Zuidam, Lecturer at Stanford University and Managing Partner at Katapult.AI Kavita Gupta, Chief Operating Officer of Customer Operations at VMWare Sanjay Poonen, and Former President and CEO at ICANN, and Founder and CEO at BECKSTROM Rod Beckstrom.
19:30-20:30 "Blockchain, AR, VR, IoT – How New Tech is Transforming the Media Landscape," with Sandra Ro, Chief Marketing Officer at Sensorium Corporation Nikita Bokarev, Head of Partnerships at Orbs and COO at Hexa Foundation Danny Brown Wolf, Chief Content Officer at Coindesk Michael Casey, and CCO and Co-Founder at Artbit and Partner at STHORM Matt Sorum (also the former drummer of Guns N' Roses who'll give a special concert performance later in the evening), with more speakers to be announced.
Also, there will be a "Special Demo & Presentation on Virtual Reality" at 20:30-20:45 by Sensorium's Nikita Bokarev, Alex Blagirev, and the company's Head of International IR Brian Kean.
Davos Roundtables – Cybersecurity Tech Accord and The transHuman Code
Global cybersecurity and IoT company WISeKey International Holding Ltd will hold its 13th Annual Cybersecurity Roundtable in Davos on January 22, 2020.
The agenda includes:
18:00-19:30 The 2020 Davos Tech Accord panel session with technology industry leaders who will discuss the 21st-century cybersecurity challenges. The participants are Renaud Deraison, Chief Technology Officer and Co-Founder at Tenable; Tom Patterson, Chief Trust Officer at Unisys; Sanjay Poonen, Chief Operating Officer at VMWare; Alissa Starzak, Head of Public Policy at Cloudflare, and Amy Weaver, President of Legal and Corporate Affairs for Salesforce.
19:30-20:30 The transHuman Code Meeting of The Minds – Ethical AI for a Sustainable Future with the focus on the future of human sustainability with the rise of algorithmic technologies. The roundtable features: Don Tapscott, Chairman at Blockchain Research Institute and author of "Blockchain Revolution"; Kavita Gupta, Managing Partner at Katapult.AI; Alex "Sandy" Pentland, Director at MIT Connection Science; Maria Pía Aqueveque CEO at Maqueveq & Co; Father Philip Larrey, Chair of Logic & Epistemology at Pontifical Lateran University in the Vatican; Beth Porter, CEO at Riff Analytics; Evan Fraser, Director of the Arrell Food Institute; David Shrier, CEO at Visionary Future and author of "Basic Blockchain"; Anitha Vadavatha, Director of Smart Cities and Sustainable Development at CLC Global Advisors, and Wang Wei, Founder of China Museum of Finance Group.
20:30-21:00 The 2020 Blockchain Outstanding Achievement Awards ceremony: the awards will be presented by Wang Wei to those companies and individuals who have made great impact globally to the development of the Blockchain industry in the past year.
---