Crypto Coins: Top 5 Winners and Losers
After the first bearish quarter for the crypto market since Q3 of 2016, the second quarter of 2018 has started with a much-awaited rebound.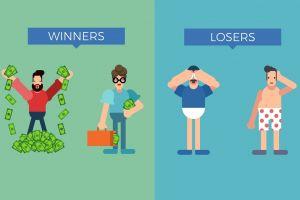 Here are the lists of best and worst performing crypto coins among top 50 coins by market capitalization this year.
Top 5 Winners

Bytom (BTM)
Bytom was launched via an Initial Coin Offering (ICO) that began and ended on the 20th of July, 2017, capturing over USD 2.28 million in token sales.
Bytom is a fully-fledged blockchain protocol designed to synergize artificial intelligence with blockchain technology. The goal of the project is to create what is called "heterogeneous by-assets that can operate forms on their own blockchain within the wider Bytom network".
Ontology (ONT)
Ontology, a blockchain distributed ledger network, launched on November 27, 2017, by a Chinese company, OnChain. The Ontology platform employs a dual token (ONT and ONG) model. Ontology is one of the newest cryptocurrencies to be introduced into the market and it has been doing well in 2018, with the price getting to as high as USD 4.18. The advantage Ontology has over others is that it is listed on Binance, the world's largest altcoin exchange.
Loopring (LRC)
Loopring is a decentralized and open protocol. It is not an exchange, but it is a code that links together exchanges and allows trading between them, managed by smart contracts, which is what makes them unique. It launched its ICO in August 2017, capturing USD 45 million over a two-week period. The Loopring ecosystem consists of different elements that work together in order to deliver full exchange functionality.
RChain (RHOC)
RChain wants to become a blockchain solution with industrial-scale utility. In order to do this, "RChain must provide content delivery at the scale of Facebook and support transactions at the speed of Visa", according to the website of the project.
RChain architecture was documented in July of 2016.
VeChain (VEN)
VeChain is a blockchain service company poised with a mission to build a trust-free and distributed business ecosystem in order to enable transparent information flow, efficient collaboration, and high-speed value transferring. It was founded in November 2015.
Top 5 Losers
While some cryptocurrencies were soaring in 2018, many others have not had the same story to tell.
Bitcoin Diamond (BCD)
Bitcoin Diamond was forked off from Bitcoin blockchain on 24th November 2017. The Bitcoin Diamond sets to solve problems such as lack of privacy, slow transaction confirmations, and a high threshold for new members. The pseudonym names of the Bitcoin Diamond are Team Evey and Team 007. BCD was selling for as high as USD 109, but the story seems to have changed in 2018, as the price has plummeted to USD 2.56 and its fall is mainly due to Bitcoin's dip.
Bitcoin Gold (BGD)
Bitcoin Gold is a digital currency and a hard fork of Bitcoin. The hard fork occurred on October 24th, 2017. Bitcoin Gold once traded at USD 500 but as at 2018, it is well in the red at USD 52.14. Bitcoin Gold was created to "return to the decentralized nature" of the BTC, and give ordinary users an opportunity to mine the new digital currency.
Qtum (QTUM)
The cryptocurrency, Qtum, is a hybrid of Ethereum and Bitcoin. While Ethereum is primarily a smart contract platform, Bitcoin was designed to be a value transfer tool, and Qtum is a bridge between these two. Qtum was launched in March 2017, with a crowdfunding campaign that lasted 30 days. It sold over USD 10 million worth of its token in the first 90 minutes, raising a total value of USD 15.7 million and stopped the campaign after five days.
Ripple (XRP)
Released in 2012, Ripple is a technology that acts as a cryptocurrency and digital payment network for financial transactions. The digital currency, XRP, acts as a bridge to other currencies, as it does not discriminate between one crypto and another. This makes it easy for any currency to be exchanged for one another. In 2017, Ripple was one of the best performing digital assets, but they are not having it easy in 2018, as the price has nosedived, despite the hype in 2017 and the announcements of new partnerships and projects.
Bitcoin Cash (BCH)
Bitcoin Cash developers aims to "increase confidence in cryptocurrency", as Bitcoin was criticized for slow transaction times, high mining fees and high energy consumption, factors that BCH's supporters feel it combats. The fork from Bitcoin occurred on August 1, 2017.
---