Celebrities Matt Damon, Gwyneth Paltrow, Larry David Mocked for Crypto Promotions in New South Park Movie, Albeit in a Terrible Way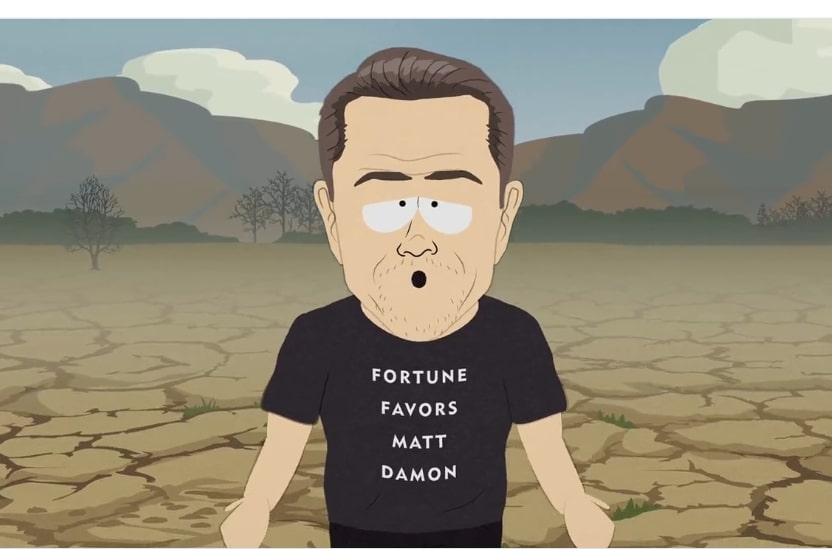 Several world-known celebrities, such as Matt Damon, Gwyneth Paltrow, Larry David, Naomi Osaka, and Reese Witherspoon, have been mocked for their crypto promotions in the new South Park movie that aired last night, and not in a good way.
While this is not the first time these celebrities have been slammed for hyping the crypto market without highlighting the risks, it is arguably the worst one.
In the videos, the celebrities promote a new "promising" product called "Pee Pee Water," which is exactly what it sounds like. "Pee can be used for almost anything. We can water our lawns with it. We can also use urine for our shower water," a cartoon character who introduces himself as Matt Damon says.
When you think it can't get any worse, the cartoon character forces himself to eat and drink food and beverage that is made using "Pee Pee Water" instead of water, of course unwillingly, while murmuring "fortune favors the brave," which is a reference to the series of commercials by crypto platform Crypto.com.
Cartoon characters depicting Gwyneth Paltrow, Larry David, Naomi Osaka, and Reese Witherspoon also take a turn and promote the "brave" product.
The mockery comes as the recent crypto market crash has wiped more than USD 2tn worth of value from the market, with major cryptoassets cratering to new lows. The crash came just several months after the celebrities encouraged everyone to fearlessly buy into crypto.
For instance, in a one-minute-long ad, Damon takes viewers on a historical journey of brave men and women who have made a difference in the world, arguing that "fortune favors the brave."
"These mere mortals, just like you and me, as they peer over the edge, they calm their minds and steel their nerves with four simple words that have been whispered by the intrepid since the time of the Romans: Fortune favors the brave," Damon says in the ad.
Notably, after spending a fortune on ads, Crypto.com had to lay off 5% of its corporate workforce last month citing market downturns.
____
Learn more:
- Super Bowl Crypto Ads, Which One Was the Most Interesting?
- Crypto Exchanges Backing Away from Sports Spending as Crunch Continues

- Winklevoss Twins Navigating the Crypto Winter with a Summer Tour, Singing 'Don't Stop Believin''
- For His First NFT, Jim Carrey Skips Punks, Apes & Goblins - Goes for 'Nature's Relentless Reinvention'

- Leaked 'Shill Price List' Alleges Crypto Influencers Charge Up to USD 25,000 for a Shill Tweet
- UK Ad Regulator Sends 'Enforcement Notice' to Crypto Promoters
---